Travel Inspiration
June 26th, 2020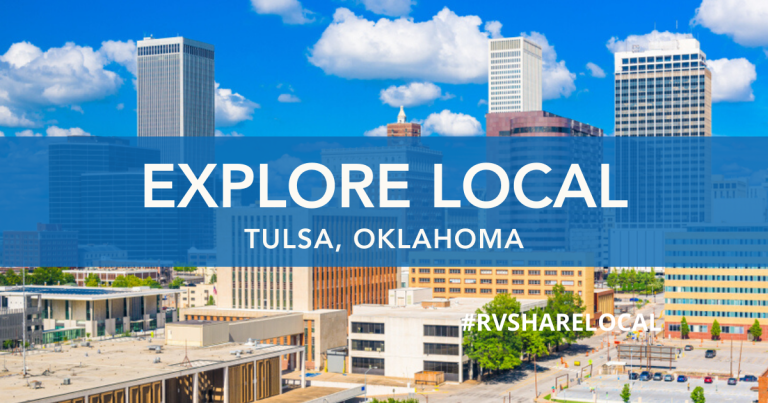 Located a few hours from Oklahoma City on the banks of the Arkansas River, Tulsa is the second-largest city in Oklahoma. It's surrounded by parks and lakes, and there's plenty to do in the city itself. Even if you've lived in Tulsa your whole life, there's always more to see and explore.
Read on for some of the top things to do in Tulsa.
Why We Love to Travel
So why do we love to travel in the first place? Getting to experience cultures that are different from our own or eating cuisine that's different than what we're used to are amazing ways to grow as individuals and learn about others. Seeing how other people live helps us keep an open mind and even gather inspiration to bring back into our daily lives.
Travel is also a great way to get away from the day-to-day. Breaking up our routines with a fun trip definitely recharges the batteries and helps prevent us from getting burnt out.
But again – you don't have to go far from home to get this perspective! Sometimes the best adventures are just around the corner.
Benefits of Traveling Locally
While the culture an hour away from your home might not be drastically different from what you're used to, you can still gain a deepened sense of appreciation for where you've laid your roots. Plus, traveling locally has a lot of benefits:
More cost-effective. Local travel is certainly a budget-friendly way to explore! Many activities and local parks are free or have a low cost of entry. For day trips, you can also pack your own meals to save.
Eco-friendly way to travel. Travel is hard on the environment, but putzing around your area is more sustainable than air travel.
Quick trips. Getting out locally means you can do it more often! Long weekend trips are a lot easier to take when the destination is a short drive away.
Easy to plan. Preparing your itinerary for a local getaway will likely save you some time and stress.
More convenient. Especially if you have little ones, sticking close to home may be much more convenient than far-off destinations. If you forget something, have an emergency, or need to cut the trip short, being close by definitely has its benefits.
Explore Local: Tulsa, Oklahoma
Whether you've lived here your whole life, or are a new resident, there's plenty to explore in Tulsa, Oklahoma. If you're looking for fun things to do in Tulsa with kids or are spending the day out with friends, you'll find exciting activities and adventures right around the corner.
*Note: Some of the suggestions may not be doable due to coronavirus closures, but keep this list handy for when things start opening back up more! Be sure to check individual pages for specific operation details.
State Parks in Tulsa
There are several beautiful state parks in the Tulsa area that are definitely worth a visit. And with all the local lakes, it's the perfect way to spend a day on the water.
Keystone State Park is just west of Tulsa and is a favorite for those who love the outdoors. Not only is there great fishing, but you can also go swimming, boating, and water skiing on Lake Keystone. There's also a full-service marina, fitness and hiking trails, and camping for both RVs and tents if you want to stay the night.
Sequoyah State Park is east of Tulsa and is another destination for those who enjoy spending their time on a lake. There are 225 miles of shoreline on Fort Gibson Lake, and there's also a golf course, a riding stable, a full-service marina, state park lodges, and even camping facilities for tents and RVs. With all there is to do at this state park, you may find yourself staying here for the entire weekend or longer!
Chickasaw National Recreation Area is over in Sulphur and a bit of a drive, but it's the closest National Park to Tulsa in Oklahoma and worth a visit. It's located in the foothills of the Arbuckle Mountains and provides some amazing hiking opportunities. And if you want to make a trip out of it, they have six public campgrounds so you can stay and explore.
Best Hiking Trails
Even though Tulsa is a city, there are plenty of hiking trails in town to get some exercise and experience nature. Here are some of the best hiking trails in Tulsa.
Turkey Mountain Yellow Trail: The Turkey Mountain Urban Wilderness area is 300 acres of undeveloped land in Tulsa that runs along the Arkansas River and is near downtown. It has an extensive trail system and several ponds situated throughout the wilderness. The Yellow Trail is a 3.7 mile moderate loop that runs along the east side of the mountain.
Turkey Mountain Pink Trail: The Pink Trail is another trail in the Turkey Mountain Urban Wilderness, but it runs along the west side of the hill and is a bit longer at 5.6 miles. This loop is also rated as a moderate hiking trail and is great for both hikers and mountain bikers.
Mary K. Oxley Nature Center: The Mary K. Oxley Nature Center in Tulsa has a complex trail system as part of the forest, wetlands, and fields of the nature center. It features many trails and loops throughout the preserve and the North Woods. Most of these trails are under 0.5 miles and can be strung together to create your own longer trail that runs through the woods, the marshes, or the prairie.
Tulsa River Parks: The Tulsa River Parks Trail System is part of Turkey Mountain, but these paved paths run along the river. Those who are looking for a more relaxing hike will enjoy the meandering path along the river. There are even free bike rentals from the Warren Medial Research Foundation at 2 different locations along the trail system. You can walk, jog, or bike along these trails and enjoy the different parks, fitness stations, disc golf, and outdoor café.
Best Restaurants in Tulsa
Tulsa has some great restaurants in a variety of cuisines. If you're hungry after all that hiking, here are some of the best restaurants in town.
Mondo's Ristorante Italiano
Mondo's Ristorante Italiano serves large portions of delicious Italian food. It's a family-owned restaurant that feels intimate, quaint, and yet modern. From pizza to pasta to Italian entrees, you'll leave with a full belly and happy taste buds.  
Sisserou's
If you're looking for a taste of the Caribbean in the Midwest, you must stop by Sisserou's. Serving authentic Caribbean food with plenty of vegetarian and vegan options, Sisserou's food is flavorful, spiced, and well seasoned. The service is great, and the food even better!
Keo Asian Cuisine
Serving modern dishes inspired by Malaysia, Thailand, Cambodia, and Vietnam, Keo Asian Cuisine has something for everyone. From fish tacos to curry to Cambodian stir fry, their mix of flavors will please any palate.
Chimera Café
For those searching for either great coffee or vegan food options, Chimera Café has both. Sourced from local farms, their dishes are carefully created to provide fresh and healthy options. About half of the menu is made up of vegan and vegetarian options, and they also have a selection of vegan baked goods. It's definitely a place not to miss!
Yokozuna
Located in the historic Blue Dome District, Yokozuna serves noodles, sushi, and Asian fusion cuisine. They also have a fantastic happy hour and fantastic customer service. It's worth a visit if you're craving delicious sushi.
El Rio Verde
It might not look like much from the outside, but El Rio Verde serves up the most authentic Mexican food in Tulsa. This hole-in-the-wall style restaurant is reasonably priced and the food is fantastic. The wet burrito is a favorite of many, and the staff is super helpful and friendly.
Fun Things to Do in Tulsa
There are so many fun things to do in Tulsa, it can be hard to know where to start. Keep reading for our list of things to do in Tulsa this weekend or any day!
For Kids and Families
Looking for fun things to do with kids in Tulsa? Here are some great things to keep kids entertained and having fun all day.
The Gathering Place
Located on Tulsa's Riverfront, The Gathering Place is a fantastic park with activities for kids of all ages. With over 100 unique experiences such as the five-acre Chapman Adventure Playground with towers, slides, and play garden, or the Spiral Connector with its 7 tower climbing structures and suspension bridges, there's plenty to do all day.
Tulsa Zoo
For kids who love animals, there's nothing better than a trip to the zoo! The Tulsa Zoo offers all sorts of events, classes, and camps for kids to have fun learning about the zoo's animals and conservation.  
Tulsa Children's Museum Discovery Lab
The Discovery Lab at the Tulsa Children's Museum provides kids with a fun environment to learn about science in a hands-on way. From tunnels and slides make of packing tape to the sensory area aimed at toddlers, kids of all ages will love spending their day here, and may even learn something!
Cheap Things to Do in Tulsa
You don't need to spend a lot to find fun things to do in Tulsa. We've got some great ideas for things to do on the cheap.
Woody Guthrie Center
A museum dedicated to the life and work of American folk singer, Woody Guthrie, the Woody Guthrie Center is located in the Tulsa Arts District and is open Wednesday through Sunday. Admission is $12 for adults and kids under 17 are free. Fans of music and those interested in American history will find this museum a fun way to spend the afternoon.
Oklahoma Jazz Hall of Fame
If you're a jazz fan be sure to stop by the Oklahoma Jazz Hall of Fame. This musical museum shares the history of American jazz, blues, and gospel music and the people that had an impact on music across the world. More than just a museum, the Oklahoma Jazz Hall of Fame also holds concerts, cultural events, classes, and training to spread unity through music. Admission to the museum is free, but some events have ticket prices. Check their website for more details.
Gilcrease Museum
Art enthusiasts will love The Gilcrease Museum, an art museum featuring a large collection of artwork from the American West, Native American art and artifacts, and Central and South American art. It's a small museum but has a fantastic range of art on display that focuses on the culture, art, and history of America. In addition to the museum itself, they have 23 acres of gardens and grounds that you can enjoy.
The Cave House
Another one of the fun and cheap things to do in Tulsa is The Cave House. A home that looks straight out the Flintstones, it was actually a former chicken restaurant, then a speakeasy, and now offers tours of this crazy building. Built in the 1920s, this house is open for tours (reservations are needed) and the owner will walk you through the home and explain the curious and crazy history of this unique house.
At Night
So now you know plenty of things to do in Tulsa during the day, but there's also plenty to do at night!
Ride the Tulsa Downtown Trolley
Every Friday and Saturday evenings the Tulsa Downtown Trolley is free for anyone to hitch a ride around downtown. You can get on and off at any point, and it makes traveling around the downtown Tulsa area even easier. You can even check the real-time GPS location of the trolley on their Facebook page so you'll know exactly when the next one is coming.
Blue Dome Entertainment District
Consisting of 9 square blocks in downtown Tulsa, the Blue Dome Entertainment District is dominated by the historic Blue Dome building. You can check out the famous murals and artwork painted throughout the area or hang out in the many bars and restaurant choices in the district.
First Friday Art Crawl in the Arts District
Held the first Friday of each month, the First Friday Art Crawl sees galleries, studios, and museums open their doors to display their art to the public. Perfect for date nights or fun with the family, you'll find locals artists, live music performances, and stores and restaurants that even stay open later.
Free Things to Do in Tulsa
With all the art and culture in this city, you'll find that some of the best things to do in Tulsa are free.
Check out the roadside attractions on Route 66
Take a trip through history and visit some of the crazy roadside attractions that you'd expect on Route 66, which runs right through Tulsa. Pay a visit to the giant Blue Whale sculpture in Catoosa just northeast of Tulsa, visit the giant Golden Driller statue at the Tulsa County Fairgrounds, or see Buck Atom the Space Cowboy for some fun Instagram photos.
Explore the murals at the Tulsa Art Alley
And speaking of Instagram, there are plenty of great photo opportunities at the Tulsa Art Alley, the alley between 5th and 6th streets between Main Street and Boston Avenue. The gorgeous murals were created by artists to clean up the alley and beautify the city.
The Center of the Universe
The Center of the Universe doesn't look like much, and you can easily walk past it. But this acoustic phenomenon in downtown Tulsa is pretty cool. If you stand in the center of the circle and make a noise, you'll hear a loud echo, while those standing outside the circle won't hear it. It's crazy, and it's one of the more unique things to do in Tulsa!
Spas in Tulsa
After spending your day looking for places to explore in Tulsa, you may need some rest and relaxation at the local spas.
Spa Lux
Spa Lux offers a variety of massage and body treatments to soothe your tired muscles. They also have a steam room and sauna so you can relax before or after your treatments. It's the perfect way to relax after exploring Tulsa.
Bella Vita Spa & Salon
Bella Vita Spa & Salon is a full-service salon and day spa that provides guests with massages, facials, body treatments, and nail services among others. It's perfect for a little pampering, and a fun experience for couples to do in Tulsa.
Best Gyms & Yoga Studios
There's plenty of ways to stay in shape and work on your fitness goals in town.
Be Love Yoga Studio
Be Love Yoga Studio is located in the heart of the Pearl District and provides a welcoming atmosphere for beginners and advanced yoga lovers alike.
SALT Yoga
SALT Yoga has 2 locations and has multiple different styles of classes that will help you relax, build strength, or refine your technique depending on your needs.
Sky Fitness & Wellbeing
If you're looking to keep your fitness routine going, check out Sky Fitness & Wellbeing. It's a full-service fitness club with plenty of classes, programs, and personal training to help you meet your fitness goals.
Day Trips in Tulsa
While there's plenty of things to do in Tulsa, Oklahoma, if you want to venture further out, here are some great day trip ideas.
Turner Falls Park
Turner Falls Park is under 3 hours away from Tulsa and is home to the tallest waterfall in Oklahoma. It's full of fun for the whole family with swimming holes, caves, climbing spots, and hiking trails, as well as RV camping locations if you want to stay the night.
Grand Lake
In the northeast corner of the state sits Grand Lake O' the Cherokees. with 1300 miles of shoreline, water lovers can jet ski, parasail, canoe, swim, and spend their day lounging around this beautiful lake.
And of course, we can't forget Oklahoma City. Less than 2 hours away, you can easily drive to Oklahoma City for the day and check out some of the museum, sports teams, or shopping and be back for dinner.
As a final reminder, some of these activities may need to wait until businesses fully reopen from coronavirus closures. However, there is still much to see and experience in Tulsa that you can enjoy today! What are your favorite spots in Tulsa? Send them our way to [email protected] or by tagging us on Instagram @rvshare and using the hashtag #rvsharelocal.