Explore Local: Oklahoma City, Oklahoma
Travel Inspiration
June 17th, 2020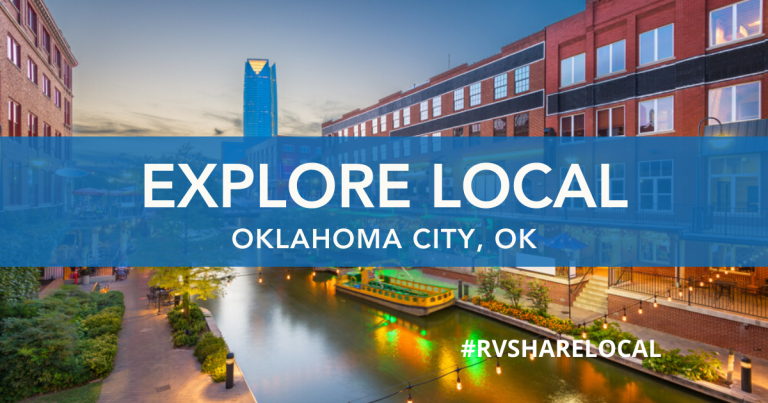 The Cinderella City. OKC (and no, we don't mean OKCupid). Sometimes just: The City.
We're talking about Oklahoma City, Oklahoma — and what a wonderful place it is to see and discover.
There are so many things to do in Oklahoma City, whether you're looking for outdoor adventures, fine dining, culture or shopping. This Great Plains gem is anything but the middle of nowhere… and even if you've called it home for years now, chances are you've missed out on some incredible things to get into there.
In this guide, we're going to dive into all the great things to experience while you explore Oklahoma City, Oklahoma, be it for the first — or umpteenth — time. Ready? OK! (Yes, that pun was intentional.)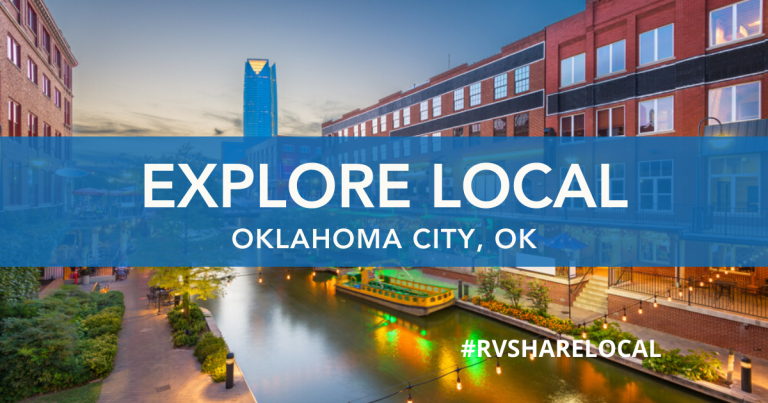 Why We Love to Travel
The beauty of travel is seeing new places, experiencing new things, meeting new people… That feeling of wanderlust is buried deep in our souls! Getting to experience cultures that are different from our own is an amazing way to grow as individuals and learn about others. Seeing how people all over the world live helps us keep an open mind and even gather inspiration to bring back into our daily lives.
Travel is also a great way to get away from the day-to-day. Breaking up our routines with a fun trip definitely recharges the batteries and helps prevent us from getting burnt out.
But here's the thing – you don't have to go far to fill your cup. Sometimes the best adventures are the ones close to home.
Benefits of Traveling Locally
While the culture an hour away from your home might not be drastically different from what you're used to, you can still gain a deepened sense of appreciation for where you've laid your roots. Plus, traveling locally has a lot of benefits:
More cost-effective. Local travel is certainly a budget-friendly way to explore! Many activities and local parks are free or have a low cost of entry. For day trips, you can also pack your own meals to save.
Eco-friendly way to travel. Travel is hard on the environment, but putzing around your area is more sustainable than air travel.
Quick trips. Getting out locally means you can do it more often! Long weekend trips are a lot easier to take when the destination is a short drive away.
Easy to plan. Preparing your itinerary for a local getaway will likely save you some time and stress.
More convenient. Especially if you have little ones, sticking close to home may be much more convenient than far-off destinations. If you forget something, have an emergency, or need to cut the trip short, being close by
Explore Local: Oklahoma City, Oklahoma
So what is there to see in Oklahoma City?
Glad you asked. All too often, the so-called "flyover states" are underrepresented in travel and lifestyle guides, and this city is one that you definitely don't want to miss. First settled all the way back in April of 1889 and incorporated about a year later, Oklahoma City has seen some fascinating history, including an oil boom, the Civil Rights revolution, and sonic boom tests. Today, it's known for its wild west heritage and wide selection of museums, not to mention its central location — it's the perfect home base for exploring a wide swath of the American countryside.
Let's get into the specifics, shall we?
State Parks in Oklahoma City
Although outsiders may think of Oklahoma as nothing but a long stretch of prairie, locals know it's anything but the truth. There's a wide range of diversity in landscape, flora, and fauna in the state and national parks in the Oklahoma City, OK area.
Fort Cobb State Park encompasses more than 1,800 acres, many of which are taken up by its namesake lake. Popular recreational activities at this destination include fishing, boating, swimming, water sports, golf and hunting.
Lake Murray State Park is another great option for water lovers; although it's an hour and a half of drive time from downtown OKC, visitors find it's well worth the effort. Lake Murray State Park is the largest in the state at over 12,500 acres, nearly half of which is comprised of Lake Murray itself. Along with wilderness trails for hiking, biking and horseback riding, the park also offers an 18-hole golf course, tennis courts, softball fields, volleyball nets and more.
Lake Thunderbird State Park is a favorite destination amongst OKC denizens thanks at least in some part to its proximity. Tucked just southwest of Oklahoma City proper in the suburb of Norman, this park offers two marinas, multiple swim beaches, hiking trails and a campground.
Roman Nose State Park is named after a Cheyenne Chief, and was originally opened all the way back in 1937. And if you're looking for a destination that looks about as un-plains-y as it gets, we highly recommend adding this one to your itinerary: Roman Nose is a beautiful, wild landscape filled with gypsum rock cliffs, natural springs, and a canyon.
Although there are technically no national parks in Oklahoma, there are a variety of national monuments, historic sites, and recreation areas. If you find yourself jonesing to cross state lines, you might also visit Hot Springs National Park in southwestern Arkansas.
Best Hiking Trails
Both within and without the state parks and other preserved wilderness areas in town, there's tons of hiking to do in the Oklahoma City area. Here are some of our favorites.
Bluff Creek Unpaved Trail Loop
A popular destination in the northwest quadrant of the city, Bluff Creek Park offers a scenic wooded glen that's perfect for hiking, biking, picnicking and more. Bluff Creek Unpaved Trail Loop is a perfectly moderate jaunt that makes for an excellent afternoon in the Oklahoma sunshine: just under 3.5 miles wandering through woods and along waterfront.
Martin Nature Park
Another lakeside trail in a lovely, easy-to-reach metro park, Martin Nature Park's main trail meanders less than three miles and sees almost no elevation gain, making it an achievable endeavor for hikers of every fitness level.
Stinchcomb Wildlife Refuge: East Trail
Stinchcomb Wildlife Refuge is a must-visit for anyone in the Oklahoma City area; this protected wilderness is home to a wide variety of birds and mammals and is also a great place for a jaunt. The East Trail is a favorite for a couple of reasons: at about five miles in length, it's long enough to make you feel like you've really wandered a bit, but with very little elevation gain, it's also easy enough for most visitors to tackle. Oh, and did we mention the views? Just be sure to look out for mountain bikers!
Stanley Draper Green, Red and Blue Loop
If you're looking for a hike that might work up a bit of a sweat, the Stanley Draper Green, Red and Blue Loop is the perfect opportunity for a workout. At six miles in length and with some gentle elevation gain, this trail will get your legs burning a bit — especially due to its sandy footing. Be sure to wear a good pair of boots!
Best Restaurants in Oklahoma City
You've hiked — and perhaps even biked and paddled. It's high time to grab a hearty bite — and fortunately, there are plenty of excellent restaurants in Oklahoma City just waiting to feed you.
Oozie Mediterranean
Think you can't find authentic Mediterranean eats this far away from the sea itself? Think again. Oozie Mediterranean is well known as one of the very best restaurants in Oklahoma City of any variety, and its broad range of authentic, delicious dishes will make you a repeat customer in no time.
Vito's Ristorante
Looking for the best Italian restaurant in OKC? Look no further than Vito's Ristorante, which serves up family-style classics in a warm, inviting atmosphere. This joint has been featured in several pieces of local press, and is the kind of iconic staple around town that most residents have heard of. So if you've yet to visit, make sure to add it to your list!
SushiNeko Robata and Sushi Bar
Oklahoma City may be landlocked and just about smack-dab on the other side of the planet — but that doesn't mean you can't get some delicious, fresh Asian food, including sushi. SushiNeko is probably the best destination for Asian food in the county, let alone the town, having won many awards for its food and service over the last decade. Be sure to leave room for dessert; they're serving ice cream tempura!
The Loaded Bowl
You'd be forgiven for more readily thinking of steak and hamburger than vegetarian eats when you think of the heartland, but make no mistake: you can eat plant-based here, too. One of the best vegan restaurants in Oklahoma City is The Loaded Bowl, which serves up delicious, meat-free concoctions like mac & "cheese," enchiladas, and orange "chicken." Oh, and you definitely want a chocolate chip cookie for dessert!
San Marcos Mexican Restaurant
Established all the way back in 1993, San Marcos Mexican Restaurant actually has several Oklahoma City-area locations — all of which serve up some of the best south-of-the-border dishes you've tasted in an age. No matter which Mexican classic you're in the mood for, you'll find a to-die-for iteration!
Fun Things to Do in Oklahoma City
Alright — you've ventured on foot and you're well-fed. Now what?
Glad you asked! Here are some of the best things to do in Oklahoma City, no matter what your circumstances.
For Kids and Families
Oklahoma City is a great place for families! Here are some of the top things to do in Oklahoma City with kids.
National Cowboy and Western Heritage Museum
Whether you spend a single day or a lifetime in Oklahoma City, you basically can't even say you've been there unless you visit the National Cowboy and Western Heritage Museum. And what kid isn't totally mystified and starry-eyed when they think about cowpokes, horses and the wide-open west? It's a hit for the whole family.
Oklahoma City Zoo
You basically can't go wrong with a zoo — and the Oklahoma City Zoo is no exception. Home to more than 1900 animal species and hosting a sprawling botanical gardens as well as animal habitats, a trip to this particular zoo makes for an excellent afternoon diversion for the whole family.
On the Cheap
Want to enjoy Oklahoma City without taking out a second mortgage for the privilege? We hear you — and offer these unique, low-cost things to do in town.
Oklahoma Railway Museum
Our nation is what it is thanks to the railways that criss-cross its countryside — and if you want to learn more about that unique way of getting around, the Oklahoma Railway Museum is the place to do it. Better yet, the museum is actually free to get into! Train rides, however, require a low-cost ticket purchase, and you're definitely going to want to take that option.
Skeletons: Museum of Osteology
What's more fascinating than bones? If you're curious to have a look at what the creatures that live around us look like on the inside, head to Oklahoma City's Skeletons: Museum of Osteology. Adult tickets are only $10 a piece, and kids 3-12 get in for just $8. (Kids under three are free!)
At Night
We've covered lots of great things to do in Oklahoma City during the day — but don't worry, the streets don't roll up as soon as darkness falls! Here are some fun ideas to tackle once that all-encompassing Oklahoma sun goes down.
Bricktown
An industrial-chick walking district in the heart of downtown, Bricktown is chock full of things to do no matter what time of day you visit — though we do recommend going after dark if you want a real taste of Oklahoma City's nightlife. With dozens of bars and restaurants to choose from, many of which host live entertainment, you certainly won't run out of things to see and experience!
Adele Wolf's Burlesque and Variety Show
You'll want to make sure you get a babysitter before you head to this particular evening entertainment option — adults only, please! But if you and your sweetie are looking for something a little spicy, Adele Wolf's Burlesque and Variety Show is nothing if not tantalizing, having won international acclaim for seven years running.
Free Things to Do in Oklahoma City
Yep, you read that right! Here are some fun things to do in Oklahoma City that aren't just cheap — they're 100%, totally free!
Martin Park Nature Center
Remember Martin Park from that hike we outlined earlier? Well, it's also home to a must-see exhibit, the Nature Center, which combines education and entertainment for visitors of all ages. Along with allowing for self-guided exploration, the nature center also hosts a variety of ranger-led events around the year. Stop by to learn more about all the cool things to see, do, and experience while you're in the area.
Get Your Kicks
If you've listened to the song, you know that Route 66 runs right through Oklahoma City (and we think you'll agree that it's "mighty pretty," too!). Taking a quick drive down "The Mother Road," as it's sometimes called, is a prime opportunity to crank up the car radio, sing along loud, and roll the windows down. And depending on how far you go, you could end up in some really cool destinations! (Psst — thinking of making a whole road trip out of it? We've got some must-see suggestions for you to hit along the way.)
Spas in Oklahoma City
Everyone needs some R&R from time to time. Here are some of the best spas in Oklahoma City.
Sweet Mimosa Day Spa and Massage Therapy
Sometimes, a trip to the spa is about more than just relaxing — it's about rejuvenating, as well. Sweet Mimosa Day Spa and Massage Therapy offers a range of services designed to help you look, and more importantly feel, your very best.
udånder
It may have a funny-looking name, but udånder is probably one of the best spas you'll step into in your lifetime, not just in your time in OKC. A full-service, Scandinavian-style spa with ultra-modern accoutrements, this is the perfect place to turn whether you're looking for a massage, facial, foot soak, or just some quality time in the sauna.
Best Gyms & Yoga Studios
Keeping up with your daily routine can help keep you strong and grounded no matter what life throws at you to tackle! Here are some of the top gyms and yoga studios in Oklahoma City.
Brewhouse Barbell
If you're looking for the kind of workout that is down-home, direct, and no-fuss, Brewhouse Barbell is the place to go. Focused on powerlifting, Olympic lifting and real athletic performance, if you don't want to hit one of the many big box gyms in the area, we recommend trying out this one!
405 Yoga
If the first thing you think of when you think "yoga" is a stolid, intimidating guru doing impossible-looking stretches on a scenic mountain somewhere… think again. According to 405 Yoga, your practice should be vibrant, lively and fun — and they offer the wide range of classes you need to make that happen!
Hidden Dragon Yoga
Set in a stunning, minimalistic environment and motivated by highly trained, friendly teachers, Hidden Dragon Yoga classes are a one-of-a-kind, body-and-mind experience. The studio also offers a range of classes focused specifically on alignment to help you move in a way that's supportive and nurturing for your whole body in the long term.
Day Trips in Oklahoma City
Trust us, there's no reason to be bored in Oklahoma City. But if you happen to be looking for a quick getaway, you've got plenty of options! Here are some of the best.
Tulsa
If you're looking for another big city experience in the heart of Oklahoma, it's hard to do better than Tulsa. Famous for its art deco architecture and home to a frankly amazing aquarium (especially given how far the place is from an ocean), Tulsa is well worth the hour-and-a-half drive it takes to get there.
Sulphur and Chickasaw National Recreation Area
While there's no shortage of state and regional parks in the direct Oklahoma City vicinity, if you're willing to drive just a little bit further, this national recreation area really lets you spread out. Visitors can enjoy many still-standing examples of the 1930s Civilian Conservation Corps construction, and the park is also home to a plethora of stunning natural springs.
Frontier City Theme Park
Looking for some serious thrills, spills and chills? Frontier City Theme Park, operated by none other than Six Flags, is the perfect place to spend an afternoon with the family, your significant other, or honestly even by yourself. Choose from high-flying adventure rides or more relaxed, family-friendly affairs, and don't forget to treat yourself to some delicious theme park eats and maybe a souvenir or two!
We hope this guide has helped you see just how special Oklahoma City really is, even if you've already called it home for decades. Don't forget to get out there and explore your own backyard from time to time… especially if your backyard is a city so ripe with things to explore!
As a final reminder, some of these activities may need to wait until businesses fully reopen from coronavirus closures. However, there is still much to see and experience in OKC that you can enjoy today! What are your favorite spots in Oklahoma City? Send them our way to [email protected] or by tagging us on Instagram @rvshare and using the hashtag #rvsharelocal.