Travel Inspiration
July 14th, 2020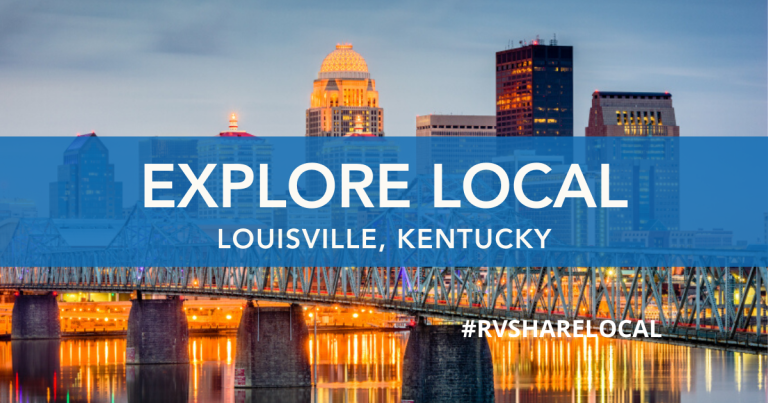 It's the birthplace of Muhammad Ali, the Kentucky Derby, and Kentucky Fried Chicken. And before you get an army of annoyed locals on your case, it's not pronounced "Lew-ee-ville."
But even if you're a local yourself, chances are you're missing out on some of the amazing things to see and do in this particular corner of the country. From restaurants to road trips and everything in between, here are some of our favorite places to explore and things to do in Louisville, Kentucky.
Why We Love to Travel
From meeting new people to experiencing new sights, sounds, and smells – is there anything more exciting or rejuvenating than a break from the day-to-day mundanity? Traveling is an excellent way to immerse yourself in a new culture, setting, or way-of-life, but the best part is this: you don't have to venture far from home to enjoy what this world has to offer.
Whether your journey takes you across your own city, to an unexplored part of your state, or even to the other side of the world, there's no doubt you will still learn a lot about your surroundings – and yourself – along the way.
Benefits of Traveling Locally
While the culture an hour away from your home might not be drastically different from what you're used to, you can still gain a deepened sense of appreciation for where you've laid your roots. Plus, traveling locally has a lot of benefits:
More cost-effective. Local travel is certainly a budget-friendly way to explore! Many activities and local parks are free or have a low cost of entry. For day trips, you can also pack your own meals to save.
Eco-friendly way to travel. Travel is hard on the environment, but putzing around your area is more sustainable than air travel.
Quick trips. Getting out locally means you can do it more often! Long weekend trips are a lot easier to take when the destination is a short drive away.
Easy to plan. Preparing your itinerary for a local getaway will likely save you some time and stress.
More convenient. Especially if you have little ones, sticking close to home may be much more convenient than far-off destinations. If you forget something, have an emergency, or need to cut the trip short, being close by definitely has its benefits.
Explore Local: Louisville, Kentucky
The largest city in the state of Kentucky and the 29th largest in the United States of America, Louisville is a town with a lot of heart. It's proud enough of its most famous native that it's named its airport after him (Muhammad Ali International Airport), and it's also the home of Louisville Slugger baseball bats, the University of Louisville and three of the six Fortune 500 companies that Kentucky Boasts (Humana, Kindred Healthcare and Yum! Brands).
Facts and figures aside, Louisville is an incredible place to explore and discover, whether you're playing tourist in your own backyard or checking out the city for the first time. In this post, we've gathered our favorite places to eat, hike, and relax in the Louisville area — so read on to get acquainted with this incredible town.
State Parks in Louisville
While there are plenty of urban diversions to keep you occupied in Louisville, there are also some incredible natural spaces and recreational zones to check out. Here are some of the coolest state and national parks in the greater Louisville, KY area.
Clifty Falls State Park is named for the stunning set of waterfalls that is its centerpiece, though there's plenty more to see and do during your visit. With six demarcated trails as well as swimming opportunities, tennis courts and more, it's easy to stay occupied — and happy — at Clifty Falls.
E. P. Tom Sawyer State Park is just a twenty minute drive from downtown Louisville, and despite its relatively small size, it packs a big punch when it comes to things to do. Meander down one of its hiking trails, take a dip in its sizable swimming pool or try your hand on its archery range. There's something for everyone in the family.
Falls of the Ohio State Park is tucked just on the north side of the river, over the border into the state of Indiana. The park is an incredible resource for nature enthusiasts, who can hike, bird, picnic, fish, and even "dry snorkel" (which is to say, hike) across one of the world's most accessible Devonian-age fossil beds.
O'Bannon Woods State Park encompasses a sprawling 2,000-acre stretch of Indiana, approximately 30 miles outside of Louisville. Among its many attractions are the Wyandotte Caves, which contain over nine miles of caverns as well as an "underground mountain" of epic proportions.
Taylorsville Lake State Park is a go-to destination for anyone in Louisville, or the surrounding areas, who's looking to get on (or in) the water. Encompassing 1,200 acres and approximately midway between Louisville and Lexington, the park's manmade lake is a sight to behold and a joy to experience.
Mammoth Cave National Park is a must-visit for any Kentuckian… and any person who has the means, really. Not only is it the largest known cave system in not just the country, but the world — it also isn't even done being dug up yet! (Just be sure to make an appointment ahead of time if you'd like to get down into the caves; you can only do so on a guided excursion.)
Best Hiking Trails in Louisville
Whether or not you make it out to one of the state or national parks in the area, there are plenty of places to take a quick afternoon stroll or go for a morning run. Here are the best hiking trails in Louisville for all sorts of fitness levels and activities.
Cherokee Park Trail
Running less than 5 miles altogether and open and accessible year-round, Cherokee Park Trail runs throughout the park of the same name, and there are a variety of places to start your adventure. Be aware that the trail is not well marked in some places, so an offline map is recommended. With less than 400 feet in elevation gain, this trail is definitely flat enough for beginners and trail runners!
Wild Hyacinth Trail
An easy adventure that stretches only two miles round trip, Wild Hyacinth Trail is a great option for a quick and easy hike. Dogs are allowed, but must be kept on-leash for the duration of your trek, and be aware that the trail can be muddy in some spots and seasons.
Scotts Gap Loop Trail
Although it's hard to find much elevation gain in the immediate Louisville area, Scotts Gap Loop Trail does offer a little bit more challenge than some of its counterparts. Seeing a bit more than 600 feet of climbing over the course of about a mile and a half one way (and about three miles altogether), this hike may be short, but it can still help you work up a sweat!
Anchorage Trail
An easy amble that's paved and fit for those pushing strollers and wheel chairs, Anchorage Trail measures just over two miles altogether and sees almost zero elevation change. It's a popular hangout spot for deer in the evening, so keep your eyes peeled if you want to make some new four-legged friends!
Louisville Loop
Already stretching about 14 miles all told and with expansion plans under way for the future, the Louisville Loop is a great way to see town — and portions of this path are paved, also. Hike, walk, jog, bike, or stroll, and feel free to take on as much or as little of the loop as you'd like to!
Best Restaurants in Louisville
If adventuring has your appetite all worked up, no problem — Louisville is full of wonderful places to dine! Here are some of the best restaurants in Louisville, no matter what you're hungry for.
Silvio's Italian Restaurant
Italian cuisine is all about comfort: it's delicious, generously portioned, and best served in a charming atmosphere alongside a smile. Silvio's Italian Restaurant offers all of that along with an impressive selection of wines and whiskeys. Which is to say: what's not to love?
El Molcajete
If you're looking for the best Mexican food in Louisville, you're looking for El Molcajete. Serving up fresh and authentic classics fit for every taste and appetite, this place is beloved amongst locals and sought after amongst visitors.
V-Grits
When you're on the hunt for vegetarian and vegan eats, you don't want to sacrifice taste for virtue. And fortunately, at V-Grits, you don't have to. Offering a wide range of downright indulgent dishes created in innovative, plant-based ways, this unique dining experience will please every palate in your dining party — even the carnivores'.
Shalimar Indian Restaurant
With both Northern and Southern Indian dishes on the menu, Shalimar Indian Restaurant is a Louisville go-to when you want something spicy, tasty and authentic. Order online for take-out or enjoy your meal in the dining room, but either way, you won't go hungry!
Wild Ginger
The American heartland isn't exactly known for its rich variety of Asian food — but you can still find delicious sushi and other Japanese delights in Louisville. Wild Ginger is a delicious Asian fusion restaurant that's built to cater to any occasion, be it date-night or just a casual, grab-and-go meal. Along with a wide variety of sushi rolls, they also serve noodle bowls and other delicious hot entrees.
Fun Things to Do in Louisville
Once you've wandered the trails and noshed on a nice meal, it's time to get to the rest of what this town has to offer. Here are the top things to do in Louisville this weekend — or any time at all.
For Kids and Families
Bringing the kids along? Louisville has plenty of activities that are fit for everyone in the fam. Here are just a few.
Louisville Zoo
Encompassing 134 acres of wild fun, the Louisville Zoo is home to everything from sloths to Sumatran tigers. Committed to conservation and education efforts that will keep the world wild and green for years to come, this zoo is a great place to get the kids fired up about the natural environment.
Louisville Slugger Museum & Factory
Louisville is basically synonymous with its legendary baseball bats, and if you want to see where those sluggers are made — and learn about their history — we suggest traipsing through the Louisville Slugger Museum & Factory. Favorite exhibits like the big bat & glove and the signature wall will please baseball lovers of all ages.
At Night
There's an endless amount to explore in Louisville during the day. But there's no shortage of fun once night falls, either!
The Bard's Town
It's not hard to come across a great restaurant or bar in Louisville. But what about a bar that also offers a wide range of entertainment — more than your standard open-mic-night fare?
The Bard's Town doubles as a theatre, offering regular bar events like karaoke but also hosting comedy, original shows, jazz and so much more. This is a great option for just about anyone looking for some community and entertainment.
The Waverly Hills Sanitorium
Are you brave? Like, really brave?
Then after dark, head to the Waverly Hills Sanitorium, widely believed to be one of the most haunted places not just in Louisville, but on earth. Originally home to a one-room schoolhouse and most famously a sanctuary to quarantine tuberculosis patients, these grounds are filled with history… lots of which is not pretty. Both historical and paranormal tours are available, as well as private investigations custom-built for your group. If you're looking for something for couples to do in Louisville, this one might be a winner if everyone's on board — it would certainly inspire a lot of cuddling!
Cheap and Free Things to Do in Louisville
It's true: you can get a great sense of Louisville without taking out a second mortgage. In fact, there are plenty of cheap things to do in town, and some of them are actually totally free! Here are our favorites.
Louisville Nature Center
With its wildflower garden, relaxing pond and network of friendly trails, the Louisville Nature Center is a great place to get away from it all without ever leaving the city. Hundreds of species of trees and a wide range of animals, including at least 30 species of butterflies, are waiting to enchant the whole family — and admission is 100% free.
The Big Four Bridge
The wide and wild Ohio separates Louisville from its neighbor to the north, Jeffersonville, Indiana — and you can get there on foot by strolling across the Big Four Bridge. First completed in 1895, updated in 1929, taken out of service as a railway bridge in 1968 and finally converted for pedestrian and bicycle usage in 2014, this structure is an engineering feat and sight to behold and crossing it is a great way to get some exercise while seeing the city.
Waterfront Park
Before you cross that bridge, you might want to stop by Waterfront Park — a public green space that hosts community events, public art installations and more. Especially popular come summertime is the splash pad, where kids and adults alike can cool off and enjoy some silliness.
Spas in Louisville
Need some pampering? We've been there — and here's where we head when we're in Louisville.
Mokara Salon & Spa
Tucked inside the luxurious Omni Hotel, Mokara Salon & Spa offers a wide range of services performed by attentive and compassionate professionals. Whether you're in need of a detoxifying wrap, rejuvenating massage, facial or salon service like a manicure, you'll find an affordable yet indulgent experience here.
Spa Natur
The best spa services aren't just about the experience of the service itself — they're also about taking care in how those experiences are created. At Spa Natur, certified professionals will treat you with the highest quality products and modalities, using a holistic approach to create better health and beauty outcomes overall.
Best Gyms & Yoga Studios
Staying in shape is about so much more than feeling good in your clothes — it's about feeling good in your very skin. Here are some of the best gyms and yoga studios to get sweaty and stabilized in Louisville.
Fitness 19
In order to stick with your fitness routine, it's gotta be convenient and accessible — and Fitness 19 strives to provide you with the equipment and atmosphere you need to make it happen. Staffed by friendly and knowledgeable trainers and stocked with the very best machines, free weights and more, you can meet all of your goals and then some at this comprehensive gym.
Cyclebar
Although it's technically tucked into the suburb of St. Matthews — and although it's a nation-wide chain — there's a reason Cyclebar has something of a cult following. One part exercise class, one part dance club experience, this place will have you sweating like you can't believe and smiling the whole time (and for a few hours afterward as well, we warrant).
502 Power Yoga
Yoga, when done right, can make you feel powerful — and can be a powerful release and strength-building experience for the body. At 502 Power Yoga, you'll be guided through your vinyasa by motivated yoga experts… and many of the classes take place in a lightly heated room to ensure you'll leave sweaty and ecstatic. (Don't worry: unheated yoga classes are available, too!)
Day Trips in Louisville
Clearly, there's a lot to keep anyone occupied in Louisville. But there's plenty to see and do in the surrounding areas as well! Here are some of our favorite day trips to take if you're calling Louisville your home base.
Rose Island Abandoned Theme Park
What could be creepier or cooler than exploring the tattered remains of yesterday's frivolity? The Rose Island Abandoned Theme Park lies just outside of Louisville in the town of Charlestown, Indiana, and was a destination back in the 1920s when David Rose spent a quarter of a million dollars (an equivalent of over *three* million dollars in today's money) installing an amusement park, hotel and swimming pool. However, the 1937 flood of the Ohio River covered the park in ten feet of water, and it was considered too expensive to repair. These days, you can adventure through what's left of those structures on foot — though much of it has been reclaimed by the wilderness.
Cincinnati
Known for its zoo but offering a host of other fun diversions as well, Cincinnati is a great place for a quick day trip or a weekend getaway — and given it's only an hour and a half outside of Louisville, there's no reason not to go!
National Parks
Gateway Arch National Park might not be a wide-open landscape filled with plants and animals, but it is an incredible look into the history of our country. Originally constructed in February of 1963, this St. Louis landmark has long represented the westward expansion — and our endless drive to build our country bigger and better.
Indiana Sand Dunes National Park bears the distinction of being the newest national park in the register, and its impressive vistas make it easy to see why. Considered sacred by Native Americans for centuries before becoming a beloved Indiana asset, this lakeside beach will make you feel like you've been transported to a distant and beautiful isle.
Note: some of these activities may need to wait until businesses fully reopen from coronavirus closures. However, there is still much to see and experience in Louisville that you can enjoy today! What are your favorite spots in Louisville? Send them our way to [email protected] or by tagging us on Instagram @rvshare and using the hashtag #rvsharelocal.