How Tos & Tips
May 28th, 2020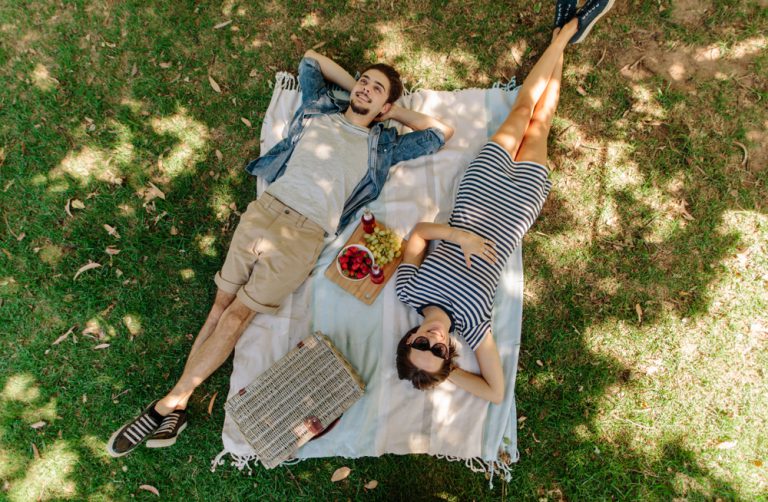 Sweet summertime… filled with trips to the pool, walks in the park, and days spent soaking up the sun. Most of these pastimes are centered around good food and snacks, and perhaps one of the best warm weather activities is the simple picnic!
Picnicking with the kids, friends, or your beau is a nice way to slow down and enjoy the company of loved ones. Whether you're hiking to somewhere special or spreading a blanket in the backyard, here's everything you need for the perfect summer picnic!
The Best Places for a Picnic
Picking out where you want to go is the first step in your picnicking adventure. While you don't have to put a ton of thought or research into this, a couple things we like to keep in mind are: somewhere with shade, soft ground (like lush grass or sand) or a picnic table. That's about it!
Maybe you have a favorite local park with a big tree to eat under. Or maybe you want to have a roadside picnic in your RV. You can always check out a state park that you've never visited before, but you don't have to even travel for your picnic! You can create a fun afternoon in your backyard or living room with all the same fixins.
What to Bring for a Picnic
Picnic Supplies
Picnicking doesn't have to be picture-perfect, and it certainly doesn't need to be costly! But thinking through some items you'll need ahead of time can make it more enjoyable. Gathering the best supplies for a picnic will also save stress in planning! Organizing your food and other essentials can mean fewer trips back and forth to the car or back home. And finding the right tools for how to keep food warm for a picnic is important, too! Here are some of our favorites:
Picnic staples:
Sunglasses and hat
Sunscreen
Bug spray
Hand sanitizer
Utensils
Napkins
Water (even if bringing other beverages!)
Picnic supplies for warm food and drink:
Picnic supplies for cold food and drink:
Picnic Food Ideas
Now that you have some supplies to get started, the last piece is deciding what you'll actually eat on your picnic! Ask yourself a few questions: what time of day will you go? Lunch and dinner may steal the show most of the time, but a breakfast picnic would be so fun, too! Will you be able to prepare the food in your RV/home or will you be picking something up along the way? How far will you be traveling?
Breakfast or Brunch Picnic Menu
Drinks
Orange juice (and champagne for mimosas? :))
Cucumber water
Fresh-pressed vegetable juice (such as carrot or celery)
Food
Bagels and cream cheese
English muffin and jelly
Seasonal fruit salad
Frittata with seasonal vegetables
Hard-boiled eggs and bacon
Lunch or Dinner Picnic Menu
Drinks
Iced tea with lemon
Soda pop
Wine or beer
Food
Salad with dark-leafy greens and grilled salmon or chicken
Burger with chips
Turkey or ham sandwich with fruit
Hearty soup
Cheese and crackers
Picnic Games
After you're done eating, hang out around your picnic for a while longer! There's definitely something appealing about just laying back on the blanket to watch the clouds or talk amongst your crew, but if you're looking for some fun games, here are some suggestions:
Start a pick-up game of football or soccer
Set up croquet around your table or blanket
Play tag or hide-and-go-seek
Run through a game or two of jumbo Yahtzee
Card games
Other Low-Key Summer Activities
Picnicking is such an easy, low-key summer activity. If you're looking for other ways to get outside while taking it slow, consider some beginner hikes or bird watching! 

This post may contain affiliate links.