Travel Inspiration
March 23rd, 2021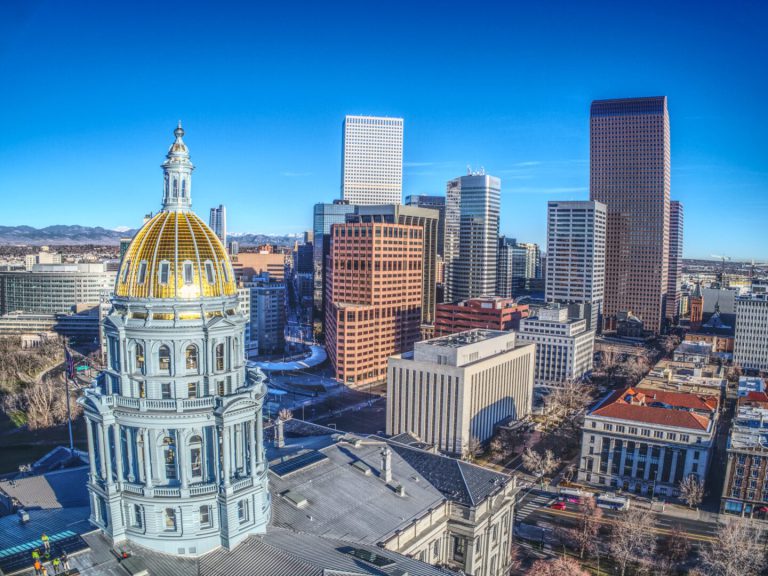 Denver is a fantastic place to go on vacation. Thanks to the many outdoor activities and campgrounds in the area, this is especially true if you have the opportunity to travel by RV. People love the hiking, rocky climbing, and skiing found in and around Denver. Additionally, the museums in the city are absolutely fantastic.
Love to experience new foods when you travel? Denver is also great for that. We especially love Hop Alley for Chinese food, Cart Driver for pizza, and Sweet Cow for Ice Cream. Need coffee? Crema is your place.
Many people who wish to visit Denver wonder if it's the best choice for families. In this article, we will discuss Denver family vacation activities to help you get a feel for what there is to do and see so you can make the best decisions for your crew. 
Are There Family Activities in Denver?
Yes, there most certainly are Denver family activities! Not only that, but we'd even go so far as to say that Denver is one of the best family vacation destinations around.
As mentioned earlier, things to do in Denver, Colorado vary from incredible outdoor experiences to wonderful museums, and a whole lot of these are 100% kid-friendly. The lists below contain the most fun things to do in Denver with kids. Let's dive in!
Denver Colorado Family Vacation Attractions
First, let's discuss the many family attractions in and around Denver. We've done our research and picked our very favorites, so you can choose from this list of Denver family activities with confidence. 
Denver Zoo
A zoo day is always a good pick when on a family vacation. This is especially true when it comes to the Denver Zoo. This awesome park features a huge variety of animals and some lovely grounds that are a pleasure to walk. We especially love checking out the elephants and the lions.
The Denver Zoo is open from 8:30am to 5pm daily, and admission tickets cost $20 for people 12+, and $14 for children 3–11.
Denver Museum of Nature and Science
Prefer an indoor activity? The Denver Museum of Science and Nature is an excellent choice. This wonderful museum is home to a large number of incredible exhibits including a kids area, exhibits about space, information on dinosaurs, and more.
This awesome museum is open everyday from 9am to 5pm, except on Friday when it stays open until 9pm. Admission pricing varies based on a variety of factors, but is always less than $20 for adults and $15 for kids.
Elitch Gardens
How about some amusement park fun? Elitch Gardens is a Denver classic. It includes both a theme park and a water park, and offers plenty of thrills for the whole family. From roller coasters and a ferris wheel to super fun water slides, you're sure to find something you enjoy while there.
Tickets to Elitch Gardens start at $44.99 each when purchased online. Parking is an additional $20. Hours vary based on the time of year.
Downtown Aquarium
An incredible state-of-the-art aquarium with over 500 species of animals on display, Downtown Aquarium is an ocean-lover's dream come true. Here you can wander past tank after tank filled with bright and colorful fish, get up close and personal with sharks, and even eat with the sea creatures at the onsite restaurant.
Cost to enter is $23.50 for adults and $17 for kids ages 3–11. Hours of operation are Sunday through Thursday from 8am to 8pm, and Friday and Saturday from 8am to 9pm.
Children's Museum of Denver at Marsico Campus
Kids love to get hands-on while learning new things. This is why the Children's Museum of Denver is so incredible. Here you'll find a water table, a bubble station, a book nook, and plenty of areas to play pretend, as well as a number of other awesome hands-on activities that are sure to delight young visitors.
Admission prices are $12 for one-year-olds, $14 for those ages 2–59, and $12 for anyone 60 or older. The museum is open by reservation only on Thursdays, Fridays, and Saturdays.
Water World
When it gets hot outside, nothing beats some water fun. This is where Water World comes into play. This super fun water park includes slides, a lazy river, a kiddie play area, and more. We love that there are group slides that the whole family can enjoy together!
Ticket prices and hours for Water World's upcoming season have yet to be published.
Wings Over Rockies Air and Space Museum
Airplanes and outer space are two things that will almost certainly fascinate young minds. Therefore, it only makes sense to take the kids to Wings Over Rockies Air and Space Museum. Here you'll find a number of amazing aircraft exhibits as well as tons of information about flight and space.
You can visit this museum from 12pm to 4pm on Sunday or from 10am to 4pm during the work week. Cost to enter is $16.95 for adults, $12.95 for seniors and military, and $9.95 for kids 4–16.
Butterfly Pavilion
The first ever standalone non-profit insect zoo, Butterfly Pavilion is an awesome and beautiful place that introduces visitors to the wonderful world of insects. Check out butterflies as they emerge from their chrysalides, learn about local insects, walk among free-flying butterflies, or check out some underwater creatures.
This attraction is open from 9am to 4pm daily, and general admission is $13 for adults, $11 for seniors, and $9 for kids.
Denver Botanic Gardens
If you enjoy a good stroll in a lovely place, Denver Botanic Gardens is for you. This place is absolutely gorgeous and has a wide variety of amazing plants that you will definitely want to stop and admire. With 23 acres to explore, this garden can easily fill a good chunk of time, so plan accordingly.
Denver Botanic Gardens is open from 9am to 5pm daily. Cost to enter is $15 for adults, $11 for kids, and $11.50 for seniors.
Denver Family Ski Resorts
In addition to the attractions above, many families also like to do some skiing while in Denver. Fortunately, there are plenty of family-friendly ski resorts around. Below are our top three favorite family ski resorts near Denver.
Keystone Ski Resort
Keystone Resort is 99 miles outside of Denver, meaning you won't have to go far to find ski fun. The resort is very family-friendly and offers ski school programs, as well as childcare.
Some family favorites at this resort include the Kidtopia events, the world's largest snow fort, the tubing hill, and ice skating rinks.
Breckenridge
Not much further than Keystone, Breckenridge is another excellent pick. This one is located in a bustling historic mining town which is tons of fun to explore. The resort itself boasts the highest lift in the US, something thrill seekers are sure to love. Recently, this ski resort also added ski school and childcare facilities.
Because this resort tends to open earlier than others and sometimes closes later, this tends to be the best place to go if you don't plan to ski mid-season.
Winter Park
Of the options on our list, Winter Park is the closest resort to Denver. It's only 80 miles from downtown, and even has Amtrak service available on certain days, making it super easy to access. Winter Park is the fourth largest ski resort in the state and has runs for all levels and ages.
Ski lessons are available for kids ages 3 and up, and childcare is available for kids of all ages.
Free Family Activities in Denver
Need to find some free ways to fill time? Fortunately, Denver offers plenty of options when it comes to free attractions. Check out the options below to have an excellent time without breaking the bank.
Rocky Mountain Arsenal National Wildlife Refuge
Want to enjoy some time in Colorado nature? Rocky Mountain Arsenal National Wildlife Refuge is a great spot to do so. This free park features a variety of hiking trails as well as fishing, a scenic drive, tours, birding opportunities, and an educational visitor center.
All of this is completely free, making this an excellent way to fill a day without spending a dime.
Red Rocks Park
More lovely hiking opportunities can be found at Red Rocks Park. The views here are amazing, and we highly recommend taking a camera to capture some of the beauty of the rock formations you'll see in the park. Be sure to check out the visitor center while you're there!
Hammond's Candies Factory
Ever wonder how candy is made? Those who take the time to visit Hammond's Candies can learn exactly how it's done by taking a tour of the facility. These tours happen every half-hour throughout the day and are absolutely free. When you finish, be sure to make a purchase at the factory store to thank the people at Hammond's for the tour.
Bonus: Attraction Free Days
Lastly, it should be mentioned that some of the museums mentioned above offer free days throughout the year. The Children's Museum of Denver, the Denver Zoo, and the Denver Museum of Science and Nature are some of those that might offer free admission at some point during your visit, so be sure to check before you purchase tickets.
Now that you know what to do in Denver when visiting with little ones, the next step is finding an RV to stay in. Lucky for you, we have an enormous number of motorhomes and travel trailers for rent. Pick one out and get ready for an awesome Colorado travel adventure!