RV Decor & Unusual RVs
August 5th, 2015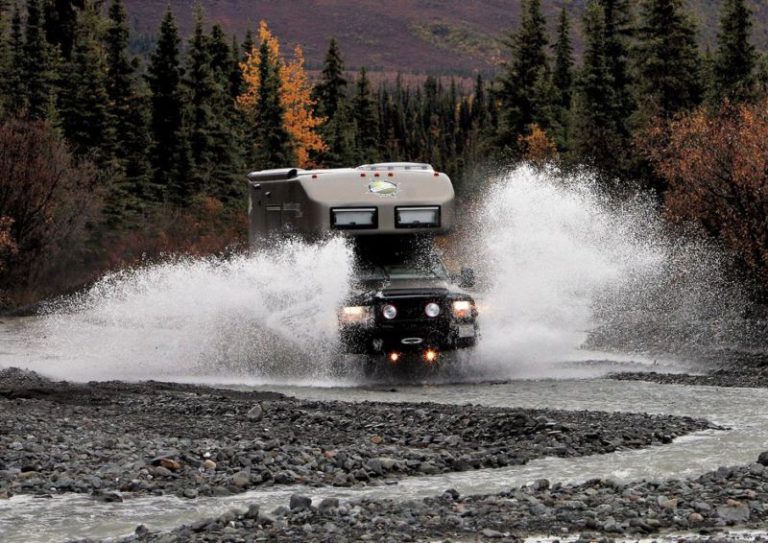 Renouncing the big city to live in the wilderness is a tough call. I mean who would want to leave behind their friends and family, for a large dose of fresh air. Not all of us are able to do that, so we are left in a miserable situation where a meaningless job and high levels of daily pollution compel us.
Luckily, we have a lot of new vehicles that can change our mind. Some of them come at an affordable price, while others are the best thing to dedicate your life to. If you can purchase one of these babies you won't have any problems with starting a new life. From owning state of the art technology on the open road to driving a small car that turns into a giant home, these vehicles are  something to look up on. So I urge you to investigate these coolest vehicles before you decide to take a large bite out of nature.
The Chrysler Town and Country Van
This van is "Designed with innovation and focused on family". It can easily go from seven seats to two in just a few minutes. It has great technology and a SafetyTec Package that comes with a lot of features. Those features include blind spot monitoring, rear cross path detection, rain-sensitive windshield wipers, ParkSense rear park assist and the tire pressure monitoring display. The technologies include a cool display with voice command for easy navigation through your mobile device or available music. The blue-ray system offers high quality sound and can pair up through Bluetooth with 10 devices. This way multiple participants can play their favorite music or videos.
The price for this beauty starts at $29,999. You can learn more by clicking here. 
VW Doubleback
Now this is the future of campers. The DoubleBack has a innovating design and it's constructed from the aircraft industry standard materials.  It has a lot of furniture or interior features and it's built both for left and right hand drivers. It comes with an electric slide out read Pod that expands the vehicle almost 2 meters in length. It was made to offer enough space and comfort, but kept the advantages of a smaller vehicle. In about 45 seconds the pod expands and gives you two extra rooms. It's great to own since you won't have any problems with parking spaces.
It is roughly $89,000 and you can check it out here.
The EarthRoamer
This vehicle is The Global Leader in Xpedition Vehicle Engineering, Design and Manufacture. It's bassed on a Ford F-550 or F – 650 and they have leading technologies and high quality materials. You can take this vehicle in the harshest environments using the 46″ military tires. Besides this you will benefit from the massive solar arrays, huge battery bank, 200 gallons of fresh water, a washer/dryer and many more advantages. It is 100% American made, hand-built in Colorado. You will love this vehicle!
The price starts at $61,000 but with some extra features and state of the art technology it reaches $250,000. See more here.
Saab Toppola
This is a interesting camper shell originally mounted on a Saab 99 combi coupé. Designers removed the hatch and placed it on the Toppola. This great innovation turned the car into a vampervanin in 15 to 30 minutes. Although it looks small, it has a full standing height of 2 m and a 170 by 200 cm bed. You can even add a heater and a complete kitchen.
The price for this vehicle starts from $5,500. More details here.