RV Decor & Unusual RVs
September 10th, 2015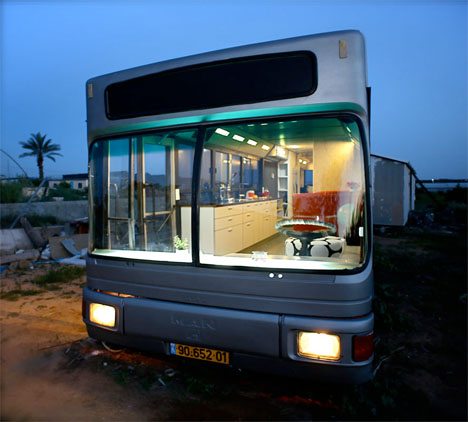 Who says an old bus can't be resurrected into a spiffy RV? Take this DIY project for example.
The owners designed this converted bus to their own specifications. What was once a dilapidated, dusty city bus has now been turned into a sleek RV.
This "before" picture would have given most DIYers pause.
The condition of the bus did not daunt the designers—two Israeli women—who saw the potential in this old vehicle.
First the gutted the interior and kept what they thought they might be able to recycle or reuse.
Things on both exterior and interior were detached in a project that took two days. What they then saw made their job seem even more formidable.
The two borrowed ideas from magazines. First they installed a new floor. Next they added new wall and ceiling surfaces. A long counter rounded out the kitchen. Then they built a dining table with vibrant colored seats.
Having kitchen and dining facilities, their next project was a bed, closets and a bathroom with a shower.The final project was the exterior. Leaving much of the original exterior of the bus intact, the owners merely gave its skin a facelift.
While living in a bus turned RV is no ordinary lifestyle, it is not unheard of. Hundreds of entertainers, keynote speakers, bands and sports stars traverse the continent by luxury bus each year. Many school buses have been purchased and given second lives as family campers. Buses have also been converted into mobile libraries for small communities.
This amazing conversion of a yellow school bus uses wood to form an upper deck, and a homey front door replaces the usual bus door. Owner Rob Waldmire used his "Wood Yacht" to travel Route 66 for decades.
Because he was tired of drafting plans for other people's dream spaces, architectural student Hank Butitta bought a bus for $3,000. He then proceeded to transform the interior at a cost of only $6,000. Renovations included a bed system that unfolds in various ways for different sleeping configurations. Many hidden storage spaces are tucked inside. The bus also has different seats including egret flip-up and slide-out panels.
Take a look at this converted school bus that can sleep ten people.
Note the shelf space in the kitchen. Each drawer and basket locks into place to prevent spills when the bus is moving.
Many who have converted school buses argue that they are a cheap form of mobility. They are easy to gut making them literally a blank canvas for DIYers to build their own unique living space. Others say it is a throwback to the hippies of the sixties.
Because it was a double decker bus, this vehicle offered even more possibilities for living space. It offers professional musicians their own particular space while they are on the road.
The Blue Bus pictured below has undergone some beautiful renovations. Note the rich wood and granite and tile in the kitchen/dining area. The couple who purchased it were looking to get out from under a heavily mortgaged McMansion. They bought the blue bus for $2,000 and gutted it, doing the renovations themselves.
The owners of this British double decker bus looked at what could remain before planning renovations. As a first-time home it cost the couple $20,000 when renovated. This is a tenth of the cost of a small first home — and they can move it anywhere they wish!
The bus below doesn't look like much from the outside, but just look at what a cozy living space its owners have made in the interior. They even have a wood stove!
Concerned about evacuations, this family has taken "the ark" and made it a safe living space in case they need to flee forest fires, hurricanes or floods. Note the sleeping facilities not unlike a sleeper car on a train, and the storage of supplies in the bus' luggage space. Of course the family has had several "practice evacuation" fun week-ends.
Because of their roomy interiors and ease of renovations, buses offer viable living space for travel or as a permanent fixed address dwelling. When it comes to converting them you are limited only by space and your imagination.
Source: Web Urbanist