RV Owners
March 11th, 2020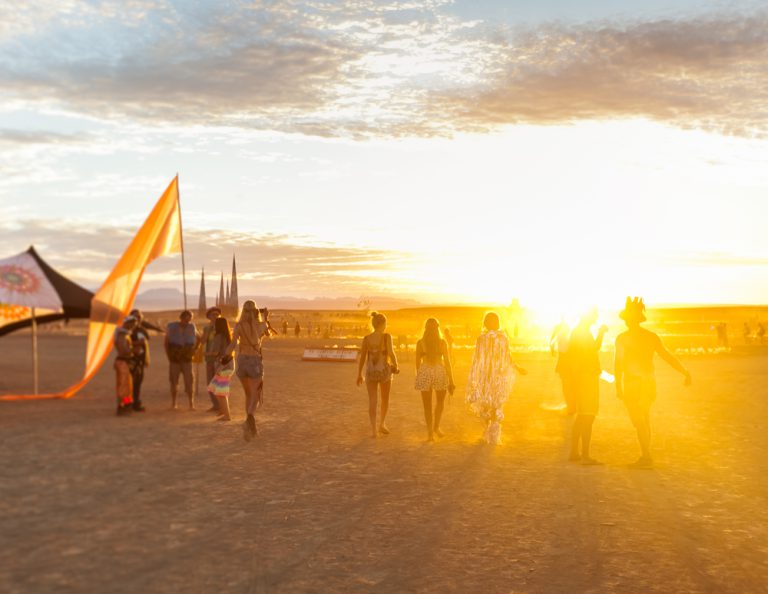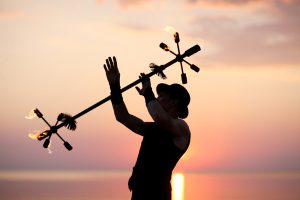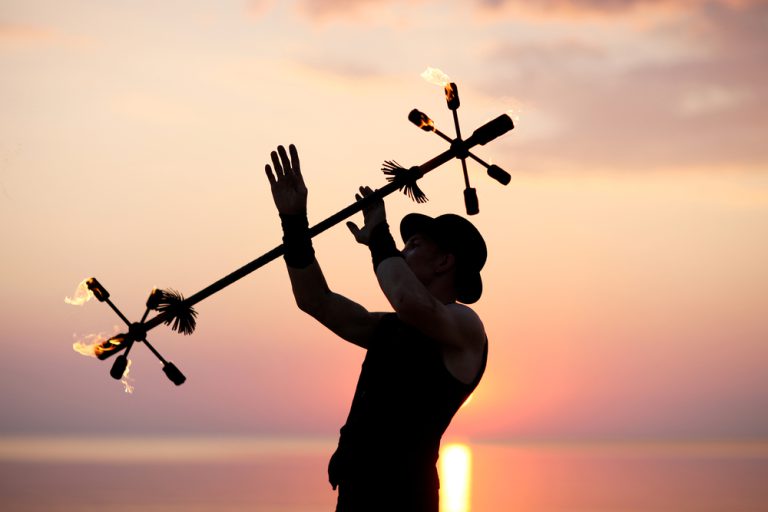 Once a year, over 70,000 dreamers, adventurers, and spectators gather in Nevada for the Burning Man event. A makeshift metropolis known as Black Rock City is constructed for the people, by the people. Lifetime memories are made for attendees, but you may be feeling a little less blissful as an RV owner. 
What is Burning Man?
Burning Man originally started in San Francisco on Barker Beach in the mid-1980s and moved to the desert in Nevada by 1990 as the event grew in size and popularity. The history of the event and desert itself is pretty neat if you ask us. The Black Rock Desert was actually an ancient lake bed about 15,000 years ago, and because of various environmental and biological factors, it is home to unique alkaline dust (playa).
This art and music festival is certainly like no other and is "dedicated to community, art, self-expression, and self-reliance". While Black Rock City is a pop-up for the week, according to Burning Man's site, like any other city, it has the essential infrastructure and community services — including city planning, emergency, safety, and sanitary infrastructure — to keep it functioning. There are even services offered for RV maintenance. This certainly isn't an event one goes to on a whim – there is preparation as an attendee as well!
What makes this event so different?
Here's the thing, we aren't going to sugar coat it – while the desert's playa is beautiful to look at, RVs can take a beating simply because of the dusty location where these Burners come together. The combination of playa itself and hard winds can make the dust go into any crevice and surface of the RV, including the engine and vents. Since the playa has such a fine texture, it can cause damage if not tended to properly.
That said, there is a lucrative opportunity to rent out your rig for Burning Man, and certainly not something to fear with some preparation beforehand, as well as having an understanding of what cleanup can be expected. But if you want to avoid it altogether, that's okay, too. We got you covered either way. This guide will walk you through tips on making your rental available (or not), prep and cleaning, pricing adjustments, and how to vet if you suspect a potential Burner flying under the radar.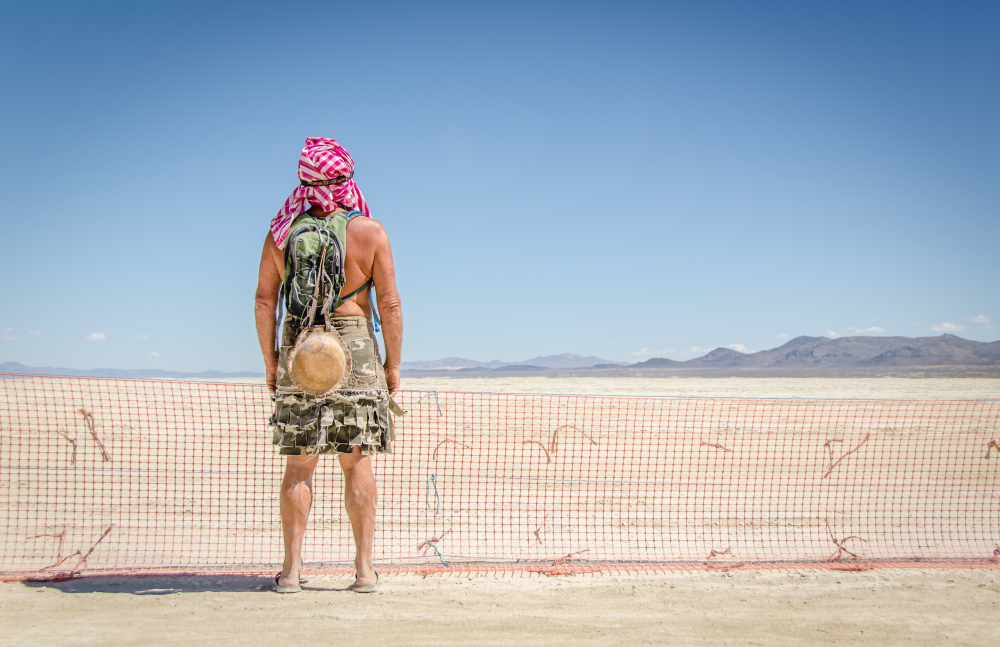 I want to rent out my RV for Burning Man.
Woo, that's great! You have an opportunity to earn more than an average rental, and we're here to support you. Below are our suggestions to keep in mind when renting out your rig to Burners.
Update your listing:

Note your listing IS Burning Man friendly.

Install a GPS tracker: If you do not have one, you can buy one

. Whether or not your rig is headed to Black Rock Desert, we recommend having a GPS as standard practice for our owners. This data will also be very useful for disputing claims if needed.

Keep payments and conversations all within the RVshare platform:

Again, it doesn't matter where your RV is headed, we recommend keeping track of payments and convos on our platform as an easy tool to dispute claims and prevent fraud.

Work with your renters:

Given that Burning Man is the largest "Leave No Trace" event on the planet, most Burners tend to take care of their things and are conscious of taking care of yours, too. Work together using some of the preparation and post-event cleaning tips below.
I don't want to rent out my rig for Burning Man.
Alright, no sweat! We totally get sometimes the potential money made isn't worth the risk. Nothing wrong with playing it safe. Below are some great tips to implement if you don't want your rig headed to Black Rock City. 
Update your listing:

Note your listing as NOT Burning Man friendly.

Install a GPS tracker: If you do not have one, you can buy one

. Having a GPS can deter renters from heading to Burning Man if they say they aren't. This data will also be very useful for disputing claims if needed.

Keep payments and conversations all within the RVshare platform:

Another great way to support dispute claims and prevent fraud is to keep track of all the information in one secure place.

Black out dates:

While of course we wouldn't typically encourage you to make your rental unavailable, it is certainly an option. Hey, maybe you can even use this week to take a trip yourself!
Preparing Your RV for Burning Man
Getting your RV ready for Burning Man is similar to how you would prepare your home for a remodel. You'd likely cover your carpet before painting and toss drop cloths over furniture before sanding, right? Some of the preparations you can take to protect your RV may not be the most attractive, but they are pretty darn effective! Just make sure to communicate these with your renter ahead of time, so they aren't confused about why their new home for the week has plastic wrap on the floors and windows.
Floors and Windows
Beginning from the ground up, cover your floors, using plastic wrap for carpet and heavy paper for hardwood. Be sure to tape these down and include extra for your renter. Depending on the length of their trip, you may ask them to carefully repeat this process while they are at the event.
Next, tape up window molding, outer seams, and any unused vents. You can use simple painters tape for this, but keep in mind it gets HOT out there, meaning skimping on quality tape might leave you with residue when it comes time to peel off. 
Speaking of the hot temps, windows can be covered with a reflective wrap on the outside to keep the RV as cool as possible. As an owner, you could choose to do some of these before handing the keys to your renter, or they could add while they are there. Just be sure to securely tape it down because the wind picks up; your best bet would likely be to use something like gaffer's or stucco tape. 
Extra Tips
Another easy preparation is to cover the furniture. You can practically shrink wrap your chairs and couches or look into slipcovers. Also, keep the awning closed. Not only will this avoid it getting super dirty, the winds there are no joke. Provide additional shade options for your renter or advise them to bring their own. Lastly, we'd recommend talking through A Burner's Guide to RV Rental, where we outline ways they can be a mindful renter while on the playa. 
Other considerations can include double-venting external vents and even getting your RV waxed to give the exterior additional protection and make cleaning it a little easier. Of course, you can opt to not take any of these measures and invest in more time/cleaning costs later.
Post-Burning Man Cleaning Tips
While not the cheapest, you can certainly leave the cleaning to the professionals. They have tools and tricks that you may not be aware of and may even have experience with cleaning a rig that's just left the playa.
If you'd like to do it yourself, you'll want a lot of vinegar and some of Burning Man's official post-playa tips:
Wash your vehicle immediately.

Use an air compressor to blow all the dust out of the engine and other areas.

Open all the windows and turn the AC fan on high to help get the dust out of the vents. (Be sure to wear glasses or goggles!) 

Vacuum everything – floors, window treatments, furniture.

Clean with white vinegar to cut through the dust.
Whether you hire out or DIY, we can't stress enough to clean right away. Hint: You can – and should – charge extra for cleaning. This leads us to…
How Much Can I Charge to Rent Out My RV for Burning Man?
Because of the intensity of the playa, it's not uncommon, unheard of, or unreasonable to bump up your fees. Increasing your prices can deter renters from taking your RV to the festival, which may be your goal. But there may be Burners willing to pay your rate to have the comforts we know and love about RVs available to them while they are at Black Rock City. 
How much should I charge for my unit?
Generally, we've seen owners double or triple their nightly rate, though you can certainly charge whatever you feel is a fair price for your rig!
What should I set my security deposit at?
We'd recommend a minimum of $1,500. RVshare's insurance deductible can be as high as $1,500 per incident, so we suggest that your security deposit match to ensure that you are reimbursed for any potential claims.
What about prices for generator usage?
Burning Man is a boondocking only event – there are no hookups available for use – so your Burner will likely heavily utilize your generator. 
As an owner, you can charge for additional usage by the hour. Fees can be set at whatever you are most comfortable, usually $1-10 extra an hour. You may also want to invest in a reflective tarp or shield to keep the generator from overheating under the hot desert sun. 
Are there additional fees I should consider?
We would recommend adding a cleaning fee whether you plan to clean the RV yourself or hire it out. It may be worth getting a quote from your local professional cleaners to understand what you should charge. Typically, you can expect $750 to $1,000 to have it cleaned professionally. The severity of the clean can vary based on your prep and the renters precautions while using, as well as the size of your rig. 
How do I set special event pricing for Burning Man?
Log into your dashboard on rvshare.com. From there, go to your listing and select "update rates". Scroll to where it says "set special/event rates" where you can then update the prices as you see fit.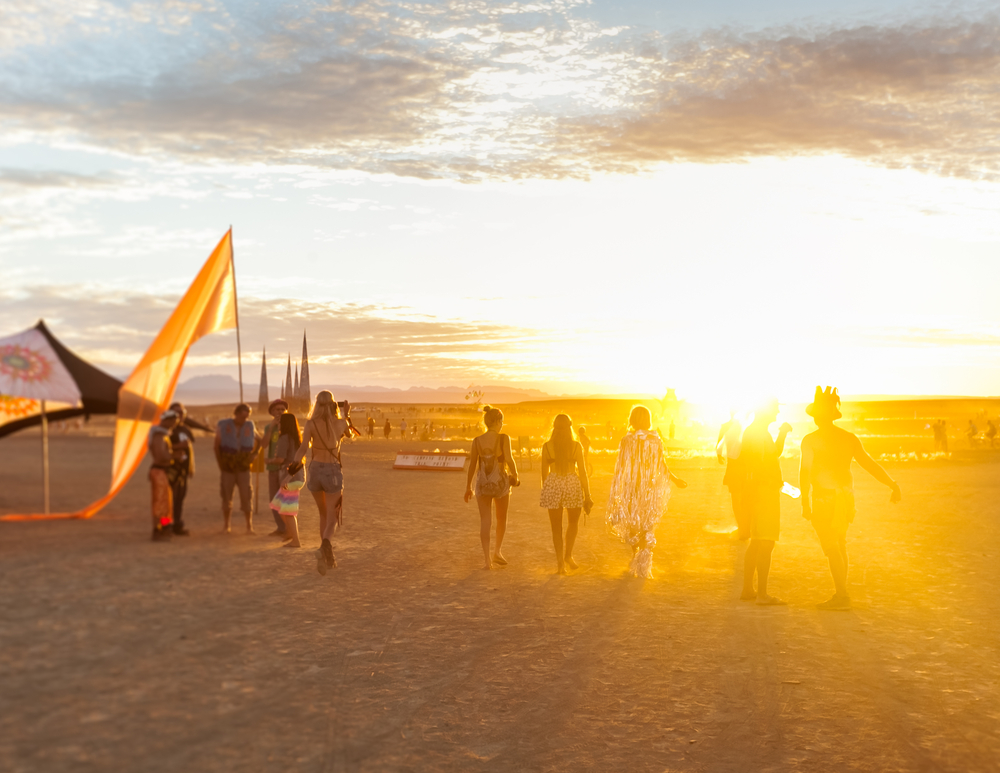 Additional Burning Man FAQ
What if I suspect my renter is taking the unit to Burning Man without my permission? 
Maybe your listing is explicitly marked as a no-go for the festival but something seems a bit off about your upcoming rental. Or perhaps you are pro-Burning Man but suspect a renter to want to avoid the extra fees. Here's how you can do your best to spot out the not-so-forthcoming potential Burners.
Cover your bases in your listing description:

You can't go wrong by over-explaining. Be sure to clearly state in your listing that the entire deposit will be forfeited if the unit is taken to Burning Man without your permission. Don't forget to add that as one of your optional fees on your listing as well, just in case a renter would try to dispute this.

Check the dates against the event:

If you live within a few hundred miles of Black Rock Desert

and

the rental dates line up with Burning Man, it is possible the renters are headed to play in the playa.

Observe the renter's attitude:

Is the renter being vague about where they are road tripping? Do they bring up Burning Man or deny going to the festival without you asking? While these oddities can be innocent enough, you may want to dig in a bit deeper.

Install a GPS tracker:

We've said it a couple times now, but truly this is the best way to cover your basis and know exactly where your RV is going.

RVshare offers a GPS

and service that can geofence the area in question.

Look them up on social media:

A little creepy? No more so than wondering what your ex or old colleagues are up to, right?! It's always an option, though, if you suspect your renter of being a Burner. Because if you go to Burning Man and don't post photos, did it really even happen?
Should I provide my renters with any special amenities for the trip?
As with any rental, this is left up to the discretion of the owner. It is your call whether or not you want to stock your unit with water, supplies, or anything else a Burner might need for their trip. This may also be a good opportunity to make additional money off of the trip. You could always charge a special "Burning Man Package" fee and include sunscreen, water, buckets, and anything else the renter may need.
Do damages and overages claims still work the same?
They sure do! Just be sure to properly document everything on the Departure Forms before the unit has left your possession. You may also want to take extra precautionary measures and take pictures that are timestamped of the inside and outside of the unit, just to save yourself in the event of a dispute. 
We're here to help! If you have any additional questions, reach out to us online or give us a call at 888-482-0234, and we'd be more than happy to assist in answering them.