Travel Inspiration
December 2nd, 2020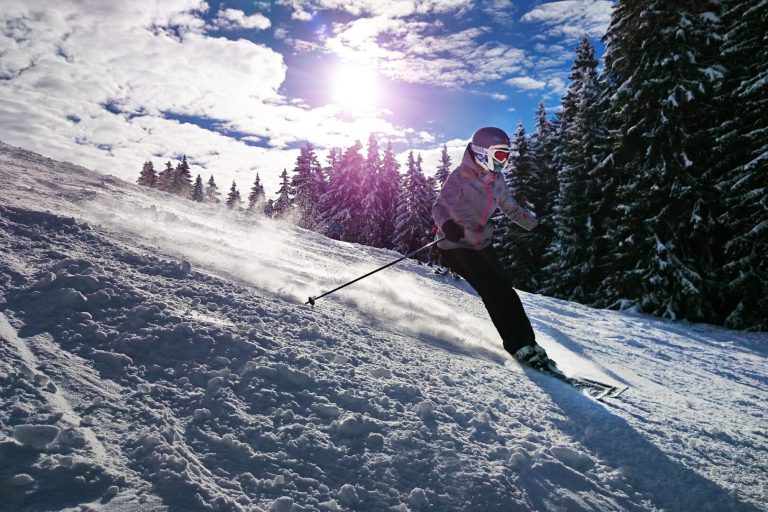 Most people think winter is the time to pull out the RV antifreeze, get everything packed up, and put the trailer or motorhome into storage. We understand this thought process. However, we don't necessarily agree with it.
RV camping in the wintertime can be a fabulous and unique experience. Many campers will head south so they can continue to camp in warm temperatures year-round. That said, we think there is something to be said for cold-weather camping, and there is no better way to experience RV camping in the cold than by going on an RV ski trip.
If you're thinking of going on a ski trip this year, we highly recommend going in an RV. Where do we recommend taking that RV? Well, Colorado, of course!
Here are our top tips for planning the perfect RV ski trip to Colorado.
Pick a Place
The first step when planning your Colorado ski trip is picking out the perfect destination. Sure, you know you want to head to Colorado, but there are lots of fantastic Colorado destinations that lend themselves well to a ski trip. Which one will you choose?
Breckenridge
Breckenridge might be the most popular option for RVing ski trips. In fact, the Breckenridge ski resort is world famous, and might just be the best one in the entire country.
Best of all, Tiger Run Resort is super close by. This is a wonderful RV park, and its close proximity to the Breckenridge slopes mean getting to and from the fun won't be any trouble at all.
Check out Breckenridge RV rentals.
Aspen
Another great option is the town of Aspen. This town has been home to amazing skiing opportunities since 1936. Today, it attracts over a million skiers each year.
We recommend heading to the Aspen Ski Company to enjoy a wide variety of winter sports, as well as plenty of different ski trails. Unfortunately, there aren't a whole lot of RV parks nearby, so you will need to stay a bit further out or get creative with where you camp while visiting this resort.
Crested Butte
Founded in 1878, Crested Butte was originally a coal mining town. These days, it's an amazing ski destination and offers so much more fun than coal mining ever could.
Crested Butte Ski Resort is our favorite option in terms of places to ski while in this town. Skiing, snowboarding, ziplining, and more are all available at this awesome resort.
At the end of the day, you can return to your RV in the super nearby Crested Butte RV Park to get some rest. This campground is open year-round and offers full hookups along with a number of other amenities.
Check out Crested Butte RV rentals.
Steamboat Springs
Finally, there is Steamboat Springs. This town started as a single homestead way back in 1874. By the early 1900s, it became a full-fledged town, and in the 1910s skiing was introduced to the residents of this town. From there, the town continued to grow and is now a well-known tourist destination for winter sports.
Steamboat Ski Resort is the place to go for any winter sport imaginable. Try your hand at snowshoeing, tubing, skiing, and more. At the end of the day, make yourself at home at the Steamboat Springs KOA just down the road and get some shut-eye before doing it all over again the next day.
Check out Steamboat Springs RV Rentals.
Choose an RV
Of course, in order to take an RV trip, you will need an RV. If you don't have a rig of your own, you'll need to rent one. Fortunately, RVshare has plenty of RVs for rent in Colorado.
Know the RV Types
When choosing a rental, they first thing you need to know is that there are a few different types of RVs out there. By deciding which type of RV you'd like to rent, you narrow your options considerably, making the shopping process a little easier.
The types of RVs include:
Pop-up or hybrid — Not ideal for winter camping, pop-ups and hybrid campers have canvas sides that pop up and out, offering a lot of space in a very small trailer.
Travel trailer — Hitched to the bumper of a truck and pulled from one place to the next, travel trailers come in all sizes and are a great, budget-friendly way to do some winter camping.
Fifth wheels — Similar to travel trailers, fifth wheels are pulled using a truck. However, these tend to be much larger and more expensive than travel trailers, and they hitch up in the bed of the truck, making them a little more comfortable to tow.
Class B — The smallest of the drivable RVs, these are also known as campervans. From the outside, they appear to be regular vans, but inside you'll find a bed, a small kitchen, and sometimes even a bathroom.
Class C — The next step up is a class C. This is also a drivable RV, and looks a lot like a box truck with a bed over the cab. Class C RVs sit on a regular van chassis, making them relatively easy to drive.
Class A — Finally, there is the class A. These are the motorhomes that look like buses. They tend to be the most expensive option, but also tend to have the most amenities. Class As can be a bit more challenging to drive.
Look for Winter Amenities
Once you know which type of RV you want—we don't recommend a pop up or hybrid, and most class Bs aren't ideal for winter camping either—you'll need to find one with the right set of amenities. Things like a heater, an indoor shower, and a water heater are must-haves when camping in cold weather, so make sure you double check that the rig you pick has these things before booking.
Consider Delivery
The last thing we recommend is looking into having your rental RV delivered. Sure, it's fun to drive a motorhome to your destination and make a road trip of it. However, driving a big rig in the snowy mountains can be scary, especially if you don't typically drive big rigs, or you generally aren't used to driving in snow or in the mountains.
Having your rental delivered will remove this stress so you can focus on having fun.
Create an Itinerary
With a location picked out and a rental RV booked, the next thing you'll need to do is create an itinerary.
Obviously, you will want to do plenty of skiing. That said, every ski resort mentioned above has opportunities to experience a variety of other winter sports. Take advantage of this opportunity and add a few other sports to your to-do list.
On top of these sports, we also recommend exploring whichever ski town you end up in. All four mentioned above are adorable, and each one has its own set of yummy restaurants and local shopping places to discover.
Finally, you may also want to schedule a time to experience Colorado's national parks. Rocky Mountain National Park is breathtakingly beautiful. Additionally, Mesa Verde National Park, Great Sand Dunes National Park, and Black Canyon of the Gunnison are all well worth visiting.
Now that all your plans are in place, the only thing left to do is pack up, get on the road, and start exploring. Your Colorado ski trip is sure to be one you won't forget, and we're betting it's one you choose to repeat again in the future.