Travel Inspiration
Last updated on December 7th, 2022. Originally published on November 19th, 2017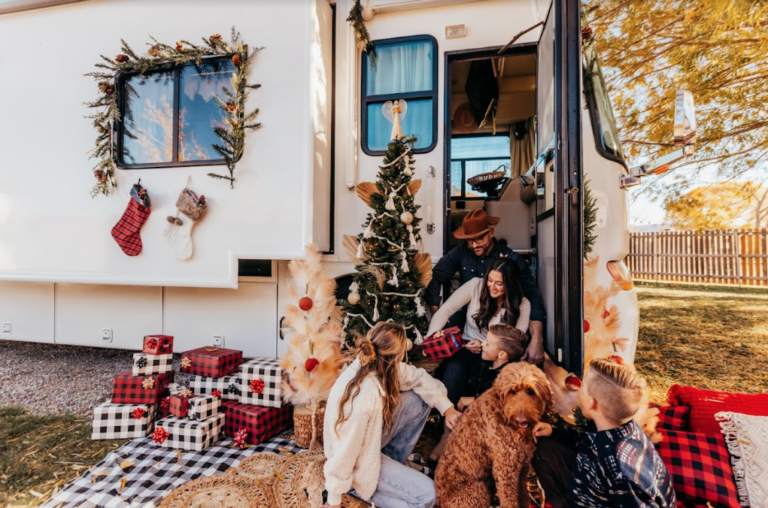 With a whole road atlas full of winter wonderlands to discover, how can you possibly waste your holiday time off by celebrating at home?
As beautiful as many American destinations are during the summertime, winter's frosty grip adds an air of mystery and charm. Just imagine exploring quaint northeastern towns, lights glimmering and chimneys smoking in the chilly air — or observing how the blanket of fresh white snow outlines the skeletons of the trees in your favorite park.
There's no denying it: December vacations are where it's at. We can feel our holiday spirit growing already!
So pack up the rig with some toasty blankets and grab your best winter coat and snow-proof boots. Here's why you should consider taking your holiday celebrations on the road this year.
December Vacation Getaways
So, ready to pack up and go this December? If you're not quite sure, these reasons should convince you.
1. You have the time.
Need to get away from the hustle and bustle of the burg you live in?
With the kids out of school and work at a slowdown, the holidays are a great time to take last-minute city breaks. And as you've doubtless discovered, the holiday magic you experience as a child can get a little bit… well, demystified when you're suddenly faced with all the planning, cooking, and shopping adults have to do to make it happen.
Traveling is a great way to renew that childlike holiday wonder — leave all your worries at home and just bring the basics instead of throwing a huge holiday party. It's a lot harder to feel stressed out when you're enjoying a new destination with your favorite people!
Holiday Deals
Want another great reason to travel this December? With cheap holiday deals available, your winter wonderland getaway doesn't have to be expensive.
2. You can enjoy fun, low-cost holidays.
RVing is already a great way to travel if you're budget-minded. Staying in campgrounds is almost always cheaper than staying in hotels, and unless you're traveling very far away, it's hard to spend as much on gas as you would on airfare for your whole family.
Plus, you can find great deals on December holiday RV vacations, no matter where in the country you're planning to travel. One great way to keep your last-minute holidays cheap is to utilize your Passport America membership, which saves you 50% on your campground accommodation fees at almost 1900 campgrounds across the US, as well as in Mexico and Canada — just in case you're looking to cross the border this winter.
You can also check around for holiday packages at campgrounds in your destination area. Winter is a slower travel season than summertime, so many campground owners incentivize travelers by offering special deals and cheap rates.
Affordable December Vacations
Ready for a holiday you won't soon forget? Here are even more reasons to take a motorhome vacation this December.
3. Yes, you can host a big feast in your RV.
It's true: the holidays just wouldn't be the holidays if there wasn't a totally insane amount of food involved.
But despite your RV's small size, it actually is totally possible to create a feast in your rig — no matter how many people waiting to be fed. Here's our guide to entertaining in your RV, and this post about cooking Thanksgiving dinner in a motorhome is full of tips that can just as easily apply to Christmas or Hanukkah.
One great work-around if you don't have an oven — or don't have one that's big enough for that giant bird you always whip up for the holidays — is to change up the menu a bit. Who says steaks on your nifty portable Coleman propane grill aren't holiday-appropriate? You could also try out that deep-fried turkey like you've been meaning to for all these years; it's safer to use those elaborate frying setups outdoors, anyway!
Besides, if worst comes to worst… there's always Chinese, right?
Best Place for Cheap Holidays
Ready to hit the road yet?
There are so many reasons to make 2017 the year you take on an epic Christmas vacation.
4. You deserve a romantic getaway.
Maybe you don't have kids yet, or maybe they're all grown up and have their own families to attend to.
Either way, you owe it to yourself to reconnect with your significant other. The love we share is one of the very best gifts we get in our lives, after all, not just for Christmas — and rekindling that passion is an incredible present, far better than anything that might fit easily under a tree.
An affordable winter getaway is just the way to do it. RVing leads to some of the best cheap holidays for couples — after all, you're traveling in your own mobile private cottage, and you can head anywhere the mood strikes! What could be more romantic than figuring out your picture-perfect winter holiday itinerary together? We bet you won't even need mistletoe to stay in the celebratory spirit. 😉
5. It's not about where you spend the holidays — but who you spend them with.
When it comes to the holiday spirit, the people sitting at the table are a whole lot more important than the food and decorations on it.
And that means if you gather your friends and family up for your holiday adventure, it'll still be just as merry as it would have been at home — if not more so! Who doesn't love the excitement of exploring a brand-new place with their loved ones?
So if you've been long meaning to hit the road for some affordable family holidays, go ahead and give yourself permission. Let 2017 be the year of a Christmas celebration you'll never forget, even if it's celebrated at a totally unfamiliar destination.
After all, as long as you're surrounded by the people you love, you'll be home for the holidays — even if you're away from your actual home.
No matter where you spend this December, have a merry one!
This post may contain affiliate links.