How Tos & Tips
September 17th, 2015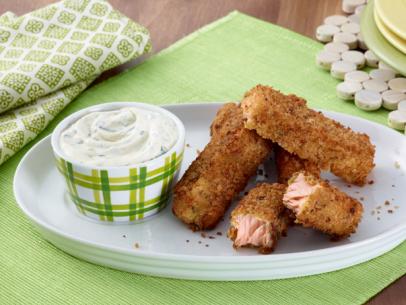 Camp food doesn't have to be "campy!"  In fact, those good ole' foods of yesteryear now have an upgraded twist. The recipes below will take classic memories and upgrade them to 2015 standards.
While these recipes are delicious, they might not be simple nor campfire friendly. They are designed for home preparation with a full kitchen. I guess that's why camp food isn't usually fully gourmet. Regardless, each of these recipes can be adapted as needed to your RV or your campfire grill. Just take the time to prepare the complicated bits at home, and if you have ideas or suggestions, leave your thoughts in the comment box below.  Your camp food innovations always inspire!
Fish Sticks
Remember when the lunch lady served up those soggy, stinky sticks? Well, push those memories aside. This recipe features Salmon fillets that will have your taste buds begging for more!
What You Will Need:
Fish sticks:
1 (18-ounce) center-cut salmon fillet, about 9 by 4 inches, skinned
1/2 cup all-purpose flour
1/2 teaspoon fine sea salt
1/4 teaspoon freshly ground black pepper
3 egg whites
1 cup grated Parmesan
1 cup seasoned bread crumbs – Panko works best
Olive oil, for drizzling
Dipping Sauce:
1/3 cup reduced fat mayonnaise
1/3 cup low-fat plain yogurt  (Greek Yogurt is a great choice!)
1 tablespoon Dijon mustard
1 tablespoon chopped fresh chives and basil
Fish Sticks Directions:
Preheat your oven to 450 degrees while you are preparing the fish.
Rinse the salmon and pat it dry with paper towels. Then slice the fish in half to make two pieces and slice each fillet into long 1/2-inch pieces. You want to cut the pieces equally if possible, aiming for 1/2-inch wide and 4-inches long.
Place the flour in a bowl with the salt and pepper. Place the egg whites in a separate bowl and beat. You want the egg whites to become frothy; this usually takes about 30 seconds. Mix the Parmesan and bread crumbs in a third bow, or shake together in a Zip Lock bag.
Coat the salmon is a three step process; First dip the salmon in the flour and shake to remove the excess. Next, dip into the egg whites, and then place in the Parmesan mixture. If you need to, press the coating to make sure it sticks to the fish. Cover a baking sheet with parchment paper and set the breaded salmon on top. Drizzle each piece with a touch of olive oil and bake for 15 minutes in the oven. Cook until golden brown and crisp.
Dipping Sauce Directions:
Mix all the ingredients together including the mayonnaise, yogurt, Dijon mustard, and parsley (or chives, if using) in a small dipping bowl. Serve in small dishes with the fish sticks. This dipping sauce is oh so much better than traditional tartar sauce!
Trail Mix
In today's day and age, we are high carb conscious. Most trail mixes use a variety of high sugar ingredients which spike the carbs. This recipe is a low carb, yet delicious, alternative. If you were a kid that always had trail mix in their backpack, here is your new go to recipe!
What You Will Need:
1 cup roasted peanuts
1 cup raw or roasted almonds
1 cup pumpkin or squash seeds
2 ounces unsweetened coconut
½ cup loosely packed raisins
How To Prepare:
Mix all the ingredients together. If you divide into 1/4 cup servings you will have enough for 16.
Each serving will have more fiber and far less carbs than your normal trail mix. Place in zip lock bags or vacuum pack servings for your next camping or hiking excursion.
Change It Up:
The recipe above can be adjusted to your tastes with the following low carb choices:
Sunflower seeds
Hazelnuts
Walnuts
Soy nuts
Other nuts and seeds if you check the label for cabs BEFORE using.
Orange Drink
Ah, the orange drink served to you with your camp food. No one really knew what made Tang, nor how it helped the astronauts get to the moon. Still, there it was served to you in a paper cup. As an adult, you might enjoy a more refined accompanying cocktail. Here's one to try.
What You Will Need:
1 bottle dry white wine like Pinot Grigio, Pinot Blanc, Viognier, Gruner Veltiner, Gewurtztraminer or Riesling.
4 ounces of Grappa
4 oranges, quartered
1 lemon, quartered
One 3-inch piece of vanilla bean, split lengthwise
Mix all the ingredients in a container, place the airtight lid on and let it sit in the fridge for 4 weeks. During this time the citrus fruit will infuse into the wine. At the 4 week mark strain the wine through a sieve and remove the fruit and vanilla. The wine can then go back into the fridge in an airtight container for up to a week.
This recipe will make 24 ounces of your own Orange wine!
Gourmet S'Mores
No camp food would be complete without S'mores. These simple campfire treats are a delicious way to finish a long day of hiking, biking, fishing and fun. As a foodie, you might enjoy an entirely gourmet approach to the oh so common S'more. If so, this is the recipe for you!
Now, this recipe is not complicated, but it does take time. Remember, you do not have to do it all at once. The Semifreddo can be made up to a week in advance and left in the freezer and the chocolate sauce will hold up to 5 days in the fridge. While the recipe does have multiple steps, make it ahead and assemble when you are camping.
What You Will Need:
Semifreddo (a partially frozen Italian dessert!):
2 cups Marshmallow Cream
2 cups heavy cream
8 large egg yolks
1/4 cup sugar
1/4 cups water
Homemade Graham Crackers
2 sticks unsalted butter, at room temperature
1/2 cup packed light brown sugar
1/4 cup honey
2 cups whole wheat flour
1 teaspoon salt and cinnamon
1/2 cups all-purpose flour, plus more for dusting
Homemade Milk-Chocolate Sauce
1/2 cup packed light brown sugar
1/2 cup light corn syrup
1/3 cup heavy cream
1 tablespoon unsweetened cocoa powder
1 cup milk-chocolate chips
1/2 teaspoon pure vanilla extract
1 teaspoon coarse sea salt, such as Maldon
How To Prepare:
Using parchment paper, line a large baking sheet and then spray it with nonstick vegetable oil.
Preheat your broiler oven.
Spread the Marshmallow cream on the parchment about 1/2 inch thick. Make it as even as possible.
 Broil for 1 minute. It will turn golden brown. DO NOT BURN. Then allow to cool.
Once it's cool, fold the cream a few times to mix the browned top in.
Beat the heavy cream with an electric mixer until firm peaks form. Place in the fridge when finished.
Whisk egg yolk for 3 minutes. The egg yolks should turn pale if beating with medium high speed in an electric mixer.
Add sugar and water into a small saucepan and bring to a boil over the stove. Using a candy thermometer boil the syrup until it reaches 235 degrees. This will usually take about 5 minutes. When it comes up to temperature remove the saucepan from the heat.
Slowly pour the candy mix into the egg yolks and continue beating for around 8 minutes or until the volume will triples.
Stop the mixer and fold in the chilled whipping cream. Make sure it is well mixed.
Scrap off 1-inch chunks of the marshmallow using a fork or other instrument. Fold piece by piece into the whipped cream.
Add the semifreddo concoction into a glass dish being sure to scrape the sides. Cover with plastic wrap and freeze until frozen, around 4 hours.
Start on the graham crackers by preheating your oven to 325 degrees. Line an 11 by 17 baking sheet with parchment paper.
Mix the butter, brown sugar, honey and cinnamon for 2 minutes at a medium speed.
Add the whole wheat flour and 1/2 cup of the all purpose flour along with the salt. Mix until well combined.
Set the dough on the parchment lined baking sheet and pat it into a round. Dust with flour and roll out to about 1/4 inch thick.
Bake for 30 minutes and turn the baking sheet as needed for even browning. When complete, cool and then cut or break into 4 inch pieces.
Start on the chocolate sauce! Use a small saucepan. Add brown sugar, corn syrup, cream and cocoa. Mix as needed and simmer until the sugar is dissolved completely, about 1 minute. Remove from the heat and mix in the chocolate chips and the vanilla. Mix quickly and the sauce will become smooth. Place in a glass jar and let it cool for 30 minutes or more. Just before serving, stir in the salt!
Put It All Together:
Using chilled plates or bowls add a scoop of semifreddo and top with the warm milk chocolate sauce. Add a graham cracker on the side before serving.
Note: The semifreddo can be made up to a week in advance. Remove it from the freezer 10 minutes before you plan to serve it. This will allow it to soften and make scooping easier. Graham crackers will hold for 3 days in an airtight container and the chocolate sauce can sit in the fridge for up to 5 days. Just heat it a touch before serving! YUM.
Frank and Beans
Good ole' frank and beans. Out of the can and onto the plate. At least, that's how most camp foods were served. Today, you can enjoy gourmet frank and beans the way nature intended it to be. Get your apron on and try this recipe. You won't ever go back to the can!
WHAT YOU WILL NEED:
3 tablespoon olive oil, divided
1 medium onion, chopped
6 cloves garlic cloves, smashed
1½ pounds sweet Italian sausage links (about 6), divided
2 15-ounce cans cannellini (white kidney) beans, rinsed
1 cup dry white wine
10 flat-leaf parsley stems
10 sprigs thyme
2 bay leaves
2 cups low-sodium chicken broth
1 tablespoon unsalted butter
3 tablespoons chopped fresh herbs (such as oregano, flat-leaf parsley, and tarragon), divided
Kosher salt and freshly ground black pepper
How To Prepare:
In a large pot, heat 2 tablespoons oil on medium heat. Add the onion and garlic and cook until partially transparent, about 5 minutes.
Remove and discard the casings from 2 sausages; add the sausages to the pot. As you cook the sausage begin breaking it up with a spoon, until the sausages and onions are lightly browned, about 5 more minutes.
At this point you want to add the beans and the wine to the pot and cook for 10 minutes to reduce the wine.
While cooking the beans and wine, tie together the parsley and thyme with kitchen twine and drop into the pot. Add 2 bay leaves and the broth.
Cook on medium-low heat, partially covered and stirring often, until liquid thickens, 40–50 minutes. When the meal has thickened, toss out the herb bundle and remove the bay leaves.
Slowly mix in butter and 2 tablespoons chopped herbs. Season with salt and pepper. Mix the heated meal slowly.
While the pot is cooking, heat a skillet with the remaining oil and cook all of the leftover sausages until they are brown and well cooked.  lice them up when complete.
Serve the beans from the pot and top with fresh sausage slices and any remaining chopped herbs. You will NEVER go back to the canned meal again.
For more amazing recipes be sure to check these websites:
Bonappetit.com
FoodandWine.com
TheFoodNetwork.com
If you need to refresh that camp food feeling try watching Netflix's remake of Wet Hot American Summer Camp. This star studded Netflix Original should take you back to the glory years. Just be sure you watch it while you are eating GOOD FOOD.
Which recipe did you like best? Do you have any adjustments that you might make? If so, add your suggestions to the comment box below. We love hearing your thoughts and ideas.
If you liked these recipes, please share this article with all your social friends. Spread the word! Camp food doesn't have to be bland. These gourmet recipes are sure to be a hit!