Travel Inspiration
November 9th, 2021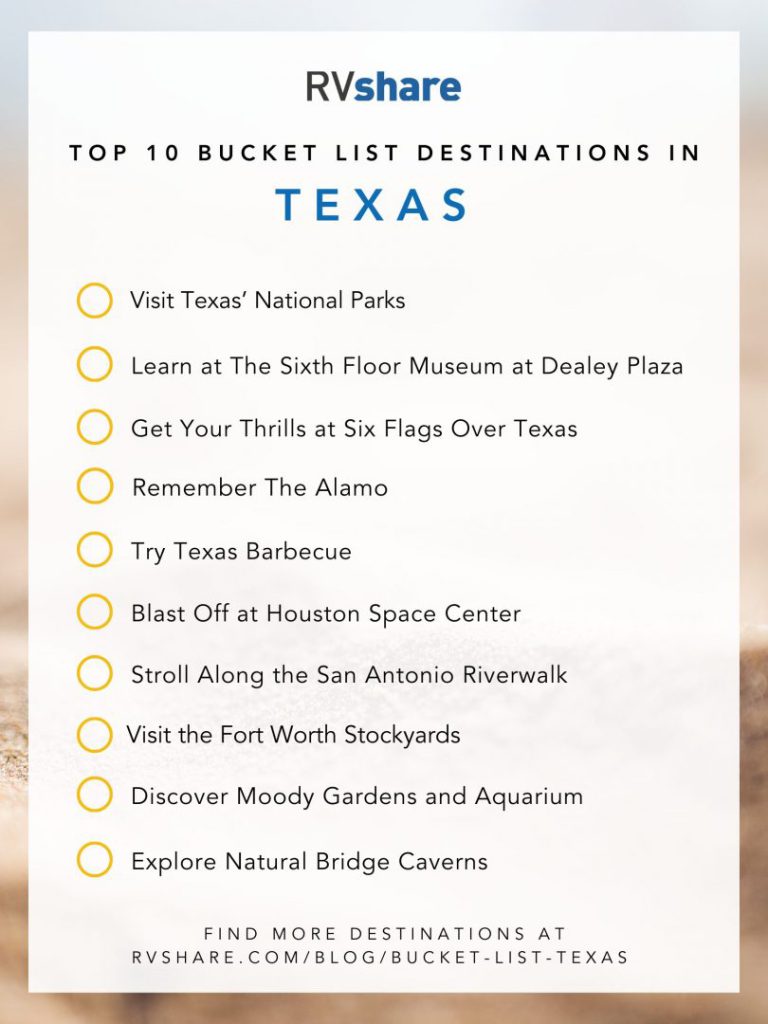 Everything's bigger in Texas. This is a true statement, and remains true even when it comes to the list of things to see and do in the state. In fact, the list of fun attractions, incredible natural areas, and amazing food spots in this state is so big, it's overwhelming. For this reason, we highly recommend making a Texas bucket list before you head out on a Texas adventure.
A travel bucket list is an excellent tool because it allows you to keep track of the things you want to do the most in life. This helps ensure you don't miss anything important while you're there—wherever "there" happens to be. A travel list also makes it easier to keep track of what you did and didn't see so you can plan another amazing trip next time around.
Not sure what to put on a Texas bucket list? We've included our list in this article to help you get started. We're willing to bet you'll want to add some of these places to visit, things to do, and other bucket list ideas to your list as well.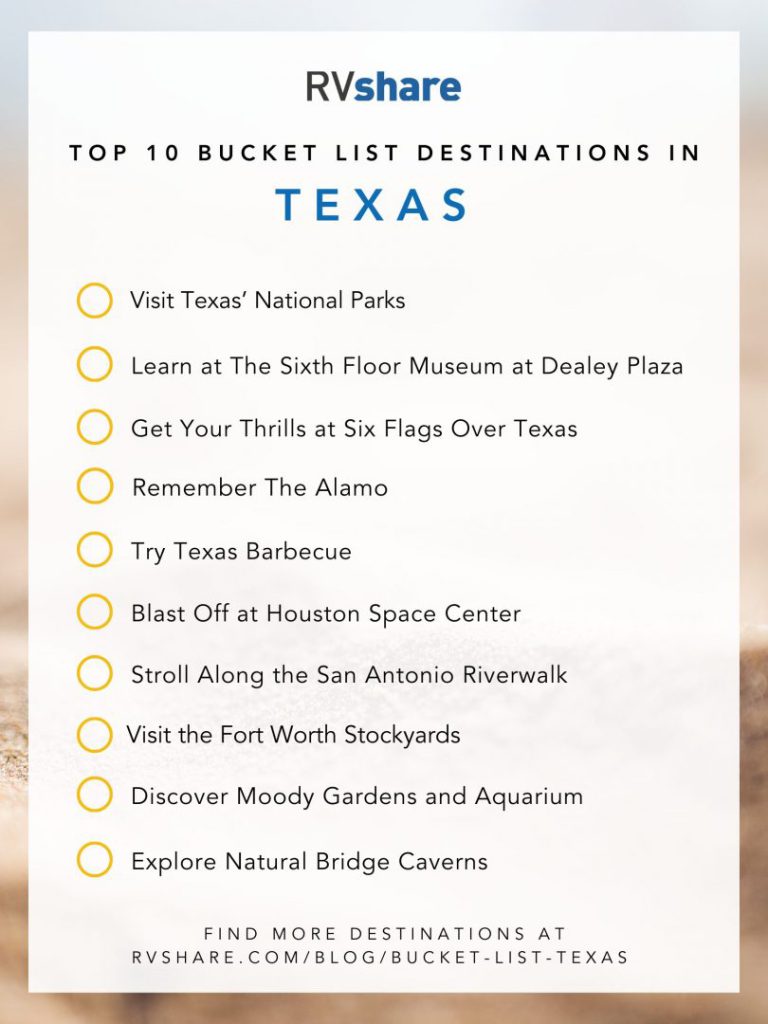 What is a Bucket List?
Of course, it's a good idea to know exactly what you're making before you jump in. So what exactly is a bucket list, you ask? In short, a bucket list is a collection of things to see and do before you pass away. The term "bucket list" comes from the term "kick the bucket."
You could keep a single master list of all the things you want to do, but that can get pretty long. Therefore, we much prefer keeping an individual travel list for every place we hope to visit someday. The result has been much more organized and makes trip planning much easier.
Today we are going to share our Texas bucket list with you. Take the bucket list ideas you like most and start building a travel list of your own. We're betting you'll have an amazing selection of things to experience while you're there before you ever leave your driveway.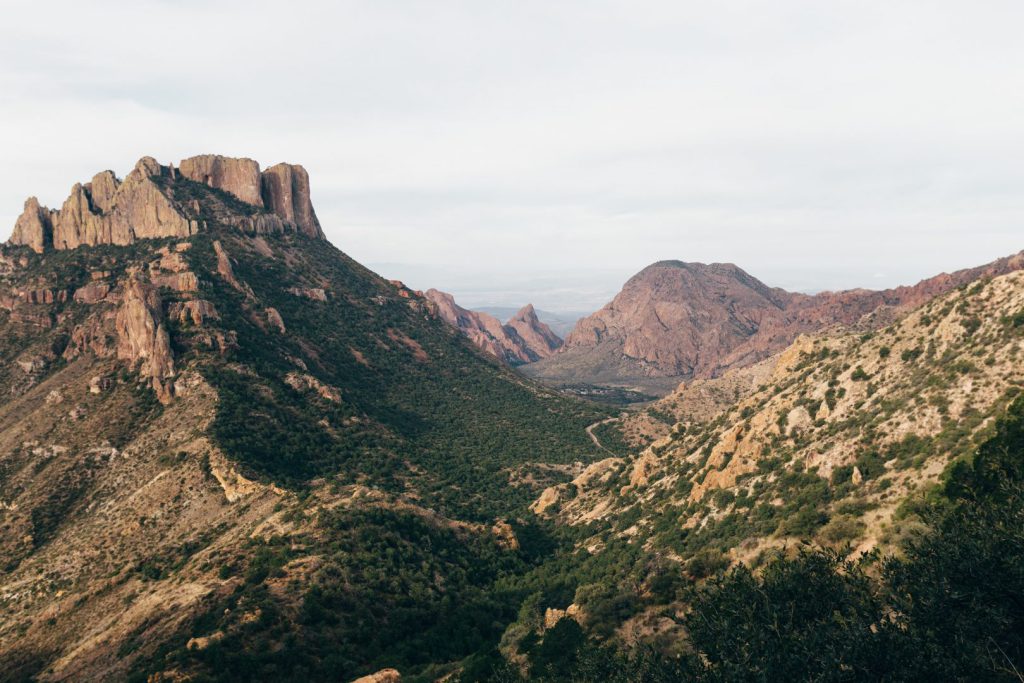 — Bucket List Vacations: Texas' National Parks —
National parks are always a good place to start when making travel bucket lists. These sites are always amazing and offer excellent learning opportunities, and the NPS sites in Texas are some really great ones. Consider adding at least a couple of these to your Texas bucket list for sure.
#1. Alibates Flint Quarries National Monument
For thousands of years, this site has been known as an amazing source of flint. This flint has never lost its value and this spot has been integral to the survival of those on the High Plains. Visit this NPS site to learn more about the history of the area and see the beautiful colors it offers.
#2. Amistad National Recreation Area
Looking for an amazing place to get outdoors and enjoy nature? Amistad National Recreation Area offers opportunities for camping, hiking, boating, fishing, and much more. It's the perfect place to get a taste of all Texas has to offer to lovers of the great outdoors.
#3. Big Bend National Park
An incredible national park that everyone should visit at least once, Big Bend National Park is located in the desert of far west Texas. This park features incredible canyons, hundreds of species of birds, beautiful cacti, and much more. It is the perfect place to hike, take photos, and experience the magic of the Texas desert.
#4. Big Thicket National Preserve
Those who want to see some of the many animals and plants that call Texas home will love Big Thicket National Preserve. Because the preserve includes 9 different ecosystems, many species of plants and animals call this gorgeous place home. This makes it the ideal place to see Texas' nature at its best.
#5. Chamizal National Memorial
A reminder of a 100-year dispute over where the boundary between the United States and Mexico should lie, Chamizal National Memorial is a beautiful place. Visit to spend time outdoors and celebrate the mutual respect that helped the two countries reach a resolution.
#6. Fort Davis National Historic Site
Want to step back in time during your time in Texas? Fort Davis National Historic Site is a great place to do just that. This is one of the best surviving examples of an Indian Wars' frontier military post in the area, and it tells an incredible story worth learning about.
#7. Guadalupe Mountains National Park
In our opinion, Guadalupe Mountains National Park is one of the best in Texas. This gorgeous park is chock-full of incredible landscapes, including canyons, deserts, and dunes. The views are amazing, the plants and animals are plentiful, and the night skies are some of the darkest out there.
#8. Lake Meredith National Recreation Area
Like Amistad mentioned above, Lake Meredith National Recreation Area is an ideal place to enjoy the great outdoors. Found in the Texas Panhandle, this park is an oasis where the Canadian River has cut through the dry grasslands, creating canyons, coves, and plenty of places to play along the way.
#9. Lyndon B. Johnson National Historical Park
The perfect learning opportunity, Lyndon B Johnson National Historical Park tells the story of our 36th president. The story begins with his ancestors and ends with his passing, and includes all kinds of amazing details you've probably never heard about this amazing man.
#10. Padre Island National Seashore
If you're a beach fan, Padre Island National Seashore is the place to be when in Texas. This is easily one of the prettiest beach areas in the state, and those in RVs and tents are even welcome to camp on the sand. You're sure to adore the gorgeous soft sand and the beautiful blue waves this island has to offer.
#11. Palo Alto Battlefield National Historical Park
The location of the first battle of the Mexican-American War, Palo Alto Battlefield is an amazing and moving historic site. Learn about the events of May 8th, 1846 and how they went on to shape history at this informative park.
#12. Rio Grande Wild and Scenic River
There's a reason the Rio Grande is one of the most well-known rivers in the country. This incredible river carved its way through the desert, creating incredible canyons and amazing views. See it all for yourself at Rio Grande Wild and Scenic River.
#13. San Antonio Missions National Historical Park
Most people know that the Spanish did a lot to shape the current culture of Texas. What some don't know is the story of how this came about. The missions of San Antonio Missions National Historical Park played a key role in this Spanish influence. Learn more of the story by visiting this informative park.
#14. Waco Mammoth National Monument
Mammoths are some of the most massive and incredible creatures in history. These creatures once roamed Texas, leaving behind evidence in the form of fossils. Visit Waco Mammoth National Monument to see some of these fossils and learn how they are recovered.
#15. National Trails
Texas is also home to a couple of national trails. These trails have stories of their own to tell and are well worth checking out. They include:
El Camino Real de los Tejas
El Camino Real de Tierra Adentro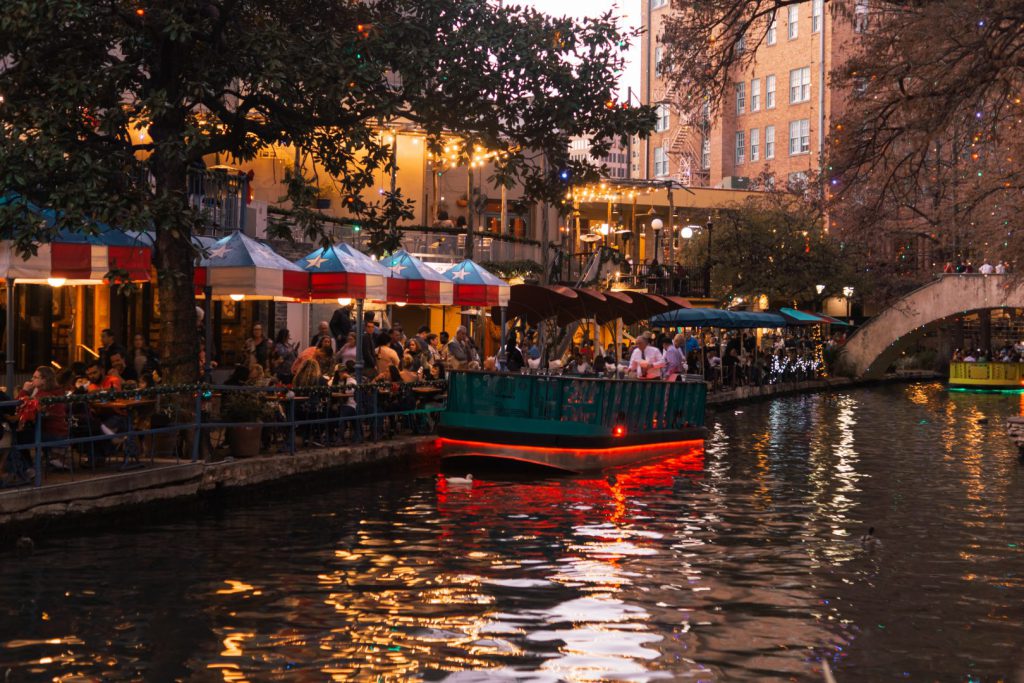 — More Texas Bucket List Experiences —
Finished adding national parks to your Texas bucket list? Get ready because there are even more awesome spots to add. The options below are our absolute favorites, and you really can't go wrong adding any of these to your must-do list.
#16. Learn at the Sixth Floor Museum at Dealey Plaza
Located on the sixth floor of the Dallas County Administration Building (hence its name), the Sixth Floor Museum tells the story of John F. Kennedy's life as well as his assassination. Here you can check out artifacts and photographs and read eyewitness accounts. It is fascinating, engaging, and eye-opening.
#17. Get Your Thrills at Six Flags Over Texas
Are you a thrill seeker? If so, Texas' largest theme park, Six Flags Over Texas, is the place for you. Here you can ride all kinds of incredible coasters, including Batman: The Ride. That said, there are rides and shows for everyone here, so don't worry if thrill rides aren't really your thing.
#18. Remember the Alamo
If you find yourself near San Antonio, you absolutely must visit the Alamo. This is one of the most well known historic sites in the country, and it tells an amazing story. The building started as a mission, but was eventually turned into a fort and used during the Texan War of Independence. Learn more by visiting the site yourself.
#19. Try Texas Barbecue
No visit to Texas is complete without at least one barbecue meal. We recommend Franklin Barbecue in Austin, but really any place you go is likely to be delicious. After all, barbecue is one of the things Texas does best.
#20. Blast Off at Houston Space Center
Flight enthusiasts, rocket nerds, and space fanatics will adore the Houston Space Center. This NASA-run museum features all kinds of spacecraft, astronaut suits, and stories from space. Additionally, guests can take a tour of the NASA facility via shuttle, a seriously cool experience you won't soon forget.
#21. Stroll Along the San Antonio Riverwalk
One of the most fun places in San Antonio is the Riverwalk. Here, sidewalks run alongside the San Antonio River. These sidewalks are lined with shops and restaurants, and the atmosphere is a fun and exciting one. We recommend dining and shopping here one evening during your visit.
#22. Visit the Fort Worth Stockyards
As you might have guessed, the Fort Worth Stockyards district was originally a stockyard, holding a livestock market beginning in 1866. Today, the historic spot is used as a tourist destination, holding attractions such as rodeos, concerts, and western wear shops.
#23. Discover Moody Gardens and Aquarium
Moody Gardens and Aquarium is well known for its three eye-catching pyramids. Each pyramid has a different theme: Rainforest, Discovery, and Aquarium. The Rainforest Pyramid features plants and animals from the rainforest, the Aquarium Pyramid is home to one of the largest aquariums in Texas, and the Discovery Pyramid has tons of hands-on science exhibits. All three pyramids are amazing, making this one of the top attractions in Galveston.
#24. Explore Natural Bridge Caverns
An amazing natural attraction, Natural Bridge Caverns is an absolutely beautiful cave that features more than 10,000 different stalactite formations. Guests can see the cave by the light of a lantern on a special cave tour, and this is the largest fully accessible cave in the country.
#25. Admire Art at the Dallas Museum of Art
Dallas Museum of Art is a wonderful attraction for art enthusiasts but can be fun for absolutely anyone. This museum plays host to over 24,000 pieces from all over the world and from many different time periods. It is one of the largest art galleries in the country, and surprisingly, admission is 100% free.
#26. Take a Dip in Hamilton Pool
Texas is a hot place much of the year. One of the best ways to beat the heat? A natural swimming hole. A favorite swimming hole is Hamilton Pool, a shaded pool fed by a creek. We highly recommend visiting this spot during the summer, but because Texas is so hot most of the time, some spring and fall days are good for swimming as well.
#27. Check Out the Bullock Texas State History Museum
Want to learn more about the state of Texas while you're visiting? The Bullock Texas State History Museum is the perfect place to do that. This museum has an enormous collection of artifacts as well as an awesome interactive timeline of Texas state history.
#28. Have a Blast at the Dallas Zoo
Zoo days are always fun days. Why not have a fun zoo day at Dallas Zoo? This beautiful zoo is just three miles south of downtown Dallas, making it easy to get to. It is home to over 2,000 animals and even features a super cool monorail for viewing the Africa-themed areas.
#29. Walk the Dallas Arboretum and Botanical Gardens
Those looking for a relaxing way to spend a day might want to look into the Dallas Arboretum and Botanical Gardens. This lovely spot encompasses a full 66 acres, featuring flower beds, beautiful lawns, and plenty of green trees. It's the perfect place for a morning walk or an afternoon stroll.
#30. Spend Time at Perot Museum of Nature and Science
Museum lovers will adore the Perot Museum of Nature and Science. Why? Because the attraction is three museums in one. Here, you can visit The Science Place, the Dallas Museum of Natural History, and the Dallas Children's Museum to learn about a huge number of different things.
#31. Enjoy Some Tex-Mex Food
We mentioned barbecue food above, but we can't go without also pointing out the fact that Texas is of course home to some seriously amazing Tex-Mex food. Tex-Mex restaurants are around every corner and serve up delicious things like enchiladas, tacos, chimichangas, and much more.
#32. Get Hands-On at the Houston Children's Museum
If you have kids with you on your Texas adventure, you absolutely must plan a stop at the Houston Children's Museum. This is definitely one of the best children's museums in the country, featuring a builder space, an amazing climbing structure, and an adorable miniature town, among other things.
#33. Witness the Congress Ave Bridge Bats
Spending time in Austin? If so, make sure to visit the Congress Avenue Bridge at sunset during the summer. If you do, you'll be greeted by an enormous number of bats exiting the darkness under the bridge for their nightly hunt. This is an incredible sight that everyone should see once.
As you can see, Texas is an incredible place to visit, and there are tons of options when it comes to building a Texas bucket list. You could of course see all of this from a hotel room, but we much prefer seeing this enormous state in an RV. This allows us the freedom to roam wherever we like, whenever we like, and stay in the prettiest spots the state has to offer.
Don't have an RV of your own? Why not check items off your Texas bucket list using a Texas rental RV? We have tons to choose from, so finding one to suit your needs will be a cinch, and you can even book one today in order to get out on your Texas road trip adventure as soon as possible.