Top Campgrounds
Last updated on June 23rd, 2022. Originally published on March 11th, 2021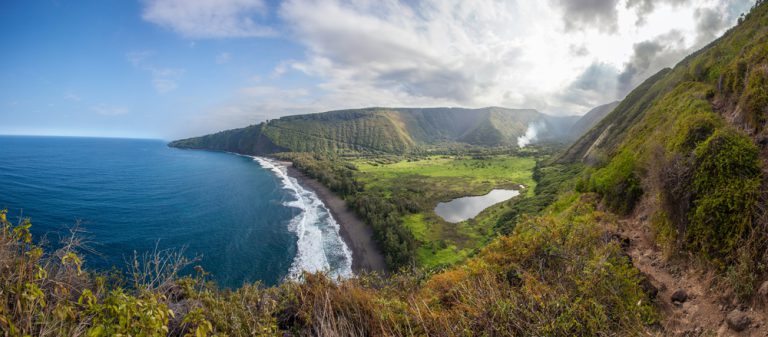 If you're lucky enough to be exploring Hawaii in an RV, you'll want to experience all the rugged natural beauty that the islands have to offer. Going off the grid is an excellent way to do that as it will help you avoid the more populated, touristy areas. Hawaii is considered a paradise on Earth for many reasons, but it's particularly appealing to outdoor enthusiasts. The islands offer endless opportunities for hiking, swimming, surfing, or just plain sightseeing. And, of course, the warm South Pacific weather is tailor-made for camping. 
Whether you'll be cruising along the West Maui coastline or hiking on Oahu, you should be able to find a great spot for boondocking somewhere nearby. Make sure to check the local ordinances before setting up camp for the night, as sleeping in a vehicle is illegal in some places. In these cases, you can still park your RV, but you'll have to pitch a tent nearby.
Boondocking Sites in Hawaii
Haleakala National Park, Maui
There's only one RV-accessible campground within Haleakala National Park. Kipahulu Campground is located at sea level and offers many hiking and swimming opportunities in addition to gorgeous scenery. Camping is free on a first-come, first-serve basis, but be forewarned that you'll need to pay a fee to access the park itself. In true boondocking fashion, no hookups are available. 
Kiholo Beach, Big Island
Traveling to this peaceful beach can be a challenge, but if the tires on your RV are up for the drive, it's well worth the trip. With patches of black and white sand, specks of crushed coral and lava rock, and unspoiled panoramic views, this is one of the Big Island's greatest treasures. If you attempt to swim through the underwater cave in the Queen's Pond, make sure to do so at low tide—otherwise, you'll have to hold your breath for a long stretch before you can resurface. No permits are required for camping, but be sure your rig isn't blocking the road when you park.
Hale o Lono Beach, Molokai
If you can get to the lesser-visited island of Molokai, try parking your rig along the rustic shoreline at Hale o Lono Beach. It's usually easy enough to find a spot but be forewarned that you'll have to drive over 7 miles of rough dirt road in order to get there. Also, use caution when visiting in the winter as the high surf makes swimming very dangerous during those months.
Papalaua State Wayside Park, Maui
Close to the bustle of Lahaina Town, you'll find tranquility at Papalaua State Wayside Park. If you've packed a surfboard, you'll want to bust it out here as the waves are prime. This is also a popular spot for swimming and snorkeling. Note that a permit is required if you want to stay overnight, and no camping is permitted on Tuesdays and Wednesdays.
Ho'omaluhia Botanical Garden, Oahu
Ho'omaluhia Botanical Garden is a unique spot that first opened in 1982 and features tropical plant life from various regions around the globe. It's also the only city-run campsite on Oahu that doesn't have a beachfront location, so it's quieter than most. Camping is only available from Fridays through Mondays, so be sure to plan ahead. There's no fee to stay here, but you will need a camping permit. 
Where to Boondock in Hawaii
Because Hawaii is made up of several islands, you'll have to choose carefully when planning your camping adventure. Island-hopping isn't impossible, but it can be pricey even when you're traveling by foot and becomes increasingly tricky if you're trying to shuttle an RV along.
If you have to choose just one island, Maui represents some of the best scenery and activities that Hawaii has to offer. From the famed Haleakala Crater to the forested hamlet of Haiku and the bustle of Lahaina Town, Maui has something for everyone. You could easily spend the entire trip exploring Haleakala National Park, but the west side of the island offers panoramic views of the Pacific as well as the neighboring islands of Lanai and Molokai. If you visit between November and May, keep an eye out for migrating humpback whales on the horizon. 
Of course, Maui isn't the only option. The Big Island lives up to its name by providing a diverse and engaging landscape, with many campgrounds that are located right on the beach. Also, consider visiting the Hawaii Volcanoes National Park, which features two RV-accessible campgrounds. You don't need a permit to set up camp, but there is a fee to enter the park. 
Free Camping in Hawaii
When you're getting ready for your Hawaiian boondocking trip, don't forget to pack plenty of water. This might sound like an obvious tip, but it's a crucial point when there are no hookups available.
Speaking of water, make sure that you have decent rain gear. Even if you're camping on the beach, rainstorms can come on frequently and with little warning.
When you're making your way to a prime spot, follow all posted signs. If you see a written warning to stay away from a certain area, there's sure to be a good reason.
Finally, load up on insect repellent. Exposure to bugs and other creepy-crawlies is a natural part of the camping experience, and Hawaii is no exception. By keeping the pests at bay, you can relax and enjoy the sights, sounds, and scents that make camping in Hawaii such a unique and pleasurable adventure.
Before you head out on your trip, check out our blog for all you need to know about boondocking. Boondocking on the Hawaiian Islands can be challenging, but it's well worth the effort. Because you can't drive your own RV to Hawaii, consider renting one from RVshare as soon as you get off the plane. This is the most carefree option you'll have when it comes to boondocking in Hawaii, and the rig is guaranteed to be in good condition. Once you're there, relax and enjoy the ride!