The 5 Best Swamp Coolers – Updated List
RV Parts & Accessories
Last updated on July 12th, 2022. Originally published on July 24th, 2020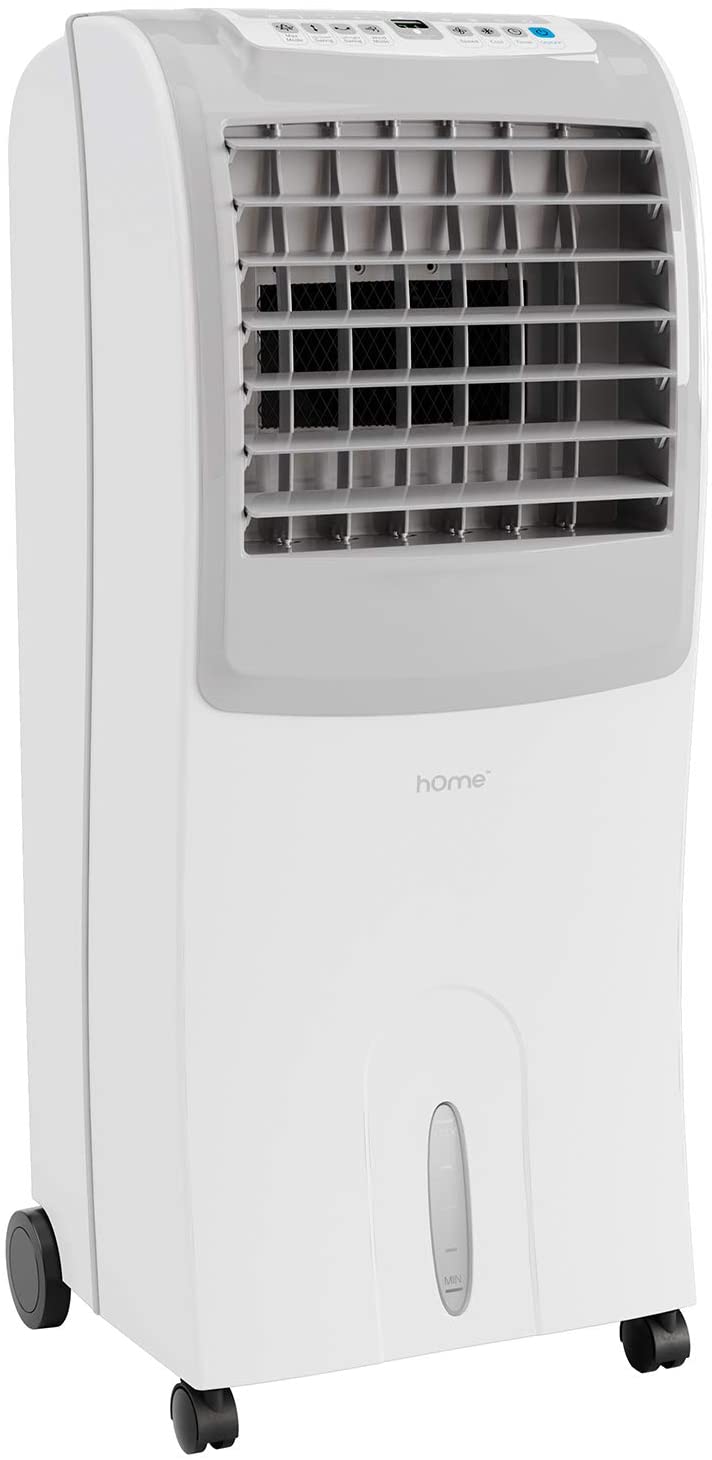 RV Swamp Cooler
Have you been considering investing in an RV swamp cooler? If so, you're definitely not alone. With summer temperatures soaring and camping trips on the rise, it only makes sense that you'd want to be able to stay cool while spending time in your RV.
Unfortunately, information on swamp coolers for RVs can be a bit hard to come by. Therefore, unless you're already an expert on these less-than-common appliances, you might need some help when it comes to deciding whether a swamp cooler is for you—and if so, which one you should get.
What is a Swamp Cooler?
Let's start by discussing what a swamp cooler is. Also known as an evaporative cooler, a swamp cooler uses the evaporation of water to cool the air. It does this by using a fan to blow air through a wet pad, creating a lovely cooling effect.
Because water absorbs a decent amount of heat in order to evaporate, the evaporation process actually does a pretty good job of cooling a space, especially in dry hot places such as the southwest.
That said, RV swamp coolers are not as effective as air conditioners when it comes to cooling extremely hot or humid spaces. Therefore, this is not something you'd want to have in place of an air conditioner. Instead, you'd want this appliance in addition to a traditional A/C unit.
Reasons to Invest in a Swamp Cooler
So why would you invest in a swamp cooler? Well, the number one advantage a swamp cooler has over an air conditioner is the fact that it uses far less electricity. This is good for RVers for two reasons:
Any electric bill that the RV owner must pay will be significantly reduced.
Those who prefer dry camping can run an RV evaporative cooler using a generator or solar power.
Of course, many people also appreciate the fact that swamp coolers are eco-friendly. Additionally, because they are such simple appliances, they are relatively easy and inexpensive to maintain and repair if necessary.
The 5 Best RV Swamp Coolers
Now that you know what an RV swamp cooler is and the benefits of owning one, let's talk about the best portable swamp cooler options for your RV. These are the units that are affordable, effective, and durable. They will do the job of cooling your rig with minimal electricity well, and if taken care of, will continue to do so for years to come.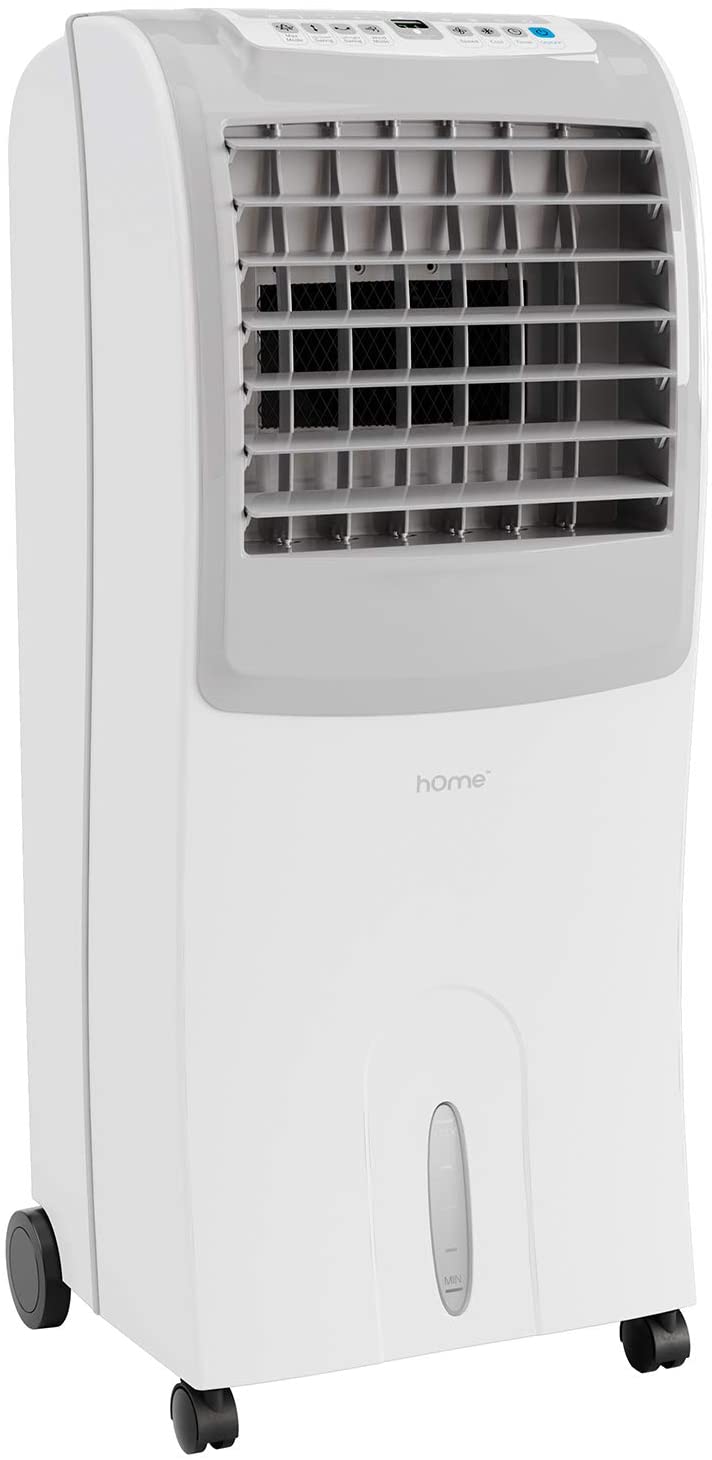 hOmeLabs Evaporative Cooler
Easily one of the best portable evaporative coolers on the market, the hOmelabs Evaporative Cooler is well loved by customers.
It features a super simple design that is easy to use and maintain. The built-in timer helps ensure the cooler is never left running for too long, and the visible and audible water level indicator helps ensure you refill the 10L water tank when it's time to do so.
We love that this cooler is so lightweight, making it ideal for RV travel, and the remote control means you don't even have to leave your seat to get the setting you need.
Frigidaire EC300W-FA Portable Evaporative Air Fan and Humidifier
Frigidaire is a well-known brand for a reason. This company makes high-quality products that work. The Frigidaire EC300W-FA is no exception. This oscillating tower evaporative cooler can cool a space as big as 250 square feet in just a few minutes!
The silent setting on this machine is ideal for nighttime cooling, and the extra large water tank means you can cool for hours at a time without a refill.
Honeywell 500-694CFM Indoor Outdoor Portable Evaporative Cooler
Honeywell is another well-known small appliance company, and their 500-694CFM Evaporative Cooler is a great example of why people love them.
This unit is sun- and weather-resistant, meaning it can be used outside your RV as well as inside. It blows air up to 28 feet, cools rooms up to 300 square feet in size, includes a water reservoir as well as an ice compartment, and includes a 1-year warranty.
Evapolar Personal Evaporative Air Cooler and Humidifier
Looking for a tiny swamp cooler to cool a tiny space? The Evapolar Personal Evaporative Air Cooler and Humidifier is one of the best personal evaporative coolers out there.
This tiny appliance will fit on a table top, desktop, or bedside table, and offers a refreshing blast of cool air to anyone nearby. It's ideal for cooling a single person during sleep, but can also be used when working at a computer or hanging out outdoors.
It's quiet, incredibly portable, and even includes a light that can be used as a night light.
Hessaire MC37M 3,100 CFM 3-Speed Portable Evaporative Cooler
The Hessaire MC37M swamp cooler is much larger than the others listed here. That said, it's perfect for those needing to cool a larger rig. In fact, this unit will cool rooms up to 950 square feet in size while still remaining relatively small and lightweight.
We love that a hose can be connected to the cooler, removing the need to refill it manually. We also appreciate the oscillating fan, its simple controls, and the fact that the unit is so quiet.
Clearly, RV swamp coolers have their place. They are perfect for cooling off a hot rig during a boondocking trip, or generally trimming back electric costs.
If this seems like something you'd use during those warm summer months, why not pick one up now? We just made finding the best portable swamp cooler for your needs as easy as it's ever going to be, and the sooner you get your RV evaporative cooler, the sooner you'll be comfortable while out camping.
This post contains affiliate links. RVshare may receive compensation if you make a purchase after clicking on a product link.