Travel Inspiration
December 14th, 2020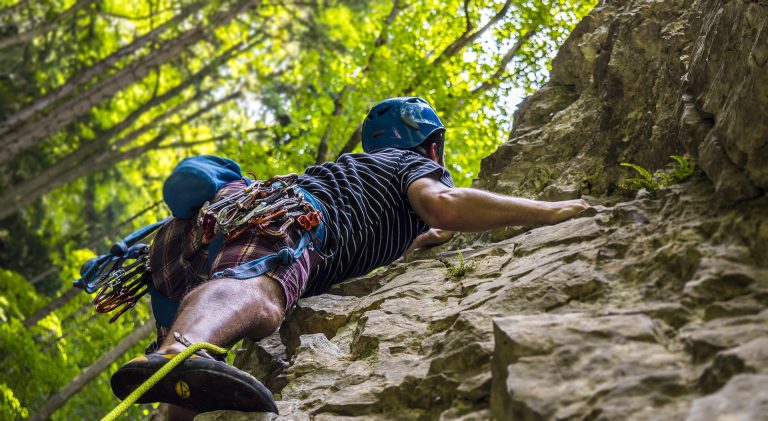 RV travel is incredibly popular in the rock climbing crowd. This makes sense. RVing allows you to stay far from civilization and near all the amazing rock climbing opportunities our country has to offer, while still returning to a comfortable bed and other home-like amenities after a hard day's climb.
Some of the best places to park an RV and go out climbing are our nation's national parks. These parks offer wide open spaces, amazing views, and totally real and natural climbing experiences.
Wondering which national parks are best for RV rock climbing trips? We've listed our favorites below.
California RV Rock Climbing Trips
California is an absolutely beautiful state with some of the best rock climbing destinations out there. Whether you choose the warm SoCal area or the cooler (and tree-filled) north, you're sure to enjoy your California RV rock climbing adventure.
Yosemite National Park
One of the most popular national parks in the country, climbers like this park just as much as the next guy, but perhaps for different reasons. Along with picturesque landscapes and incredible wildlife, this park is also home to some amazing climbs such as crack climbs, multi-day climbs, and the challenging and famous El Capitan climb.
Check out Yosemite-area rental RVs here.
Joshua Tree National Park
This southern California park offers an absolutely beautiful desert environment, some super cool plants and animals, and more than 4,500 established rock climbing routes. With so many different routes to choose from, you're sure to find one that suits your needs, and if you're camping within the park, you could try new routes each day of your trip.
Check out Joshua Tree-area rental RVs here.
Sequoia National Park
The perfect place for beginners to give climbing a try, Sequoia National Park offers plenty of simple climbs. That said, there are also plenty of more challenging climbs available, meaning everyone in your climbing party will be pleased with this park.
To escape the crowds, try wandering away from the John Muir trail, which is where many tourists tend to gather.
Check out Sequoia-area rental RVs here.
Utah RV Rock Climbing Trips
Utah is a favorite destination of RVers thanks to its many amazing national parks, wonderful boondocking opportunities, and gorgeous views. Rock climbers are sure to love it for all of these things, as well as the excellent climbing locations scattered throughout the state.
Zion National Park
Zion is a pretty incredible place to climb. That said, the soft sandstone in this park requires that climbers have pretty advanced skills as well as the proper equipment. It's also important to note that certain areas are closed for climbing during Peregrine falcon nesting season, and overnight climbs require a permit.
Be sure to head to a visitors center to gather information before doing any climbing.
Check out Zion-area rental RVs here.
Arches National Park
Like the formations in Zion, the rock formations at Arches National Park are soft sandstone. This means that most of the climbing here is best left to the advanced climbers out there. That said, many of the climbs are absolutely exhilarating, making this a great stop for those with some experience under their belts. Just make sure to grab a permit if you're planning an overnight climb!
Check out Arches-area rental RVs here.
Capitol Reef National Park
Another fantastic Utah park is Capitol Reef National Park. While this park wasn't always popular with the rock climbing crowd—mainly because of its softer sandstone rock faces—more and more climbers are finding that certain areas are actually okay for climbing. One such area is Wingate, which is the best place in the park for beginners to try their hand at climbing.
Check out Capitol Reef-area rental RVs here.
Wyoming RV Rock Climbing Trips
Wyoming is another summer destination. That said, you will want to make sure you squeeze in a visit during those summer months, as this state plays host to some awesome climbing opportunities for amateurs and advantaged climbers alike.
Grand Teton National Park
Rock climbing is an extremely popular activity in this park. There are climbing options for all levels, meaning everyone can enjoy the park from up high. Information on rock climbing in this park can be obtained at Jenny Lake Ranger Station in the summer, and at Moose Visitor Center the rest of the year.
Check out Grand Teton-area rental RVs here.
Colorado RV Rock Climbing Trips
It should come as no surprise that mountainous Colorado is home to some perfect places for rock climbing. While you'll actually find countless places to climb in this state, we are particularly fond of the two national parks listed below.
Black Canyon of the Gunnison National Park
Black Canyon of the Gunnison National Park features a bizarrely narrow canyon and some truly unique climbing opportunities. Most climbing can be found on the North and South Chasm Walls of the canyon, where the canyon depth averages around 1,820 feet.
Check out Black Canyon of the Gunnison-area rental RVs here.
Rocky Mountain National Park
Climbing has been a popular activity in Rocky Mountain National Park since the 1800s, and once you see all the amazing climbs the park has to offer, you'll understand why. Lumpy Ridge and Longs Peak are two of the more popular climbs that we highly recommend.
Check out Rocky Mountain-area rental RVs here.
Maine RV Rock Climbing Trips
Finally, there is our one east-coast listing. While the east side of the country doesn't have a whole lot to offer in the way of rock climbing, what they do have is fantastic and should definitely be experienced whenever you get the chance to head to that side of the country.
Acadia National Park
Easily our favorite place to climb on the east coast, Acadia features several amazing climbs. Otter Cliffs and Great Head are especially awesome, as they give climbers the chance to experience sea cliff climbing, something that is a bit more unusual and a fun challenge.
Check out Acadia-area rental RVs here.
Which RV rock climbing destination will you choose? Why not rent an RV and take a rock climbing road trip to see several locations? No matter which ones you choose, you're sure to fully enjoy your amazing rock climbing adventure!