Travel Inspiration
Last updated on January 16th, 2023. Originally published on March 22nd, 2019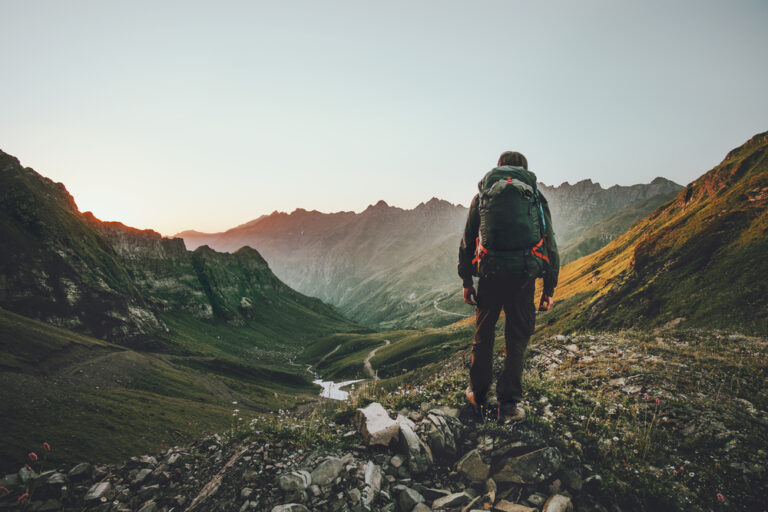 What makes you want to go camping in the first place?
Well, you could answer that question any number of ways. There's the s'mores by the campfire, the delicious smell of your favorite meal heating up on the grill, and the opportunity to get closer to your loved ones while experiencing a brand-new destination.
To be sure, there are plenty of reasons RVing is awesome. but one of the most popular reasons people take to the lifestyle — or one of the activities they discover once they do — is simple: hiking adventures! There's no better way to familiarize yourself with a new landscape than to take to it on foot and see every nook and cranny with your own two eyes.
So we put together this post listing some of the best hiking trails around, whether you're looking for a three-day backpacking venture or just an amped-up mid-morning stroll that'll really work up your appetite for lunch.
The Best Hiking Trails in the U.S.
No matter what corner of the country you call home (or are hoping to get to know more intimately), here are some of the very best hikes in the U.S.
1. Williams Lake Trail, New Mexico
New Mexico may first bring to mind cacti and chili peppers — but make no mistake about it, the Rockies extend to this state. Although you won't find any of Colorado's (in)famous 14'ers to scale here, there is Mount Wheeler to contend with, holding the title of New Mexico's tallest at 13,161 feet.
Williams Lake Trail is the best way to access the summit, winding you by a beautiful alpine basin that's worth the extra hour or so to stop and take a breather. Gather yourself on the way up to prepare for the steepest part of the journey, or reward yourself on the way down with a picture-perfect lunch spot. Either way, if you take on this challenging, 8-mile round-trip climb, you deserve it.
Click here to see RVshare rentals near Taos, New Mexico.
2. Ewoldsen Trail, California
A 5.8-mile loop rated as difficult, if you're in the Big Sur area and looking for a challenging, yet iconic hike, few compare to Ewoldsen Trail. Nestled in the crook of Julia Pfeiffer Burns State Park, this hike meanders through a variety of coastal California ecosystems, treating adventurers to old growth redwood forest, scrub landscapes, sweeping canyons, and epic ocean views. It's short enough to do in just a few hours, and considered one of the best day hikes in the U.S.
As per our writing this post in February 2019, the trail is closed, but park officials should soon be hard at work reopening it for summer travelers. Be sure to check the official state park website to ensure the trail is open before you head for the destination!
Click here to see RVshare rentals near Julia Pfeiffer Burns State Park in California.
3. Alum Cave Trail, Tennessee
Mount LeConte is a very special place, but if you want to get there, you've gotta hike. (In fact, there's even a lodge up there so you can stay the night without setting up your tent… but the only people who ever get to stay at LeConte Lodge got there using their own two feet!)
Alum Cave Trail is one of the steepest, most challenging peak hikes in the Great Smoky Mountains, and it's also the shortest way to the top: at 5.5 miles one way, a well-conditioned hiker can usually make it in about four hours. If you don't want to stay at the lodge, backcountry camping is also an option, but you can even make it a day trip if you're especially bold.
Click here to see RVshare rentals near Great Smoky Mountains National Park in Tennessee.
4. Mount Katahdin and Knife Edge Trail, Maine
It's not the highest peak in the northeast — that honor goes to Mount Washington in neighboring New Hampshire.
But Mount Katahdin still draws adventurers not only from all over Maine, but all over the east coast and even further afield, and the 1.1-mile ascent passage known as Knife Edge Trail is a huge part of the reason why.
For one thing, it's less trail than boulder field, and some scrambling will definitely be necessary. It's also uber-exposed and although it only sees about 365 feet of elevation gain, you've got to come prepared. This half-climb, half-hike requires agility, strength, and focus!
A popular loop trail for reaching the top of Mount Katahdin includes linking up the Chimney Pond, Cathedral, Knife Edge and Helen Taylor trails. The peak is also the northern terminus of the Appalachian Trail — so when you make your summit, you may just find that some of the other people celebrating up there are looking like they've really been through the wringer!
Click here to see RVshare rentals near Mount Katahdin in Maine.
5. Cascade Canyon Trail, Wyoming
Its neighbor Yellowstone might get all the glory, but we're pretty convinced that if you give yourself a few hours in Grand Teton National Park, you'll understand why the locals tend to think it's the better option. Not only are the crowds (marginally) less insane, but the views are equally, if not even more, epic.
Cascade Canyon Trail is one of the most popular in the park's boundaries, a 9-mile round-trip out-and-back rated as moderate. "Moderate," in Wyoming, means about 1,000 feet in elevation gain, so although this isn't exactly a peak climb, it's also no stroll through the park. Be sure you're in shape before you attempt it!
Jenny Lake, whose epic views are rather the point of this adventure, separates mainland hikers from the trailhead. You can add a hike around the lake as well, but that takes this venture from the realm of day trip to backpacking, so if you want to do it in one few-hour go, we recommend taking the ferry — the round-trip ticket is $15 for adults and $8 for children up to 11. (Infants 2 and under get by for just $6.)
Click here to see RVshare rentals near Grand Teton National Park in Wyoming.
6. Black Elk Peak Trail, South Dakota
The black hills of South Dakota are a major RVing vacation destination for good reason. Along with nearby Badlands National Park and the Mount Rushmore National Monument, visitors also have all of the many wonders of Custer State Park to explore — and the chance to summit this challenging, spellbinding peak is one of them.
Winding its way up and back down along a 7.6-mile loop, this trail is not exactly easy, but it is beautiful: the ground is studded with watermelon-sized chunks of quartz and literally glitters with mica. And unlike some of the other mountaintop hikes listed here, this one's rated as moderate, seeing a relatively tame 1,500-foot elevation change across its length of miles. (P.S., yes, this is what used to be known as Harney Peak, which was renamed to more closely suit its original Native American moniker.)
Still, if a hillside hike isn't for you, there are plenty of other ways to take in the splendor of this part of the world. For instance, we highly recommend you take the 14-mile drive through Needles Highway, which is so much more than a scenic route… but you should probably leave the RV at camp and take your tow(ed) vehicle to do so!
Click here to see RVshare rentals near Black Elk Peak in South Dakota.
7. Harding Ice Field Trail, Alaska
A 9.7-mile out-and-back adventure, the Harding Ice Field Trail is best accessed between May and October and is described by visitors as "beautiful," "challenging," "grueling," "rewarding," and "well worth the effort." If you're making your way all the way to Kenai Fjords National Park, you owe it to yourself to give it a try — even if you don't make it all the way, you'll come back with epic stories (and even epic-er Instagram posts.)
Click here to see RVshare rentals near Kenai Fjords National Park in Alaska.
More Hiking Trails Not to Miss
From quick day hikes that take only a couple of hours to epic, multi-night backpacking adventures, here are a few more of the best trails in the states.
8. Cadillac Mountain North Ridge Trail, Maine
Another unmissable Maine trail, this one is significantly less challenging than the trek to Katahdin — but it still offers some absolutely epic views. Nestled inside Acadia National Park, Cadillac Mountain North Ridge Trail is a moderate, 4-mile out-and-back adventure that's dog-friendly and which is decked out in a lovely blanket of wildflowers come springtime.
While the trail is accessible year round, it can get icy come wintertime, so crampons are advisable. You'll want to dress in several layers no matter when you make your attempt, as temperatures up top can be significantly lower than they are at the trailhead — not to mention that stiff Atlantic breeze!
Click here to see RVshare rentals near Acadia National Park.
9. Mist Trail, California
If you've been to any of the national parks, you know that most of them have that one iconic, can't-miss-it hike that every single visitor plans for. And yes, that means these hikes are usually crammed full of selfie-stick-wielding tourists who can seriously mess up your vacation vibe.
But usually, those super-popular hikes are super-popular for a reason. And it's worth getting up super early (or visiting during shoulder season) to experience them… or just muscling through the crowd if you don't have another option. Yosemite National Park's Mist Trail is like that, offering once-in-a-lifetime views of not one, but two picture-perfect California valley waterfalls, the Vernal and the Nevada. It's a 6.4 mile loop, which makes the journey easy from a navigational standpoint, but with 2,100 feet in elevation gain, it's certainly still a challenge.
Click here to see RVshare rentals near Yosemite National Park in California.
10. Buckskin Gulch Trail, Utah
Renowned throughout the world as a one-of-a-kind experience, Buckskin Gulch is the longest and deepest slot canyon in the southwestern United States — and may even be the longest in the world. The trail through this epic geological formation runs more than 45 miles all told, but there are plenty of shorter, day-trippable subsections to explore for lay adventurers.
Overnight stays are also possible, however, and the site draws many adventurers looking for an absolutely inimitable backpacking experience. If you'll be staying the night, do be aware that you'll need a permit — and although dogs are allowed on the trail as well as their human companions, Fido needs a permit of his own.
When hiking in a canyon, always be aware of the weather; deserts may be dry, but they're prone to flash floods, and an event like that can literally knock you off your feet, creating a dangerous or even life-threatening situation. Buckskin Gulch hikers will also learn that quicksand is not just a cartoon plot device, and will more than likely encounter rattlesnakes and tarantulas.
Click here to see RVshare rentals near Bearskin Gulch in Utah.
11. Half Dome Trail, California
The hike to the top of Half Dome spans 14 long miles and sees more than 5,000 feet in elevation gain, so it's certainly not for the faint of heart. (Then again, it's a whole lot easier than attempting it the way Alex Honnold did: by climbing the sheer rock face hand over foot, without a rope.)
But if you're planning to visit Yosemite National Park — which, trust us, should definitely be on your RVing bucket list — ambling along this trail is an iconic experience. With the average round-trip journey taking 10 to 12 hours, and sometimes even longer, it's definitely at the outsides of our normal understanding of a "day hike," but it can be a once-in-a-lifetime challenge to conquer if you have the physical fitness and preparation to take it on.
Of course, taking on a feat this serious requires serious commitment and planning, and you should set some non-negotiable ground rules before you set out. For one thing, you'll want to leave as early in the day as possible, and you should check the sunset time and give yourself ample time to descend, deciding on a turnaround time if you're unable to make the summit. (Even with this precaution, carrying a high-powered headlamp is a good idea.)
Keep in mind, too, that this strenuous hike may include a series of metal cables which must be ascended in order to reach the top; you may also encounter wildlife and sudden changes in weather, or experience physical illness due to the altitude. In other words, it is very, very possible to hurt yourself on this hike — even if you're careful. For full details on climbing Half Dome as a day hike, check out the National Park Service page about this one-of-a-kind trail and its unique features.
Click here to see RVshare rentals near Yosemite National Park in California.
12. Skyline-to-the-Sea Trail, California
Meandering 25 long miles all told, this point-to-point trail inside Castle Rock State Park can easily be broken down into shorter ventures, but is also a great opportunity for more experienced hikers to put together an unforgettable backpacking trip. On the Skyline-to-the-Sea, you'll wander from under the shadows of towering redwoods onto the edge of a sandy, Pacific coast beach if you're bold enough to attempt the entire thing, but even a fraction of the trail is sure to yield everlasting memories. What's more, despite its length, the trail itself isn't very difficult at all; though it sees about 2,500 feet in elevation gain, that number is spread out over many miles and few, if any, parts of the trail are challengingly steep. Case in point: one reviewer on AllTrails says she and a friend traversed the whole 25 miles in a little over eight hours.
Click here to see RVshare rentals near Castle Rock State Park in California.
13. Saint Perpetua Trail, Oregon
Although it only stretches 1.7 miles, this out-and-back trail is definitely a bit of a challenge — but its series of switchmakes make it relatively doable even for a novice hiker. You may be a bit out of breath when you reach the top of Saint Perpetua, but trust us: the view will be totally worth it. Plus, there's plenty of good beer, food, and revelry to be had once you head back down into the bustling oceanside town of Yachats.
This trail is dog-friendly and accessible all year round. Be sure to dress in moisture-wicking layers; the Oregon air can get chilly even in summer, especially as you gain altitude, and chances are you'll work up at least a little bit of a sweat!
Click here to see RVshare rentals near Yachats, Oregon.
14. Glacier Gorge Trail, Colorado
An 8.1-mile trail seeing a steep 1,700 feet in elevation gain, Glacier Gorge Trail is no joke — but it rewards those who are willing to put in the effort. Along with the insane vistas you'd expect of just about any Rocky Mountain National Park trail, this hike traverses a series of alpine lakes through dense, forest pathways and culminates in a waterfall scramble.
Winter attempters should be extra-cautious, bringing snowshoes or spikes in order to increase their chances of a successful summit. And if you're hitting the trail in the summertime, beware: that waterfall we mentioned separates you from Sky Pond, the trail's culmination, and yes, you're pretty much guaranteed to get wet on the way!
Click here to see RVshare rentals near Rocky Mountain National Park, Colorado.
15. Little Talbot Island Hiking Trail, Florida
As a native Floridian, I'll be the first one to tell you: my home state is not exactly a hiker's paradise. Sure, we've got plenty of muddy trails through our low-slung oak canopy, but they're wet and buggy pretty much any time of year you make the venture, and there's obviously no epic mountain vista waiting after you put in a hard, uphill effort — unless you're climbing a landfill.
But Little Talbot Island, which could easily be overlooked, as it's tucked into the northeastern crook of Florida's elbow, is, shall we say, different. Its 4.1-mile loop trail treks mostly through sand, so it's more of a beach walk than a hike, per se… but it's unlike any beach you've ever seen before. Strewn with driftwood like bleached bones and directly adjacent to the grassy swamplands the area is known for, this moderate hike is a perfect day trip. (Plus, when you're finished, you can shuck off your hiking clothes down to the bathing suit you're wearing underneath and cool off in the water.)
Click here to see RVshare rentals near Little Talbot Island.
The Best Hikes are Ones You're Well Prepared For
One thing to note before you set out on any of these adventures: hiking is a no-joke physical activity, and in many cases it takes you pretty far away from civilization. In short, it can be downright dangerous, even when you're talking about relatively easy journeys in well-populated areas! It's very important to make sure you're prepared.
For one thing, you need to make sure every hiker in your party is carrying an ample supply of water — and snacks, too, if you're going to be out for many hours or performing a difficult and strenuous climb. All that movement takes fuel, and there's nothing worse than slogging up a trail with a grumbling belly. (Yes, I speak from experience.) And dehydration is literally life-threatening… so make sure you bring even more water than you think you need.
That said, water is, as every hiker knows, heavy. One gallon of the stuff weighs eight whole pounds! Especially for multi-day backpacking trips, carrying your supply is pretty much impossible, so it's worth investing in one of those super-fancy LifeStraws or otherwise ensuring you have a way to partake of the local water supply while you're camping.
You also want to ensure you have the right clothing and footwear for the job. In all but the tamest cases, those old sneakers aren't gonna cut it!
Long, steep hiking trails can be rocky and rooty, and walking for hours at a time is difficult on the body, no matter how fit you may be. Investing in hiking boots can ensure your feet and ankles have the support they need and keep you from getting wet toes in muddy trails, to say nothing of just keeping your tootsies comfy!
Many hikers also swear by trekking poles, which can make steep ascents and descents way less taxing on your knees. You may not feel it now, but if you want to keep hiking for the rest of your life, you eventually will, so it's a good idea to get ahead of that problem sooner than later.
Finally, make sure you always dress in a variety of moisture-wicking layers when you hike: absolutely no cotton allowed. (As my favorite Alaskan told me once in the Oregon woods, "cotton kills!" I was decked out in the stuff head-to-toe like a totally typical Floridian — and in the damp, wet air, I would have quickly become a popsicle.) Choose quick-dry fabrics and bring a jacket even if you don't think you need one. You can always take it off… and if the weather at the top of the trail is significantly different than it is at the bottom, which happens often, you'll be very glad you thought ahead.
Hiking Trips: The Perfect Excuse to Go RVing!
If you've yet to take an RV trip, or even if you're just doing some research before your next one, we have to say: renting an RV on the peer-to-peer market is really the best way to experience this unique travel lifestyle. (Yes, we're a little biased since we work here… but seriously, if you've ever dealt with a big, commercial dealership before, we think you'll agree this is a way better option!)
For one thing, you have a way bigger selection when it comes to vehicle types. After all, those nationwide franchises pretty much only stock motorhomes, and brand-new, fresh-off-the-factory-floor ones at that. If you're considering purchasing an RV of your own, you may want to experience what camping is like in a fold-out or fifth wheel travel trailer, and you might not be planning on buying one from the dealership. Renting on RVshare gives you the chance to try out an RV closer to one you might actually own!
Finally, RVshare rentals are generally listed at a fraction of the price the big guys charge. After all, these rigs are owned by regular people like you and me. They don't have to worry about footing the large, overhead bill of keeping the lights on at a dealership! Saving money on the per-night price of your rental rig frees you up to spend it on the stuff you'll really enjoy… like that delicious dinner you've earned after scaling all those mountains.
Happy hiking!