The Best 5 Class A Motorhomes for Full-Time Living!
RV Owners
June 19th, 2020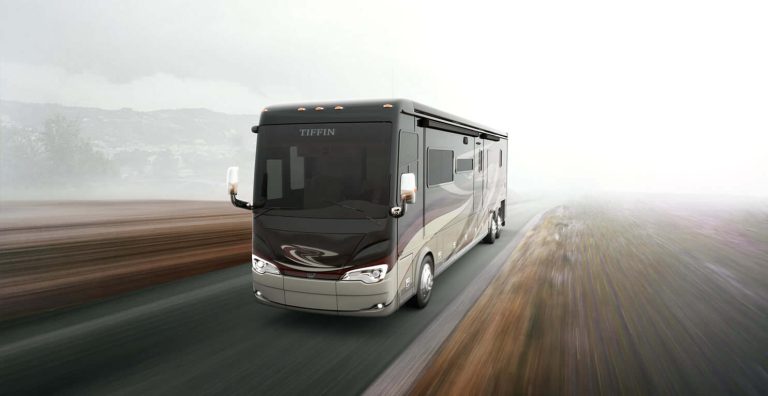 Best Class A Motorhomes for Full-Time Living
Have you ever dreamed of packing up all your things and hitting the road for a full-time travel adventure? If so, you're certainly not alone. In fact, there are thousands of people doing just that all across the United States, and if you can figure out a way to have an income on the road, there's no reason you can't join them.
Of course, if you're going to do that, you're going to want to invest in a good quality RV. A home-on-wheels that can stand up to the rough-and-tumble of everyday life while still providing a comfortable place to return to each night is key to the success of any full-time adventure.
What is the best RV to live in full-time? For some, this perfect RV will come in the form of a travel trailer or fifth wheel. Others might prefer a class C motorhome, and some brave souls hit the road in a class B van. That said, those who want the most comfort and convenience possible in a single rig turn to the bus-style class A motorhome.
If a class A is the type of RV you think will suit you best, the next step is picking out the perfect rig for your situation. In this article, we will take a look at the various brands and help you find the very best class A motorhome for full-time living.
Best Class A RV Brand for Full-Time Living
In this section we will discuss our top 5 picks when it comes to finding the best class A RV for full-time living. Of course, the one you choose will need to meet your needs in terms of fuel type, floor plan, cost, and amenities. Fortunately, our list includes a variety of options, meaning you should find one that does just that.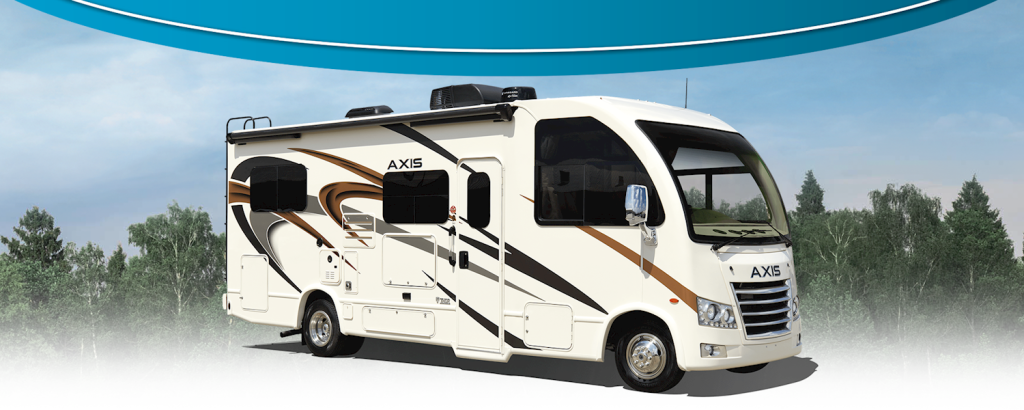 Thor Axis
This is an awesome option for those looking for something smaller. In fact, as far as we know, it's the smallest class A currently on the market, with the smallest one coming in at just 25'6". This RV is available in 3 different floor plans, including one with two twin beds in the back that can be converted to a king.
Thor also has the Vegas line of RVs. These are identical to the Axis motorhomes, so be sure to search for both when hunting down an RV to purchase.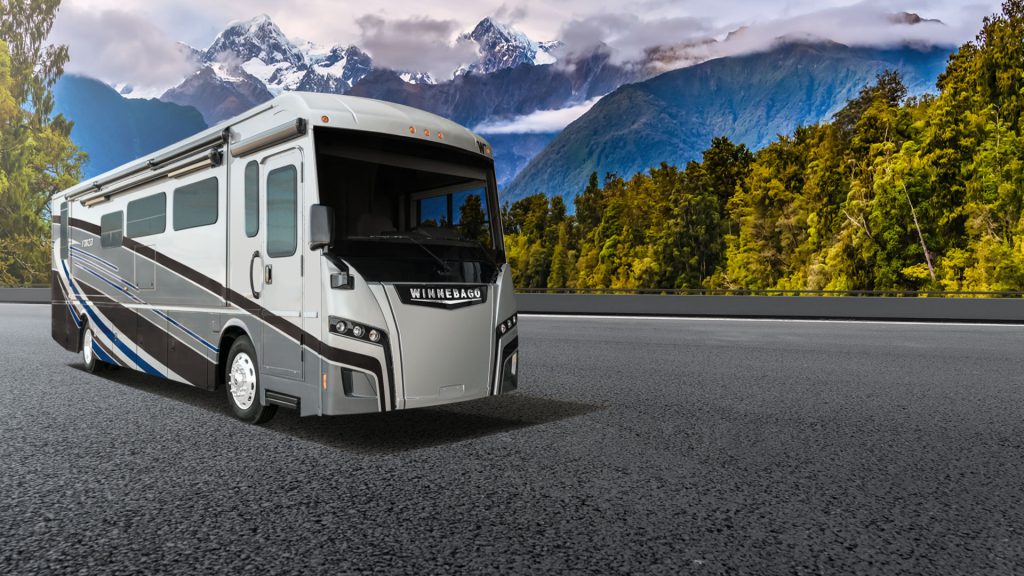 Winnebago Forza
Winnebago is perhaps the most well known motorhome manufacturer in the world. This isn't by accident. Winnebago earned their fame by creating high quality products that people want to buy time and time again. The Winnebago Forza is no exception to this rule.
The Forza is a well-made diesel coach that comes in a few different sizes and floor plans. We like that it is solid and offers many comforts, but is still more affordable than many diesel options. One of our favorite floor plans is the 38W which includes bunks, making it the best RV for full-time living with kids on our list.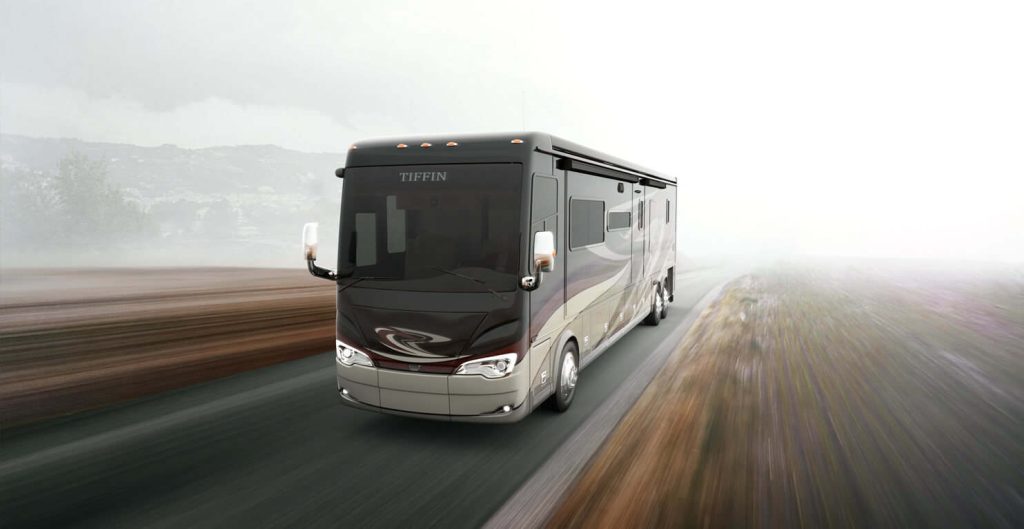 Tiffin Allegro Bus
Tiffin is a luxury RV manufacturer with a reputation for putting out incredibly plush rigs. The Allegro Bus is an incredibly comfortable RV with features such as an electric flush toilet, Aqua-Hot system, enormous storage, and an integrated patio awning, all of which allow you to experience full-time RVing while living like a king.
Even the smallest of these diesel RVs is incredibly spacious, with multiple slides. Solar panel prep, an Onan generator, and large holding tanks make boondocking easy. Meanwhile, a digital dashboard, air leveling, and a PowerGlide Chassis make driving your RV a breeze.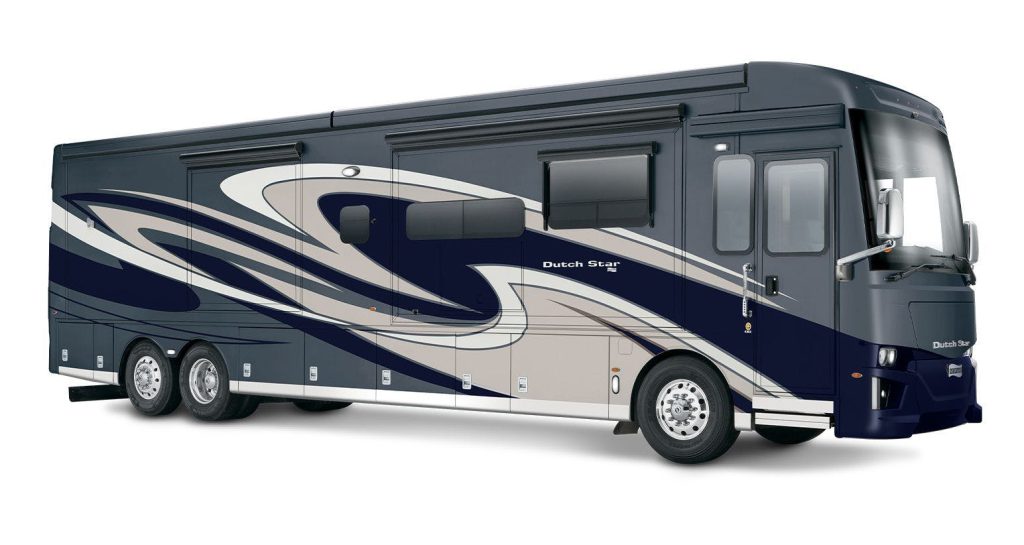 Newmar Dutch Star
Quite possibly the very best class A RV brand for full-time living, we love the Newmar coaches. These are incredibly well-built, high-end RVs that last for many years and hold their value. They will hold up to everyday use, and offer plenty of amazing amenities to keep you comfortable during your full-time travels.
Some of our favorite amenities offered by this RV include keyless entry, a Cummins generator, a retractable television, heated tile, and even cathedral ceilings in some floor plans.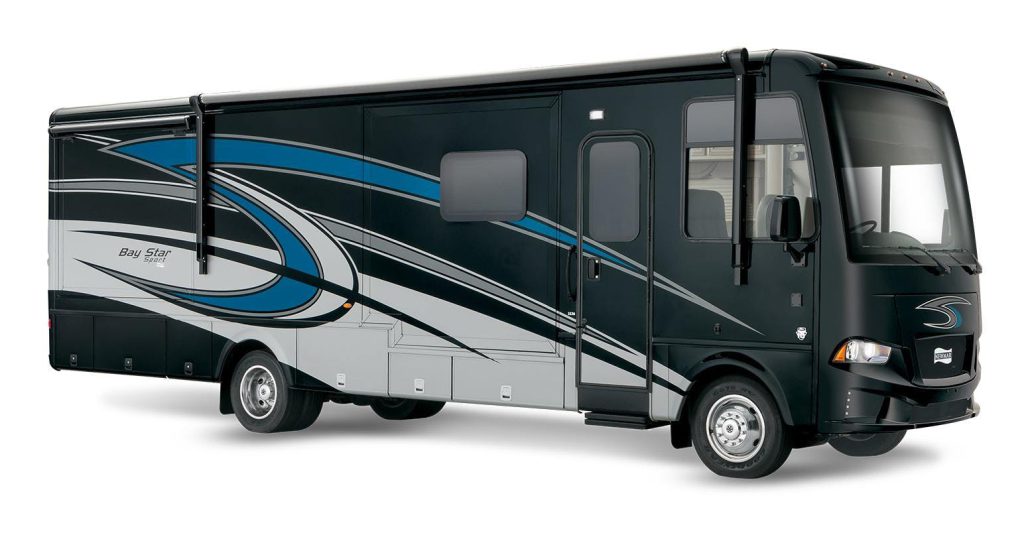 Newmar Bay Star Sport
Want the quality of Newmar with a smaller price tag? The Newmar Bay Star Sport might be just the rig for you. This smaller, more affordable Newmar coach may not offer as many luxuries, but it's still plenty comfortable.
The Bay Star Sport is a gas coach. It offers amenities such as hydraulic leveling jacks, plenty of lit storage space, a power awning, and a Cummins generator. We love the color palettes available, and find that these RVs tend to feel very much like a true home.
Class A Motorhome FAQs
Still not sure which is the best motorhome to live in? The questions and answers below might help you get a better idea of what you're looking for.
What are the best Class A motorhomes?
A high quality build is the most important thing. Of course, this puts the more expensive, higher-end vehicles closer to the top of our list of best class A motorhomes for full-time living.
Next, consider fuel type. Gas motorhomes do not have as much power as their diesel counterparts, but are less expensive. You will have to decide what works best for you.
After those two things have been considered, look for a floor plan that works well for your situation. Keep in mind you'll be living in the rig full-time, so it's important that you can comfortably go about your day-to-day life in whatever floor plan you choose.
What is the best small class A motorhome?
As mentioned before, we find that the Thor Axis is the best option for those looking for a small class A motorhome. We love the different floor plan options, as well as the fact that it can fit into any campsite or parking lot without an issue.
Looking for a small motorhome but prefer diesel over gas? Consider the Tiffin Allegro Breeze. This is the smallest diesel pusher on the market, and is a well-made rig that you're sure to enjoy.
Is it possible to live in a class A RV full-time?
It's definitely possible. Not only that, we think it is 100% comfortable and fun! Offering an adventurous way to live while seeing the country and staying super comfortable, we think a class A is the best RV for full-time living in many situations.
There you have it folks, the best rigs for class A living. Ready to try a few out to see which one works best for you? Renting an RV is a wonderful way to give each class A on your list of potential purchases a test drive before you invest. Check out our available rental rigs today!
Looking for more tips and information on your next RV trip or purchase? Check out this article: What is the Best Month to Buy an RV?