RV Owners
January 5th, 2021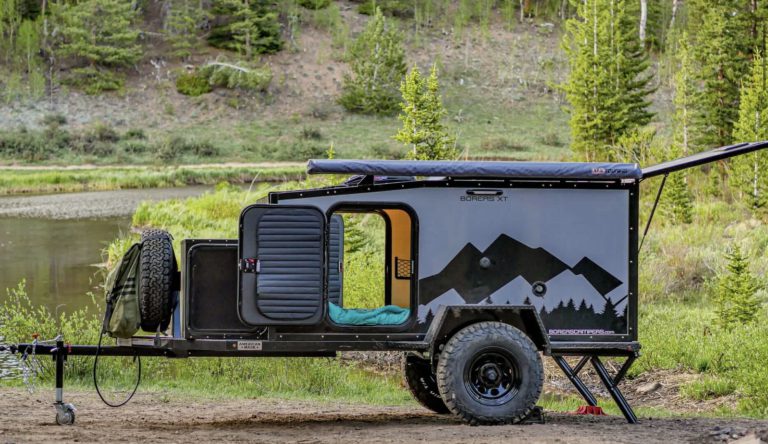 What's an Off-Road Camping Trailer?
We've all heard of camper trailers, but what exactly is an off-road camper? Well wouldn't you know it, it's exactly what it sounds like! Off-road camper trailers are campers made specifically for off-roading.
Off-road camping trailers are more rugged and durable, with features such as raised suspensions and off-road tires, making it possible to drive over rough terrain without damaging the trailer. Most off-road trailers are also on the small side, making them more portable and easier to squeeze into tight spaces.
And why would somebody want such a trailer? For more adventurous camping, of course. Those who enjoy boondocking in remote places will love off-road camper trailers, as they allow the user to do rock crawling, water fording, and muddying, giving them access to pretty much any campsite in the country.
Top 11 Off-Road Camping Trailers of 2022
If you think an off-road RV is a good fit for your camping style, the next step is to find the perfect off-road camper for you. Lucky for you, we've already done a lot of the legwork and have compiled a list of our top 11 favorite off-road travel trailer campers of 2022.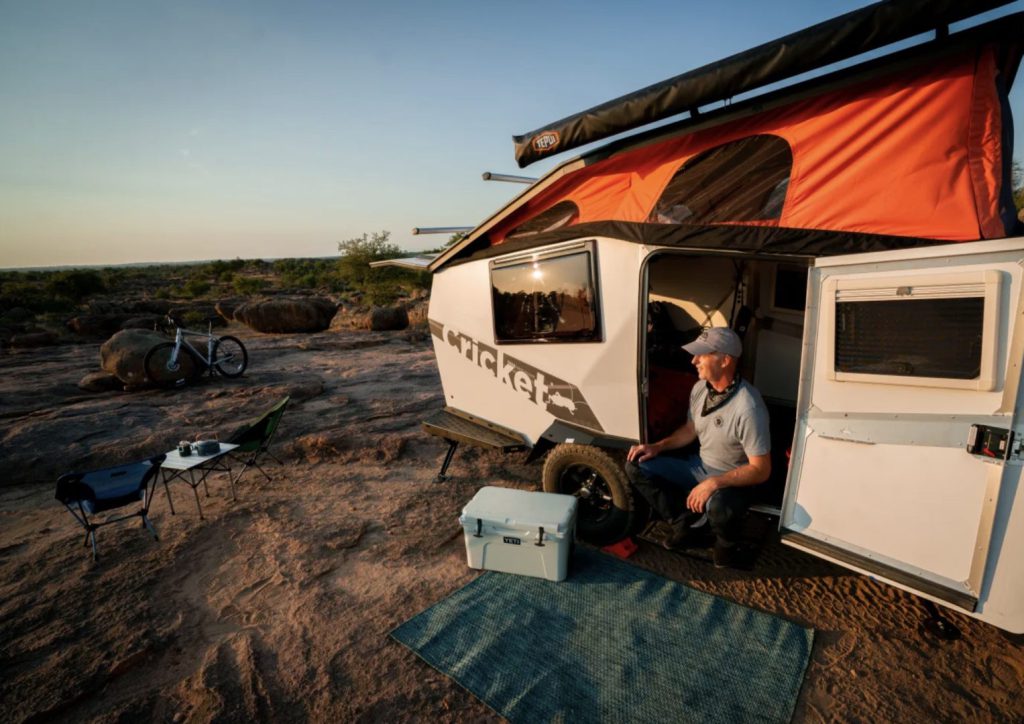 Taxa Outdoors Cricket Overland
A super tough little trailer, the Taxa Outdoors Cricket Overland is equipped with a reinforced frame, surprisingly high ground clearance, and even axle-less suspension.
It's lightweight and small, but thanks to its pop-up and tent-side roof, it still manages to fit in features such as a hanging kid's berth, so the whole family can have fun together.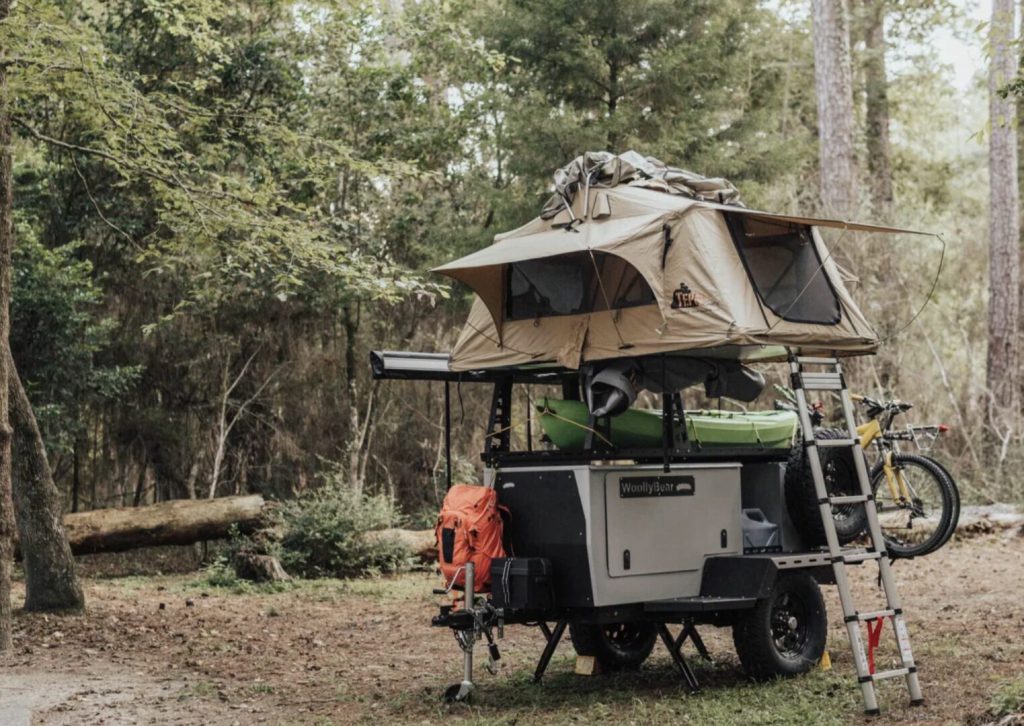 Taxa Outdoors Woolly Bear
Another fabulous product by Taxa Outdoors, the Woolly Bear is a super simple trailer that has only a full-sized outdoor kitchen, a pull cooler space, and 12-volt outlets. That said, you can build onto this solid little trailer by adding such upgrades as a rooftop tent or retractable awning, meaning you can truly make this trailer your own.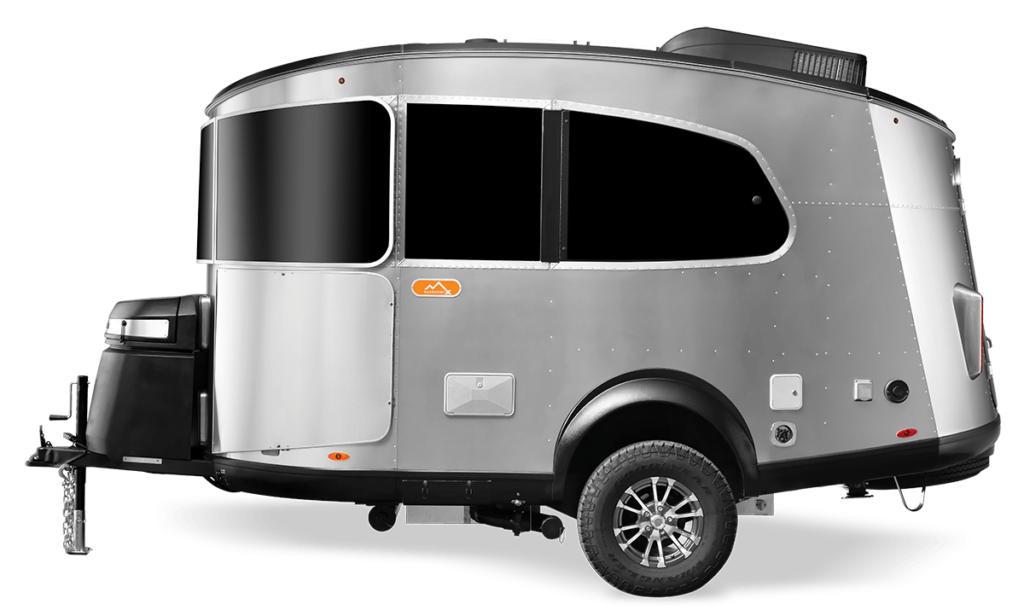 Airstream Basecamp X
Perfect for those who like to travel in comfort, the Airstream Basecamp X is essentially a tougher, beefier version of the Airstream Basecamp. It has lifted suspension and larger off-road tires, so it can better handle rough terrain.
That said, it's fully equipped with the same amenities you'd expect from any Airstream. These include a wet bath, a propane heater, and even heated holding tanks, so you can head out on cold-weather adventures.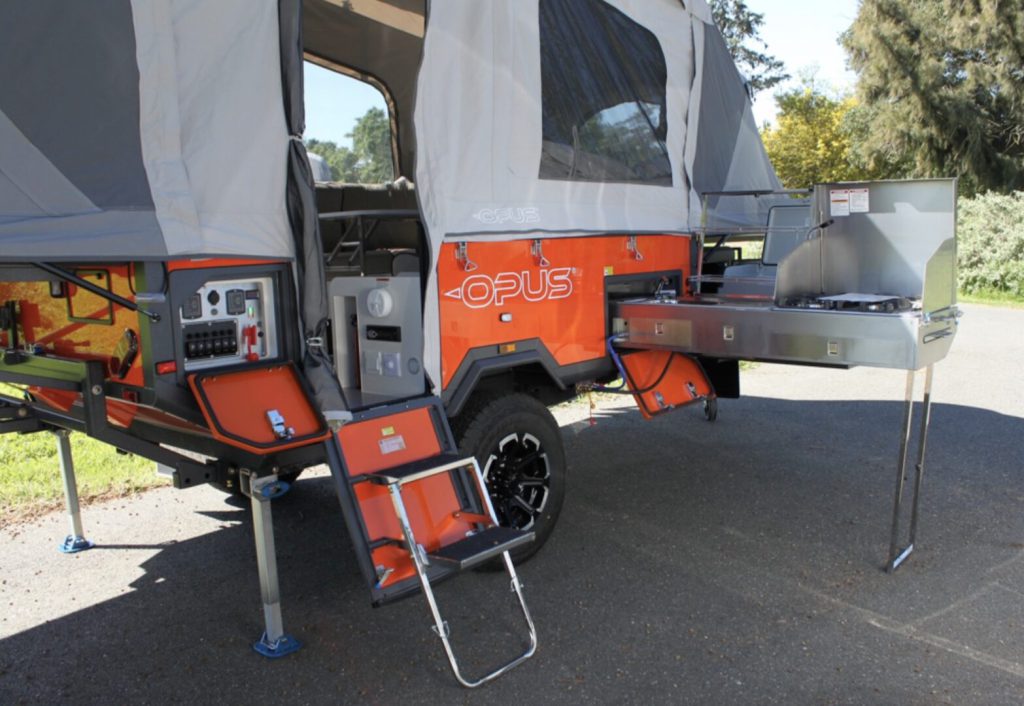 Opus Camper OP-4
The Opus Camper OP-4 is interesting in that it's a tent trailer that was made for off-road driving. The trailer has raised suspension and off-road tires and is as small and spry as any off-road trailer out there. However, because it includes a large freshwater tank (40 gallons!), sleeping space for 6, and a ceiling that is a full 8 feet high, you won't feel like you're in a small off-road camper.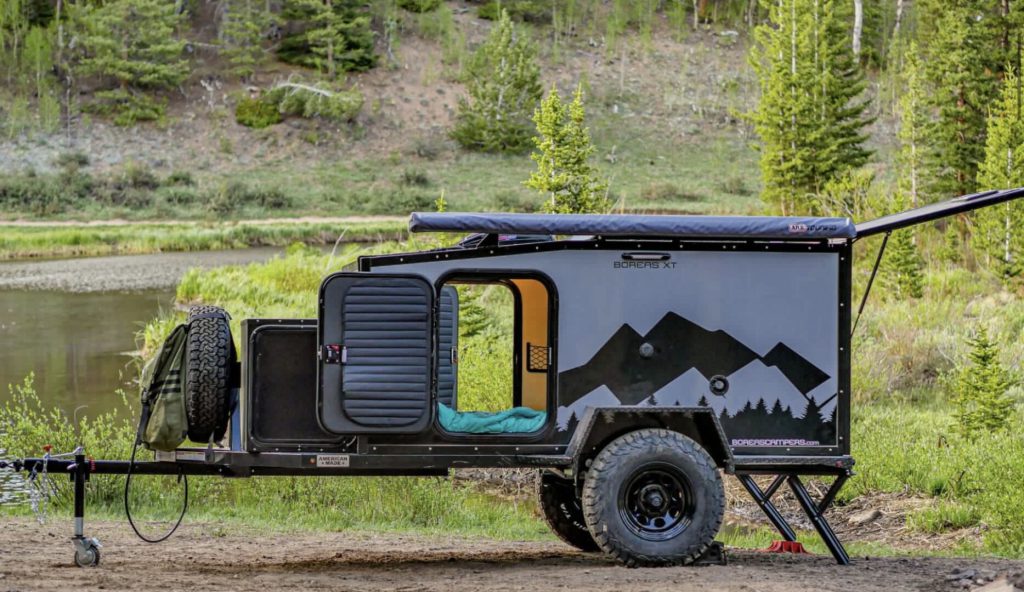 Boreas Campers Boreas-XT Camper Trailer
The small but mighty Boreas-XT Camper Trailer has a composite fiberglass exterior that can stand up to anything nature throws its way. The raised, axle-free suspension and all-weather tires make it possible to drive on any terrain, and the full-sized spare is perfect for those emergency situations.
Of course, the cozy interior with a memory foam queen bed, forced-air furnace, and MaxxAir fan is pretty fantastic as well.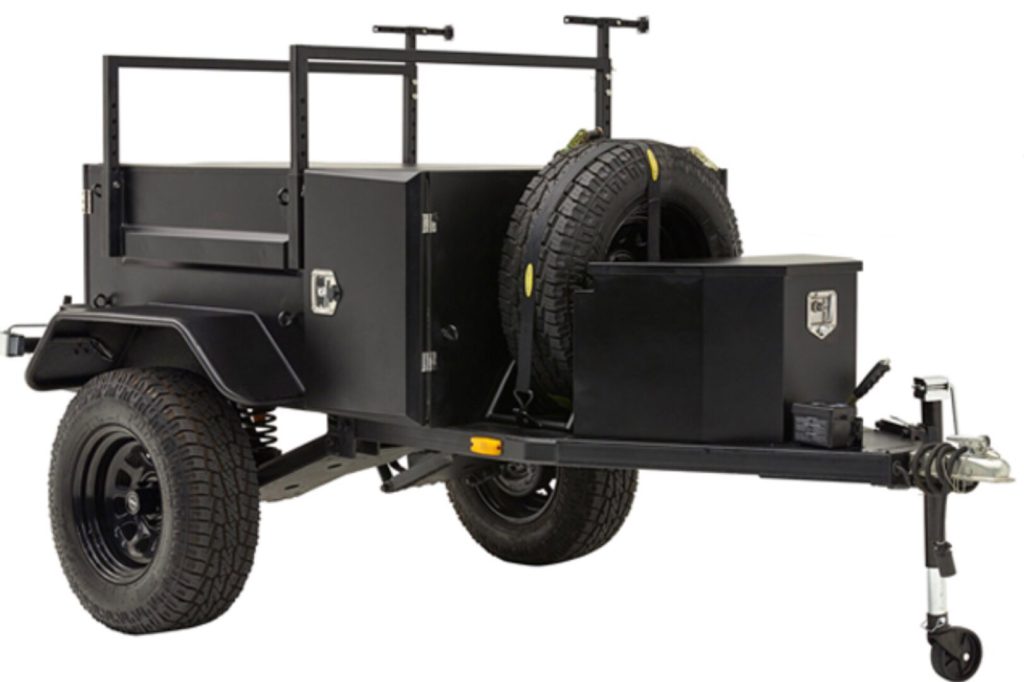 Smittybilt Scout Trailer Kit
Already have all the camping gear you need but want an easy way to haul it from point A to point B? If so, the Smittybilt Scout Trailer Kit might be for you.
While this setup isn't a true camper trailer, it does provide you with tons of storage space and the perfect place to set up a rooftop tent, as well as a bike or two. The trailer's high ground clearance, rugged build, and 1,763-pound load capacity make it ideal for overlanding.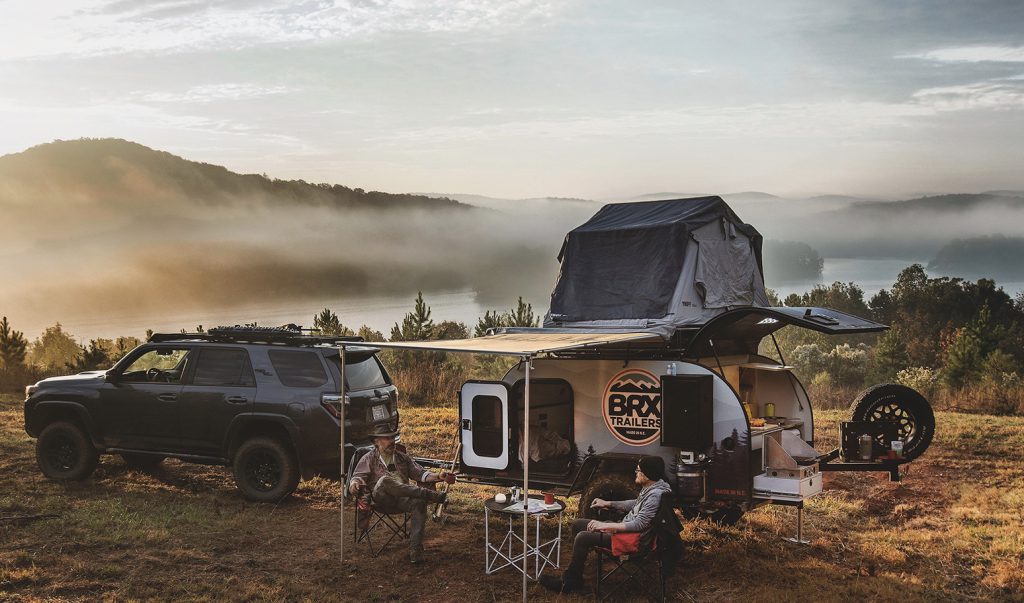 Blue Ridge Expedition Trailers BRX1
Touted as "a teardrop camper on steroids," this brightly colored trailer might be cute, but it's also pretty darn tough. Made with heavy duty materials, off-road tires, and lifted axle-less suspension, you can take your BRX1 almost anywhere you can imagine.
When you get there, relax in the gorgeous cabin where you'll find custom cabinetry, or cook up a meal in the outside galley where you'll find stainless steel countertops.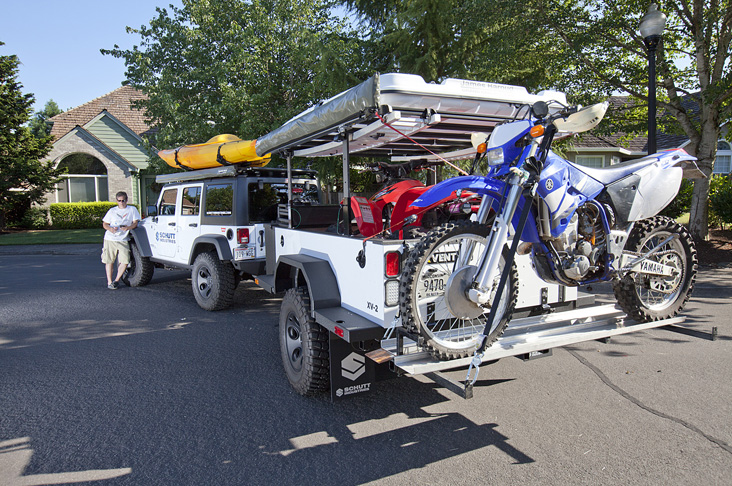 Schutt XVENTURE XV-2
Similar to the Smittybilt Scout Trailer Kit listed above, the Schutt XVENTURE XV-2 is a great trailer for toting gear on an overlanding adventure.
The elevating roof system is fantastic and provides the perfect way to carry dirt bikes, a small ATV, or other toys. No matter how high you elevate this roof, it's still a stable spot to set up your rooftop tent so you have a comfortable place to sleep at the end of a long day.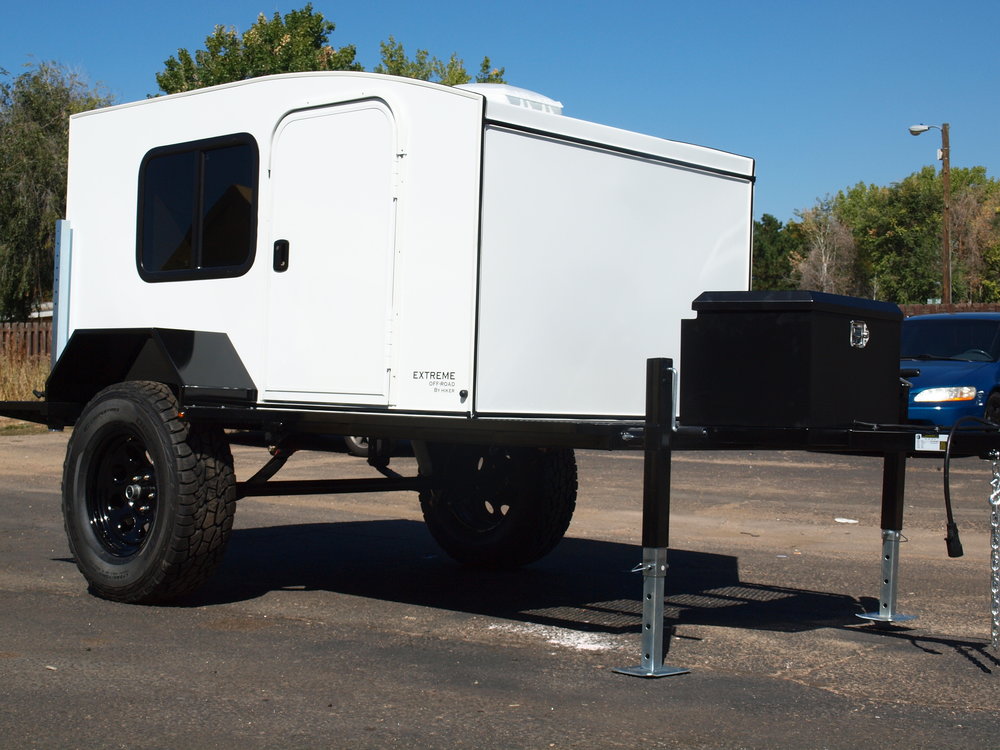 Hiker Trailer Extreme Off-Road Deluxe
The trailers from Hiker are absolutely awesome. They offer a variety of bases to choose from, including our top pick, the Extreme Off-Road Deluxe, which has a steel frame, large tires, and a tough 3,500lb axle.
Once you've chosen a base, you get to customize the rest. Pick your color, the cabinet package that best suits you, and even what kind of heat and electrical system your trailer will have, so you know your trailer will be perfect for you.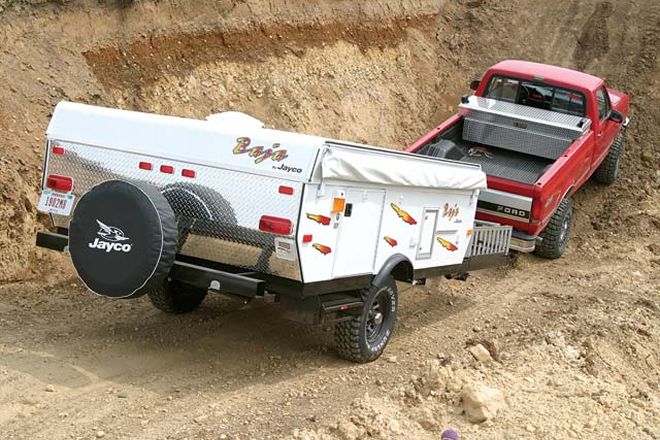 Jayco Baja Pop Up
At first glance the Baja appears to be a traditional, pop-up style camping trailer. But don't be fooled. This isn't your ordinary pop up camping trailer. With 13-inches of ground clearance, 15-inch off-road tires, and a heavy duty shock absorber suspension system, this trailer is designed to go where no pop-up trailer has gone before.
This 20′ long trailer is equipped with a three-way refrigerator, 3 burner stove, and microwave oven. It also includes a 30 gallon fresh water tank, 11 gallon grey water tank, and 5 gallon black water tank.
Unfortunately, these trailers are no longer in production, so you will have to buy used to get your hands on one.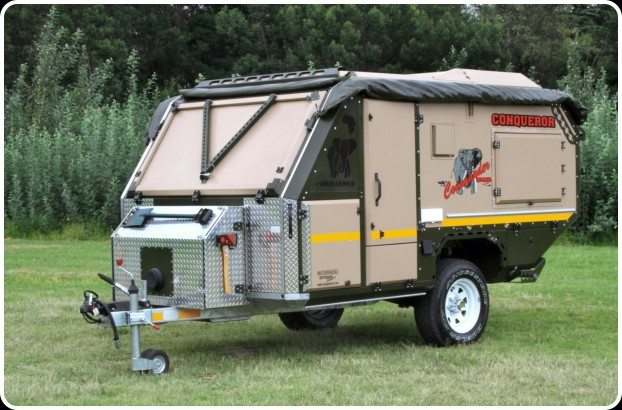 Commander Travel Trailers by Conqueror Campers
This line of Australian-made travel trailers utilize proprietary fully patented independent suspension with trailing arms and heavy duty shock absorbers for a go-anywhere, conquer anything, experience.
The Commander series features slide-out units for the bathroom, kitchen, storage, and hot water. The sleeping quarters are inside the trailer, and several tent configurations can be set up to increase outdoor living space.
The commander camping trailer also comes with a large awning that completely covers the kitchen, as well as a large grocery cupboard and work surface. A hand basin and large shower room are located on the driver's side of the caravan. The roomy interior boasts a dinette that can comfortably seat four and converts into a double bed.
Unfortunately, Conqueror Campers does not currently distribute outside of Australia.
As you can see, there are tons of wonderful off-road camping trailers out there. Whether you choose from this list or shop around and find something that suits you even better, we're sure you're going to have some amazing camping adventures out in the wild.
Want to give an off-road trailer a try before you buy? Why not rent one first to see how you like it? We have hundreds of campers listed for rent, and we're confident the perfect rental for you is out there. Book one today so you can hit the road (or the trail) and start exploring as soon as possible!
For more tips, check out these articles: