Travel Inspiration
August 19th, 2019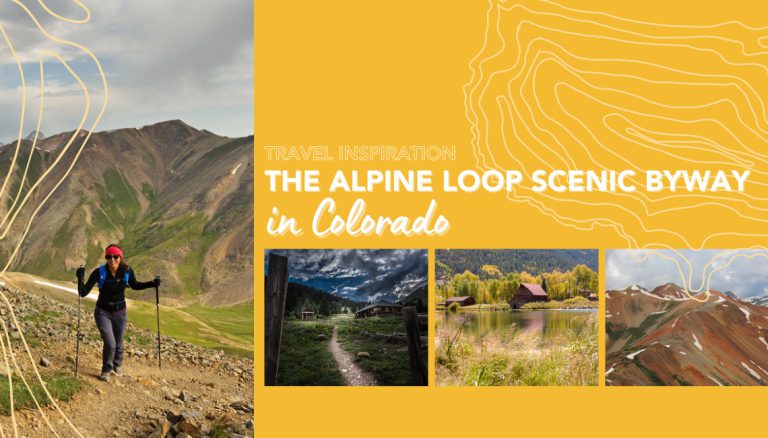 One of the best parts of camping, in our opinion? The opportunity to sit back and enjoy the many scenic drives this country has to offer — including Colorado's famous Alpine Loop, a 65-mile drive that travels from treeless tundra to snow-capped mountains and through fields splashed with the colorful beauty of Colorado wildflowers, winding you near the fascinating towns of Ouray, Lake City, and Silverton. With a wide range of hiking opportunities as well as historically significant sites and plain old beautiful vistas, taking a drive around the Alpine Loop Scenic Byway is one of the very best ways to spend a summer camping trip in Colorado — which is why we put together this post chock full of the details you need to do the trip right!
Here's what you need to know to take an unforgettable drive around the Alpine Loop Scenic Byway.
Alpine Loop Colorado
First things first: it's important to understand what kind of vehicle you need to make this drive, and when you need to get there to ensure it's passable! After all, we're talking about some pretty high-elevation sites, here; for much of the year, snow and ice make them totally impossible to navigate.
The Alpine Loop Scenic Byway is best traversed between June and September, and it's always important to double-check the local weather to ensure that it's open and ready. Colorado weather can be unpredictable, and sometimes, it may snow as late as June or as early as September, so it's much better safe than sorry when you're talking about tackling such an epic adventure.
While this narrow window is… well, narrow, we can ensure you that the drive is well worth the wait. You'll see some of the most stunning views you've ever had the pleasure of laying eyes on, and have the opportunity to explore a slew of small Colorado mountain towns along the way. If you can't make it this July or August, don't worry: it'll still be there next year, and it's a better idea to wait until the time is right than try to cram it in during a time period that doesn't actually work for you!
The next important thing to understand about your Alpine Loop adventure is that most of the terrain requires a 4×4 vehicle. So unless you're willing to risk getting stuck, if you aren't towing (or towing with) a high-clearance SUV or truck, it may be worthwhile to rent one or otherwise make arrangements to get your hands on one before you take on this particular adventure.
Alright, we've got the basic safety information out of the way — so let's get to the fun part! What will you see, do, and explore along the Alpine Loop? Keep reading to find out.
Alpine Loop Map
As you can see from the Alpine Loop Colorado map above, the drive meanders through a wide variety of noteworthy sites, including multiple 14,000-foot peaks as well as historical buildings, lakes, and more. Here are some of the spots you don't want to miss along the Alpine Loop drive.
Ouray, Colorado
Sometimes called the "Switzerland of America," Ouray is one of the most scenic mountain towns not just in the state of Colorado or even the United States as a whole, but in the world — and its history stretches as far back as the Ute Indians, who called the city and its many relaxing hot springs home well before the boomtown fortunes that brought in white settlers. Standing as the western gateway to the drive, Ouray is the perfect place to start or end your drive, and it even offers a number of RV-friendly campgrounds, including a KOA!
Lake City, Colorado
The easternmost town along the byway, Lake City is a tiny community whose last measured population didn't quite reach 350 — but it's still a worthy stop offering beautiful views and a uniquely Colorado brand of small-town hospitality. Of course, when we say remote, we mean it; if you want to get to Lake City from either Ouray or Silverton, you're absolutely going to need four-wheel drive to do it!
Silverton, Colorado
As its name suggests, this city got its start as a mining town — and although most of those mines are tapped out today, it's still home to some tough but friendly people. Plus, the historical downtown offers a variety of tours, including ones that'll take you down into the mines… if you're brave enough!
Silverton is also well-known as a skiing destination come wintertime, so if you miss the chance to take the whole loop, this spot in particular might still be worth a visit. No matter when you go, don't miss a trip to the Animas Forks Ghost Town, a spooky retreat that's sure to get you some killer Instagram pictures!
More Things to See Along Alpine Loop Trail
Here are some more adventures waiting along this scenic byway!
Rose's Cabin
Spoiler alert: when you drive past the spot marked "Rose's Cabin," you won't actually be seeing any log-constructed buildings. The cabin itself has long since succumbed to the harsh Colorado winters and disintegrated… but that doesn't mean the spot is any less historically fascinating.
This location was home to a lively inn which served as an important wayside, offering food, lodging, and entertainment to miners and travelers for many years. The proprietor's name: Corydon Rose, who built is one-story inn all the way back in 1874. He chose the location carefully; this site was about halfway between Ouray and Lake City, making it the perfect stopping point along the way for a rest or a quick pint of ale. The structure was composed of strong hand-hewn logs, fitted together with mud to keep out the ice and cold characteristic of Colorado winters — and that sturdy construction landed him the title of first permanent resident in the Lake City area.
Redcloud and Sunshine Peaks
Although it may sound like a major feat to most of us, climbing 14,000-foot peaks is basically the state pastime in Colorado — so much so that they cutely refer to them as "14ers" and often make plans to climb as many as possible during the short summer season when it's possible without technical knowledge or gear.
Both Redcloud and Sunshine Peaks are hikable without any technical climbing gear, but if you take on the challenge, you're in for… well, a challenge. To bag both peaks in one day, you'll travel a total of about 12 miles round trip and see more than 4,000 feet in elevation gain. In other words, we don't recommend it if you're a brand-new hiker!
But if you've got some hiking experience at this difficulty (and sturdy quads and glutes), tackling two 14ers in one day will make for an epic (and totally Colorado) story. Just be sure to bring plenty of water and sunscreen!
Alpine Loop Camping
So, where will you stay along the Alpine Scenic Loop? Luckily, there are a number of great camping options in the area.
As mentioned above, the cities along the way generally offer some options in the way of RV-friendly camping accommodations, including a KOA in Ouray and two different RV resorts in Silverton — one to the north and one on the south end of town. Along the drive itself, both Mill Creek and Williams Creek Campgrounds offer RV-friendly accommodations, though access to hookups and big-rig-friendly spots may be limited, and it's always a good idea to make reservations well ahead of time.
And don't forget: Alpine Loop is just one of many scenic drives in Colorado, which is, after all, one of the most stunning and mountainous states in the nation. Other popular options include Pikes Peak Highway outside of Colorado Springs as well as Gold Belt Scenic Byway, a famous drive tracing the historical travel routes connecting Cripple Creek and Victor Mining District, site of the world's largest gold rush to the communities of Florence, Cañon City, and Florissant.
Looking for even more scenic drives to put on your itinerary — or wondering where the best drives are in your state? Don't worry, we've got you covered on all fronts! Here are some relevant RVshare blog posts to check out.
No matter where the road wanders, it's a great drive in an RVshare rental vehicle — check out the listings available in your area today!
This post may contain affiliate links.