How Tos & Tips
October 19th, 2020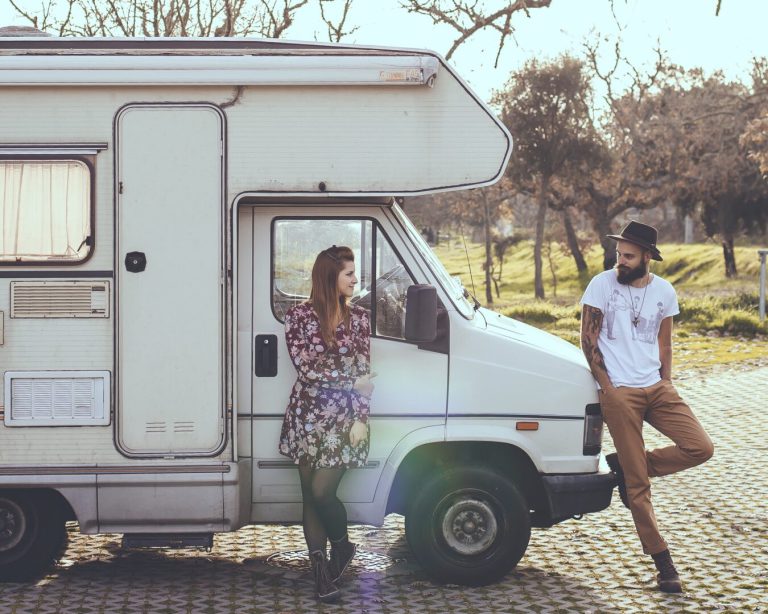 The full-time RV living movement has taken off. Likely fueled by the enormous number of people who are now working remotely, we're seeing more people of all ages and walks of life hitting the road each and every day.
This is incredibly exciting. After all, what could be better than freely traveling the country, seeing the sights, meeting new people, and learning new things around every corner? Yes, full-time RV life is definitely amazing, but it does still come with its own set of challenges.
In fact, there are so many challenges that come along with the full-time life that many people find themselves unable to begin tackling them, because they have no idea where to begin. Lucky for you, we've been there and done that, and we're here to help.
This simple guide will take you step by step through the basics of jumping into the world of RV living.
Establishing an Address
If you sell your house and begin living in a home that moves from one place to the next, you don't really have your own "home" address. This is something that can pose some pretty big problems. Therefore, you will need to establish some sort of mailing address, even if you don't officially live wherever that exists.
Of course, you could simply use the address of a friend or family member living in your home state. Some people find this method works very well for them, especially if they were hoping to avoid changing their residency to another state. If this is the route you choose to go, you will simply need to change your address on all legal documents and you'll be all set.
That said, some people don't have the option to use the address of a loved one, or simply don't want to count on someone else to take care of their mail. Other people do prefer to change their domicile state; in fact, travelers often do this to avoid state sales tax, take advantage of certain homeschooling laws, save on vehicle registration, and more. This requires a few more steps, but still doesn't need to be difficult.
In order to make the transition process as straightforward as possible, we recommend using a mail forwarding service. These services are set up to help travelers change their domiciles quickly and easily, and they are also necessary for getting mail while on the road.
Below we've listed some of the best domicile states for RVers, as well as the mail forwarding services we recommend for each location:
Research each state to figure out which will be best for you, sign up for the correct mail forwarding service, and ask them to walk you through the process of changing your domicile. While you will need to travel to your preferred domicile state in order to complete the process, the mail service will help ensure it's a super simple process so you won't need to stay long.
Getting Your Mail
Once you have your new address through a mail forwarding service, you can begin receiving mail. All of your mail will go to the office of the service you signed up for. From there, your mail can be sent in a package to the campground or post office of your choice.
You can choose when this happens, so you can ensure you are there to pick it up. Just make sure the campground you have mail sent to will receive your package. If not, you'll need to have it sent to the nearest post office as general delivery.
In addition to the usual letters and bills, you may also need to receive packages on the road. While you can have these sent to your mail service address, we recommend timing things so that you can have packages sent directly to a post office or campground. This will save a lot on shipping, as well as the time it takes to get the package. Again, you will need to ask the campground about receiving packages before having anything shipped.
Staying Connected
In this day and age, the internet is incredibly important. This is especially true if you plan on earning a living by doing work online. Fortunately, it is totally possible to stay connected even as you travel the country.
There are a few different ways to go about this.
Cellular Hotspot
Most RVers choose to connect via a cellular hotspot, a device that uses the same kind of signal you would use to connect your phone to the internet. Unfortunately, not all cell service providers work everywhere, and most cell plans limit the amount of high speed data you can use.
Therefore, we recommend investing a couple of grandfathered unlimited plans from different providers if at all possible. AT&T and Verizon tend to be the most reliable.
Another thing you can do to improve upon whatever cellular service you're using is use a cell booster. This is an excellent item to have if you often travel to remote areas.
Satellite Internet
Satellite internet is pretty slow to be honest, and probably isn't the best option for most people right now. However, it will connect absolutely anywhere, making it a good backup plan if you regularly travel to areas without any cell reception.
It should also be noted that plans are in the works to improve upon satellite internet, meaning it could become the traveler's internet connection option of choice in the near future.
Campground and Public Wi-Fi
Finally, there is the option of hopping onto campground Wi-Fi or other public Wi-Fi connections, making use of whatever internet you can find. The problem with this is that it is not at all reliable. Still, if you only need to check email once in a while, this is an option that can work, especially if you invest in an antenna to help pull in the Wi-Fi signal and amplify it within your RV.
Finding Work
As mentioned before, a large number of people have recently found themselves working from home, and that is what is causing such an explosion in the number of people on the road.
That said, there are still some without remote work who are dreaming of full-time RV living. If you're among these, you might be wondering how you can find work on the road.
Our top suggestions include:
Dealing with Doctor's Visits
Seeing the doctor while traveling full-time can be tricky. In some cases, it's possible to use services such as TeleDoc to meet with a doctor virtually and obtain needed prescriptions and other treatments.
Online therapy is also an option, and in many cases, your current therapist might be willing to keep you as a client but switch your appointments to virtual ones.
As far as vet appointments go, those can often be done online as well using services such as My Virtual Vet.
When you do need to see a doctor in person, depending on your particular healthcare plan (or lack thereof), you may need to either travel back to your home state, make an appointment with a new doctor each time (something that may not be possible, depending on what you need), or visit an urgent care.
Many remote jobs do not offer health insurance. An affordable plan can often be obtained through the Healthcare Marketplace, and we highly recommend looking into it. Another option is a health share, but these can be iffy.
Paying for Emergencies
Traveling is magical. Unfortunately, there isn't enough magic in the world to keep accidents and emergencies from coming up now and then, and having one arise when you're far from home/family can be tragic if you aren't prepared.
For this reason, it is incredibly important that you have some sort of health insurance (as mentioned above), good comprehensive vehicle and RV insurance, a warranty on your RV and vehicle if at all possible, and a well-maintained savings account.
Having these things creates a safety net, so you can rest easy knowing you and your family will be taken care of while trying their hand at full-time RV living.
Saving Money
As you dive into budgeting, it likely won't take too long before you start wondering how on earth people afford full-time RV living. Campgrounds and attractions are expensive, and from the outside, this would appear to be an extravagantly expensive lifestyle.
Fortunately, such a perception isn't the whole truth. There are several ways to make full-time RVing affordable. Below are our favorite tips:
Camping memberships — Thousand Trails, Coast to Coast, and Passport America are some of our favorite money-saving camping memberships.
Reciprocal passes — Reciprocal passes to zoos, museums, and parks can save hundreds or even thousands of dollars. These include ASTC (science museums), AZA (zoos and aquariums), NARM (art and cultural museums), "America the Beautiful" (national parks), and passes to theme park chains such as Six Flags.
Free attractions — Many places have lots of free things to do. Keep your eye out for free events, parks, and attractions, and choose those over paid options when possible.
Free camping — Freecampsites.net and Campendium both list dozens of free campgrounds, some with water, dump stations, and even electric.
Boondocking — Another form of free camping is boondocking, or camping without hookups. The sites mentioned above also provide information on plenty of amazing boondocking sites across the country.
Educating Kids
Will you be full-time RV living with kids? If so, you will need to consider their education. Obviously, any kid who travels full-time is homeschooled (aka roadschooled) in one way or another. It will be up to you to decide whether you want to use an online school program, a traditional textbook approach, or something else entirely.
No matter what you choose, we highly recommend weaving your travels and adventures into their schooling. See the historic places they're studying about, check out those cave formations they've read about, or make a point of seeing actual fossils while they learn about dinosaurs.
Finding Community
The final major question often asked is, "How will we find community on the road?" What's surprising to many is that finding friends while traveling is actually quite easy, and once you find your "tribe" you might just find that the community you are a part of while full-time RV living is tighter-knit than any you had back home.
To start finding friends, we highly recommend joining an RV club or two. Some of the more popular RV social clubs include:
Clearly, we can't cover every aspect of full-time RV living in a single article. That said, this should be enough information to get your wheels turning and get you started down the path to RVing freedom. Happy travels to you!
This article may contain affiliate links.