Budget Travel
April 12th, 2022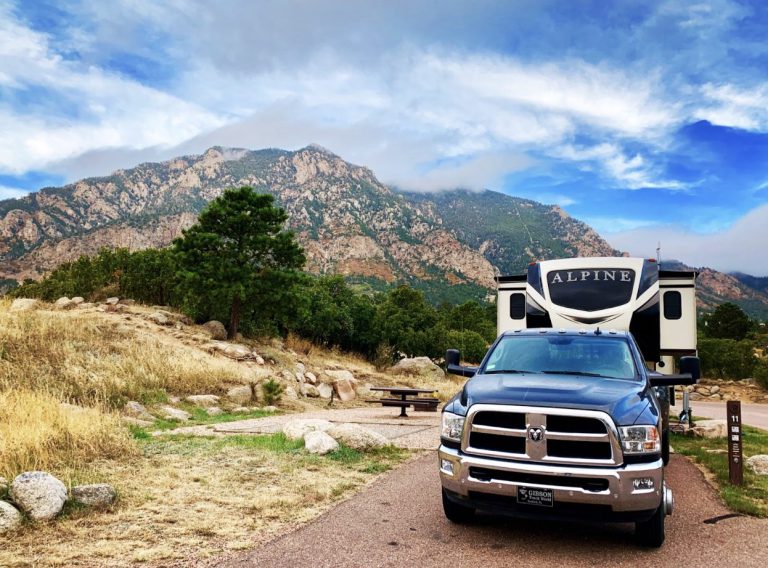 After 3 years of full time travel and life inside of two different RVs, we have an abundance of money-saving tips to pass on to fellow travelers.
The RV lifestyle can be either extravagant or budget-savvy, depending on your willingness to spend a little extra time utilizing tips like the ones we are about to share.
So before you waste another dollar, let's go over 9 easy ways to save money during RV travel.
1. Gas Apps
GasBuddy is the app we recommend to other RVers when they mention struggling with the gas and diesel prices. With this app you can securely link your bank account and get discounts every time you fuel up. At many participating locations you can save up to 25 cents per gallon.
2. Fuel Rewards
There are dozens of fuel rewards programs out there, so you might want to do a bit of research to see what makes the most sense for you based on where you'll be traveling.
We have found that we consistently get the best deals on fuel with the rewards programs offered by the major truck stops. Love's Travel Stop and Pilot / Flying J both have programs in which you earn points depending on how much you fuel up. We make an effort to stop at these truck stops even when we are not hauling our fifth wheel. 
Shell and ExxonMobile are two other fuel stations worth looking into if you don't like having to visit the big truck stops. 
3. Driving smart
There are some tips and tricks you can implement starting right away, without having to sign up for any membership programs! We have learned that sticking to highways is much better for your gas mileage. When you stick to highways you can utilize cruise control, which is another way for any vehicle (towing or not) to reduce gas mileage immediately. Another thing for RVers to consider is the weight of their rig, fully loaded. If you are hauling a rig that is over the weight limit, it's going to cost you in mechanical repairs and at the pumps.
4. RV Memberships
Utilizing RV memberships is a popular way for travelers to save money on the road, and there are membership plans for all kinds of RVers: the occasional camper, weekend warriors, and full-time travelers. Here are some of the most popular membership programs:
Harvest Hosts: This is a yearly membership program for people traveling in an RV (no tents allowed). The "hosts" are a network of wineries, farms, and other attractions that have camping sites for overnight stays. There are nearly 3000 locations across the United States and all that is asked of campers beyond the yearly membership fee is that they support the host's business by purchasing one of their local products (a bottle of wine, fresh produce, etc.). $99/year
Boondockers Welcome: Similar to Harvest Hosts, this is a yearly membership program that gives campers unlimited access to their 2900+ Host locations. Length of stay depends on the rules set by each host, but stays are never to exceed 5 nights. Unlike Harvest Hosts, nearly 75% of all Host locations offer hookups like electric or water. $50/year
Passport America: This is a discount camping club that will get RVers 50% off of the nightly rate at participating campgrounds. Plans start at $44/year.
Good Sam: A yearly membership here will get you discounts at more than just campgrounds. We use our Good Sam Club Card to save money on diesel at the pumps, and on propane from Camping World. Plans start at $29/year.
Thousand Trails: Thousand Trails is one of the largest networks of RV resorts and campgrounds in North America. A Thousand Trails Camping Pass is costly up front (starting at $630/year), but this pass will give you access to any of their nearly 200 properties with no nightly fees. The camping pass saved us hundreds of dollars during our first year of RV living as we traveled up and down the east coast states. 
5. Camp for Free
There are several popular websites and apps which can help you locate free campsites across the country.
We like using Campendium and Freecampsites.net when we are on the hunt for a free spot away from the crowds. These sites give users access to thousands of free camping in state parks, on BLM land, at dump sites, and more. 
For a quick, single night stay, many Walmarts, Cracker Barrels, Cabelas, and Bass Pro Shops offer RVers a place to park for the night. Be especially courteous in these locations, as they are not campgrounds! Be sure not to leave any trash and do not set up anything outside of your RV, like chairs or a dog pen. 
6. Coupon Apps
Utilizing coupon apps can be a bit laborious, but if you are willing to spend some extra time to stay organized about your shopping needs, some of these apps have saved us hundreds of dollars over the years on food and household supplies while traveling. We recommend starting with Ibotta and Fetch, two coupon apps that we have used to acquire lots of savings over the years.
7. Groupon
Groupon has been around for a long time, but it's still relevant today in saving you some big bucks! Especially when it comes to the more touristy attractions that we like to check out while traveling, we often first consult Groupon for discounts. We have found ghost tours, couples massages, and even a Red Rock Jeep Tour on Groupon when we were visiting Sedona. Just be sure to read the fine print because there are often time restraints when it comes to booking your activity.
8. Library Passes
We frequently find ourselves in local public libraries as we travel, for a quiet work space or to use their Wi-Fi. But these libraries have money-saving resources, too! Many public libraries offer free passes to places like museums, aquariums, and other attractions. 
9. National Parks Annual Pass
Our favorite part of traveling is visiting National Parks. We have been to over 25 National Parks and many more National Forests, National Recreation Areas and National Historic Sites. We save money visiting these places by purchasing a National Park Annual Pass.
You can grab an annual pass at any NPS office or on the NPS website for $80. The pass covers everyone in your vehicle, can cover two cardholders and makes a perfect gift for the RVers in your life!
Don't overwhelm yourself by attempting to implement all of these suggestions at once! It has taken us 3 years of full-time travel and hundreds of hours of research to get to where we are. Choose a couple tips that you feel motivated to implement and then make a plan of action. We also recommend connecting with other RVers near you, or online, as this is a very generous and helpful community when it comes to sharing tips and resources. Good luck stretching those dollars!
About the authors: We are Danella and Allie of Wander Free and Queer. We live and travel full-time in our Fifth Wheel with our two dogs. We started a small crochet business on the road in 2018 and we enjoy creating products that bring visibility to the LGBTQ+ community. In our travels, we enjoy hiking, rafting and visiting National Parks.