RV Decor & Unusual RVs
September 17th, 2015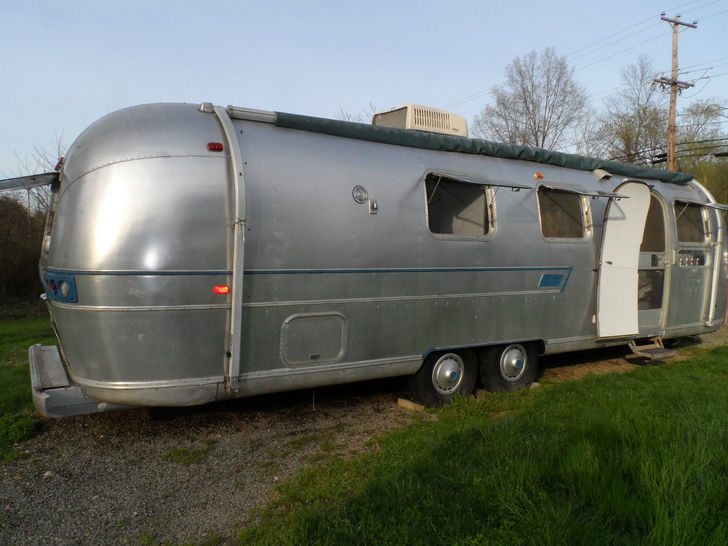 There are are a lot of people who enjoying traveling in an RV — and an increasing number of them are seeking out vintage RVs for this purpose.
If you are interested in buying a vintage travel trailer, one of the best places to turn is eBay. Hundreds of people put up great vintage finds everyday, and a few lucky people may even get the deal of their lives. This was the case for the seven people who purchased the vintage travel trailers below.
Take a look at these super cool retro trailers that sold on eBay.
1. A 1963 Yellowstone Named Candy
If you're looking for something "cheap" but interesting, this 10-foot camper from Yellowstone fits the bill. The tiny size is well overshadowed by its cute factor. The vintage look makes it a rare catch for any buyer. The owner even gave it a wonderful new look and kept it in a garage to increase its value. With a new paint job, new doors, floors, and wiring he managed to sell it for $4,000.
2. A 1967 Mallard Drake
The Mallard Company is based out of West Bend, Wisconsin. They are best known for their Canvasback Camper which dates back to 1967. People who bought it had a great time exploring the country side with this beauty. This year, an owner reconditioned his 17-foot camper and gave it a new paint job. It delighted a lot of people when they saw all that this trailer had to offer. With a a unique design, a new luggage rack, new tail lights, and  marvelous wood paneling, the camper immediately sold for $4,000.
3. A 1965 Streamline Duke
The 24-foot Streamline Duke looks amazing. It was born out of the initiative of two Airstream partners that founded the Silver Streak company. They've sold thousands of models to owners throughout the U.S. and Canada. They are simply something everyone should own due to its interesting apparel and amount of space. But, the space might also have a negative impact on your household. You will probably have to park your car in the street since this will take up all the space in your garage. And that's the exact reason why the owner had to sell it. He received about $6,000 for his prized possession.
4. A 1971 Airstream Sovereign
If you thought the Duke was huge, then take a look at this 31- foot Airstream Sovereign. This is the largest trailer on our lis,t and it was built as a living space for people who relocated often. If you had one of these then you've probably seen everything you could in your lifetime. The camper above has all its original interior and it was almost fully restored for the new buyers. The owner even kept it in his yard without taking on the road. When he sold it, he received $7,899.99.
5. A 1961 Shasta Airflyte
This is an original 1961 Shasta Airflyte,  not to be confused with the re-issued version that the company produced 1,941 copies of in 2014. They marked its 75th anniversary and decided to create something for the fans starting at $15,000. They did a marvelous job and thousands of people were captivated by the outcome. The trailer above was used mostly for advertising, and it took part in countless trade shows. It was stored indoors for many years and the owner stopped taking it out for rides. The person who bought it was delighted to see that the camper still has all of its original features. He was astonished by the interior wood, the shiny doors, screens, windows, and let's not forget about the wings. This trailer was acquired at the price of $9,100.
6. A 1963 Fireball Meteor
The 16-Foot Fireball Meteor is miles away from the fearsome feeling that the name evokes. This cute mobilehome might be exactly what you've dreamed of. The owner gave it a marvelous makeover and now the trailer is absolutely dreamy. Both the interior and the exterior are breathtaking and make you want to move here immediately. Anybody would love to purchase this camper. But sadly, someone already did for the price of $16,000.
7. A 1975 Airstream Tradewind
An 1976 Airstream classic. The Tradewind charmed the hearts of thousands of RVers from the moment it launched on the U.S. market. This one in particular was remodeled, modified and restored to draw in possible buyers. It has all its original parts from tires to glass. And who wouldn't aim for a beauty like this? This Airstream is a true American icon and that's why the owner received about $21,000 for it. It is already packed and ready for the open road.
Would you have purchased any of these vintage trailers? Have you seen any good vintage trailer deals on eBay lately? Let us know in the comments below.
Source: Do It Yourself RV