RV Owners
January 28th, 2021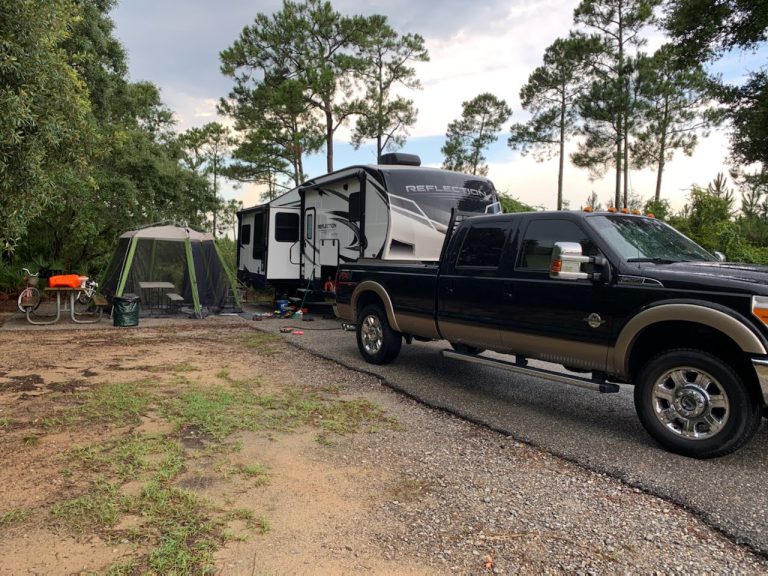 Article by Emily Schneider. Emily is a freelance writer and 5th wheel owner in Richmond, Ky. Check out their YouTube channel RVEngineer.
Many of us are changing the way we RV these days. Before COVID, spacing between campsites was an afterthought. Now privacy is a necessity. When choosing a campground, consider public access points, spacing and privacy between campsites, local regulations, and campground specific COVID guidelines. My family was able to squeeze in a lot of camping trips last year, and thankfully we were able to do it safely.
We recommend consulting with the Centers for Disease Control and Prevention for the latest news and information relating to the Coronavirus.
Work through a decision tree: start broad, then narrow your choices.
When you have a general area in mind, check a reputable covid map for current case numbers such as the Johns Hopkins Coronavirus Resource Center Cases by County. Look at case numbers for neighboring counties of your target area and counties in neighboring states. For example, if I were planning a trip to the Gulf of Mexico, I would check the COVID case numbers in Baldwin County, Alabama, and Escambia County, Florida. What are the trends and vaccine rates? The problem, of course, is that this data is in real-time and may not be relevant if you're planning a future trip.
Consider local mandates and regulations, and assess your comfort level.
Does the state require masks and other protections that improve safety for everyone? Do you prefer traveling to an area with a state-wide mask mandate (check here)? For example, Florida does not require masks, but Alabama does have a mask mandate. Does your workplace or school have travel restrictions to certain states? For problem-solving at a local level, think about area resources. Would you feel more comfortable with a hospital or urgent care center near the campground? Will you need nearby options for take-out due to RV kitchen limitations?
Cast a wide net in your campground research at first.
After narrowing your search to a specific county or city, do a general search for campgrounds in the area to familiarize yourself with the options. Campendium's website has easy to use search and filter features. Now you can start campground specific research.
Familiarize yourself with the campsites.
Test your mapping skills. Judge spacing between sites using campground maps. Use google maps satellite view for a realistic picture of the campground layout, privacy barriers (trees, other structures), and size of the campsite. Use campground landmarks from the generic campground map to help you identify individual sites on Google satellite.
Always read the reviews and search for any current information from the campground.
Read the campground website closely, check reviews, and recent social media posts. Most campgrounds have closed amenities during COVID such as playgrounds, some bath houses, public trams, laundry facilities, and camp stores. Many campgrounds clearly list their COVID guidelines on the home page but at times, more up to date information is posted on a campground's social media page. Because we have, unfortunately, been dealing with the pandemic for a year, recent campground reviews will provide an accurate picture of a particular campground during COVID. Again, I suggest Campendium for up to date customer reviews.
Tips for Closed Campground Amenities
Pack outdoor toys for the kids if the campground is closed. Consider a site with full hook-ups to avoid the bathhouse, or bring along a portable waste tote to account for increased water usage. Research bike access trails to find less populated public spaces. We found bike access to the beach in Gulf State Park, Alabama that was barely being used. We had an entire stretch of beach to ourselves! Don't forget bikes or look into bike rentals and pull behind bike carts if public trams are closed. It can be a long walk from a campsite to the beach when toting beach chairs, an umbrella, cooler, and snorkel gear.
My family was able to have some unforgettable camping experiences last year in the middle of COVID. My daughter celebrated her 11th birthday at Topsail Hill State Park. Our campsite had ample space for safe distancing from our neighbors. We decorated our RV, put balloons on her bike, and spent the day at the beach.

[similar_ai_related]