RV Owners
Last updated on November 4th, 2022. Originally published on July 24th, 2015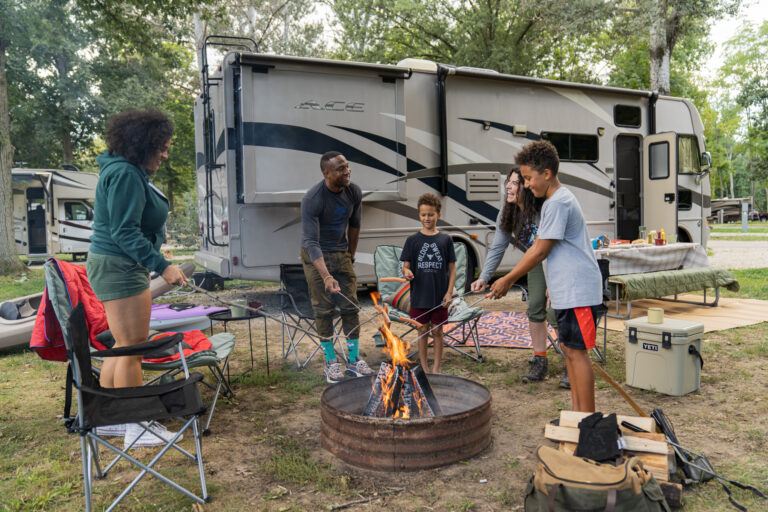 Camping on its own is fun, adventurous, and peaceful. But you can make it even more awesome by bringing along some interesting gear. Whether it's a portable shower, a folding cupboard, or a water trampoline, these 25 items will definitely boost your camping experience.
Take a look at these 25 cool things you should pack up on your next trip. 
1. Wearable Sleeping Bag
Are you the type who likes to be very warm and cozy? Well, now you can be warm and toasty even outside of the bed. With a Selk'bag Lite 6G Wearable Sleeping Bag!

2. Sea to Summit Pocket Shower
Showering can be a problem when you go camping. A pocket shower is easy to use and can be packed away in even the smallest space.
3. The Bio Light Stove/Charger
The Bio Light Stove uses wood to create a smokeless fire to warm meals or boil water. In addition, it can power up your phone or other electronic devices while you're cooking. All it requires are a handful of branches.
4. The Folding Cupboard
Storing food in an organized way while on a camping trip is a necessity. This Camp Cupboard is sure to come in handy. It keeps the food up and off the ground and allows you to find all of your spices and necessary ingredients to cook a tasty meal.
5. Fire Crystals 
Imagine sitting near a campfire telling stories with your friends. You decided to add some drama to the story by throwing one of these crystals in the fire. Poof! The flames magically change color. Sounds amazing, right?
6. Water Trampoline
Who wouldn't like to bring some extra fun along on their next camping trip? This water trampoline is just the thing to maximize your fun when camping next to the water. Comes with a high speed inflator so you can be out on the water jumping around in no time!
7. The Net Cocoon Hammock
A comfy hammock with a built in mosquito net – I want one! This looks awesome! I want to sleep all day in this. And since it's mosquito proof, using it during the night sounds good as well.
8. Scrubba Portable Washing-Machine
Who wants to go to the laundromat, when you could simply bring along your own portable washer? This expandable bag contains hundreds of tiny "scrubba" nodules that will clean your clothes in minutes!
9. The Double Sleeping Bag
If you go camping with your beloved you should consider this double sleeping bag. There's enough room for both of you to cuddle and enjoy a comfortable night's sleep.
10. A Cool Solar Fire Starter 
This amazing fire starter uses only the power of the sun for fuel. No need to re-fuel or maintain. Portable and lightweight, this product is perfect for backpacking and hiking. It's so easy to use, you could almost even say it's magical.
11. SwissChamp Swiss Army Knife
Wow, now this SwissChamp knife a hardcore gadget! It has 31 essential functions. I bet you could even cut a tree down with this beauty if you were very determined. Or, you could stick to using it for sharpening a marshmallow stick or opening a cold beer bottle.
12. The Hand-Crank Blender 
We all know camping can be stressful. (Okay, not really.) Why not relax with a fresh margarita made in your hand-crank blender? No need for power — just a few cranks of handles crushes the ice and mixes your drink to perfection.
13. A Pop-Up Bed Tent
This pop-up tent bed gives you a nice place to relax during the day, and a comfortable tent to sleep in during the night. I think this is probably the best idea ever. Super simple to set up and take down, this bed tent folds into a compact size and fits into its very own carrying case.
14. A Huge Camping Chair 
A camping chair fit for a king. With this giant folding camp chair, you can call yourself the king of the forest and demand your rightful cold beer while enjoying your reign.
15. A Propane Coffee Maker 
You can't go camping without a coffee maker. You're going to need a lot of energy for all that hiking, mountain biking, and kayaking. Start your day properly with the Coleman Propane Coffee Maker. No need for electricity — simply plug in the propane cylinder and you are on your way to 10 cups of liquid gold.
16. Glow In The Dark Tape 
There are hundreds, or maybe even thousands, of uses for this super strong glow-in-the-dark tape. Use it to light up your RVs steps, make a pathway to your tent, repair your flip-flops, make homemade glow sticks, and so much more.
17. A Solar Lamp
Leave this great lamp out in the sun during the day to fully charge, and at night you will have more than 8 hours of reading light. Also, it's water resistant so you don't need to worry about protecting it during a sudden storm.
18. Lighted Bocce Ball Set
The only thing more fun while camping than a game of bocce ball is a game of bocce ball in the dark! These light-up bocce balls are a blast for all ages.
19. Colorful RV Mats
If you've been setting up your camp chairs on a drab brown tarp, consider upgrading to one of these fun, colorful versions. A pop of brightness can make a sunny day feel even more joyful.

20. Dry Bag
Next time you're headed to the shore, don't live in constant fear of getting your towel — or, heaven forbid, your cell phone — wet. Just grab this premium waterproof dry bag to transform your wet and wild adventures from slightly stressful to plain old fun. (It even floats!)
21. Lighted Tent Pegs
If you've got the kids set up in a tent to save room in the rig, the right tent camping accessories are crucial. Make setup easier (and nighttime bathroom trips less hazardous) with these lighted tent pegs. 
22. Inflatable Air Sofa
Folding camp chairs are one thing, but this inflatable air sofa will have you kicking your feet up absolutely anywhere you can imagine. It doesn't even require a bunch of huffing and puffing to blow up — just whisk it through the air to inflate. 
23. Roll-Up Pet Bowl Set
Freewheeling with Fido? Make feeding time simple with this all-in-one bowl set, which rolls up for easy storage. For even more fun and inventive dog camping accessories, click here.
24. Flickin' Chicken Lawn Darts
Remember when Angry Birds was a thing? Well, bring that same spirit outside with this wacky game of chicken-themed lawn darts — which is sure to be silly, sunny fun for the whole family. And hey, it's better to exercise than swiping away at a tiny screen!
25. Gofindit Outdoor Scavenger Hunt Game
We love the idea of this scavenger hunt game, which encourages campers of all ages to get familiar with — and interested in — their natural surroundings. Send your kids out into the world to find something furry, round, huge, rough, red… or that simply makes them say, "Wow!"
It doesn't take a whole lot to create an amazing camping trip. At the end of the day, it's really about who you're traveling with than what you do when you get there, or even where the destination is in the first place.
But awesome camping accessories can help make a rainy day feel less wasted or make simple tasks just a little bit easier to get through, so you can get back to enjoying the quality time you came for. 
I sure hope you consult this list before you go on your next camping trip. You never know when these items may come in handy. Happy camping!