Top RVs Nearby
RV Sales and Rentals in America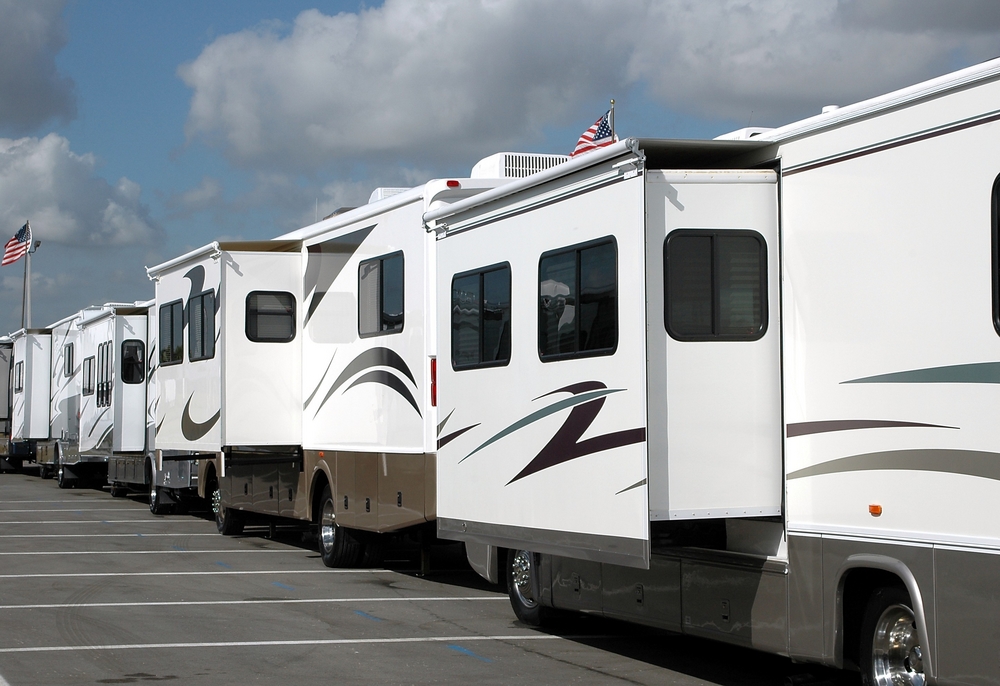 The USA has seen RV sales and rentals booming in recent years. More and more people are realizing how exhilarating it is to travel the open road. It's becoming a popular choice to travel the country in a recreational vehicle; as it allows you to get close to nature without losing any of the comforts of home.
If you're among the many people that are interested in this magnificent way to vacation, it's a good thing to learn more about all that RVs have to offer, as well as how to find the best deals.
Rent an RV
Some people shy away from motorhomes because they think it's something only for people with lots of money to blow. After all, buying an RV is a costly investment. Most people simply can't afford to add another monthly payment to their budget.
Not only does RV ownership come with monthly payments, it also requires maintenance and repair costs. Another stress it can cause is the task of finding a place to store such a large vehicle.
So, if buying an RV is an option that's too far out of your price range, does that mean traveling in a camper is just an unrealistic daydream? Of course not! Renting an RV is the perfect solution.
RV rental allows you to save money by paying for your motorhome only when you use it, instead of making monthly payments on something you may only use a couple times a year. It also allows you extra flexibility when it comes to what kind of RV you want. You won't be stuck with the same type of motorhome every time you vacation, and instead, can change it up based on the needs of your trip.
RV Rental Prices
Exactly how much does it cost to rent an RV? Well, there's a few factors that will affect your RV rental rates. One of the main factors is the class of recreational vehicle that you choose.
How can you decide which class is the one for you? Well, it helps to know a bit about them. Let's take a quick look at a few of the main RV classes.
First up are the motorized RVs - class A, class B, and class C. These are motorhomes with the living and driving quarters attached. Class A motorhomes are the largest and typically most expensive, Class B RVs are much smaller camper vans, and class C campers are right in the middle of the other two when it comes to size and price.
Next up are the non-motorized RVs, which are towable trailers. Travel trailers come in many sizes so they offer some flexibility. Fifth wheel trailers are similar to travel trailers but require a fifth wheel hitch. Finally, there's the pop-up trailer, which is a small unit that collapses for easy transport.
If you have a rough idea of what RV class you're interested in, you can find reviews for specific models by searching for past sales and rentals reviews on Yelp. Seeing reviews from others that have traveled in the same model may help you figure out which RV would be best for your trip.
Other factors that can affect the price are things such as where you plan on finding your motorhome rental, how long you plan on traveling for, and whether or not you want to bring the family pet along for a ride.
RV Sales and Rentals Near Me
You might be wondering, "Where can I find RV rentals near me?" Your first instinct may be to head on down to the closest RV dealership. However, a lot of brick and mortar places can have hidden fees and hard to understand contracts. Is there a way to find RV and motorhome rentals without having to deal with these things?
Luckily, there is! RVshare is the world's largest peer-to-peer RV rental marketplace.
This means that you can find RV rentals listed directly by the owner, anywhere in the country. Since you rent directly from the owner, you cut out any extra fees or lengthy contracts.
That's not the only advantage of renting with RVshare though. We offer secure payments, backed by a $10,000 peace of mind guarantee, 24/7 roadside assistance, and 5% cash back towards your next rental every time you book online.
So how exactly does it work? Well, with just a few simple steps, you can hit the road in your luxury RV rental, ready to travel through the USA. It all starts with our easy to use search tool.
Just enter the location and dates that you want to rent your RV, and you'll be provided with potentially hundreds of listings to browse through. To narrow down your choices, you can filter your search by RV class, price range, motorhome make and model year and the number of travelers.
After browsing through the options and choosing the RV that best fits all your needs, you're ready to book your trip. All you have to do is send the owner a quick email requesting to book their unit.
Finally, you're ready to pick up the rental. When you meet the owner, they'll give you a quick tutorial and answer any questions you may have, and then you'll be ready to start your vacation! After you've spent your road trip having fun and relaxing, all you have to do is fill up the tank and return your rental.
RV Rental
If you've been looking for a new and exciting way to vacation, RVing may be just the thing for you. You'll have the vacation of a lifetime while bonding with family, getting close to nature, and relaxing in a camper that gives you the comforts of home while on the road.
RVshare allows you to rent a camper for your trip, without adding the stresses that come with buying or renting from a dealership. In only a few steps, you'll be on your way to enjoying traveling the country in your brand new RV rental!