Top RVs Nearby
RV Rental Cross Country USA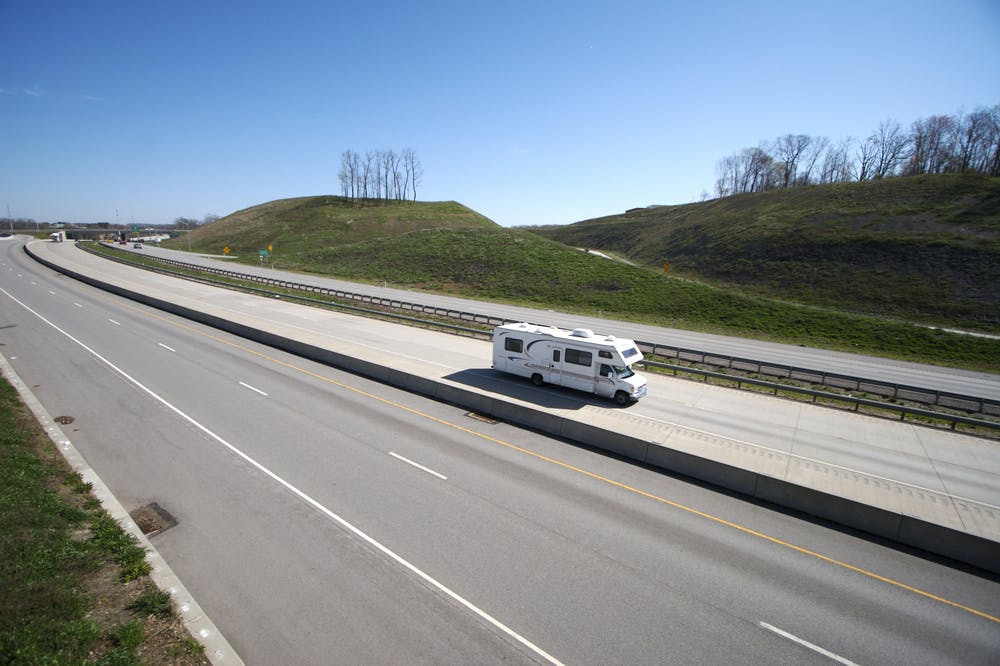 Cross country road trips are the ultimate American vacation. There's nothing quite like experiencing the open road, traveling through the countryside with the windows down, wind in your hair.
Traveling across the country can make for a long trip, though. How can you stay comfortable on such a long road trip? Traveling in an RV can give you the freedom of the open road while keeping the comforts of home with you on your journey.
How can you make the most out of your vacation? In this article, we'll learn the best way to find a motorhome for your travels, and take a look at a few tips for cross country RVing.
RV Rental to Drive Cross Country
Many people don't consider an RV when planning a vacation because they think it's too expensive. Owning a motorhome can come with a lot of expense and even stress. You have monthly payments, the cost of maintenance and repairs, and the added job of finding a place to store your trailer.
What they may not realize though, is that they can save money by renting an RV. Instead of having to make countless payments on a vehicle you may only use a couple times a year, you can rent an RV for your cross country drive and only pay for the duration of your trip.
Not only does an RV rental cost less than owning, it also allows you to save money for your cross-country road trip that would otherwise be spent on lodging in hotels.
Best RV Rental for Cross Country Trip
So which type of RV is best for a long road trip? Well, that depends on your specific needs. However, smaller RVs are typically not recommended, as they can start to feel pretty cramped after a while. Let's take a quick look at some of the popular units for long distance trips.
Motorized RVs are typically the go-to unit for renting an RV cross country. They usually include common amenities that will keep your trip comfy and convenient. This includes class A, class B, and class C motorhomes. What's the difference between these three classes of RV?
Class A RVs are a popular choice, as they are the largest and roomiest option. Built on a bus chassis, their size allows them to include a kitchen area, bathroom, dining area, sleeping quarters, and plenty of storage space. A disadvantage of class A Motorhomes is the low fuel economy, which can add up to quite a big cost on a long trip.
Class B motorhomes are small camper vans, which makes them much better on gas mileage. Their small size means that they're not as roomy as other units, but they're adequate if you're only traveling with one or two people.
Having some of the advantages and disadvantages of both the class A and class B motorhome, class C units may be a good compromise. They include the same amenities of class A, with better gas mileage. They're often a good choice of motorhome rental for a cross country trip.
Cross Country RV Rental Prices
How much does an RV rental across country cost? That'll depend on which kind of RV you decide is the best match for you. As a general rule, the larger the RV, the more expensive the rental rate.
No matter which unit you choose, RVshare is the place to find the best deals. With prices starting as low as $10 per night, you'll be able to find the perfect affordable camper rental for your cross country road trip.
One Way RV Rental Cross Country
Not only will you be able to find a rental in your budget, you'll also be able to find something that meets all of your needs. For instance, you'll be able to find a one-way RV rental, a rental that offers unlimited miles, or a rental that is pet-friendly.
So how exactly does it work? Well, RVshare is the world's largest peer-to-peer RV rental marketplace. That means that we have thousands of RVs for rent listed directly by owner. The process of renting is simple and stress-free. All it takes is a brief search to find your ideal rental, and a quick email to book the RV. All you have to do after that is meet with the owner for a quick tutorial, and you're ready to hit the road!
Cross Country RV Trip Tips
Even after you've found the perfect RV rental, long road trips can seem a little daunting if you've never planned one before. It's a good idea to have a clear plan in mind to keep your cross country trip as stress-free as possible. Let's look at a few tips to keep your cost and stress levels low.
If the rental you chose for your trip is equipped with a cooking area, it's a good idea to prepare most of your own meals. This may seem like something unimportant, but you'd be surprised just how much money you can save by cooking from your motorhome instead of eating out every single day.
When you meet the RV owner for a tutorial, you should make sure that all of your questions are answered. Knowing the unit inside and out is vital for a long trip.
Try not to add too much to your schedule. If you try to squeeze too much into your itinerary, you may end up fretting over what you didn't get to do, instead of enjoying the fun times you had on your trip.
Focus on packing the basics. Don't worry about bringing things you probably won't need. Instead, make sure you pack the necessities; like dishes, towels, and toiletries.
Cross Country Road Trip RV Rental
Cross country road trips are an exhilarating way to vacation but can require some careful planning. RVshare can help with that planning by finding you the perfect RV rental at a great price. If you plan out your trip carefully and follow a few basic tips, your cross country road trip is certain to be the vacation of a lifetime!