Lassen Volcanic National Park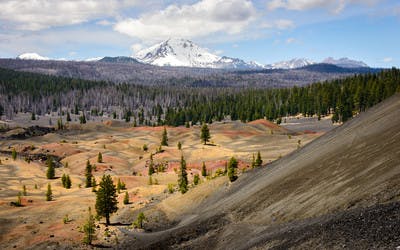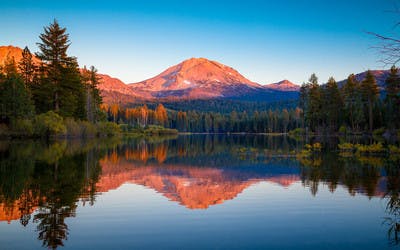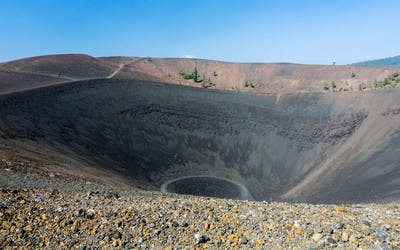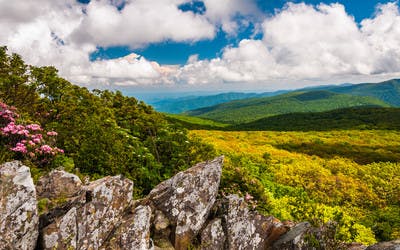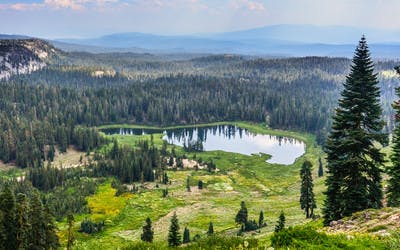 Lassen Volcanic National Park
is located in northeast California, not far from the state borders of Oregon and Nevada. It's home to steaming fumaroles, bubbling mud pots, geysers, and numerous volcanoes. It's also home to crystal clear mountain lakes, a rainbow of wildflowers, and jagged peaks. The park's Warner Valley houses the Drakesbad Guest Ranch, where visitors can soak in a hydrothermal spring-fed pool, hike, go horseback riding, swim, fish, or relax with a massage.
The weather in the park can vary greatly - the high elevations mean there can be snow year-round in some parts. Summer weather tends to be warm and dry during the day, with chilly nights. Many areas of the park are closed during the snowy, winter months. If you're headed to the park in the winter, you can find out about seasonal activities here.
Nearby Lake Almanor offers a variety of water sports and outdoor recreation, and the towns of Chester and Mineral to the south of the park, and Shingletown and Old Station to the north offer places to eat, shop, and explore.
Inside the park, there is plenty to do as well. Most planned events occur between late May and October. You can find the full schedule here. Along with hiking, there is fishing, horseback riding, bird watching, boating, backpacking, stargazing, and more!
Weather
Spring 45-55 F
Summer 65-75 F
Fall 55-65 F
Winter 40 F
Nearby Cities
Redding, CA
Trip Planner
Use our FREE RV trip planner to begin customizing the perfect RV trip.
Continue
RV Resorts & Campsites in Lassen Volcanic National Park
There are several campgrounds within the park that accommodate RVs and tent camping. Some of these sites allow reservations, and you may want to make them in advance to ensure you have a spot. Park campgrounds are open from late May through October, though many private campgrounds are open year-round.
Lassen Volcanic National Park Public Campgrounds
Lassen Volcanic National Park Private Campgrounds
RV Rentals Near Lassen Volcanic National Park
Nearby RV Rentals
Hit the Trails
Hiking at Lassen Volcanic National Park is truly a unique experience. You'll see bubbling mud pots, geysers, steaming lakes, and other examples of geothermal activity. Because of this, it is extremely important that you stay on all marked trails. Areas off the trails can be deceptive - the crust looks solid but can give way and lead to serious injuries. You can check here for more tips on hiking safely at Lassen. Exploring the park means being mindful of your surroundings, but the awe-inspiring experience is definitely worth a little extra care!
Lassen Volcanic National Park Southwest Area Trails
Ridge Lakes
Distance: 2 miles, round trip with 1,045-foot elevation change
Terrain: Short but challenging hike past two alpine lakes, wildflowers, and the Sulphur Works hydrothermal area.
Cold Boiling Lake
Distance: 2.6 miles, round trip
Terrain: Mostly flat hike with birds, wildflowers, and deer.
Mill Creek Falls
Distance: 3.8 miles, round trip with 1,045-foot elevation change
Terrain: Open hillside and forested area lead to the highest waterfall in the park. Great views of Brokeoff Mountain and Mt. Diller.
Terrace, Shadow, and Cliff Lakes
Distance: 4 miles, round trip
Terrain: Easy terrain through open woods and wildflower-sprinkled meadows, past three mountain lakes under the base of Reading Peak.
Lassen Peak
Distance: 5 miles, round trip with 2,000-foot elevation change
Terrain: A popular, steep trail with vistas of the park and surrounding areas. Lots of switchbacks.
Lassen Volcanic National Park Northwest Area Trails
Lily Pond Nature
Distance: 0.5 miles, round trip
Terrain: An easy, flat nature loop trail.
Manzanita Lake
Distance: 1.5 miles, round trip
Terrain: Family-friendly, shady trail around the lake offers glimpses of lake and forest wildlife, and views of Lassen Peak and Chaos Crags.
Hat Lake to Paradise Meadows
Distance: 2.8 miles, round trip
Terrain: Trail climbs slowly along a creek to a meadow surrounded by cliffs.
Nobles Emigrant
Distance: 3.5 miles, round trip
Terrain: Not known for scenic views, the trail follows the historic route of western travelers through serene forest. Pleasant and not highly trafficked.
Echo Lake
Distance: 4.4 miles, round trip
Terrain: Relatively easy day hike and part of the Cluster Lakes Loop.
Lassen Volcanic National Park Warner Valley and Juniper Lake Trails
Inspiration Point
Distance: 1.4 miles, round trip
Terrain: Moderate hike with a beautiful vista.
Boiling Springs Lake
Distance: 3 miles, round trip
Terrain: Hike through a meadow and forest to the lake, where steam vents underneath keep the water temperature around 125°. Mud pots on the southeast shore are a popular attraction.
Mount Harkness
Distance: 3.8 miles, round trip with 1,250 elevation gain
Terrain: Climbs through forest and woodland to an active fire lookout.
Devil's Kitchen
Distance: 4.2 miles, round trip
Terrain: Small footbridges and boardwalks for the first part of the hike give way to dirt trails, leading to Lassen's second largest hydrothermal area.
Terminal Geyser
Distance: 5.8 miles, round trip
Terrain: Follow the Pacific Crest Trail through forest and meadows, along Hot Springs Creek, to the geyser.
What to Do at
Lassen Volcanic National Park
Northeastern California is a treasure trove of historic and geologic sites. Volcanic activity in the area has resulted in numerous caves and volcanoes, and there are artifacts ranging from prehistoric bones to Native American tools to more recent railroad operations. Lake Almanor is close by and also offers plenty to do.
Lassen Cafe and Gift
Type: Soups & Sandwiches
Location: Kohm Yah-mah-nee Visitor Center, Lassen Volcanic National Park
Drakesbad Guest Ranch
Type: Barbeque
Location: Warner Valley
JJ's Cafe
Type: Cafe
Location: Old Station
Lassen Mineral Lodge
Type: American
Location: Mineral
Highlands Ranch Resort
Type: Fine Dining
Location: Mill Creek
Lassen Cafe & Gift
Shop handcrafted jewelry and locally produced artwork, including Native American handicrafts, apparel and park souvenirs to commemorate your visit.
Location: next to the Kohm Yah-mah-nee Visitor Center near the southwest entrance to the park
The Lake Almanor Fly Fishing Company Shop
Get everything you need to spend a day on Lake Almanor, or the surrounding creeks and streams. The shop has rods, reels, flies, and other supplies and also offers guided fly fishing trips.
Location: Chester
Stover Landing Commons
Grab a book from the quaint bookstore and a cup of coffee, browse the art gallery, or find things to do nearby at the Lake Almanor Area Visitor's Center - all located in the Stover Landing Commons.
Location: Chester
Lassen Mineral Lodge Gift Shop
Furnish a cabin, or just bring home a touch of the mountains with the gifts, furniture, and crafts you find at this gift shop. Also be sure to view their collection of rocks and minerals in the general store.
Location: Mineral
Learn about the history of the Lassen area, and B.F. Loomis who promoted the establishment of Lassen Volcanic National Park. Rangers hold summer programs and provide information on the park and its wildlife and geology, and additional exhibits feature the original equipment Loomis used to photograph eruptions as well as traditional Atsugewi basketry. Open May-October.
The monument includes both the Tule Lake Segregation Center - the largest and most controversial site where Japanese Americans were incarcerated during WWII, and Camp Tulelake which began as a Conservation Corps camp, was then an additional detention facility for Japanese Americans, and was finally a prisoner of war camp.
Wander through 25 acres of Mediterranean climate display gardens, a children's garden, a medicinal garden, two water features, and a pond that is home to local wildlife. Also, cross the Sundial Bridge at Turtle Bay - one of the largest working sundials in the world.
The Dunsmuir Museum in Redding features information on the area's history - everything from Native America exhibits, to displays on the first settlers, to railroad memorabilia. There's even a fly fishing exhibit for fish fanatics.
Fort Crook was established in 1857 to protect travelers along the Shasta-Yreka Road, seven miles from where the museum is located, and many of the current museum members are related to the first settlers. See the Little Valley Round Barn, which was relocated to the property, and learn about the history of the area.
Lava Beds National Monument
Lava Beds monument is about a two-hour drive from the park and features caving for everyone from families with small children to more experienced spelunkers.
Mt. Tehama Winery
Relax after a day (or several!) of strenuous outdoor exploring and spend an afternoon wine tasting at this dry-farmed estate vineyard.
Lake Almanor
Cool off with watersports, fishing, or just swimming and picnicking along the 52 miles of shoreline at Lake Almanor
Parkcaching
Explore Lassen Volcanic National Park by geocaching within the park. There are several caches maintained both by park employees and by geocaching enthusiasts. Get started here and see how many you can find!
Mount Shasta
At 14,179 feet, Shasta is a potentially active volcano and the second-tallest peak in the Cascade Range. The Shasta area offers lakes for recreation, hiking, and spectacular views.
How to Get to
Lassen Volcanic National Park
Since it lies in or near three different states, there are a number of ways to travel to Lassen Volcanic National Park. The nearest airports are in Redding (a smaller airport), Reno, and Sacramento.
You can also consider renting an RV to travel to the park. Not only does renting an RV allow you to travel through the park in comfort, it gives you the flexibility to stop at any of the interesting places along the way (and there are many!) If you don't own an RV, RV rentals are available across the country so you can drive one from your hometown, or fly in and pick up an RV closer to the park.
You can access the park itself via Hwy. 44 to the north, or Hwy. 36 to the south. Roads can be closed depending on weather, so be sure to check road conditions before your visit. Gas stations are few and far between, so be sure to fill up in Chester or Shingletown before entering the park. You may also want to set aside additional time to drive the 500-mile Volcanic Legacy Scenic Byway from Lake Almanor to Crater Lake in Oregon during your visit.
If you are planning to stay in your RV in the park, most campgrounds are open from late May or early June through October. Butte Lake, Manzanita Lake, Summit Lake, and Warner Valley all offer RV camping. Check out the private campgrounds mentioned earlier for more options.
Entering Lassen Volcanic National Park
It does cost to enter Lassen Volcanic National Park, but the fee varies depending on the time of year you visit. There are also several free entrance days, which you can find here. Fourth graders are also eligible for the Every Kid in a Park Pass, which allows them and everyone in the vehicle with them free entrance into all national parks for the year. You can find out more about the program here. The National Park Service offers Annual Passes and Lifetime Senior Passes, which you can find here.
Private Vehicle: 7-day pass $25; Winter pass (Dec. 1 - April 15) $10
Private, non-commercial vehicles (15 passenger capacity or less) and all occupants.
Motorcyle : $10
Valid for one private, non-commercial motorcycle, regardless of number of passengers.
Per Person : $12
One individual with no car (bicyclist, hiker, pedestrian)
Lassen Volcanic National Park and the areas around it are unlike anywhere else! We at RVshare love encouraging families and loved ones to explore the outdoors and the unique landscape of this world. The unique geothermal features of Lassen, along with its breathtaking peaks and clear mountain lakes make for a one-of-a-kind trip. Whether you visit Lassen in an RV rental through us, drive in and tent camp, or backpack through the wilderness areas, we want to hear all about it! Share photos with us via email at [email protected] or tag us on social media to tell us about your trip for a chance to be featured on our blog or social media channels.