Channel Islands National Park
WIDE-RANGING INVENTORY
From affordable pop-ups to luxury motorhomes
LARGEST RV RENTAL MARKETPLACE
Thousands of 5 star reviews from happy customers
SECURE AND MOST TRUSTED
24/7 Emergency roadside assistance on every booking
Channel Islands National Park
Just off the coast of one of the most densely-populated parts of America, Channel Islands National Park holds a treasure trove of undeveloped sea-bound wonderlands, filled with unique flora and fauna whose isolation has led them to evolve differently than their continental counterparts. The national park is comprised of five of the area's eight channel islands, totaling just under 250,000 acres, and is located just a few miles off the coast of California's Santa Barbara and Ventura counties.
Thanks to their location off the coast of southern California, the channel islands enjoy relatively mild temperatures and a Mediterranean-style climate year round. Daytime highs tend to hover between 50-60 F. However, seasonal changes do affect ocean conditions, and high winds or rough seas can make visiting the islands treacherous. Fog can also descend on the landscape, especially during late spring, decreasing visibility.
The Channel Islands National Park visitors centers are on the mainland, in Santa Barbara and Ventura. These towns, and the greater Los Angeles area, serve as the park's gateway cities, and offer a huge range of restaurants, shopping opportunities, and cultural events and exhibits.
This one-of-a-kind stretch of islands offers a wealth of adventures for the outdoorsy, from hiking and backcountry camping to kayaking, canoeing, snorkeling and diving in or on the interstitial waters. The park also boasts unparalleled wildlife sighting opportunities, thanks to its isolation from the mainland; many of the species that call the channel islands home are impossible to find elsewhere. Whale watching, birding, and tidepooling are particularly popular, and are often aided by ranger-led guided hikes. Click here to see the park's official events calendar.
Read more
Weather
Spring 50-60 F
Summer 50-60 F
Fall 50-60 F
Winter 50-60 F
RV Rentals Near Channel Islands National Park
Nearby RV Rentals Thor Motor Coach Freedom Elite 27 FE
2023 / Class C Motor Home
Forest River RV Rockwood GEO Pro 19BH
2022 / Travel Trailer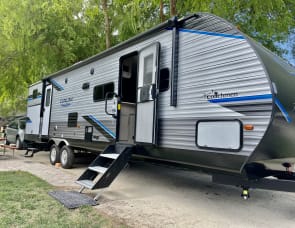 Coachmen RV Catalina Legacy 323BHDSCK
2022 / Travel Trailer
Channel Islands National Park Hiking Trails
The national park's five channel islands are criss-crossed with trails just waiting for you to meander, explore, and discover the unique plants and animals who call this place home. Most of the islands are accessible and open to hikers, but San Miguel island requires a permit thanks to its particularly delicate ecosystem.
It's always important to carry ample water, food, and sun protection when hiking, and adventures in the Channel Islands are no different. Additionally, hikers should be aware of the landscape's unique risks, including high cliffs, poison oak, "jumping" cholla cactus, and scorpions. The deer mice here have also been shown to carry hantavirus, which is potentially fatal. Click here for more details and a comprehensive list of hiking opportunities in the Channel Islands.
Santa Barbara Island Trails
Things to do Outside Channel Islands National Park
As mesmerizing as they are, you can only spend so long on the islands. But when you're ready for an urban adventure, your opportunities are literally endless. No matter what you want to eat, drink, or do, you can find it in Southern California -- but here are just a few suggestions to get you started.
Discover Nearby Towns and Cities
RV Resorts & Campsites in Channel Islands National Park
Because the park is comprised of off-shore islands, there's no way to camp on-site if you're traveling by RV. However, there are multiple camping options nearby on the mainland, both in free or low-cost public areas and in costlier (but posher) private RV resort campgrounds.
Campgrounds Near Channel Islands National Park
Find the Best Dumpstations Near Channel Islands National Park
An unglamorous but necessary aspect of RVing? Dump stations. Knowing where the best dump stations are near you will allow for more ease and less stress in your travels. Dump stations are an easy and convenient way to clear waste from your RV. Use our guides to find dump stations on your route, so you can get back to the good stuff – exploring, relaxing, and making memories on the road.
Dumpstations Near Channel Islands National Park
How to get to Channel Islands National Park
Since Channel Islands National Park is located off the coast of one of the most densely-populated metropoles in the country, it's not hard to get into the vicinity -- though getting to the islands themselves is a different matter. Ventura and Santa Barbara are accessible by a wide variety of California highways and interstates, and visitors can choose from a number of major nearby airfields, including Los Angeles International.
Once you arrive in southern California, you can go to the islands in one of the following ways: park concessionaire boats, park concessionaire planes, or private boat.
Frequently Asked Questions
How large is Channel Islands National Park?

Channel Islands National Park is 390 square miles or 249,354 acres. Half of the park is underwater, however. The park is comprised of five islands in total, off the coast of Southern California.

Is Channel Islands National Park accessible for disabled visitors?

The visitor center in Ventura and the visitor contact station in Santa Barbara are wheelchair accessible. However, because of the remoteness of the islands, they are not easily accessible for people with limited mobility.

Are pets allowed at Channel Islands National Park?

No, pets are not allowed at Channel Islands National Park. Because of the insular nature of the animals on the islands, animals from other places are not allowed.

Service animals are allowed on the islands if they have undergone a protocol of vaccines, parasite prevention, and a health exam to preserve the island species.

Are there designated camping spots in Channel Islands National Park?

There is a designated campground on each of the five islands at Channel Islands National Park. There are also many RV campgrounds in the nearby towns of Ventura and Santa Barbara since there is no RV camping on the islands.

What are the top things to do in Channel Islands National Park?

Some of the top things to do at Channel Islands National Park include whale watching, guided kayak tours, hiking, and fishing in the pristine waters.