Travel Inspiration
Last updated on June 21st, 2023. Originally published on September 15th, 2017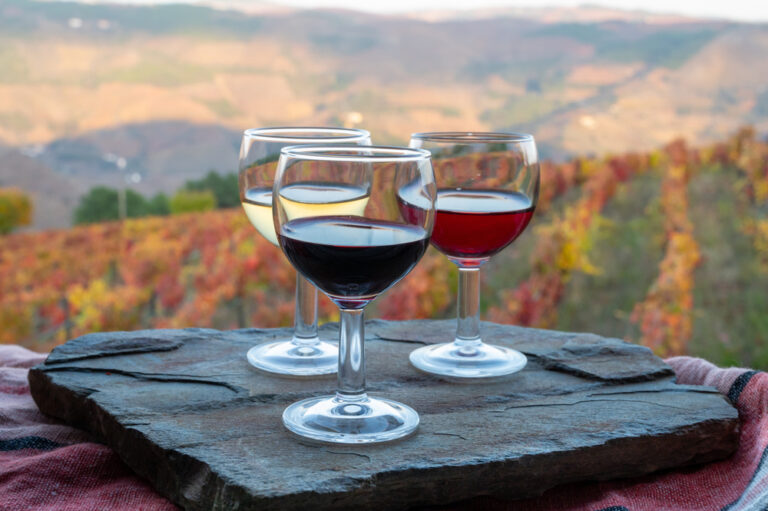 Fall is a great time to travel for a whole host of reasons, not the least of which is wine.
Across America, the onset of autumn means vintners are busy plucking perfect clusters of grapes ripe and ready to be made into the latest vintage. That makes it an exciting and tasty time for a winery tour (or three) — no matter if you prefer Napa chardonnay, Virginia cabernet sauvignon, or Willamette Valley pinot noir.
Whether you're a total oenophile or your wine knowledge stops at differentiating red from white, wineries are a great way to learn more and taste some delicious wines that might not be on your radar. Plus, no matter where they're planted, vineyards are gorgeous. It's hard to beat sipping vino while watching the sun set over the rolling hills of wine country.
And what better way to traipse through the grapes than in your RV? You can drive from region to region, exploring everything this country has to offer in the world of wine… all without worry about where you'll sleep each evening.
That said, there's a lot of wine being grown and produced in the states these days. There's way more to explore than just Napa (although it's certainly not to be missed)!
Where is a thirsty traveler to turn?
Best US Wineries to Visit
First of all, if the west coast is far away, don't worry. There's actually amazing wine being grown all over the east coast, and even down in Texas!
New York's Finger Lakes have some of the best wineries to visit, especially if you like aromatic and interesting whites like Riesling and Gewurztraminer. These Germanic grapes also produce some of the finest dessert wines you'll ever taste, so don't forget your sweet tooth.
Here are a few Finger Lakes wineries not to miss, as well as some highly-ranked campgrounds in the area.
There are also plenty of wineries to visit in Texas, including the Texas Wine Trail that winds through the scenic hill country. In fact, the area celebrates Texas Wine Month each October… so a great opportunity for wine tourism is quickly approaching!
Of course, many of the top wineries to visit are on the west coast… but that doesn't mean they're all in California.
Oregon's famous Willamette Valley produces pinot noirs that easily compete with Old World Burgundies. Some of our favorites include Utopia Vineyard, nestled in the prestigious Ribbon Ridge AVA, as well as Montinore Estate, which focuses on organic and biodynamic grape-growing.
Favorite Napa Wineries to Visit
Although there's fantastic wine grown across the U.S., it's undeniable that California is our most cherished wine region. And whether you stick to Napa or expand your explorations to the wider reaches of Sonoma — or even further south to Paso Robles — there are plenty of fun wineries to visit.
There are way too many for us to name here, but Food & Wine has put together this excellent list of the top California wineries to visit. And if you're set on drinking up the most famous name in the business, you might as well do it in style — so check out this list of the most beautiful wineries in Napa, from the Napa Valley blog.
Best of all? All the regions we've discussed have ample and beautiful camping options, from boondocking in the nearby hills to finding amenity-filled, private, developed campgrounds. Wine Country RV Resort is the best of both worlds, set up camp and then enjoy events held in their wine garden, including live entertainment, dancing, wine tasting and outdoor movies.
In fact, there's a fantastic option for RVers who are really into wine… and you might even save some money in the bargain! It's called Harvest Hosts, and it connects private vineyard owners and farmers who have room for some overnight guests with campers like you. You pay a small fee for your annual membership, and then you get access to the directory of potential hosts. You'll get to stay the night and also taste some delicious wines right at the source — and perhaps even buy a bottle or three for the road while you're at it.
How to Visit Wineries
Now that you know how many options you have when it comes to deciding on wineries to visit, let's talk about what to expect when you get there.
First of all, we want to be clear: You should NEVER drive while under the influence of alcohol, whether we're talking about an RV, a car, or even just a bicycle. Make a plan ahead of time for how many and which wineries you plan to visit per day of your trip, and then either arrange for a driver or walk between them. (Many companies in Napa and other famous wine regions offer tasting tours complete with a private car, although this can be an expensive option; you can also designate a driver in your party or rely on services like Lyft or Uber.)
In general, each winery will offer a flight of their most recent wines — a small taste of three to five wines for a flat rate between $10 and $25, depending on the winery. You may also be able to buy a full glass of any wine you like and want to taste more of, as well as being able to buy wines by the bottle. The winery may also offer you the opportunity to join a wine club, which will get you regular shipments of wines from the producer for a flat yearly rate.
Best Time of Year to Visit Wineries
The good thing is, the best days to visit wineries are ahead of us… but they're coming soon! Although you won't be able to drink the wines picked this year, the fall harvest season is an exciting and dynamic time to celebrate the ancient art of winemaking. Whether you head to Oregon, California, Virginia, Texas, or any of the hundreds of wineries in between, enjoy your journey through America's stunning wine country… and have a glass (or three) for us while you're at it.
Cheers!