How Tos & Tips
Last updated on April 19th, 2023. Originally published on December 7th, 2020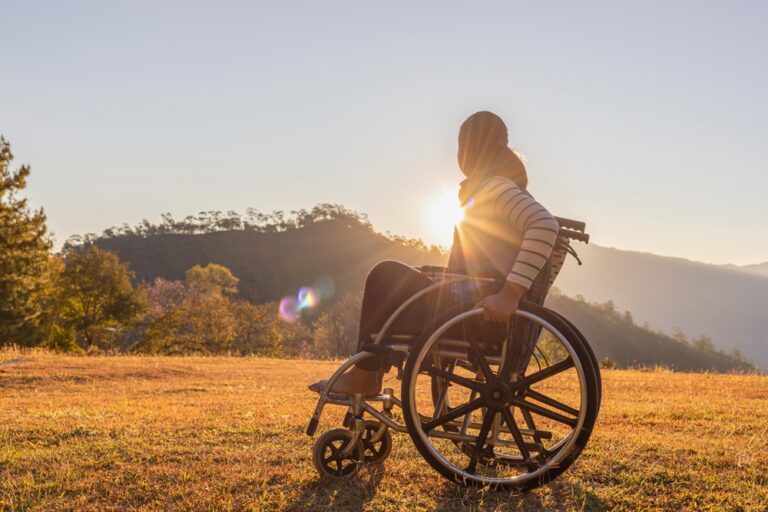 RVing is a super fun way to get out and see the country. It offers opportunities to explore places off the beaten path, gives budget travelers a way to save money, and allows you to carry the comforts of home with you wherever you go. Another benefit of RV travel is the fact that it makes regular travel easier for those in wheelchairs through the use of wheelchair accessible RV motorhomes and travel trailers.
By seeking out a wheelchair accessible RV, people in wheelchairs can travel when they want, where they want, and with everything they need. They will have access to an accessible restroom wherever they go, even if public restrooms are less than accommodating, and they won't have to worry about whether the hotel room they booked will work for them.
In this article, we'll talk about what to look for in an RV, and where you can find a wheelchair-accessible motorhome RV rental in the USA so that you can start your trip off right.
What Makes an RV Wheelchair Accessible?
The first thing to know is what exactly to look for in a wheelchair accessible rig. Can you even expect to find a fully accessible rig? What features might it include?
Yes, fully accessible RVs do exist. However, the included features will vary from one motorhome or trailer to the next. For this reason, it's a good idea to carefully consider which options are most important to you in your day-to-day life, and which ones you can live without or put in at a later date.
Some of the accessible features found in RVs made for people in wheelchairs include the following:
A ramp or lift
 allows the wheelchair user to get into the vehicle.
Wider doorways
 give plenty of space for a wheelchair to pass through.
Open floor plans
 make it possible to move the wheelchair everywhere within an RV.
Lower countertops and tables
 mean the wheelchair user can reach to prepare meals, dine, and more.
Extendable dinettes and recessed sink cabinets
 help when using the table or sink.
Accessible showers
 make it possible for wheelchair users to bathe in their rigs.
Once you have a good idea of which features you absolutely must have, you can start the hunt for the perfect RV. Wheelchair accessible RVs are available in all shapes and sizes. There are accessible motorhomes and trailers, and some companies will even make custom campervans that can accommodate a wheelchair.
RV Rental With Wheelchair Lift
Some key features you may want to look for are power-operated wheelchair lifts, enlarged bathrooms with grab bars and roll-in showers, and lowered cabinets and appliances for easy access.
Other things to keep in mind when selecting an RV are how many people you plan on traveling with, how long of a trip you want to take, and any other special needs you have.
The Best Wheelchair Accessible Class A RVs
Our very favorite accessible RVs fall into the Class A category of motorhomes. We like them because they are well-made and will last and remain comfortable for years to come.
Newmar Accessible RVs
Newmar has a few great wheelchair accessible Class A RV options:
Winnebago Accessible RVs
Winnebago also has some Class A RVs that are wheelchair accessible:
The Best Wheelchair Accessible Class C RVs
We haven't been able to find any current stock Class C RVs that are wheelchair accessible. That said, there are many companies that offer custom rigs, and some have features available that would make the RV comfortable for a traveler in a wheelchair. We recommend using this option or searching for a used Class C that suits your needs.
To find the perfect wheelchair accessible Class C camper made for you, we recommend checking out the following options:
Born Free: This company is no longer producing RVs. However, they did make wheelchair accessible RVs, and some might be available in the used RV market.
Showhauler Custom Motorhomes: This company will make a custom Class C motorhome that will accommodate your wheelchair and keep you comfy.
The Best Wheelchair Accessible Class B RVs
As mentioned before, there are even some Class B campervan options out there. Like Class C motorhomes, these are not accessible as stock vehicles. In fact, the campervan companies listed below don't even put out stock vehicles. Instead, they build campervans from scratch, meaning you can design your own wheelchair accessible Class B RV and they will build it for you.
We recommend contacting one of the following companies to get the perfect Class B made:
The Best Wheelchair Accessible Trailers
Lastly, there are accessible towable RVs. These include both bumper-pull trailers and fifth wheels, and they come in a variety of floorplans. Some of these accessible trailers are available as stock RVs, and others must be custom-made. No matter which way you go, you'll have a camper trailer that allows you to camp in comfort.
All Harbor View Trailers: Harbor View prides itself on producing only wheelchair accessible units. Anything you purchase from this manufacturer should work with a wheelchair.
Weekend Warrior Luxe Toy Hauler: The Weekend Warrior Luxe Toy Hauler can have options added at the factory that make it a great wheelchair accessible rig.
Dune Sport Custom Toy Haulers: This is a custom toy hauler manufacturer that offers some wheelchair-accessible features, meaning you can build an RV that works for you.
Upfitting an RV to be Wheelchair Accessible
Don't see an RV that you love here? Maybe you already have an RV that you'd prefer to keep? If this is the case, we recommend looking into upfitting an RV to suit your needs.
In some cases, some DIY projects will do the trick. However, those who don't have the skills or time for DIY projects and those who want more extensive overhauls might want to leave the job to a professional. In this case, companies such as Access Unlimited, BURR Mobility Products, Star Tracks Custom Seat Lifts, and Creative Mobile Interiors should be able to help you out.
Where to Find Wheelchair Accessible Motorhome Rentals
So where can you find wheelchair accessible RV rentals? Commercial rental services may seem like a convenient option at first glance, but they typically only have a few different RV models available, which can make finding a handicapped accessible RV rental difficult.
So where can you turn? Online RV rentals are the perfect solution! RVshare is the world's largest online RV rental marketplace, and as such, has thousands of RVs listed directly by owners all over the US. With so many options, you'll be sure to find the perfect wheelchair accessible RV trailer for all your needs.
Why is renting directly from the owner the best choice when looking for a wheelchair accessible RV for rent? For one, you'll have plenty of options available. Plus, when you're dealing directly with the owner of the motorhome, you'll be able to work out a rental agreement custom-tailored to your needs.
Since we have thousands of listings available, there's an RV rental that's perfect for everyone's wants, needs, and budget. With rentals starting as low as $10 per night, and secure payments with a $10,000 peace of mind guarantee, RVshare is the place to find the best deals on rentals.
Renting a Wheelchair Accessible RV
How exactly does RVshare work? The first step is to find an RV you're interested in. You can do this with our easy-to-use search tool. Simply enter the area where you want to rent your motorhome, then you'll be able to filter your results to find exactly what you need.
Once you've found one or two listings that interest you, send the owner a quick email to ask any questions you may have. For example, you can ask owners about accessibility features or accommodations for service animals.
Then, once you're satisfied with the rental you've found, you can send the owner a request to book with them. Once you've been approved, all that's left to do is pick up the keys to the rental. You'll receive a quick demo, where you can learn how all the features of the RV work.
While you're on your vacation, you'll never need to worry about what to do if something goes wrong. RVshare offers free 24/7 roadside assistance, so you'll have someone to help you every step of the way. Once you've enjoyed your trip, all you have to do is refill the tank and return the RV to the owner.
Accessible RV Rental Conclusion
When you're planning an RV trip, there are two things you expect to have – freedom and comfort. A wheelchair accessible motorhome is a perfect way to give you the freedom you expect of the open road, without having difficulty while traveling. Thanks to the advancements in the RV industry, everyone can now travel in comfort.
At RVshare, we want everyone to have the opportunity to enjoy a road trip around the country, which is why we make it easy and stress-free to rent an accessible travel RV. If you take a few minutes to search through our listings, you'll find a great motorhome for your needs in no time at all. Soon you'll be packing up and hitting the road!