Travel Inspiration
March 24th, 2020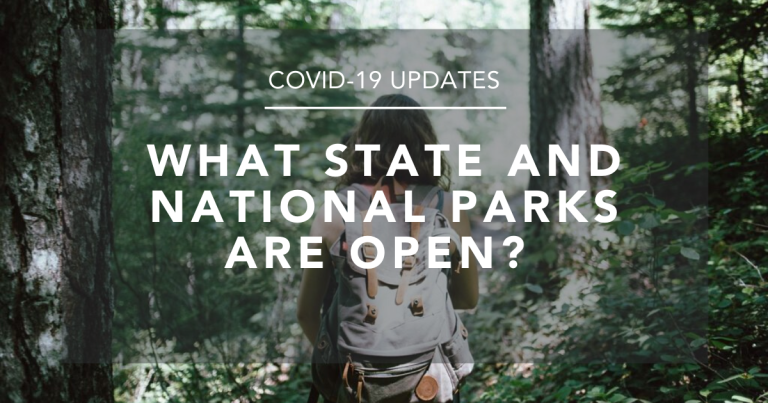 At RVshare, we understand your love for exploring state and national parks more than most. Being able to get outside and hit the trails is great for clearing your head and keeping you healthy. However, due to the Coronavirus (COVID-19), it's not quite as easy to explore. Recommendations from organizations like the Centers for Disease Control (CDC) to keep us all feeling safe include measures such as social distancing, which can affect the services parks are able to provide.
We know staying at home can be challenging, especially if you live in an RV. Closures of campgrounds and parks add an extra layer of stress for full-time RVers and even those wanting to escape in solitude for the weekend. Below we have some tips for you to stay safe while venturing out as well as state and national park updates.
Tips to Stay Safe While RVing and Hiking
You'll want to consult our RV cleaning guide with guidelines from the CDC. Cleaning your RV or vehicle frequently is as important as cleaning your home.
If heading out to parks (with yourself and household members – not for group activities), it's very important to keep your distance from other hikers – the recommended 6 feet in between each person. Cover your coughs and sneezes in a tissue or the inside of your elbow. And most importantly, wash your hands often with soap and water for a minimum of 20 seconds. Be sure to have hand sanitizer to use when you don't have access to soap and water.
Another tip is to find a park you have not visited before that is close to your home. Try to avoid popular destinations and opt for smaller parks that are less likely to be crowded. With over 10,000 state parks nationwide, there are plenty to explore!
Visit Parks Virtually
Want to see National Parks without leaving the couch? Now you can through virtual tours! Parks like Yellowstone National Park have their own tours where you can explore different parts of the park and learn about the park's history. Watch Wildlife and National Mall Cherry Blossom through park webcams. You can also explore different parts of the world through Google Earth and five incredible tours from Google Arts and Culture:
State and National Park Closures – Updated Here
We try our best to update this information daily, so please check back for changes. Many parks have limited self-services, such as open trails and grounds. Most have no in-person visitor services available, which can include restrooms and visitor centers. Also be aware that most contact-activities, like playgrounds or boat rentals, are closed, in addition to park programs.