RV Owners
Last updated on November 14th, 2023. Originally published on June 12th, 2020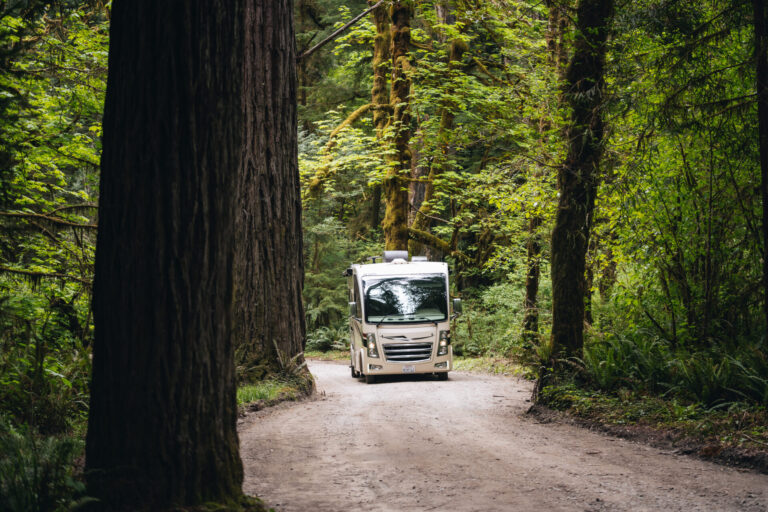 RVing is a wonderful way to spend time with family and loved ones on a vacation! You not only get the time you spend at your destination but you're bound to have adventures along your way to and from that point as well. RVs encourage you to spend time outdoors, exploring the sights and natural wonders across the country.
But how do you know which RV to get? Which RV offers you the most bang for your buck? In this blog post, we'll share our top picks for RVs that offer the most for the money, when the best time to buy an RV is, and tips to avoid buying a lemon — which, in case you're unfamiliar, is an RV that has significant defects or recurring issues that affect its use, value, or safety.
So, what are the best RVs for the money?
You'll want to decide a few things before you start researching the best RV. Will you use it mostly on weekends, or do you plan to take longer trips or even live in it? How many people will you be traveling with? Will there be pets? Will you be adventuring on dirt roads and bumpy tracks, or will you mostly take to the highway? There are different classes of RVs, depending on the size and type of camper you're using. You can find a breakdown of each class and who they suit best by reading our handy guide here.
The Best Class A RV for the Money
Class A RVs are large bus-style motorhomes that can sleep eight to ten people, and sometimes even more. Because they're so big, they can be great for long road trips, or for living in.
Here are three excellent choices for Class A motorhomes.
The Newmar Baystar Sport is a luxurious RV that allows you to pick your decor and customize your rig in a variety of ways. There are five different floor plans that vary from 27-33 feet long. Each model is the perfect size for visiting national parks or other destinations that may have length restrictions. Several slideouts mean you'll have plenty of elbow room, and you'll have a full bathroom, bedroom, and kitchen with everything you need, from ample storage to glazed maple cabinets.
The Thor A.C.E. Class A is a great family-friendly and pet-friendly option for many reasons. For one, this rig comes with a Winegard® ConnecT™ WiFi extender and a 4G hotspot allowing you to stream movies, stay connected with social media, or even work from the road with the passenger-side flip-up workstation. It also features a fully equipped kitchen, easy-to-clean vinyl flooring, and a pull-out kibble station. And get this… there's even a birds-eye window for pets! The A.C.E. comes in four different floorplans ranging from 30-33 feet.
The Holiday Rambler Admiral claims to be "the perfect first motorhome", and is rated one of the best small Class A RVs out there. It comes in 4 different floorplans ranging from 29-34 feet long. Each floorplan has a full bath (the 32N model has a full AND half bath!), a residential fridge, a king-sized bed, and an optional electric "hide-a-loft" bed over the cab that drops down.
If you want to rent a Class A RV before you buy (always a good idea to try them out beforehand!) RVshare has a variety of models across the country.
The Best Class B RVs for the Money
Class B RVs are one of the smaller classes and can be known as sleeper vans or campervans. They're easier to drive and able to get to more places, but won't be nearly as large as a Class A. They're great for outdoor adventurers who like to camp off the beaten path. Because they're so much smaller, they come at a much lower price point. A Class B RV can also be the best RV for a single person who doesn't need much extra space.
Here are some of the best small RVs for the money:
The Thor Motorcoach Gemini AWD tops several lists for its capabilities, drivability, and livability. But most importantly, Thor says these campervans have the ability to go pretty much anywhere. If you're into dry camping or off-road adventures, you'll definitely want to check this one out! The Gemini is completely solar-prepped, allowing you to keep your batteries charged up no matter where you are. It also boasts several safety features such as RSC (Roll Stability Control, hill start and pre-collision assistance, and lane-departure warning. There are 3 floorplans to choose from with lengths between 23-25 feet.
The Winnebago Solis, although not the cheapest campervan, is still more affordable than some other Class B rigs. Reviewers agree there's a reason Winnebagos are so popular – they've been around for years, and they've had time to hone their craft. With two versatile floorplans to choose from, the Solis features a galley kitchen with a two-burner stove, a dinette that converts to a sofa or daybed, a small but very functional wet bath, and a 200-watt solar panel. It also has a pop-up top that can comfortably sleep two, making this a family-friendly option.
The Pleasure Way Tofino also features a pop-up top that reveals an overhead bunk. It's equipped with a sofa that converts to a queen bed, a movable table, and plenty of rear cargo storage. For those that want maximum traction, the Tofino has several upgrades you can choose from, including a solar package and an off-road package with Black Rhino wheels and Toyo all-terrain tires. Plus, the touchscreen control panel gives you the ability to control everything in your rig with the touch of a button. It also monitors and shows your RV battery percentage in real time. 
The Best Class C RVs for the Money
Class C campers take a little of the Class A motorhome living, and a little of the Class B maneuverability and give you a happy medium. Class C RVs are built onto a truck chassis, so they're smaller, but still with a dedicated RV living area.
Here are some of the best small RVs for the money in the Class C group.
The Winnebago Navion sleeps up to four and comes in three different floor plans. The Navion offers theater seating, an optional entertainment package, and an insulated sleeper deck to ensure you stay warm on chilly nights. You can also upgrade your solar, water-holding tanks, and batteries if you intend to spend a lot of time off the grid.
The Winnebago Vita is another option by the revered company and it's designed "for those who love to wander". The Vita is slightly shorter than the Navion, but has what Winnebago says is "the largest galley, the largest bed, and the largest holding tanks in its class." You can choose the 24P floorplan, which has a full wall slide, a walkaround queen bed, and dual 100-watt solar panels. The Vita sleeps four to six people.
The Forest River Sunseeker LE sleeps four to six people and offers an over-cab bunk along with a TV, a queen bed, a full bathroom, and flip-up countertops in the kitchen. It's one of the best small RVs for the money, and the open-concept design gives ample headroom, making the entire RV feel bigger.
Try renting a Class C RV before buying one to make sure it's truly the right fit for you. RVshare has a variety of Class Cs available!
The Best Fifth-Wheel RVs for the Money
Fifth-wheel trailers are the largest trailer RVs available, but they're also some of the heaviest. You'll need to make sure you have the right vehicle to tow a fifth wheel and that you have the correct in-bed truck tow hitch for towing one.
Here are some great fifth-wheel RVs for the money:
The Forest River Cardinal Luxury fifth wheel is a wonderful option for someone planning to live in their RV. Models can sleep from two to eight people and have hydraulic auto-leveling, slide-outs, and "whisper quiet" air conditioners. The living space includes three sofas and an electric fireplace along with the 50″ LED TV.
The Keystone Montana series is a popular one for fifth-wheels and is the perfect option for an RVing family. It comes in 14 floorplans with several that can sleep up to 8 people. Each rig features a central vacuum system, a JBL entertainment system, a pull-down spice rack, a stylish interior, and solar-flex package options to allow you to adventure off the grid in luxury.
The Redwood RV is another great option for full-time RVers. The Redwood is well-insulated, and the underbelly is even heated to keep out the cold. The kitchen includes a 12-foot fridge, a four-burner stove, and a microwave. The bathroom features a 48″ custom shower with a folding teak seat.
To rent a fifth-wheel RV before buying to make sure it's right for you, check RVshare.
The Best Travel Trailers for the Money
Travel trailers are surging in popularity right now, with retro-looking trailers like Airstreams finding a whole new generation of campers. But what is the best travel trailer for the money?
Here are a few great ones to check out:
The Airstream Flying Cloud is a hugely popular trailer. It comes with 16 different floor plans and can sleep between four to eight people, making it a great family option. It's easy to tow and can be handled by a light-duty pickup truck.
The Jayco Jay Feather has luxury details like crown molding and woodgrain accent paneling that make the interior look upscale and there are options for extra seating and a Murphy bed.
The Winnebago Minnie has a variety of floorplans and sleeps at least three people. Winnebago is synonymous with RVs and campers and their longevity is due to their great workmanship and reliability.
Rent a travel trailer before committing to buy one, and see how you like it! RVshare has a variety of travel trailers available.
When is the Best time to buy an RV?
The best time to buy an RV is typically during the off-season or winter months. During this time, dealerships experience slower sales, and as a result, they are more likely to offer discounts and incentives to attract buyers. Additionally, manufacturers often release new models in the fall, leading dealerships to discount the previous year's inventory to make room for new arrivals. This can present an opportunity to negotiate a better price on a previous year's model.
However, it's important to consider your individual circumstances and whether you're ready to own an RV. If you have specific travel plans or a timeline in mind, it may be best to purchase an RV well in advance to allow for necessary preparations. Additionally, researching different RV types, brands, and floor plans can help you make an informed decision and find the right RV for your needs.
Used RVs: 10 Tips to Help You Avoid Buying a Lemon
If you're not quite ready to spend the money on a brand-new rig, buying a used RV can be a great route to go. Just as with new cars, brand-new RVs depreciate in value as soon as you drive them off the lot; letting someone else take that hit can save you tremendously. However, you do want to be careful when you're buying a used RV, lest you end up with a lemon.
There are lots of little things that can make an RV a less-than-stellar buy. However, nothing will rot away at an RV and turn it into a lemon quite like water where it's not wanted. Once leaks start, they can do a ton of damage if they're not stopped — and much of that damage may not be immediately apparent. Floors and ceilings can rot, mold can grow, and if you don't know how to look for this type of damage, you might not spot it.
If you're thinking about buying a used RV, it's important to know how to look at a vehicle for hidden water damage so you don't end up buying a lemon.
Here are ten helpful tips for inspecting a used RV before you buy:
1. Never Buy Sight Unseen
If you can't see it before you make the transaction, or worse, if the seller wants to do the transaction without allowing you to take a thorough walk-through, your best bet is to walk away. It may seem like a good deal, but unless you take a closer look, you'll never truly know if you're getting a good vehicle or a lemon.
2. Look Very Carefully For Signs of Mold
Even if there's no visible water damage in the usual spots like floors and ceilings, mold on the interior of an RV is usually a good indication of leaks or other water problems.
Check the corners of the ceilings and floors, look up and down the walls, and especially check the corners and caulk in the bathroom around the fixtures. Also, open up cabinets and closets and shine a flashlight to see if there's any mold growing. You'll often smell it, but if the closets or cabinets feel especially warm (warmer than the rest of the RV), there's a good chance that there's mold growing in there.
3. Go Over Every Inch of the Ceiling
You'll want to look for brown spots, a very visible sign of a leak, as well as parts where the ceiling is bowed or coming down. All of these point to evidence of water damage. Yes, a damaged ceiling can be repaired, but you run the risk of exposing even more problems that need to be addressed when you tear it out. On a lemon of an RV, it's typically not worth the expense.
4. Do a Close Inspection of all the Floors
Pay special attention to where the floors meet the walls. As with the ceiling, brown spots are never a good thing to see. And as silly as it sounds, jump up and down in a few spots, especially around the kitchen and bathroom where water is used the most. The floors should all feel stable and sturdy; too much give could indicate rotting.
5. Look Under the Exterior Trim and Check the Screws
Any visible corrosion or rust could be an indication that water is starting to get in. If the screws still look clean and painted, the RV is probably in good shape in that area.
6. Open Up and Look Inside all the Exterior Panels
Everything should look clean and dry; you don't want to see anything corroded or rotting on the inside or around the cut-away.
7. Test the Walls
Push with a fair amount of force on the exterior walls all around the RV. There shouldn't be too much give to them.
8. Carefully Give the Roof a Thorough Inspection
Look at all of the caulking to make sure everything is sealed tightly. You'll want to look not only around the skylights and vents but around the entire perimeter of the RV. Old, blackened, crumbling, or moldy caulk could be a sign that water is getting in and creating a lemon of an RV.
9. Check that the Roof is Stable
Walk around the roof (carefully!) and make sure it feels sturdy and stable beneath your feet. If there's too much give, it's probably rotted.
10. Buy Your Used RV From a Reliable Reseller or Get a Professional Inspection
A reliable reseller or professional inspection can save you from an enormous headache. This is especially the case if you're a first-time buyer of a used RV or if you don't trust your lemon-detecting abilities.
Buy Smart Out There!
There are some great buys on well-cared-for used and new RVs out there…but there are also a good number of lemons. Unfortunately, water damage and other problems are not always readily apparent.
Knowing how and where to look on an RV to uncover signs of damage is an important skill to have if you're in the market for a used RV. Remember, a used RV might look like a great deal, but if it ends up being a lemon, you've just wasted your money.
And remember, you can always rent an RV before committing to buying one and see how you like it! RVshare has a variety of travel trailers, motorhomes, and campervans available.
Looking for even more RVing tips and tricks — both during the purchase process and for your first camping excursion?