Industry News
Last updated on December 12th, 2022. Originally published on September 30th, 2022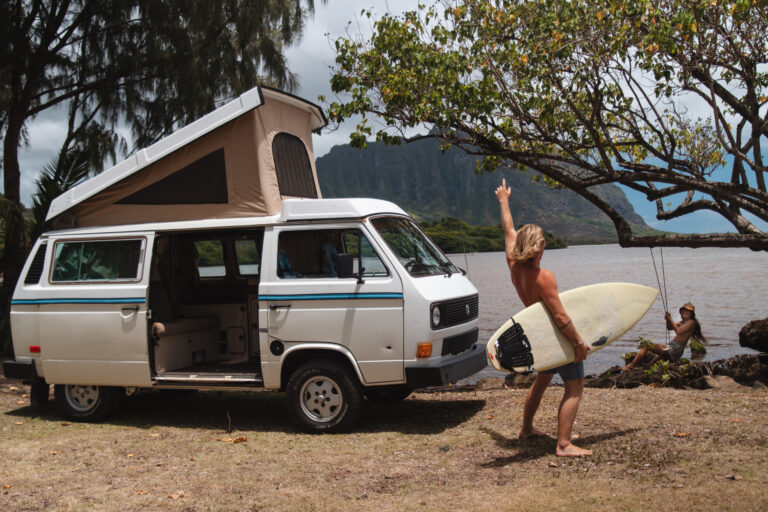 You may have noticed something a little different about us. We've changed our look a bit, with a fresh new logo, some fun earthy colors, and inviting fonts. But at the heart of it all we still have our same mission of getting people outdoors in an RV rental and making lifelong memories. Only now… we really want to hear you use your outside voice while doing it. Welcome to our new campaign. "Use Your Outside Voice" reminds travelers of the spontaneous delights that await on a road trip. Learn more and please enjoy our commercial below!
In daily life, conformity rules. We're taught to be professional, and keep our true selves in check.
On the open road and in the open air, spontaneity rules. And everyday pressures are left miles behind. "Use Your Outside Voice" captures that spirit. It's not about volume (though it can be expressed loudly). It's about freedom.
Testing the echo of a canyon. Hollering out the window. Flopping onto a top bunk you called "dibs" on. Or having ice cream for breakfast…because you can. As long as it expresses that unbridled freedom, that nonconformity, that unexpected and uncomplicated side of life in an RV.
There are a million and one ways to use your outside voice.
When Should I Use My Outside Voice?
The short answer is…whenever you feel called to! Whether it's a cry of triumph after a tough hike, a whispered ghost story, or singing your favorite song, using your outside voice is about freedom, and not worrying about what "you're supposed to do." So let it all out (just be mindful of the neighbors)!
Here are a few situations where you'll find us using our outside voice.
Working Far From Home (WFFH)
The new age of remote work means you can work from just about anywhere (as long as there's an internet connection!). Once you wrap up your last Zoom meeting, close your laptop and run straight toward whatever fun awaits you, whooping all the way! You'll be able to spend more time immersed in your favorite places when they are just a few steps away from your workstation.
On a Road Trip
There's no stronger feeling of freedom than the wind whipping through your hair as you drive down the highway. Try letting out a yell as you cruise along to your destination. An RV trip is true freedom, letting you leave when you want to, stop where you want to, and go where you want to.
Taking a Leap of Faith
Whether that is quite literally leaping into a cold lake, or simply pushing outside of your comfort zone, trying something new using your outside voice is bold and brave. Test your limits and you'll be surprised by how much you learn about yourself.
Getting in Touch with your Animal Side
Howling at the moon around the campfire or whisper-shouting when you spot a deer in the forest, animals are the experts when it comes to using their outside voice, and we can learn a thing or two from them when it comes to letting loose!
Where Should I Use My Outside Voice?
You can use your outside voice anywhere! From the beach to the mountains, deep in the woods, or your own backyard. Here are some of our favorite places to yell "woohoo!" or take a moment to reflect and take a deep breath. Because remember, we can find our outside voice in the quiet moments as well.
National Parks
National parks are the perfect place to use your outside voice. Whether you're gasping at the gorgeous scenery, shrieking from a steep cliff, or sighing in peace in a hot spring, there's nowhere more iconic than a national park.
Events and Festivals
Cheering for your home team at the top of your lungs or singing along to your favorite band = the epitome of using your outside voice loud and strong. This isn't just about nature, fun events embody using your voice as well.
National Forests
Strolling deep into a national forest and letting out a yell (if a tree falls with no one around, does it make a noise?) or enjoying an absolutely silent forest bathing moment, you can really cover the full spectrum of using your outside voice in the forest.
An RV Trip is the Perfect Place to Use Your Outside Voice
As soon as you step inside your RV rental, the adventure begins. It's an invitation to go somewhere different and do something different. With an RV trip you don't have to worry about missed flights or late hotel checkouts. Stop and take in a beautiful sunset, visit that quirky small town diner, or park on a gorgeous strip of BLM land to get a true sense of going off grid. Ready to give it a try? RVshare has the largest selection of RV rentals. Book your adventure today!