Travel Inspiration
Last updated on March 15th, 2023. Originally published on July 6th, 2015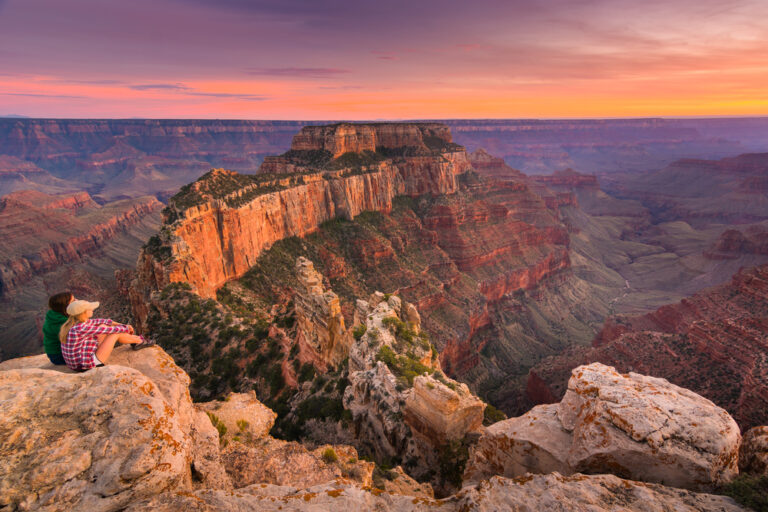 Spring is here and you can't wait to get back out on the road with your RV. The question is, where can you travel without risking poor weather?  Sure, there are lots of places that are perfect for RVign in the summer, but in the spring you have to be certain that you won't encounter a freak snowstorm or other inclement weather before you leave home.
There are lots of places around the US that make great springtime RV destinations. Here are my top 5 picks for National Parks that are worth a springtime RV visit.
1. Grand Canyon National Park
The Grand Canyon should be on every RVers list of must-see places. The massive, jaw-dropping canyon offers beautiful expansive views like no other. You simply cannot see anything like the Grand Canyon anywhere else in the world, and the pictures don't do it justice. So why do many RVers avoid this park? THE CROWDS.
Summertime at the Grand Canyon is insanely busy. The campgrounds are full, and maneuvering an RV around can be challenging. The Grand Canyon also soaks up the sun, so the heat can be intense. In the spring, however, Grand Canyon National Park is a great place to relax and enjoy the stellar view without worrying about overheating or excessive crowds.
There are several places to stay near the national park, but Trailer Village RV Park is one of the best. It offers full hookups and you can drive into the park boundaries if you have a reservation at the Trailer Village. Trailer Village can be nearly impossible to get a spot at during the summer, which is why spring is such a good time to visit.
While not all of the park is open in the early spring, there is still plenty to do and see. Begin planning your spring trip now!
2. Yosemite National Park
This park is also high on the must-visit list for most RVers. Yosemite National Park is one of the most amazing places on earth, and not just because of the hiking, rock climbing, and meadows filled with wildflowers. Yosemite is an epic experience because it has been heavily preserved to maintain its untouched beauty. This is why the campgrounds in Yosemite are dry camping only, with no utility hookups. There are also limited sites available for larger RVs. While four of the campgrounds in the park offer sites for RVs up to 40′, there are only a small number of sites in each campground that fit this size rig.
For this reason, most RVers choose to stay at a campground just outside the National Park boundaries. There are many full hookup parks that are super busy in the summer. In the spring, however, you will have a much wider choice.
Spring in Yosemite is famous for its overflowing waterfalls, fresh with melting snow from the nearby creeks. As the water cascades down the mountains the spring flowers begin to burst forth and greet these you are lucky enough to witness it in person.
As with any of the national parks, it is important to plan your trip in advance and make reservations with the RV park you plan to stay at. Just because it's spring doesn't guarantee they'll have sites available. Be sure and call before you leave!
3. Great Smoky Mountains National Park
The Great Smoky Mountains National Park is a traveler's mecca, hosting more visitors than any other national park! Tennessee offers access to a large population of the US who enjoy vacationing close to home. The Great Smoky region is filled with natural wonders, hiking, biking, and lots and lots of wildlife.
There are plenty of dry camping options for RVs inside the national park, however, if you are looking for campgrounds with hook-ups you will have to stay just outside the park's boundaries. There are several 5-star RV parks in the Smoky Mountain region. In the Spring you are much more likely to have your pick of locations, and you will probably save a bit of cash by taking advantage of off-season rates.
In the spring there are more than 1,500 types of flowering plants bursting up from the Tennessee ground. That's what makes this park known as the Wildflower National Park. In fact, many flower lovers make an annual April pilgrimage to see the park blow off winter and come to life.
4. Arches National Park
Looking for an unusual springtime destination? Why not visit America's most unusual landscape! Arches National Park features unusual vistas not seen in any other national park setting. There are rock spires and buttes that form hundreds of natural bridges and arches. While the desert landscape is best explored on foot or by horse, there is also a great area for white water rafting.
Arches National Park has very little RV parking. There is one campground with a few sites that can accommodate rigs up to 30′ with no hookups. Luckily, the nearby town of Moab has a wide range of RV camping options from resort-style parks with full hook-ups to BLM campgrounds offering views of the river and surrounding landscape.
This can be busy in spring for one simple reason — the weather! Spring and fall are high seasons at Arches. In the Summer temps top triple digits, and the summer wind leaves something to be desired. But in spring the temps are cooler and allow you to really get out and enjoy the park without a lot of people. Remember to book ahead if you plan to stay at the RV parks.
5. Estes Park, Colorado
Estes Park is not actually a national park, but many people feel it should be. The mountains surrounding the park are beautiful beyond words, and Estes Park is on the doorstep of the Rocky Mountain National Park. This vibrant mountain town is located close to many tourist activities around Colorado. Estes Park is a great place to watch spring bloom as it awakens from its deep winter sleep.
Spring skiing is also available throughout Colorado. There are many mountain resorts to choose from and many are only a short distance away. Without the crowds, Estes Park is a relaxing place to visit and the town offers creative shops and outstanding restaurants.
There are many RV parks in Estes Park so take your pick. Remember, that while the weather is not cold in the spring, it is cool and you will need to make sure your RV is suitably winterized just in case.
What other areas of the country would you choose for a springtime RV trip? Do you have a favorite pick? If so, add your comments to the box below.
Like these suggestions? Why not share them with a friend? You can tweet it, pin it, post it, or like it. However you like to share, please do!