Travel Inspiration
Last updated on April 8th, 2023. Originally published on August 18th, 2015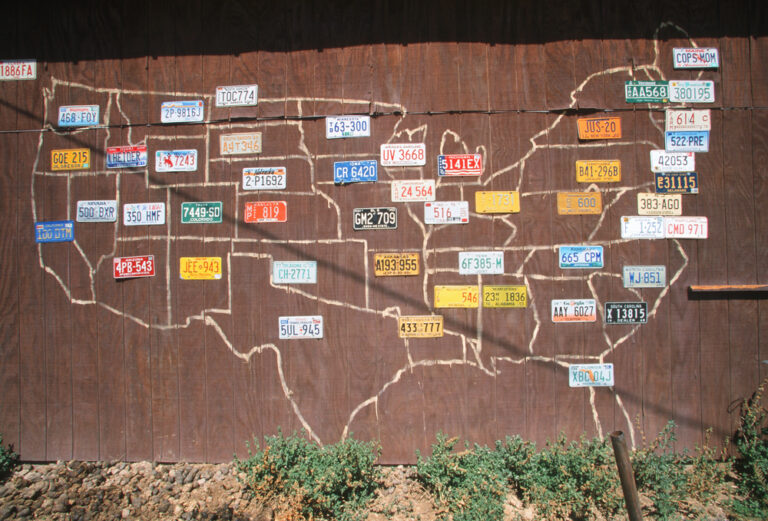 Seeing all 50 states is a dream of many who travel by RV. Drive around any campground and you're sure to spot a few rigs with magnetic U.S. maps on the side with each magnet representing a state they have visited. Adding new states to the map is a right of passage for many RVers and each new state brings you closer to the ultimate goal of visiting them all.
But what do you do when you get there? We've got you covered! We have chosen something special in each of the 50 states that reflects the character, beauty, or history of the region. Of course, we could have chosen 10 or more cool things to see and do, but for now, we'll stick to one. So hold onto your road map. We're going on a road trip!
Alabama
Unbeknownst to many, Alabama is the home of the U.S. Space & Rocket Center (also known as Space Camp). Experience life as an Astronaut in Huntsville, Alabama in this one-of-a-kind adventure. There are programs for all ages, so let your inner astronaut shine!
Alaska
See Alaska the way it was meant to be seen — by rail. Explore the natural beauty of this wild state on a trip through the mountains, valleys, forests, and waterfronts. Stop for hiking, sightseeing, and exploration along the way! Want more? Choose a package that includes both rail travel and a cruise ship. There's no better way to see this GIANT state.
Arizona
Take a mule ride down into the Grand Canyon. This age-old tradition has a lot to offer. Have cash to spare? Sign up for the overnight ride down to Phantom Ranch and stay at the base of the canyon in a rustic cabin. You won't believe the views!
Arkansas
Visit the Shiloh Museum of Ozark History. Experience life as it once was in this remote area of the U.S. Known for its stellar collection of historic Arkansas images, this museum opens the door to understanding the detailed world of Ozark history. Shiloh now offers a collection of historic structures open for exploration. See the 1850s log cabin and the 1870s general store as you stroll along the breathtaking property.
California
Take State Route 1 along the California coast and experience some of the most beautiful views anywhere. Stop and enjoy the beach along the way. The drive is famous for its mountains which abruptly rise up from the Pacific Ocean. You can expect typical mild temperatures year-round and plenty of access to the tree-lined state parks. This coast is one you aren't likely to forget.
Colorado
Visit Pike's Peak. At over 14,000 feet Pike's Peak gives you a much more than a mile-high view. Enjoy the winding drive up the side of the mountain, then feast on Mile High donuts made fresh at the gift shop. This is the only place in the world that can make donuts at this elevation. YUM.
Connecticut
The U.S. Navy offers a glimpse underwater at the Submarine Force Library and Museum. Experience life in a sub the way it is supposed to be seen by the officers who've lived under the sea.
Delaware
Visit the Rehoboth Beach Boardwalk and experience life as it used to be. This vintage-style boardwalk is exactly one mile long. It's the perfect stop for families as there are plenty of fun things for kids to see, do, and eat.
Florida
What's a visit to Florida without an airboat ride? Travel through the Everglades with alligators all around! If you haven't hung with an alligator, you haven't seen the swamp. Twist through the mangrove tunnels or skim across the grassland. Whatever tour you choose you aren't likely to forget it. Put this on your bucket list now!
Georgia
The perfect road trip through Georgia is found by following the civil war trail. Gacivilwar.org provides free maps for driving right through the heart of Dixie. See plantations, railroads and historic re-enactments along the way.
Hawaii
Walk the crowded Waikiki beach. Sure, it's a tourist trap, but everyone needs a selfie from this shore! This narrow strip of white sand lies in front of some of the world's most famous hotels. While you're there be sure to enjoy the view of Diamond Head, the volcanic cone that rises from the sea.
Idaho
Craters of the Moon National Monument is a vast ocean of lava available for exploration. This is a hike you won't soon forget. The lava flow is scattered with wildflowers and a weird scenic landscape.
Illinois
The Willis Tower Skydeck is a must-see architectural wonder. Sit at the top of the skyscraper and look down through the plexiglass floor. You won't want to come down, or at least you won't want to fall down!
Indiana
The Indiana War Memorial features two museums in a 24 acres park. This moving tribute to the soldiers who fought to keep our nation free should be on every road trip because the monuments are amazing!
Iowa
The Butter Cow at the Iowa State Fair draws people from every corner of this great state. Each and every year 600 pounds of butter are carved into one remarkable cow.  You have to see it to believe it!
Kansas
Follow the yellow brick road to Wamego for a chance to visit the Oz Museum. One of the largest collections of Oz memorabilia is well worth the stop. Visit in late September and join in the OZtoberfest activities. Oh, and don't forget to pick up a bottle of wine at the Oz Winery. Because who can resist a bottle of "Squished Witch"?
Kentucky
As the home of the National Quilt Museum, it's clear that Kentucky women know how to sew. This art museum features fiber art from all over the globe and is world renowned for its amazing collection. Not a quilt fan? Drop the chicks and walk down to the closest bar for a sip of Kentucky-made whisky.
Louisiana
Visit the French Quarter in New Orleans. Enjoy a bit of jazz, a lot of history (look for the antebellum mansions), and masses of incredible food!
Maine
Take an early morning drive up Cadillac Mountain in Acadia National Park and watch the sunrise before anyone else in the United States.
Maryland
Visit Assateague National Seashore — home of the wild ponies. You can camp here and experience wild views and wild ponies at the same time.
Massachusetts
Walk the 2.5-mile Freedom Trail in Boston and make stops at numerous historic locations along the way. See the Boston Common and the Paul Revere Home. Experience the American Revolution at its roots.
Michigan
Car lovers rejoice!  The Gilmore Car Museum in western Michigan is a 90-acre wonderland. It's home to 400 of the best-preserved cars you will ever see. Check out the 1930's gas station and the 1950s diner. It's truly America's signature collection.
Minnesota
Minnesota is the home of 11, 842 lakes (but who's counting)? Explore the Boundary Waters Canoe Area Wilderness and connect with over a thousand lakes in one day. Love to paddle? Rent a boat and get out on the water. Want to fish? Ask where the fish are biting and go catch some with your friends and family.
Mississippi
Take a time out on Mississippi's Gulf Coast with a visit to Biloxi. Try a Biloxi Shrimping Trip to learn everything you've ever wanted to know about catching and cooking shrimp. Or, enjoy the views from the top of the Biloxi Lighthouse before taking a ferry to explore Fort Massachusetts on Ship Island.
Missouri
See St. Louis Gateway Arch and travel to the top of this 630-foot wonder. If the weather's clear you can see for 30 miles. This amazing landmark features a Museum of Westward Expansion that should be at the top of your road trip list.
Montana
Drive or ride through Glacier National Park. This 50-mile round-trip experience will leave you breathless. A picture is worth a thousand words so bring your camera… you'll have a lot to see and say!
Nebraska
Spend July 4th in Seward, Nebraska deemed, "America's Fourth of July City."  This community has hosted this Independence Day Celebration since 1868 and they know how to do it right.  Experience small town at its finest.  This is one-fourth of July you won't forget!
Nevada
Step back in time with a visit to Virginia City. Established in 1859, this wild west mining town lets you experience life as it once was. Tour the silver mines of the 1860s, take a ride in a stagecoach, or visit an authentic old west saloon. This is an actual historic preservation and not a re-creation. It's well worth the drive!
New Hampshire
The Lucknow Estate, known as Castle in the Clouds is located in Moultonborough, New Hampshire. Built in 1914 by a show manufacturer, this country estate has a movie-worthy history. In 1950 the castle-type mansion was saved and opened to the public and has been welcoming guests ever since.
New Jersey
Visit Barnegat Lighthouse and climb the 217 steps to the top. This well-preserved tower is especially lovely at sunset.
New Mexico
Attend the Albuquerque International Balloon Fiesta held every year in early October. Be sure to catch the Dawn Patrol and the After Glow held each day at sunrise and sunset. This is one celebration you don't want to miss!
New York
Visit Ellis Island and the Statue of Liberty. Climb all 354 steps and explore the Ellis Island Immigration Museum. If your family came through Ellis Island this may be an important touchstone to your past.
North Carolina
Visit a true American Palace. The Biltmore Estate is one of the most amazing properties in the world and it's right here in North Carolina. Enjoy walking or biking through the manicured grounds. This home has 135,000 square feet and is the largest private residence in America. Over 1 million people a year come to see the Biltmore in all its glory.
North Dakota
Bonanzaville is a pioneer village on 12 acres located in West Fargo. It's the home of 400,000 artifacts in forty-seven buildings. This historic village is a world-class living history museum. Events are held throughout the year which allow families to step back in time and truly experience pioneer life as it was in North Dakota. Enjoy live threshing demonstrations as well as woodcarving, embroidery, and square dancing. It's truly a blast from the past.
Ohio
What trip to Ohio would be complete without a visit to the Rock and Roll Hall of Fame! This amazing pyramid-shaped, glass structure brings you back step by step through the history of the music that changed the world. Rotating exhibits include The Beatles, Paul Simon, Herb Ritts, and more. This museum proves that Cleveland Rocks!
Oklahoma
The Oklahoma City National Memorial is a beautiful way to pay respects to those who paid the price for freedom. The structure honors the victims of the Oklahoma City Bombing on April 19, 1995. Known for its rows of empty chairs, this secret institute should not be missed.
Oregon
Just 60 miles outside of Portland lies historic the Timberline Lodge. This mountain lodge built in 1937 sits on the slopes of scenic Mr. Hood. The scenic drive up the mountain offers vista points in all directions. Enjoy lunch at 6,000 feet, or rent one of their huts or luxury condos. Come in the winter for some of the best skiing in the whole Northwest.
Pennsylvania
Stand in the room where a group of men changed the world. The Declaration of Independence was signed in Independence Hall, Philadelphia, Pennsylvania. Tour the building and walk where our founding fathers made some of their biggest decisions on how to create a nation. Both the Declaration and the U.S. Constitution were signed within these walls. Don't miss it.
Rhode Island
Take a tour of the cottages of the rich and famous in Newport, Rhode Island. Known as summer palaces of the gilded age, these magnificent homes were once owned by a who's who of American industry. Each mansion offers property tours. Be sure to take the Cliff Walk where you can see the ocean and the mansions all in one sweeping view!
South Carolina
Selected as one of "America's Most Beautiful Gardens," Magnolia Plantation is not to be missed. Visit the historic house which looks out upon its manicured garden along the Ashley River. This garden dates back to before the American Revolution. Bring the family and enjoy the petting zoo for kids right on the garden grounds.
South Dakota
There's nothing more spectacular than Mount Rushmore in South Dakota. The sheer size of this one-of-a-kind piece of art will take your breath away. Discover the story behind the carving, tour the grounds, hike, bike, and enjoy the scenic wonder of the South Dakota hills.
Tennessee
Titanic Pigeon Forge is a two-story museum shaped like the ill-fated RMS Titanic. The museum is built to half the scale of the original ship and invites its guests to experience the last moments on that great ship. A variety of rotating events are offered at the museum, including a chance to see the only Bible saved from the Titanic which was owned by a Tennessee resident.
Texas
Galveston, Texas is tourism at its finest. Built on an island, Galveston offers a seashore retreat for land locked Texans. Food, fun, and entertainment are all available in Galveston. You can take a trolley tour of the Victorian buildings, or enjoy the amusement rides at Pleasure Pier. The choice is up to you!
Utah
Visit Arches National Park. This famous sandstone-covered park is one of the most photographed spots in the world. Take a hike to Delicate Arch and enjoy the ever-changing colors of the desert sand. This park is located north of Moab along the Colorado River. Be warned! This park is HOT in the summer. Pack lots of sunscreens and plenty of water before venturing into the great unknown.
Vermont
Springtime in Vermont means it's time for maple sugaring. Visit the Trapp Family Lodge in Stowe, Vermont during the March and April sugaring season. You'll be able to help collect the precious sap and watch it boil into sugar. While you're there, be sure to pick up some delicious maple sweets and try maple sugar on snow. Yum!
Virginia
Visit Thomas Jefferson's amazing home, Monticello, where you can take a room-by-room tour and walk through the impressive gardens and gift shop. Want more? You can also visit Mount Vernon and Montpelier, the homes of George Washington and James Madison. Virginia offers the ultimate presidential tour.
Washington
Visit Snoqualmie Falls and see why 1.5 million visitors come to see it every year. This stunning waterfall is surrounded by the deep green Snoqualmie forest offering a refreshing day trip. The 270-foot waterfall offers an observation deck at the lower part of the fall. The park is open from sunrise to sunset.  Free parking and pets are allowed on a leash.
West Virginia
The West Virginia State Penitentiary founded in 1876 was open until 1995. This gothic-style prison is now open for tours. The castle-like structure that was originally built to house 400 inmates, today hosts a variety of tours, Halloween Zombie Walks and various special events. The prison offers trained guides who will help you experience life as it was behind bars.
Wisconsin
Visit the cheese trail and stop along the way at numerous cheese, beer and wine factories. There are over 60 artisan cheesemakers who create 600 different types of cheese in this great state. Be sure to stop at the Dane County Farmers Market for a culinary showcase. Then visit Cedar Grove Cheese which is famous for being one of the most conscious producers of organic and additive-free cheese. Finally, taste and shop your way through Downtown Milwaukee. Get the best of cheese and beer from a variety of downtown vendors.
Wyoming
Cheyenne Frontier Days is a 10-day rodeo like none other. The rodeo includes an enormous carnival midway, bull riding, Indian dance, and the Thunderbirds flying overhead. Need more? Check out the Old West Museum, the Chuckwagon Cook-off, and the biggest pancake breakfast you have EVER SEEN. If you haven't experienced the Cheyenne Frontier Days, you haven't been to a real rodeo!
That completes our 50-state tour. What sites would you like to see listed? Tell us where you HAVE TO visit on a road trip. Add your comments to the box below then share this with your friends! Tweet it. Like it. Share it. THANKS!