How Tos & Tips
September 18th, 2015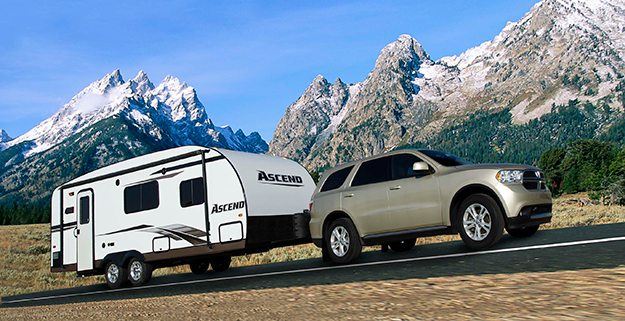 Have you always wanted to own an RV, but were paralyzed by the thought of investing hundreds of thousands of dollars into a recreational vehicle?
Perhaps a travel trailer is the perfect solution for you! Where prices for many motorhomes rival the cost of a house, you can purchase a basic model new travel trailer for around $20,000 and you can get a deluxe model for under $100,000. While this may seem like lot, compare that to the cost of most of the motorized RVs you find on the road today, and it seems like quite the deal.
There are some decided advantages — aside from the cost — to purchasing a trailer instead of a motorhome. One advantage is length. Travel trailers are usually somewhere between fifteen and thirty feet long. When it comes to backing them up, handling them on the road, looking for campsites, and storing them ,length can be a definite advantage.
When you set out you will be towing your camper trailer rather than crawling into a vehicle several feet higher than your car and as big as a Greyhound bus. You are familiar with your vehicle and how it handles on the highway so getting behind the wheel is like traveling with an old and trusted friend — not donning a bus uniform.
You do need to take some safety precautions before you start towing a travel trailer. You will need to ensure your car, truck or van is rated to carry the extra weight of the loaded trailer and a full gas tank. Some of the longer trailers require a truck or an SUV while many of the smaller trailers can be pulled by a small truck or a mid-size car. The tow hitch and stabilizers should also be rated for the weight of the trailer. Make sure the hitch has double security locks.
Maneuverability is also a big advantage of camper trailers over motorized RVs. If you are new to driving anything bigger than a mid-size car, then a towable RV is a good starter vehicle. A travel trailer is good for weekend trips, or cross-country camping adventures. A towable RV appeals especially to families with young children and retired couples.
Travel trailers are offered in a wide range of choices and price tags. You can get everything from a camper tent trailer that collapses to form a flat trailer for towing, to a luxurious trailer with slide-outs and just about all the amenities of your home. A big consideration is how much do you want to pay, how big of a camper you want to tow, and how much space and luxury you feel you need?
Motorhomes have lovely chairs for drivers and passengers and spacious living space, but you are driving what feels like a bus or large truck and it takes some getting used to. Because you have nothing to run about with when you park the motorhome most travelers pull a car or a golf cart and/or carry bikes or motorcycles. This adds to the cost of fuel and makes driving the RV even more challenging. With a travel trailer you can easily unhitch at a campground and sight see during the day.
Another important consideration is safety. Think about this: if your motorhome is involved in an accident, you are traveling in the same compartment as a lot of projectiles. Also, only the front captains' chairs have proper seat belts.
One needs to consider maintenance costs too. Motorhomes often sit for long periods. The engines can easily have problems because they don't run regularly. With a travel trailer all you need to do is winterize and store it. Also, check out the comparable insurance costs!
There is no right answer to whether a travel trailer or a motorhome is the best option. However, those who have owned both caution that unless you are going to travel extensively, a motorized RV may be an unnecessary expenditure. Another valid point is the lack of physical accessibility for mobility challenged or children in a motorhome.
What do you think? Do you prefer a travel trailer or motorhome? Let us know in the comments below. Thanks for reading!