Landmarks
April 6th, 2021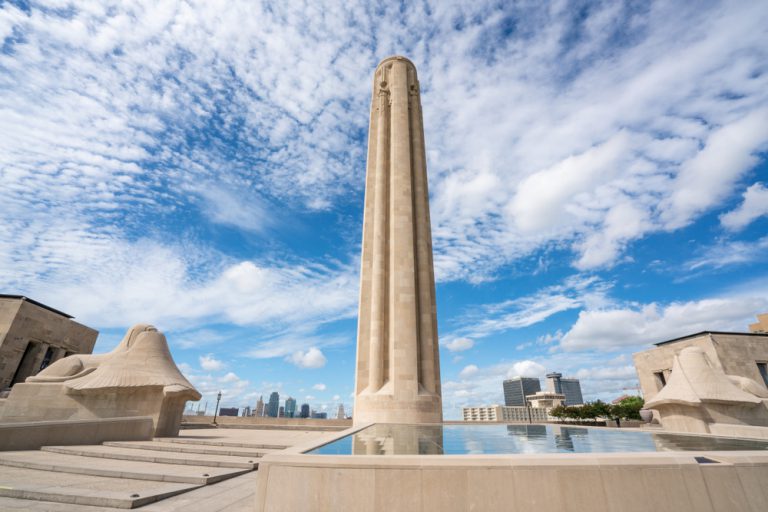 What is a Landmark?
A landmark can be anything: a simple building where world-shifting history took place; a stretch of land with noteworthy and beautiful geological formations; a battlefield. A landmark is any place that lets you know, without a doubt, that you're at a specific destination — and if your specific destination is Missouri, you're in luck, because wow does this place have some incredible historic, cultural, and natural landmarks!
What are Some Famous Landmarks in Missouri?
1. Gateway Arch
2. Anheuser Busch Brewery
3. Ulysses S. Grant National Historic Site
4. Graham Cave
5. The Mark Twain Boyhood Home
6. Wilson's Creek National Battlefield
7. George Washington Carver National Monument
8. Fort Osage National Historic Landmark
9. Truman Home
10. Liberty Memorial
Missouri Landmarks
Here are ten Missouri landmarks you definitely don't want to miss!
1. Gateway Arch
The symbolic gateway to the wide-open west, Gateway Arch was originally constructed between 1963-1965 at a cost of about $13 million — which translates to a whopping $111 million today. Meant as a public memorial to the brave souls who started our nation's western expansion, today, the site is operated by the NPS as Gateway Arch National Park, and also includes the nearby Old Courthouse where the Dred Scott trials were heard. You can ride a kind of indoor funicular to the top of the arch for its dynamic view from more than 600 feet above the city and river below — a view which is ADA accessible, making this the tallest accessible structure in Missouri. It's also the tallest man-made monument in the Western Hemisphere, and the museum at its base is awash in fascinating facts about America's evolution, history, and culture.
Things to do near Gateway Arch: There's certainly no shortage of to-dos in St. Louis, whose skyline is made iconic by this very arch. And if you need a wilderness getaway, you're surrounded by state parks on both the Illinois (Horseshoe Lake State Park; Pere Marquette State Park) and Missouri (Castlewood State Park; Babler Memorial State Park) sides. Here are some nearby RVshare rentals and campgrounds!
2. Anheuser Busch Brewery
Even if you're not a big beer drinker, a trip to the original Anheuser Busch Brewery is something of a pilgrimage. Opened in 1852, this is the flagship brewery of brands as popular and beloved as Budweiser, and offers guests a fascinating look into the sometimes-weird world of beer-making. Along with its variety of different guided tours, the brewery also hosts private events and offers a lovely biergarten for sipping some suds under a burning Missouri sun (or as it sets). You can also drive out to Boonville to visit the ranch where the world-famous Clydesdales are kept… but only after you've sobered up, of course!
Things to do near the Anheuser Busch Brewery: Located just steps from the Mississippi River and a short ways away from the walkable strip of shops and restaurants on Cherokee Street, the Anheuser Busch Brewery is a great destination to add to any St. Louis itinerary. Need a place to stay? These local RVshare rentals and great campgrounds have your back.
3. Ulysses S. Grant National Historic Site
One of the most important figures in the Civil War, Ulysses S. Grant saved the Union and also became the 18th president of the United States — and the Ulysses S. Grant National Historic Site serves as a memorial to this important figure's life. These grounds, otherwise known as White Haven, are the childhood home of the woman who would grow up to become Grant's wife, Julia Dent. Between 1854 to 1859, both the Dents and the Grants lived here, along with the African Americans they kept enslaved. The monument encapsulates the lives and experience of both the white and Black people who lived and worked here over the years, giving visitors a true peek behind the historical curtain. Guided tours are available, as is a short orientation film and a park museum housed inside the historic horse stable Grant designed and built back in 1872.
Things to do near the Ulysses S. Grant National Historic Site: Tucked away in the southeastern outskirts of St. Louis, the Ulysses S. Grant National Historic Site is within easy driving distance of tons of great local wildernesses, such as Castlewood State Park, Robertsville State Park, and others. Here are some local RVshare rentals and campgrounds to consider.
4. Graham Cave
Graham Cave is such an important natural landmark in the state of Missouri that they decided to consecrate a state park to protect it — and the park website isn't lying when it says that "a walk in Graham Cave State Park is a walk through ancient history." Along with its beautiful natural landscape, Graham Cave State Park is also an important archeological site, and artifacts found here suggest that Native Amercans and indigenous peoples have been using this site as a shelter for as many as 10,000 years. The park offers almost 400 acres of lush wilderness including miles of hiking trails at a variety of difficulty levels, as well as picnic areas, interpretive signage, campsites and fishing opportunities. It's an absolute must-visit for any Missouri visitor or resident.
Things to do near the Graham Cave: Conveniently located right along the I-70 corridor, Graham Cave State Park is close by to other natural wildernesses worth visiting, such as the Baldwin State Wildlife Area, Whetstone Creek Conservation Area and more. Here are some nearby RVshare rentals to help you make the most of your adventure!
5. The Mark Twain Boyhood Home
Originally born Samuel Langhorne Clemens, most of us know this prolific and famous author better by his pen name, Mark Twain — and you can see what his childhood was like first hand when you visit the Mark Twain Boyhood Home in the Missouri town of Hannibal, jus about two hours north of St. Louis along the Mississippi River. Along with preserving the historical structure itself, the Mark Twain Boyhood Home site has also developed a museum where visitors can get more information about the man behind such important canonical texts as The Adventures of Tom Sawyer and The Adventures of Huckleberry Finn, both of which explored what it was like to grow up along the Mississippi River in a city much like this one. The organization also holds a rotating calendar of events to bring visitors together in fun and informative ways.
Things to do near the Mark Twain Boyhood Home: The small town of Hannibal is small, but certainly not without its charm. Rockcliffe Mansion is only steps from this landmark, and literati can also visit the nearby Mark Twain Cave and Campground. Speaking of camping, here are some nearby RVshare rentals to peruse!
6. Wilson's Creek National Battlefield
Although it might not be the most famous battle fought during the Civil War, the fight fought on what is now Wilson's Creek National Battlefield bears the distinction of being the first fought west of the Mississippi River — and was also where the first Union general killed in action, Nathaniel Lyon, met his end. This important battle pulled national attention to Missouri, and today, the place where it was fought is marked by beautiful, rolling green hills and a 4.6-mile paved road tour that you can take to either in your car, by bicycle, or on foot — whatever you choose. The national battlefield also hosts a Civil War Research Library where scholars and laypeople alike can come and check out primary historical sources.
Things to do near Wilson's Creek National Battlefield: Nestled just a few miles southwest of Springfield, the Wilson's Creek National Battlefield makes for a great day trip for those staying in town — or at any of the state parks that surround the area. Here are some nearby RVshare rentals and campgrounds to get you settled for your getaway!
7. George Washington Carver National Monument
Known as a "Plant Doctor" even when he was just a boy, George Washington Carver went on to develop hundreds of products using peanuts, sweet potatoes, and soybeans. An agricultural whiz and a constantly hungry, inventive mind, Washington Carver devoted his life to helping others — and the George Washington Carver National Monument is devoted to preserving his memory and educating visitors about his unique history. The park offers plenty of things to do, including events and ranger-led tours to help visitors get better acquainted with both the local landscape and Washington Carver's story. There's even a Junior Ranger activity that allows young visitors to get their hands dirty — literally — as they explore what it means to be an agricultural inventor for themselves!
Things to do near George Washington Carver National Monument: Located in the southwestern corner of the state near towns like Joplin and Fidelity, this national monument is within an easy drive of Springfield if you're looking for a more big-city feel — or wildernesses like Roaring River State Park, Busiek State Forest and Wildlife Area and Table Rock State Park. Here are some nearby RVshare vehicles for your consideration.
8. Fort Osage National Historic Landmark
Built under the direction of no one but General William Clark himself — yes, of Lewis & Clark fame — Fort Osage was first constructed back in the early 1800s as one of three forts the U.S. Army established in order to establish control over the then-newly-purchased Louisiana Territory. At the time, it was a factory trading post run by the U.S. Government: a waypoint and a station from which the U.S. government attempted to make peace with the Osage peoples who lived in these lands before the white men came. Although the structure that stands here today is a replica built between 1948 and 1961, standing on these grounds still enables visitors to feel a part of American history that can seldom be experienced elsewhere.
Things to do near Fort Osage National Historic Landmark: Located in what is now the town of Sibley, Missouri, Fort Osage is just outside of Kansas City, which is a wonderful town to explore on both the Missouri and Kansas sides. Plus, there are some great campgrounds and RVshare rentals available in the area.
9. Truman Home
Harry S. Truman was the 33rd president of the United States of America — and his longtime home rests right here in the greater Kansas City, Missouri area. In fact, not only the home itself is considered a landmark; the entire area around the structure is preserved as the Harry S. Truman National Historic Site, and includes other properties along with his Independence, Missouri residence. The Truman Home is managed by the National Park Service and guided tours are available to allow visitors a closer look at the lifestyle of this famous American. There's also an opportunity to follow in Truman's footsteps as you walk around the town of Independence. (Truman was known for his brisk walks, which he kept at the pace of 120 steps per minute he was taught as a soldier.)
Things to do near the Truman Home: While in Independence, also be sure to swing by the Vaile Mansion and the Harry S. Truman Library before heading further west into Kansas City. Need a place to stay? Check out these RVshare rentals and these local campgrounds.
10. Liberty Memorial
Also known as the National WWI Museum and Memorial, Liberty Memorial has stood in Kansas City since 1926, although it was only named a National Historic Landmark in 2006. It was also designated two years before that by Congress to stand as America's official World War I museum, and indeed, today, the site is awash with important historical information to explore (and, of course, an incredible memorial to marvel and pay one's respects at).
Things to do near the Liberty Memorial: Located in the heart of Missouri-side Kansas City, there are tons of things to see and do within steps of the Liberty Memorial. One nearby option we recommend: the Museum of Illusions.
Planning an RV Trip to Missouri
An RV trip is the perfect way to experience all the landmarks (and more) Missouri has to offer — and we've got you covered on getting it set up! Here are the best RVshare rentals in the state of Missouri as well as our guides to its best state parks. We've also covered the best campgrounds in the state as well as our Explore Local guides to St. Louis and Kansas City.
Enjoy!