Landmarks
February 18th, 2021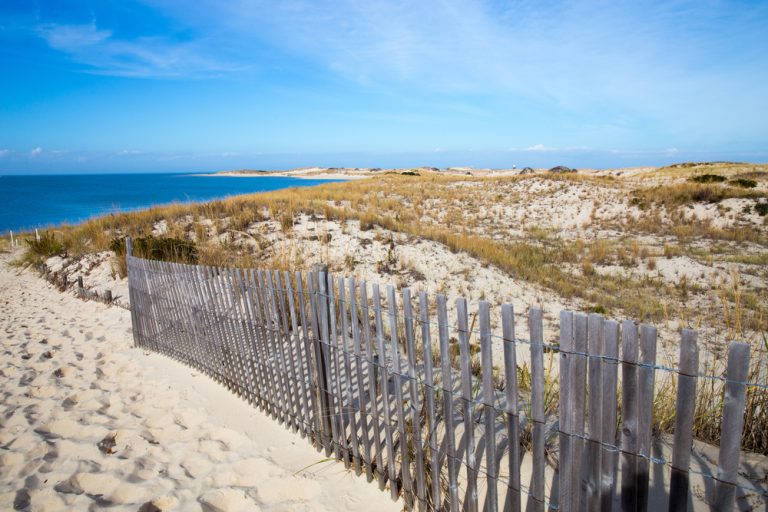 What is a Landmark?
Famous buildings. U.S. historical sites. Engineering marvels. Uniquely beautiful stretches of land.
All of these are landmarks — and Delaware has examples of each type in spades. Although there are an incredible number of things to see, do, and experience in the first state, we've narrowed down the list to these 10 must-see landmarks of all different categories. From historical sites to awe-inspiring bridges, here are the spots not to miss on your next venture through Delaware.
What Are Some Famous Landmarks in Delaware?
1. Winterthur Museum, Garden and Library
2. Brandywine Creek
3. Hagley Museum
4. Fort Delaware State Park
5. Dover International Speedway
6. John Dickinson Plantation
7. Cape Henlopen State Park
8. Funland
9. Charles W. Cullen Bridge
10. Fenwick Island Lighthouse
Delaware Landmarks
From north to south, and from day-long adventures to sites you can merely drive by and be satisfied with, here are the coolest U.S. landmarks in the state of Delaware.
1. Winterthur Museum, Garden and Library
One of the top attractions in northern Delaware, the Winterthur Museum, Garden and Library was originally the private home of Henry Francis du Pont, an antique-collector and horticulturist who lived in the late 1800s and early-to-mid 1900s. Today, true to its origin story, this astounding home today hosts a vast array of exhibitions, and is known for being home to one of the most important collections of Americana in the country. The museum also hosts a variety of events for visitors of all ages, as well as educational and entertaining programs including Sledding Sundays in the winter.
Things to do near the Winterthur Museum, Garden and Library: Located in the northernmost reaches of Delaware, the Winterthur Museum is near destinations like the Mt. Cuba Center, Alapocas Run State Park and Brandywine Creek State Park. Speaking of which…
2. Brandywine Creek State Park
Coming in at just about a thousand acres, Brandywine Creek State Park isn't the largest wilderness in the area… but it's certainly one of the most stunning. And given that it's just three miles north of Wilmington proper, it's no surprise that it's a very popular place to while away a sunny afternoon. Along with its miles of hiking and biking trails, as well as a disc golf course, 5k cross-country course, canoeing and tubing opportunities, Brandywine Creek State Park also offers nature programs for visitors of all ages. What's more, the lands the park occupy were once part of du Pont's larger estate, serving as the historic home of his dairy cattle.
Things to do near Brandywine Creek State Park: Just minutes from Wilmington, Brandywine Creek State Park is an easy drive to other area destinations such as the Grand Opera House and The Delaware Contemporary. Here are some RVshare rentals in this area to consider.
3. Hagley Museum
The historic site of the du Pont family's gunpowder works (what can we say? they were stirring a lot of pots), the Hagley Museum and Library encompasses about 230 acres along Brandywine Creek, displaying the ancestral home and gardens as well as protecting and preserving papers, records, and other legacy material surrounding business and technology in America. The library offers modern-day research opportunities and the museum hosts exhibits including the historic powder yard and a gallery of patent models.
Things to do near the Hagley Museum: Another Wilmington-area destination, the Hagley Museum is surrounded by both beautiful natural preserves and urban attractions, depending on what you're in the mood for. Here are some RVshare rentals near Wilmington to help you facilitate your next vacation in this area.
4. Fort Delaware State Park
Make your way out of Wilmington and south along the Delaware River to end up at Fort Delaware State Park, which preserves and displays an incredible piece of American history. This Civil War-era defensive fort is located on an offshore island accessible only by ferry, and once housed Confederate prisoners of war. Take the boat ride in to enjoy demonstrations and reenactments by costumed actors who will make you feel as though you've stepped back in time. Cannon firings are performed on a regular basis, and the grounds are also simply a beautiful place to wander around.
Things to do near Fort Delaware State Park: Tucked in the small town of Delaware City just a short drive from communities like Williamsburg and St Georges, Fort Delaware State Park is close to other Delaware state parks and nature preserves. Lums Pond State Park is a great nearby spot to grab a campsite; here are some RVshare rentals to get there with!
5. Dover International Speedway
Think you have to travel as far south as Alabama or even Florida to enjoy some incredible race car driving? Think again. Dover International Speedway offers all of your favorite NASCAR excitement right in the capital city of Dover, and is open for track tours as well as scheduled racing events. For those who are serious about keeping up with racing, season tickets are available, as are single-day tickets and other packages and premium offers. And, of course, on-site camping is available so you can stay in the heart of the action all weekend long.
Things to do near Dover International Speedway: Located just north of Dover, there are plenty of shops, restaurants, museums, and other attractions nearby to add to your itinerary, as well as natural attractions like the Bombay Hook National Wildlife Refuge and Little Creek Wildlife Area. Check out these RVshare rentals nearby.
6. John Dickinson Plantation
Not all plantations were built south of the Mason-Dixon line. John Dickinson Plantation is also known as Poplar Hall, and is located in the southeastern outskirts of Dover. Dickinson himself was a Revolutionary War-era statesman, as well as one of the Founding Fathers. This place is where he spent his boyhood, and he did return to it over the course of his life. The plantation was also, of course, a "home" of sorts to the enslaved Black men, women, and children who worked its land and made it fruitful. The tours and exhibits on site tell these long-silence stories, as well as the better-known stories of the white men whose names made it into the history books.
Things to do near John Dickinson Plantation: A short drive into Dover offers a multitude of things to eat, see and do, such as the Air Mobility Command Museum and Biggs Museum of American Art. However, there are also plenty of RV-trip-able state parks nearby, including the next item on our list of landmarks!
7. Cape Henlopen State Park
Beaches to bask on, waters to splash in, and nature trails to wander along are just the beginning of the idyllic to-dos at Cape Henlopen State Park. Its on-site campground offers more than 150 sites in the pine-covered dunes including water and electric hookups, and the park is also home to a seaside nature center, museum, and preserved historic site (Fort Miles). Its unique position on its namesake Cape offers stunning views of both the Delaware Bay and the wider Atlantic Ocean, all within a short drive of larger communities. In short, for nature lovers of all sorts, it's a paradiscal getaway… and it's not very far away from any of Delaware's major population centers.
Things to do near Cape Henlopen State Park: If you're in need of even more beachy goodness, you're in luck; Cape Henlopen is only a 15-minute drive from Delaware Seashore State Park, which encompasses a beautiful stretch of barrier island and also offers a seaside campground. Here are some nearby RVshare rentals to take it all in with.
8. Funland
Is there anything that says "summer" quite the same way as a beachside amusement park? We don't think so, either — and in Delaware, the go-to spot is Funland, which offers rides, attractions, arcade games and more suited to adventurous visitors of all ages. Wander along the boardwalk and enjoy a funnel cake or take a spin aboard the Crazy Dazys… but probably give yourself some time between those two activities for best results. 😉
Things to do near Funland: The seaside town of Rehoboth Beach is small, but full of fun coffee shops, eateries, and bookstores to peruse. Plus, you're simply surrounded by gorgeous beaches, including Delaware Seashore State Park as well as other beach towns that punctuate the trip south along Coastal Highway. Here are some RVshare rentals to browse in the area.
9. Charles W. Cullen Bridge
Otherwise known as the Indian River Inlet Bridge, the Charles W. Cullen Bridge spans 2,600 feet across the Indian River Inlet, which flows 45 feet below it. A cable-stayed bridge originally constructed in 2012, the bridge was preceded by a variety of lesser iterations, the earliest of which opened all the way back in 1934. Today's bridge carries four lanes of traffic along Delaware Route 1 between Dewey Beach and Bethany Beach, and is actually located within the bounds of Delaware Seashore State Park. At night, the bridge is brilliantly lit up, and any time of day its expanse provides an awe-inspiring way to travel along the Delaware beaches.
Things to do near the Charles W. Cullen Bridge: One word: beaches. If you're near this bridge, you're near some of the most iconic shorelines Delaware has to offer, so be sure to bring your towel and plan to spend some time sunbathing. Here are some nearby RVshare rentals worth browsing.
10. Fenwick Island Lighthouse
Tucked just about as far south as you can get before you cross over into Maryland, the Fenwick Island Lighthouse dates back to 1859, and both the 87-foot light tower and its accompanying Gothic-style, wood-framed keeper's house have been preserved today. Today, visitors can enter the base of the tower and peruse a small museum and gift shop that offers souvenirs as well as information about what life was like back in the days that this landmark and its unique Fresnel lens served on the front line of marine navigation.
Things to do near Fenwick Island Lighthouse: Located in the extreme southern part of Delaware near Fenwick Island State Park, this lighthouse is a great first stop in the state — or last stop before you make your way into Maryland. Either way, here are some nearby RVshare rentals to consider for your journey.
Planning an RV Trip to Delaware
The First State is truly the front line as far as historical landmarks and adventure are concerned, and an RV trip is a great way to create your perfect Delaware vacation. Plus, we've got everything you need to make that trip come true in the best way possible.
We offer Delaware RV rentals and have also listed out some of the very best campgrounds in the state of Delaware. We've also written in-depth guides to the best state parks in Delaware, as well as guides to Wilmington and Dover.
Enjoy your trip!