Landmarks
February 18th, 2021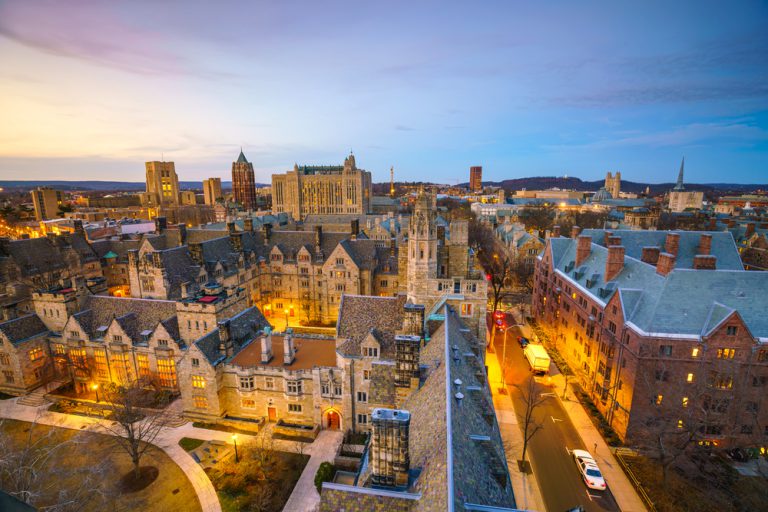 What is a Landmark?
One of the oldest states in the nation with a European settlement history dating back to Puritan colonizers in the mid-1600s, it's no surprise that Connecticut is swimming in incredible historical landmarks. Thanks to its geographical position in the scenic northeastern part of the country, it's got some fabulous natural landmarks to explore, too. Here are some must-see attractions worth adding to your Connecticut to-do list.
What are Some Famous Landmarks in Connecticut?
1. The Mark Twain House
2. Dinosaur State Park
3. Mystic Seaport
4. Mystic Aquarium
5. Gillette Castle State Park
6. Yale University
7. The Glass House
8. Kent Falls State Park
9. Mohawk Mountain Ski Area
10. Bear Mountain
Connecticut Landmarks
Check out these incredible U.S. landmarks in the state of Connecticut!
1. The Mark Twain House
Although Mark Twain may have been born in Missouri and his most famous stories take place down south, his family made their home in Hartford, Connecticut, where visitors can still visit the Mark Twain House today. These days, it's not only a preserved living space but also a museum, displaying artifacts from the author's life as well as both permanent and rotating exhibitions and films depicting life during this era of American history. The Mark Twain House and Museum also regularly holds events and writing contests to get the community in on the action. Check it out!
Things to do near the Mark Twain House: The capital of the state and a mid-sized city with a population of over 100,000, there are plenty of things to see and do while you're in Hartford. Plus, nearby wildernesses like Black Rock State Park offer a way to get away from the urban hustle-bustle. Here are some RVshare rentals and other RV campgrounds in the Hartford area to consider.
2. Dinosaur State Park
Small, as state parks are concerned, but mighty, Dinosaur State Park comprises approximately 80 acres of the Connecticut town of Rocky Hill… but this little green space holds a big secret. It's home to one of the largest and best-preserved dinosaur track sites in North America, and also hosts an on-site arboretum protecting and displaying more than 200 varieties of plants that were already on Earth by the time the dinosaurs arrived. Events and educational programs are also available!
Things to do near Dinosaur State Park: Just a few miles outside of Hartford, Dinosaur State Park is convenient to many other attractions in the area, such as the Wadsworth Atheneum Museum of Art. Plus, there are some fantastic RVshare rentals and RV campgrounds in the area if you need a vacation.
3. Mystic Seaport
The town of Mystic grew up around its famous seaport, which has today been turned into a large, open-air museum preserving and presenting all things oceanic. From the untold history of the whaling era to opportunities to get out on the water and experience the sea for yourself, Mystic Seaport is an absolute must-visit for anyone in this area, and is incredible even if you do no more than take in the view. However, there's so much more to discover here for those who want to take the time to dive in deeper. (There are even workshops and classes to help you learn how to build a boat of your very own, if you're so inclined.)
Things to do near the Mystic Seaport: Wander the town of Mystic to enjoy some of the freshest seafood you'll have in your life, not to mention its quaint boutiques, spas, and more. Mystic is also closeby to some beautiful wildernesses and coastline beaches for those who need a break from city life. Here are some RVshare rentals in the area to browse.
4. Mystic Aquarium
Another can't-miss in Mystic, right near the Seaport itself: Mystic Aquarium, which houses some 2,000 species of marine mammals, fish, invertebrates, and even reptiles. Along with its plethora of wet and wild friends, Mystic Aquarium is one of only two facilities in the United States where visitors can see Steller sea lions, and is also home to the only captive beluga whales in all of New England. Touch habitats and encounter programs truly allow guests to get up, close, and personal with wildlife, and many educational events are also offered.
Things to do near Mystic Aquarium: Looking for a big-town Connecticut experience? New Haven is only an hour or so away and offers plenty of to-dos. Staying closer to Mystic? Check out these RVshare rentals and head to one of the area's state parks for campgrounds.
5. Gillette Castle State Park
Set between East Haddam and Lyme overlooking the Connecticut River, Gillette Castle State Park is a truly one-of-a-kind Connecticut experience and landmark. Appearing as a Medieval fortress from the outside, the interior of this castle is decked out with luxurious creature comforts conceived by William Gillette, an American actor-manager, playwright, and stage-manager who lived in the late 1800s and early 1900s. Along with the castle itself, the park also offers picnic facilities, a visitor center and food concessions.
Things to do near Gillette Castle State Park: Located about midway between Mystic and New Haven, Gillette Castle State Park is just across the river from Cockaponset State Forest, which offers plenty of outdoor recreation opportunities. Here are some RVshare rentals in the area.
6. Yale University
Perhaps Connecticut's most famous set of buildings — and certainly a famed U.S. landmark people travel from thousands of miles to visit and attend — Yale University is a New Haven must-see, whether you've got a young graduate planning to apply or you just want to take a look at its storied architecture. The University also offers a variety of exhibits to the public including an art gallery and museum of natural history. Both self-guided and docent-led tours of campus are available, and can help visitors learn more about the school's history as well as modern campus life.
Things to do near Yale University: New Haven is awash with things to see, do, and experience, including some beautiful natural spaces such as Lighthouse Point Park. Here are some RVshare rentals and campgrounds in the area for those in need of a getaway.
7. The Glass House
Known also as the Johnson house, or by its full name — The Glass House, National Trust for Historic Preservation — this New Canaan home was designed by Philip Johnson, a famous American architect who designed major buildings in New York City and elsewhere. Exemplifying the minimal structure and hosting exhibits, films, and events, this house is as fascinating to visit for its history as its architectural mastery and uniqueness.
Things to do near the Glass House: New Canaan is a suburb of Stamford, a midsized city with plenty of shopping, dining, and to-dos. You're also just a hop, skip and a jump from New York City from this area, so if you're looking for a trip, check out these RVshare rentals — because yes, there is RV camping in NYC!
8. Kent Falls State Park
Connecticut may not be as well known as, say, North Carolina for its waterfalls — but make no mistake about it, it does have cascades. Kent Falls State Park is one of the best to add to your itinerary, featuring a serene yet awe-inspiring 250-foot tiered falls, as well as fishing and picnicking opportunities. A short nature walk to the falls offers plenty of beautiful viewpoints.
Things to do near Kent Falls State Park: Located in the western portion of Connecticut, Kent Falls State Park is close to other Connecticut state parks, including Black Rock State Park, Ivy Mountain State Park and more. Here are some nearby RVshare rentals to help get you exploring.
9. Mohawk Mountain Ski Area
Think there's no good skiing in New England? Think again. Mohawk Mountain Ski Area has been known by Connecticut residents and northeasterners far beyond as a great spot to shred some slopes for more than half a decade now. The park offers groomed mountain ski rails for both skiers and snowboarders, and is open during nighttime hours for those looking for an extra layer of adventure.
Things to do near the Mohawk Mountain Ski Area: Another location deep in the heart of Connecticut's wilds, Mohawk Mountain Ski Area's closest major town is Torrington. Here are some RVshare rentals nearby, as well as guides to area state parks that offer camping opportunities.
10. Bear Mountain
Standing more than 2,300 feet high, Bear Mountain represents the highest point in Connecticut, located only a half-mile south of the Massachusetts state line along the much larger Appalachian Trail. There are many ways to access this incredible viewpoint, including both a fairly challenging hike seeing approximately 2,000 feet of elevation gain along a 6.5-mile round trip length, and a much shorter and more level way to access the peak via Bear Mountain Road. You can also see the remains of a stone tower at the summit, along with the endless vistas that make the viewpoint so worth climbing for.
Things to do near Bear Mountain: Located in the extreme northwestern corner of the state of Connecticut, Bear Mountain is closer to Massachusetts' Washington State Forest than many attractions in its home state. That said, these woods are a great place to take an RV trip; here are some rentals nearby to consider.
Planning an RV Trip to Connecticut
As you can see, Connecticut is bursting at the seams with things to see, do, and experience — and these famous landmarks, geological formations and historic buildings are just the start. Fortunately, we've got you covered every step of the way if you're eager to experience Connecticut's majesty for yourself in an RV.
First of all, secure your RV rental from us on the peer-to-peer market to save money while also enjoying a cozier, more comfortable ride. We've also documented all the best Connecticut state parks to visit, as well as penning guides to its urban adventures. Oh, and here are the best campgrounds in Connecticut, too.
We can't wait to hear all about your journey!