Travel Inspiration
February 12th, 2021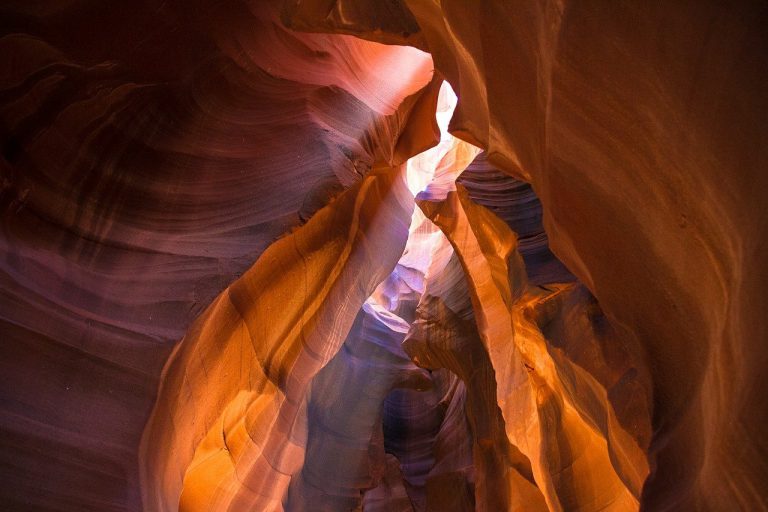 What is a Landmark?
Be it a great rift in the ground, a towering sandstone spire, or preserved structures from indigenous cultures that long predate colonialism, Arizona offers a wide variety of famous and impressive landmarks. An RV road trip is the perfect way to get familiar with what The Copper State has to offer!
What are Some Famous Landmarks in Arizona?
1. The Grand Canyon
2. Antelope Canyon
3. Horseshoe Bend
4. Petrified Forest
5. Havasu Falls
6. Montezuma Castle National Monument
7. Meteor Crater
8. Cathedral Rock
9. Old Tucson
10. Queen Mine
Arizona Landmarks
Let's dive into the details on these Arizona landmarks not to be missed.
1. The Grand Canyon
You can't very well talk about Arizona landmarks — or U.S. landmarks, for that matter — without mentioning the Grand Canyon. Although it's accessible from a variety of points, the most popular way to see and experience this incredible natural phenomenon is Grand Canyon National Park, which offers a bevy of campsites, restaurants, and shops along the canyon's south rim. That said, the north rim is also worth visiting, though more remote and rugged, and the western edge of the Grand Canyon includes the popular Skywalk, a 10-foot-wide, glass bridge that allows you to levitate 4,000 feet over the canyon floor below… if you dare.
Things to do near the Grand Canyon: A great place to hang your hat as you explore the Grand Canyon is Flagstaff, which is full of fun cafes, boutiques, and entertainment opportunities. Plus, here are the top campgrounds near the Grand Canyon as well as some RVshare rentals to browse in the area.
2. Horseshoe Bend
Technically still part of the Grand Canyon — though not quite as dramatically wide and deep this far east — Horseshoe Bend is a stunning viewpoint and a short hike just outside of the popular tourist destination of Page. At less than a mile and a half altogether, this "hike" is really more of a walk… and with a view this stunning, it gets pretty crowded, so it's worth showing up early. Top tip: arrive before sunrise in order to watch this incredible landmark slowly illuminate under the rising desert light. Just be sure to bring a flashlight as you hike out… if you go too far, you might fall in!
Things to do near the Horseshoe Bend: The town of Page is full of outdoor adventure outfitters and tour guides who can help you make the most of your north Arizona adventure. There are also plenty of more strenuous hikes to check out — the Lees Ferry and Spencer Lookout Trail is a great workout. Here are some nearby RV rentals to scope out.
3. Antelope Canyon
Another destination located close to the town of Page, you've almost certainly seen Antelope Canyon even if you've never been there; its iconic photo has been featured on the cover of National Geographic among other publications. Because it's a tribal park located on Navajo land, it's not open to the public without licensed native tour guides, but there are many just waiting to take you and your family by jeep and then on foot to and through this incredible slot canyon. They'll even show you how to get the very best photos.
Things to do near Antelope Canyon: After you've visited both Horseshoe Bend and Antelope Canyon, complete your experience of Page by enjoying some watersports in nearby Lake Powell or visiting Vermillion Cliffs National Monument.
4. Petrified Forest
A forest unlike any other you've seen before, Petrified Forest National Park preserves acres of colorful petrified wood, and is also home to the Rainbow Forest Museum, which preserves and explains paleontological artifacts from the area. This unique park has been a human home for thousands of years, and hundreds of archeological digs have found evidence of these ancient humans' way of life. The park also offers many hiking and backcountry camping opportunities.
Things to do near Petrified Forest: Located a couple hours east of Flagstaff close to where Arizona touches New Mexico, Petrified Forest National Park is pretty remote. That said, it's fairly close by to Winslow, Arizona, where you'll find our next not-to-be-missed landmark. (And you can still find some great RVshare rentals in the area!)
5. Standin' on the Corner Park
"Well, I'm-a standin' on the corner in Winslow, Arizona, such a fine sight to see…" You're almost certainly familiar with this iconic Eagles lyrics, and if you travel to the town of Winslow, you can experience the scene for yourself. The corner of Kinsley and East 2nd Street have been set aside to commemorate "Take it Easy" since 1999, and there's even a flatbed Ford pulled up on the curb. This town is also located directly along Historic Route 66, and there are plenty of great souvenir shops and restaurants to check out while you're grabbing your photo opp.
Things to do near Standin' on the Corner Park: Explore Winslow and check out the various shops and eateries available, and if you want a bigger-town feel, head an hour and a half west to Flagstaff (and Grand Canyon National Park!). Here are some RVshare rentals in the area.
6. Meteor Crater
Arizona sure is full of great big holes in the ground… but in many different configurations. A historical landmark easily as significant and no less impressive than the Grand Canyon, Meteor Crater is located about 40 miles east of Flagstaff and 18 miles west of Winslow, making it the perfect stop on the way to or from either of these other landmarks we've listed. At about 3,900 ft in diameter and 560 feet deep, Meteor Crater cuts a breathtaking profile into the Arizona landscape and is thought to have been formed some 50,000 years ago. Along with the crater itself, visitors can explore the adjacent museum and gift shop.
Things to do near Meteor Crater: Truly in the middle of nowhere, the only thing to do in the immediate vicinity of Meteor Crater is to visit Meteor Crater. That said, there's always Winslow or Flagstaff nearby if you need a bite to eat afterwards!
7. Montezuma Castle National Monument
Close to the incredible hiking and spa getaway destination that is Sedona, Montezuma Castle National Monument offers some of the best-preserved remains of the Native American civilizations that called these areas home long before settlers came around. This incredible architecture, including a 20-story high-rise apartment built directly into a limestone cliff, was constructed thousands of years ago, well before modern technology was around to help. Guided tours are available to help visitors feel better oriented and informed.
Things to do near Montezuma Castle National Monument: Located between the towns of Prescott and Sedona, there's an abundance of tourist-directed attractions and facilities in the area, no matter what you're in the mood to do. Here are some great nearby campgrounds and RVshare rentals to choose from.
8. Cathedral Rock
Perhaps the most iconic part of the Sedona skyline, this landmark is not a historic building but an awe-inspiring sandstone spire. Cathedral Rock is tucked within the Coconino National Forest wilderness and is surrounded by a network of hiking trails to help visitors get a better up-close-and-personal view… but you'll enjoy the scenery even if only from the road below. Fun fact: its summit stands just shy of 5,000 feet above sea level.
Things to do near Cathedral Rock: Visible from Sedona, which is awash in eateries, boutiques, and spas to enjoy, Cathedral Rock is also nearby to Red Rock State Park and other incredible outdoor recreation opportunities. There are also some wonderful nearby campgrounds and RVshare rentals to make your vacation great.
9. Old Tucson
Just west of New Tucson — which is to say, the actual city of Tucson — Old Tucson is a theme park built into a working American movie studio, where you and your family can experience a real-life taste of the old, wild west. While the theme park has shut down indefinitely after the occurrence of the COVID-19 pandemic, Pima County will take over the property and work to find a suitable future plan for this iconic Arizona landmark.
Things to do near Old Tucson: The city of Tucson is one of the most thriving and colorful in Arizona, and is also the gateway town to Saguaro National Park, which offers stunning, sweeping landscapes dotted with taller-than-you-think cacti in hands-up positions. Here are some great nearby campgrounds and RVshare rentals to consider.
10. Queen Mine
Tucked close to the Arizona/Mexico border, the town of Bisbee has a long history as both a mining community and an arts community. Today, it's a small but thriving tourist spot and also home to the Queen Mine, a historic landmark that was once an authentic mining site and rich vein of copper ore. Today, tour guides lead intrepid visitors more than 1500 feet into this mine to demonstrate and explain the dangers, thrills, techniques, and dramas miners experienced back in the day.
Things to do near the Queen Mine: Wander the art galleries and grab a bite to eat in Bisbee, which is also within easy driving distance of the historical town of Tombstone. Here are some nearby RVshare rentals to consider.
Planning an RV Trip to Arizona
An RV trip is an amazing way to get familiar with all the historical landmarks scattered across Arizona — and elsewhere. Here at RVshare, we've got you covered every step of the way!
Check out our full list of national park guides, including guides to famous parks in Arizona such as Grand Canyon National Park, Saguaro National Park, and Petrified Forest National Park. We've also created guides to Arizona state parks and listed some of the best campgrounds in the state.
And, as always, we're happy to help you find your dream RV rental for the trip. From towable trailers to luxurious motorhomes, you'll find your perfect getaway vehicle with us. Enjoy the trip!