How Tos & Tips
January 25th, 2022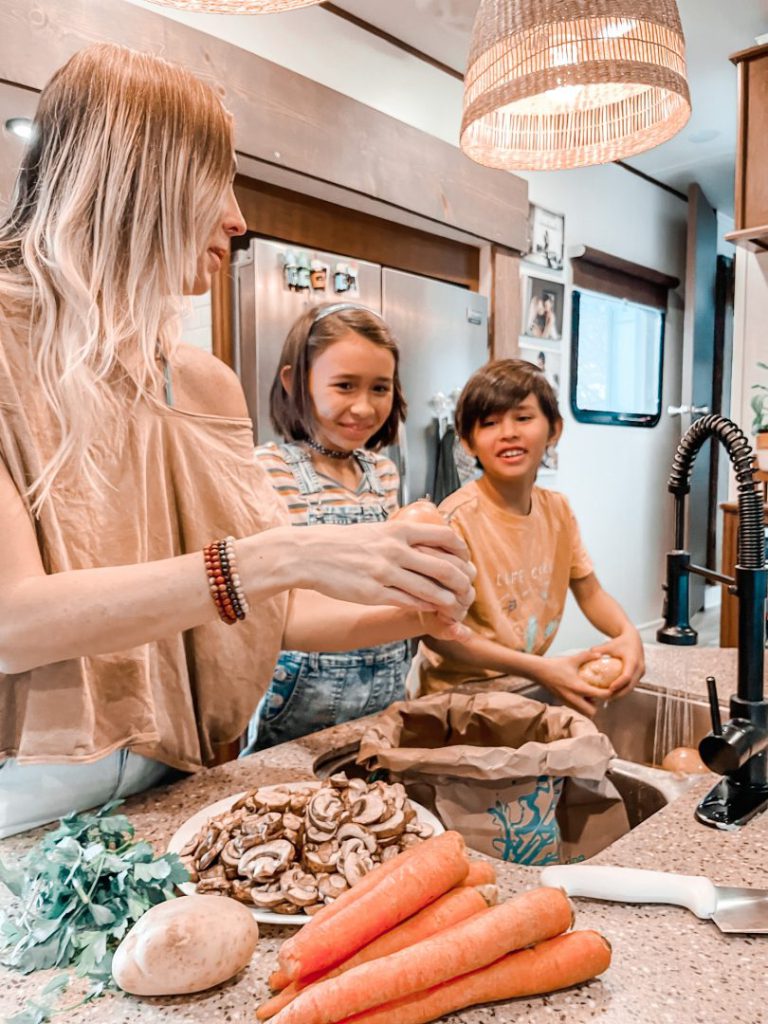 You can measure a Nomad's experience like dog-years. There's just a certain amount of trial-by-fire with this lifestyle, and as we embark on our 6th year of full-time travel, there's one thing that I'll never be able to wrap my head around: trying to do this life without GPS guided navigation. It makes no sense to me how anyone could tow these monster RVs around the country without it. I know it isn't impossible, I'm just hyper-aware of how lost I'd be without the sorcery that is GPS technology.
Just like how GPS technology has improved the ease of access for RV travel – the relatively new awareness toward the health benefits of a plant-based lifestyle vs. the health risks associated with the overconsumption of meat is rapidly changing the landscape of your local grocery store. Honestly, if you are anywhere on the vegetarian spectrum, there's no better time to be alive than the present. Even in rural America, there's a pretty good chance you can find dairy alternatives, like oat or cashew milk, within a half-hour drive.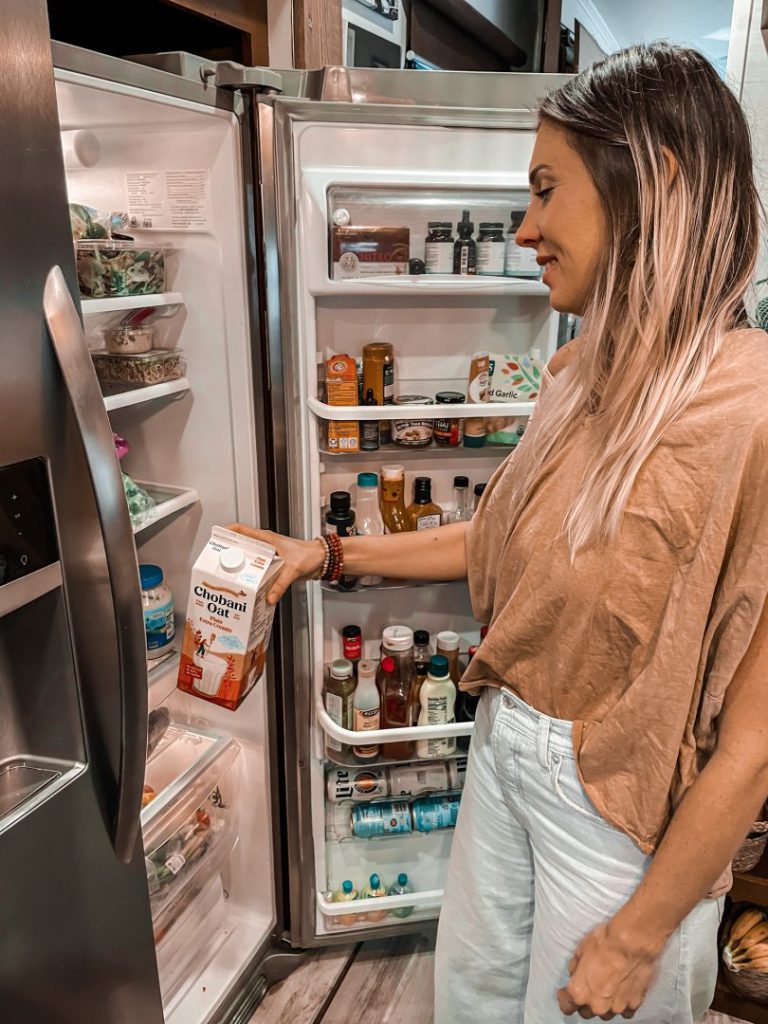 Our Plant-Based Journey
A little over a year ago, we launched on a new journey for our health: we adopted a plant-based lifestyle and have loved it! This, however, isn't my first time attempting to eat Vegan. About 15 years ago, my wife and I gave plant-based life a try. It lasted a whole 2 weeks before we were back to eating meat. At that time (circa 2007), there were a few resources for clean eating in our area of Florida. It was not only expensive but also challenging to find all the components of a well-balanced plant-based meal all in one location. It usually involved multiple grocery stores and lots of planning.
As consumers become more and more health-conscious, the demand for healthy alternatives to the traditional western diet will force grocers to supply the market with more and more plant-based options – and that's great news! For now, though, we still have to deal with the sometimes challenging realities of stocking our fridge with vegan staples like raw cashews, tofu, non-dairy butter, tahini, etc.
Restocking Vegan Essentials on the Road
As you can imagine, resupply missions are a tad bit more difficult in rural South Dakota versus Palm Springs, CA. So here are a few helpful tips from one nomadic Vegan to another: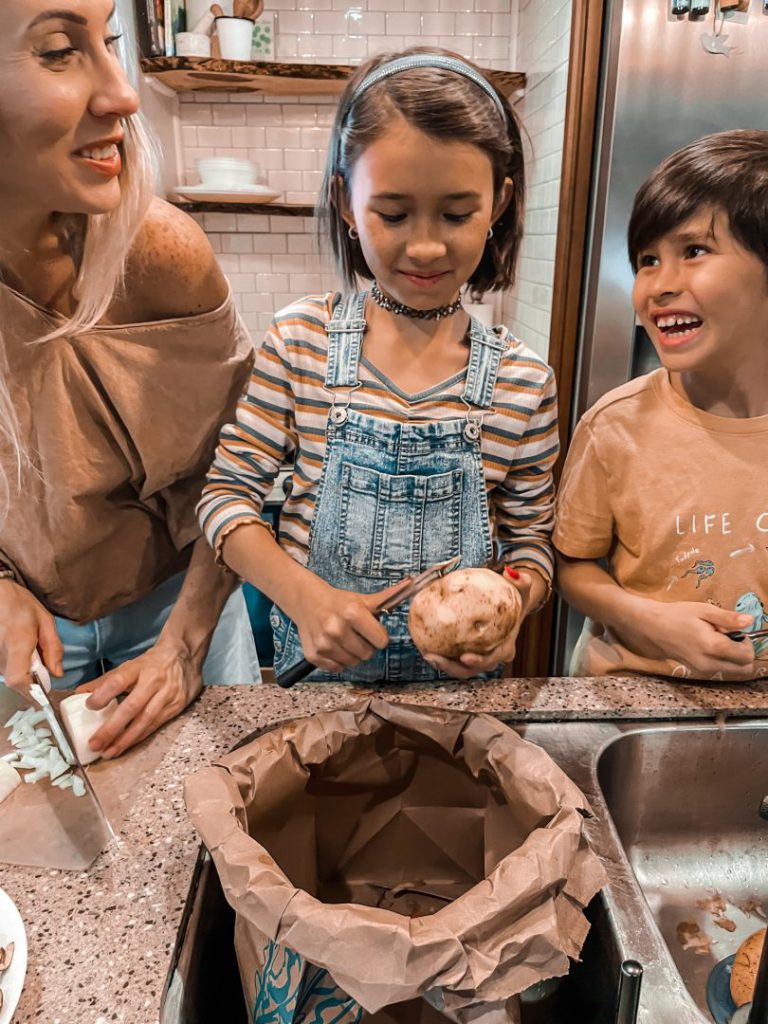 Big Box Stores are Your Frenemy
I know that large conglomerates aren't everyone's cup of tea, but with the complexities of the nomadic life, there are just some hills I'm willing to die on, and this isn't one of them.
Like I mentioned earlier, we can usually find our favorite oat milk at Walmart or Target. Costco (more so than Sam's Club) seems to always have good plant-based options. Believe it or not, we've also had good luck at Aldi's! Now obviously, these chain stores have to serve their market, so a supermarket in Truth or Consequences, NM might not have the same offerings as a grocery store in Miami. Rural stores (think IGAs, Dollar General, or combo gas station/markets) depth of vegan options usually begin and end with Oreos.
If we know we're going to be in the middle of nowhere for a week or two, we typically park overnight at a Walmart while en route to our destination and stock up on all our needs before going out into the wilderness.
This is a stark contrast to our present situation. We are currently in Park City, UT enjoying the ski season, and I can literally see a Whole Foods Market from our living room window. Even the Smith's across the street has an entire aisle dedicated to plant-based foods, in addition to their hearty produce section.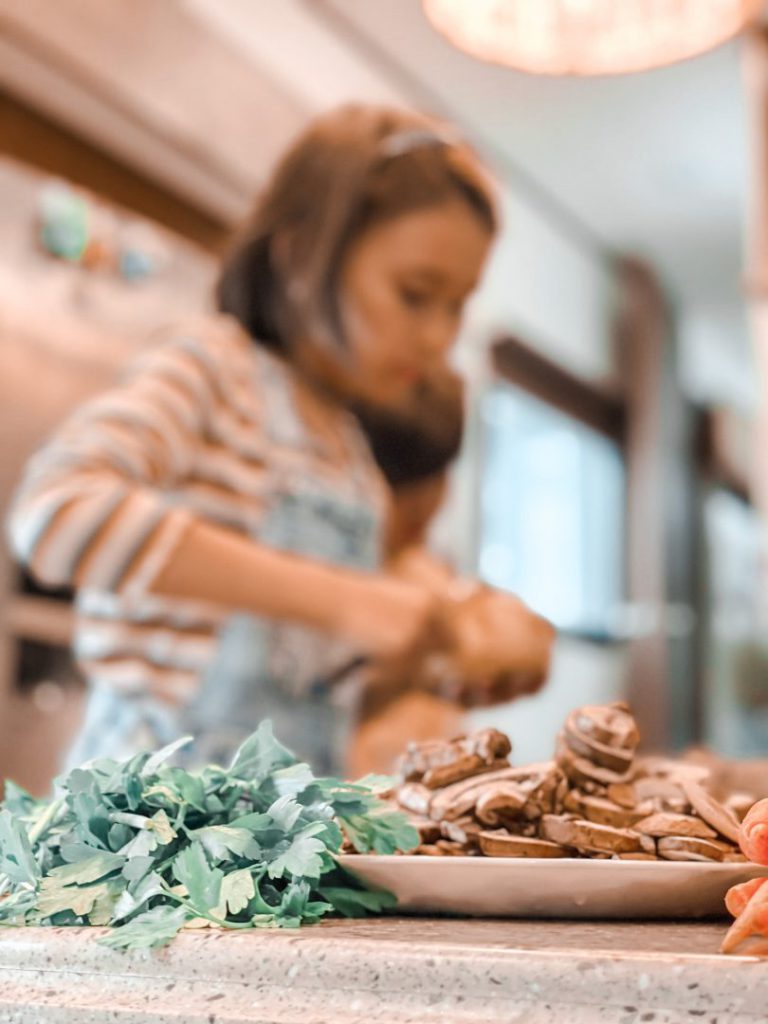 Think Inside the Box
If we will be in an area that doesn't have any plant-based options nearby, there's a resource that has saved our sanity on more than one occasion: subscription meal boxes.
Services like Green Chef offer custom, diet-restricted, boxed meal plans that can be delivered right to the front door of your RV. Packed on ice, these made-to-order, ready-to-cook meals are delicious. We choose the meals from their website, and on a preselected day our insulated, recycled boxes show up on our doorstep. Their online interface makes it easy to skip certain weeks, or add extra servings. Aside from my wife's cooking, these are some of my favorite meals we eat at home. Bonus points because there's zero food waste. Most of these services offer first-time customers a deal so if you haven't tried this yet, now might be a good time.
When we first decided to go plant-based in late 2020, we utilized these subscription box services exclusively for a few months, and I credit the ease, convenience, and deliciousness of these meals to our success in fully transitioning to a vegan diet with no desire to ever look back.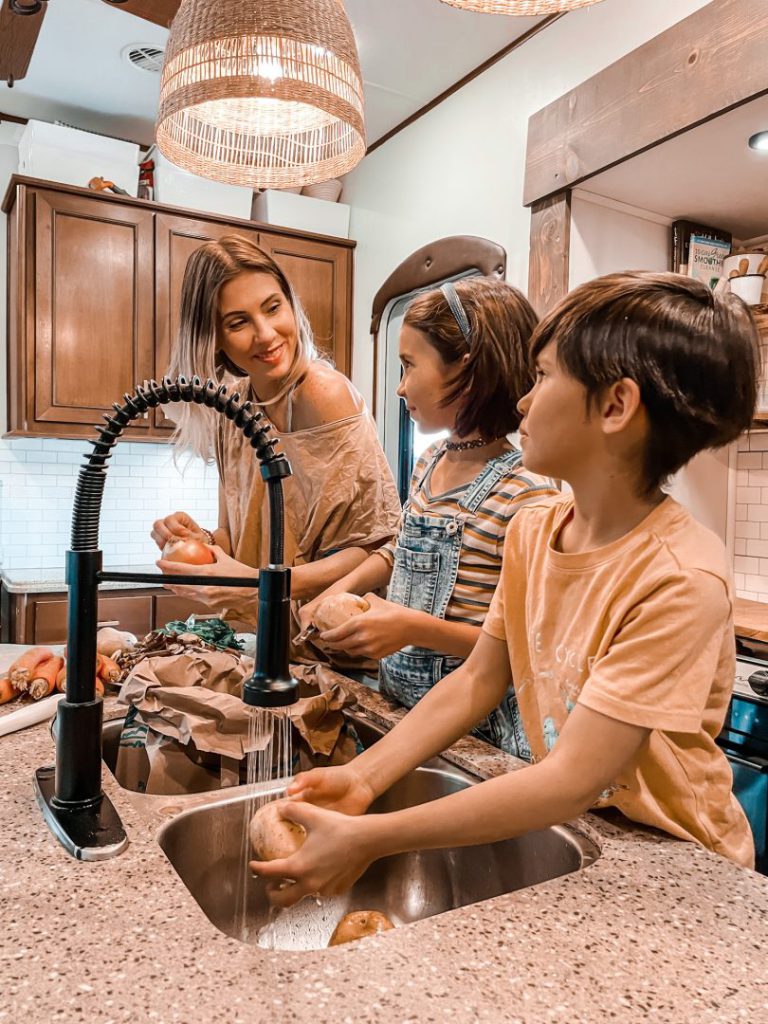 Keeping Things Interesting in the…Kitchen
There's nothing that will put the kibosh on creating a healthy habit, like clean-eating, faster than a stagnant menu. There are only so many times that everyone in your family can stand spaghetti with Beyond Meat crumbles in one week. Even though our children have the autonomy to choose what they want to eat when we go out to dinner – vegan or not – when we eat at home, they eat what we prepare, and in our home-on-wheels, we prepare plant-based meals for every meal. So to keep everyone's palates at attention, I utilize Instagram quite frequently. There's no shortage of tasty, 10-minute, vegan recipes offered on that platform.
When Mom and Dad are just too tired to cook anything at home, we utilize apps like Yelp to find vegan options in our area. If we're looking for something easy on the way back from snowboarding all day, Indian, Thai, or Vietnamese restaurants reliably have meat-free options available. And on travel days, nothing beats a veggie sub from Subway.
About the Author
We are the Axness family; Nate, Christian, Ella, and Andersen. Five years ago, we sold everything, quit our nine-to-fives, started working for ourselves, and began traveling full-time in our RV. Our goal in sharing our story with you is to encourage you in your pursuit of long-term family travel.
We have been so positively impacted by nomadic life and believe that travel has not only brought us closer together as a family but also made us better citizens in our ever-changing community. We look forward to speaking life into your dreams of travel, helping you navigate the difficulties that travel can inevitably bring, and inspire you to embrace the RV lifestyle. Follow along with our adventures on Instagram @ProjectTrek.