How Tos & Tips
September 29th, 2022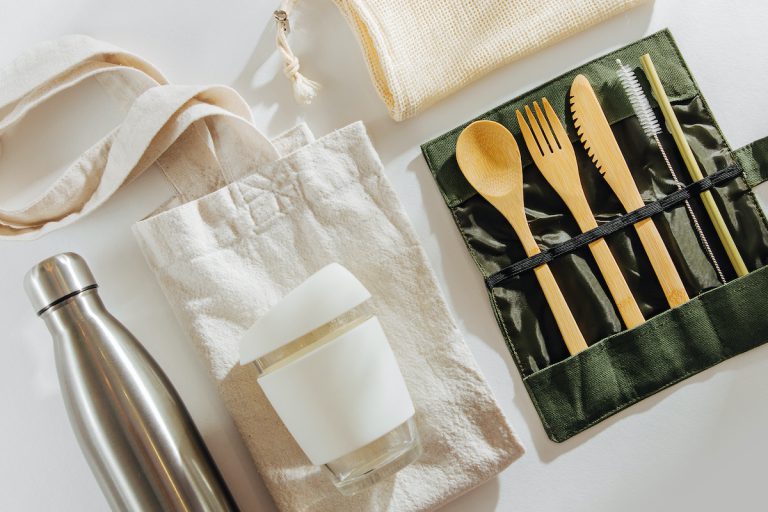 It makes sense that people who value life on the road – traveling to new destinations, visiting natural sites like national parks and monuments, and engaging in adventurous activities like hiking and paddling – would also treasure the environment! After all, a lot of places we visit on the road wouldn't be enjoyable if they weren't cared for and preserved for the next generation.
Along with other environmental concerns, one way to take a big step as an eco-friendly camper is to reduce single use plastic while you're on the road. If you're wondering how to use less plastic on road trips and while camping, this article will give you several tips for your next trip!
Tips for Living with Less Plastic on the Road
Let's face it – single-use plastics on road trips can make life so much easier. You don't need to worry about as many dishes when you use plastic utensils and cups for meals, and when you use plastic bags to store food. However, there are some alternatives that are both better for the environment and can even save you money in the long run.
Easy Plastic Swaps
We won't pretend that swapping plastic out for other materials on a road trip is always the easiest solution. Sometimes it can be an inconvenience. Sometimes, for a little bit more money, you can swap materials like plastic bags out for items that are still disposable either because they break down easier or are recyclable. Other times you can swap single-use plastic items for reusable items and keep them for years. Both of those options aren't quite as simple as picking up disposable plastic utensils and bags and tossing them when you're done. However, the extra few minutes to clean a reusable dish or the few cents to buy more eco-friendly disposable items is worth it when you consider the good you're doing!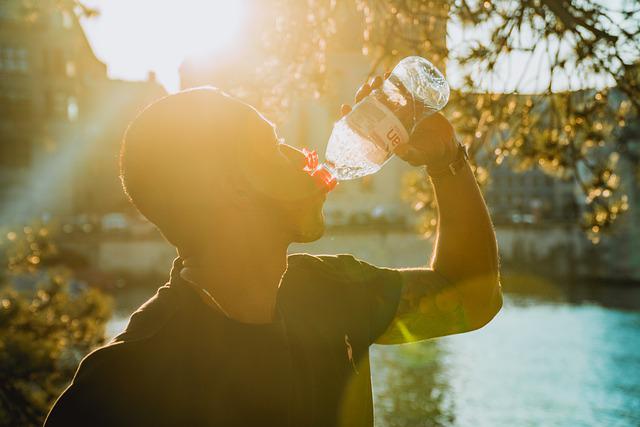 Here are a few fast plastic swaps and other ways to reduce plastic while on the road:
Water bottles: Avoid using disposable water bottles and grab a reusable bottle for hikes and other outdoor activities, or just to have around camp.
Utensils: Swap plastic utensils for the metal utensils you keep in your RV. You can also swap plastic utensils for compostable ones that break down much quicker than plastics. If you do use compostable cutlery or other products, it's best to drop them at a commercial composting facility rather than simply tossing them in the trash.
Plastic bags: When storing food, put it in reusable containers or reusable bags rather than using disposable plastic storage bags that you'll toss after one use.
Bulk items: Consider buying grains, seeds, granola, and other items in bulk. Stores like Whole Foods, Sprouts, and even many grocery stores have bulk bins and you'll cut down on the packaging that comes with buying these items when they're individually packaged. You can also purchase exactly the amount you need and cut down on food waste.
Other packaging: Look for other items where you can reduce the amount of plastic packaging. Buy refills of products like hand and laundry soap. Consider shampoo bars instead of bottles, and look for other products that aren't packaged with excess plastic.
Fast Facts About Plastic
If you need more convincing that your sacrifice is worth it, here are a few statistics regarding the impact of plastics on the environment.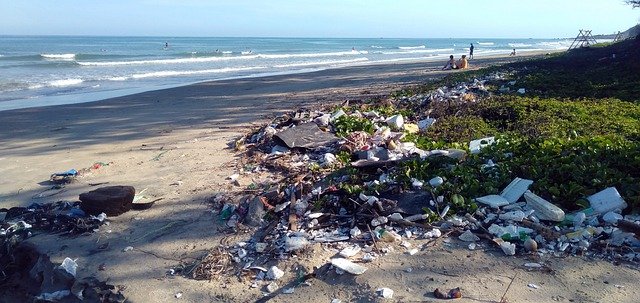 1.) In 2018, landfills got 27 million tons of plastic
According to the Environmental Protection Agency, containers and packaging account for the largest category of plastics in landfills.
2.) An estimated 8 million metric tons of plastic enters the marine waters each year
The Ocean Conservancy says about 8 million metric tons of plastic enters our oceans, lakes, streams, and other waters. They report that's the equivalent of a garbage truck dumping a full load of plastic into the ocean every minute of every day for 365 days.
3.) Plastic forks can take hundreds of years to break down
One National Geographic report says plastic forks can take up to 1,000 years to break down, while other reports put the time at about 400 years. We don't know for sure since plastics haven't been around that long, but the bottom line is that it takes a really, really long time.
Helpful Products that are Worth the Investment
There are plenty of products that are worth an initial investment of a little more money – reusable products mean you won't need to keep purchasing them since you'll have them to use over and over. Some other products are worth the money simply because they're better for the environment. Here are a few products to consider to help you reduce your plastic use on the road:
[lasso type="image" ref="kitzini-bamboo-dinnerware-sets-bamboo-plates-and-bowls-set-for-4-reusable-eco-friendly-bamboo-fiber-plates-17-pieces-bamboo-bowls-cups-and-plates-sets-for" id="197678″ link_id="63544″]
This reusable set of dishes is made from 85% recyclable bamboo and 15% BPA-free melamine, so they will hold up for a good long time. It includes 17 pieces includes four dinner plates, four bamboo bowls, four side plates, four cups, and a salad bowl.
[lasso type="image" ref="takeya-ocean-originals-vacuum-insulated-stainless-steel-water-bottle-24oz-24-oz" id="197681″ link_id="63536″]
This BPA-free water bottle won't retain flavors from beverages, and it will keep water cold for 24 hours. It can also be used for hot liquids and will keep them heated for up to 12 hours. A spout lid makes it easy to drink from while you're hiking or otherwise out and about.
[lasso type="image" ref="luckyzone-wheat-straw-dinnerware-sets-for-4-reusable-plates-bowls-cups-lightweight-unbreakable-dinner-camping-dishes-dishwasher-microwave-safe-eco-friendly12pcs-beige" id="197682″ link_id="63537″]
These dishes are plastic-free, but hold up to the wear and tear of an RV road trip much better than glass or ceramic dishes would. They're dishwasher- and microwave-safe and are very lightweight – another advantage on an RV trip!
[lasso type="image" ref="bees-wrap-assorted-3-pack-made-in-the-usa-with-certified-organic-cotton-plastic-and-silicone-free-reusable-beeswax-food-wraps-in-3-sizes-sml" id="197683″ link_id="63538″]
Rather than using plastic wrap to keep food fresh, try beeswax food wraps. They're plastic and silicone-free, and great for wrapping food to store in the fridge or to wrap sandwiches for a hike. Since they can be reused, you won't need to shop for more for a good long time. Plus, they're pretty cute!
[lasso type="image" ref="stasher-silicone-reusable-storage-bag-sandwich-clear-food-meal-prep-storage-container-lunch-travel-makeup-gym-bag-freezer-oven-microwave-dishwasher-safe-leakproof" id="197684″ link_id="63539″]
Try reusable storage bags for things like snacks and sandwiches, instead of single-use plastic sandwich bags. These bags are BPA- and PVC-free and are dishwasher and microwave safe.
[lasso type="image" ref="viori-shampoo-bar-citrus-yao-handcrafted-with-longsheng-rice-water-natural-ingredients-sulfate-free-paraben-free-cruelty-free-phthalate-free-ph-balanced-100-vegan-zero-waste" id="197685″ link_id="63540″]
Instead of a large plastic shampoo bottle, this bar comes with minimal, eco-friendly packaging. It's citrus-scented and is ethically sourced, with 5% of the profits going back to the Red Yao Tribe.
[lasso type="image" ref="eco-soul-biodegradable-cutlery-bamboo-silverware-utensils-flatware-bamboo-cutlery-set-set-of-forks-spoons-knives-eco-friendly-compostable-disposable-wooden-cutlery-party-home" id="197686″ link_id="63541″]
If you find yourself needing disposable cutlery for your travels, these organic bamboo utensils work great! They're BPA-free and USDA Bio-Preferred Certified. They're 100% compostable, so you can use them and dispose of them knowing they won't sit in a landfill for as long as plastic utensils will.
[lasso type="image" ref="beegreen-shopping-bags-reusable-grocery-tote-bags-6-pack-xlarge-50lbs-ripstop-geometric-fashion-recycling-bags-with-pouch-bulk-waterproof-machine-washable-nylon-bags-black-gray-blue-navy-teal-christma" id="197687″ link_id="63542″]
This is a set of six grocery bags, and each folds into tiny pouches so they don't take up much room when they're not being used. They can hold up to 50 lbs of groceries, and you can also use them to store other things on a road trip when you don't need them for hauling food. The cute patterns just make them even more fun!
Cutting down on your single-use plastics while on an RV road trip can have many benefits for you and your family! You can reduce the number of times you need to go to the store since you're buying foods in bulk, or purchasing reusable items instead of plastic bags. You'll even find that when you do need to use disposable items, there are options available that compost much quicker than plastic utensils so you can do good for the environment without sacrificing convenience.
You also don't have to follow every piece of advice to make a difference. If you're leery about trying a completely plastic-free existence, try swapping out just one commonly-used plastic item for a more eco-friendly item and see how you get on. Every little bit helps, and you may find that after you've gotten used to one swap, it's easier to make a few more!
This post contains affiliate links. RVshare may receive compensation if you make a purchase after clicking on a product link.