National Parks
January 3rd, 2022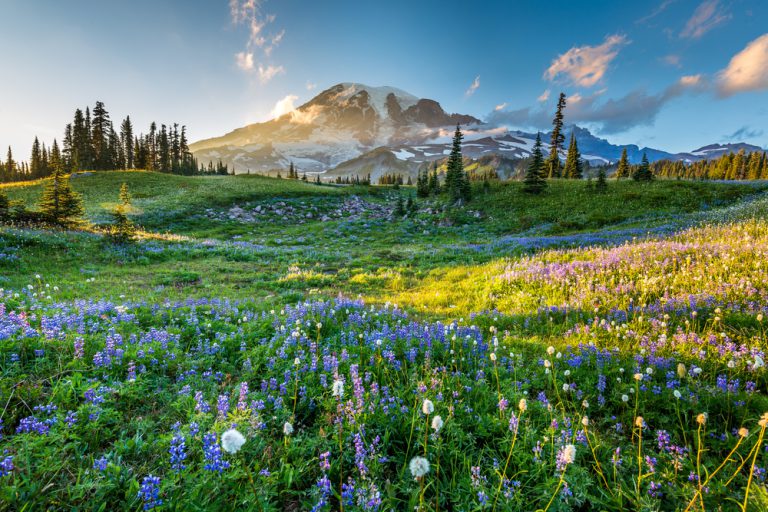 Iconic in its position looming over the Seattle skyline, Mount Rainier is more than just a distant silhouette: those who make the two-and-a-half hour drive from Washington's capital city will find themselves at its foot, enjoying the glorious wilds of Mount Rainier National Park. Whether you're there to check out a relatively easy day hike or to tackle a once-in-a-lifetime climb of this ancient, active volcano, there's no way to leave this beautiful mountain without feeling changed.
But the history of this glorious mountain goes much further back than western minds can remember. Mount Rainier National Park, which preserves the mountain known to Native Americans as Tahoma, is the traditional and ancestral land of the Cowlitz, Muckleshoot, Nisqually, Puyallup, Squaxin Island, and Yakama tribes. The descendants of these people still live in the landscapes surrounding Rainier's snowy slopes, and their customs are still alive today, coloring and contextualizing this storied space.
Here is some of that history.
The Indigenous History of Mount Rainier National Park
Archeological evidence shows that the first human inhabitation and travel in the lands today known as Mount Rainier National Park occurred some 9,000 years ago. Ancient Paleo-Indians traversed these lands as part of their nomadic, hunter-gatherer lifestyle, traveling here to hunt and forage when the seasons were favorable.
By the time westerners first  came to settle the land in the late 1700s, tribes such as the Cowlitz, Puyallup, and Nisqually largely had control of the area surrounding the mountain and the mountain itself. These tribes knew how to live alongside the land, utilizing its gifts but offering reciprocal care and stewardship to ensure the health of the land and continued sustenance and providence in the future. Even after the park was "created" by white westerners, these tribes continued their ancient traditions of coming to the mountain to hunt and gather berries and herbs for both food and medicine. Today, the park maintains relationships with the six modern tribes named above, and sometimes hosts events and talks to bring these unspoken histories to the forefront. You can learn more about the tribes associated with Mount Rainier National Park at the National Park Service website.
Paying Respect to the Land
Learning more about the Native American and Indigenous history of a given landscape is an excellent first step toward paying respect to the land — after all, these ancient tribes were able to keep these places healthy and vibrant for millennia, even as they lived off its fruits. Beyond taking advantage of the interpretive signage and events offered by the NPS itself, and reading write-ups like this one, it's our responsibility to continue in the tradition of that stewardship as best we can, becoming caretakers to the land even as visitors.
While some of this caretaking is common sense — avoiding littering and leaving all natural artifacts where you find them, as tempting as they might be to take home as souvenirs — a great way to ensure you're on the right path is to check out the seven Leave No Trace principles. Leave No Trace as an organization is committed to keeping our world green and healthy while still encouraging people to get out there and experience it… so long as you tread as lightly as possible on the land as you do so.
And, no matter where you are in America (or beyond), you can always check in with Native Land to learn more about the people whose ancient ancestral lands you're inhabiting. These beautiful landscapes of ours are reverberant with backstories too often muted; opening yourself to hearing them can make a huge difference when it comes to a fully contextualized and respectful experience.
Enjoy your journey to Mount Rainier National Park!