National Parks
December 10th, 2021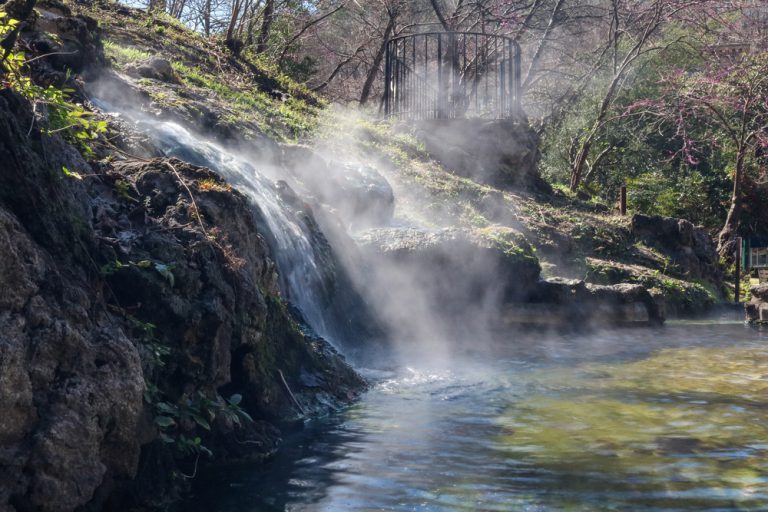 When you think "hot springs," you might first think of the Idaho panhandle or someplace close to a volcanic caldera in Wyoming or New Mexico. But the eastern United States is actually home to some incredible hot springs — and, in fact, Hot Springs National Park itself is tucked into an urban part of central Arkansas.
But although these historic bathhouses, first built in the 20th century, have created a developed place to enjoy these ancient natural geothermal pools, the history of this landscape stretches back much further beyond the history of western settlement in this part of the United States.
Hot Springs, Arkansas — and Hot Springs National Park — are situated on the historic lands of the Osage, Caddo, and O-ga-xpa people. Many other Indigenous tribes have also made their way through these lands, which were later colonized to the exclusion of their Native inhabitants.
The Indigenous History of Hot Springs National Park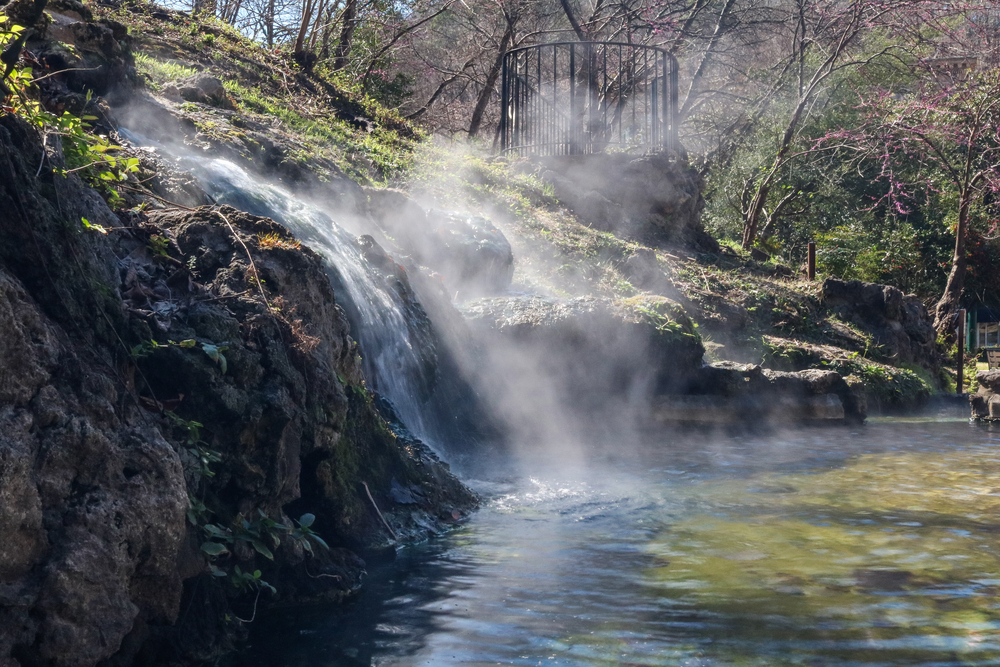 The many bands of Native Americans who lived across Arkansas — including in the Hot Springs area — since time immemorial knew how to live with the land, utilizing its many resources to feed, clothe and sustain themselves while still maintaining an overall balance that was sustainable for the earth itself. Archeological evidence suggests that Native Americans had inhabited and traveled through the land now known as Arkansas for some 14,000 years, millennia before white, western settlers ever made their way to this area.
Archeologists have found clay pottery, bows and arrows, and other artifacts that indicate the presence of these Native peoples, and which have also served as clues to tell us more about their ancient lifestyles.
Along with the history of displacement of Native peoples here, Arkansas also has a long history of anti-Black racism as part of the Jim Crow south. The National Park Service website has specific information of the historic Black experience of the Hot Springs tubs, which is also worth educating yourself about.
Paying Respect to the Land
Keeping ourselves informed about the injustices that characterize the landscapes we live on, visit, and love is an important way to get a fuller understanding of your contextual situation in a place's history, especially if you aren't of Native American or Indigenous descent. Along with reading write-ups like the ones available at the NPS website or through interpretive signage and programming, you can also check out Native Land, which will help you learn more about the tribes whose land you're standing on no matter where you find yourself in the United States (and in many places across the globe).
Additionally, taking the next step and committing to keeping these landscapes green and healthy for future generations is truly the best way to pay respect both to the land itself and the Indigenous peoples who set such good examples of stewardship. Common sense can offer a good start as to how to leave minimal impacts on a place you're visiting, but following the seven Leave No Trace principles is another easy way to ensure you're treading as lightly on the land as possible. These principles, for example, include setting campfires only in designated spots, traveling and camping only on durable surfaces, and packing out all the garbage you pack in.
They're relatively easy steps and well worth the effort — after all, it's not ours, not anyone's — and future generations deserve to enjoy it as we do.