Travel Inspiration
June 16th, 2020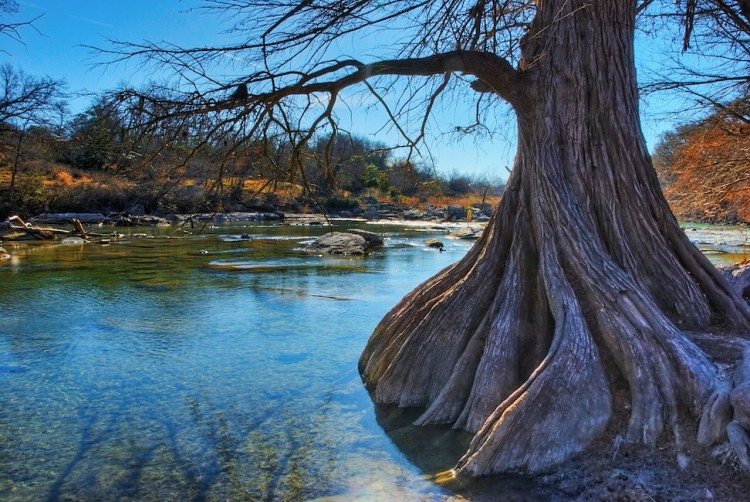 Everyone's heard of Austin, Texas. With a city slogan of "Keep Austin Weird," it's kind of hard not to notice. When you add all the festivals, music venues, and amazing places to eat, it's easy to see why Austin is so popular.
But what if you are looking for a different type of fun in the area? What if you want to get out of the city and enjoy the great outdoors? We've got you covered! There are tons of scenic gems located near the city.
Here are 10 of the best state parks near Austin for your next outdoor adventure.
The best time to visit McKinney Falls State Park is after a spring rainfall. This gives you a chance to see the beautiful wildflowers and waterfalls at their best. No matter when you visit though, the serene atmosphere is perfect for those looking for a getaway. The best part is that this 745 acre paradise is only 15 miles from the Austin City Center.
The campground offers many amenities including:
Restrooms with hot showers
Picnic tables and fire pits at each site
Water and electric hook-ups
Access to the Onion Creek hiking/biking trail
Beautiful waterfalls and a swimming area
Do you lead an active lifestyle? If so, you are in luck.Colorado Bend State Park is 5,300 acres worth of fun situated about 2 hours north of Austin. A visit to this park offers caves to explore along with 30 miles of untamed biking terrain. You can even tour the majestic Gorman Falls if it suits your fancy.
This site has 43 camping sites — 28 for tent campers and 15 for RVs up to 30 feet in length. Amenities include:
Picnic tables
Nearby potable water
Fire rings
Restrooms with hot showers
Are you looking for a peaceful getaway to help you unwind and relax? Buescher State Park is a 1,000 acre paradise located less than an hour from Austin. Here you can hike and bike to your heart's content while checking out the park's wide array of wildlife including armadillos, birds, rabbits, deer, and more. Plus, there's a quiet cove where you can spend a tranquil day fishing and canoeing its gentle waters.
This beautiful and quiet camping destination has about 65 sites. Some of their amenities include:
Parking and car access
Some sites with electric and water hookups
Bathroom and shower facilities
Picnic tables and fire rings
No list of the best state parks near Austin area would be complete without mentioning Stephen F. Austin Park. It's named after "The Father of Texas,"who brought the first 300 families to this area of the country.
This under-visited and underrated park sits on 500 acres two hours from Austin. Take the time to explore and uncover its hidden beauty for yourself. After learning its secrets, go biking, hiking, golfing, and fishing along the Brazos River. At night, spend a cozy evening around the campfire and watch the fireflies light up the night sky.
This campground offers variety of sites including:
25 walk-in sites
40 tent-camping only sites
20 screened shelters
40 tent, pull-through, and full-hookup RV sites
Group campground that fits up to 60 people
Inks Lake State park is a 75 minute drive from Austin. But the 1,200 acre natural playground is worth every second of the drive. No matter the environment you prefer — desert or beach — you can find it here. The diversity of this open-aired escape makes it the perfect location for many activities including:
Scuba diving
Kayaking
Geocaching
Hiking
Cliff jumping
Swimming
When visiting Inks Lake Campground, there are three accommodation options to chose from:
Mini-cabins
Camping sites with electricity and water
Primitive backpacking sites
This is a popular camping destination, so be sure to book in advance to get a good spot.
This serene 260 acre getaway is located just 45 minutes south of Austin. It's the perfect place to go when you want to get away from the busy city life. This is especially true if you love swimming or fishing. You can even play golf on the park's nine hole golf course. After a weekend here, you're guaranteed to feel renewed and refreshed.
There are 20 campsites at this campground and their amenities include:
Picnic tables
10 sites with electric and water hookups / 10 sites with electric, water, & sewer hook-ups
Nearby restrooms
Access to a hiking trails
An hour south of Austin and an hour east of San Antonio, you will find Palmetto State Park. This 300 acre rainforest lies on the San Marcos River and is home to a variety of interesting sights. There are an amazing 240 different bird species to see when you glide down the river on a canoe, kayak, or tube. They also have a group pavilion with a kitchen so you can have a barbecue smack dab in the middle of the jungle.
This campground has sites for RV and primitive tent sites. There are 19 RV exclusive sites and their amenities include:
Fire rings
Picnic tables
Electric and water hook-ups
Shower and restroom facilities
There are 18 primitive camping sites and their amenities include:
Picnic tables
Nearby restrooms
Your happy place is just an hour and a half south of Austin at this 2,000 acre blissful retreat. Guadalupe River State Park offers many opportunities for swimming, horseback riding, and much more. They also have playgrounds and a Children's Discovery Center. Guadalupe River State Park truly has something for everyone. It's easy to see why it's considered one of the best family destinations in the area.
The campground has three separate camping areas each with eight sites. One offers primative walk-in tent sites and the other two offer electric and water hook-ups. Each campsite comes with the following amenities:
Grill
Fire ring
Picnic table
Tent Pad
Nearby restrooms with showers
Communal water spigots in the walk-in campground
Located an hour outside of Austin, this 1,400-acre gem is the perfect place to kick back and relax. Spend a day on the lake basking in the sun, or swimming in the refreshing waters. When finished, spend your nights on top of the limestone cliffs that populate the area. They offer the perfect vantage point both at sunrise and sunset. Can you picture anything more perfect than that?
This campground offers both primitive and "improved" sites. The primitive sites include:
Grills
Waterless toilets
Picnic tables
There are 20 improved sites available for both tent-camping and RVs. Their amenities include:
Electricity
Water
Restrooms
Have you ever seen Richard Linklater's critically acclaimed film Boyhood? Specifically, the part where Ethan Hawke plunges into the swimming hole? If so, then you have already had a glimpse of the natural wonderland at Pedernales Falls State Park.
Perdenales Park lies on the shores of the Pedernales River, so there's always something fun to do. If you've never given tubing a chance, this is the prefect chance. And the best part is that it's only about an hour away from downtown Austin.
This campground comes with many amenities. Some of them include:
Equestrian group campfire
Youth group area
Primitive sites
Picnic tables
30 amp electric
What did you think of the attractions and campgrounds listed above? Want even more State Park recommendations in Texas? View our Texas State Parks page! Did I leave any out? Share your thoughts in the comments below. Happy Camping!
Looking for more options? Check out the top campgrounds in Austin, Texas!