Travel Inspiration
October 28th, 2019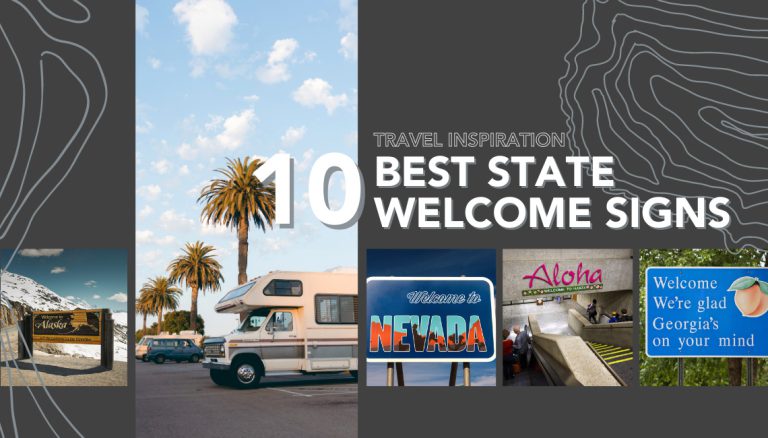 Just as you lay out a welcome mat to greet people visiting your home (or camper), each U.S. state offers a state welcome sign at its border crossings, notifying visitors they've crossed over into a new place with its own customs and culture to explore.
And although it's easy to dismiss state welcome signs as just another normal, everyday part of a road trip — or even to forget about them entirely — some of them are downright fascinating.
So, have you ever wondered about the history of those state border signs, especially the ones that have a little bit of extra flair? Or maybe you want to learn about the locations of the most iconic, one-of-a-kind welcome-to-state signs.
Either way, welcome to this post, where we take a deep dive into the all-too-often overlooked world of state welcome signs.
Why Do We Have "Welcome to State" Signs?
Before we venture into some of the specific state welcome signs you may have encountered (or wish to), let's take a step further back. Why do we have state welcome signs in the first place? When you think about it, it's definitely a little bit weird.
Welcome signs have existed for centuries, and their history extends far outside of the scope of American road trips. For as long as human beings have settled in communities, they've needed to let travelers know where the boundaries of those communities started and ended — which is exactly how the welcome sign was born.
In a country like America, with a variety of smaller communities within the bounds of a single nation, it makes sense to mark the border of each state with a welcome sign — especially since our states are so effectively connected by the highway system. Although all state welcome signs are interesting, some have specific history and fun facts that make them that much more special. Let's take a look at some of them now.
Best Welcome Signs
Here are some of the most iconic state welcome signs you'll come across as you venture around the U.S. in your RV.
1. Georgia
Given its diverse landscapes and people — not to mention its wealth of fresh produce and southern comfort food — it's no surprise that Ray Charles crooned about Georgia being on his mind. (To be fair, the song is ambiguous enough that it very well may be about a woman of the same name… but we'll go ahead and give it the benefit of the doubt for this post!)
Thus, the Georgia state welcome sign combines the iconic peach along with a snippet of those famous lyrics to let visitors know the state is glad they've followed one of the many roads that, in Charles' words, lead back to this place.
Here's another fun fact: one Georgia sheriff, Mike Jolley, created a stir by posting additional signage underneath those that welcomed drivers to Harris County. "Our citizens have concealed weapons," one 2018 addition read. "If you kill someone, we might kill you back. We have one jail and 356 cemeteries. Enjoy your stay!"
2. Alabama
Although you might not be surprised to read the present-day "Welcome to Sweet Home Alabama" road sign, this state's welcome signs were actually just replaced to reflect everyone's favorite song of the south in 2014. Before that, they read "Welcome to Alabama the beautiful" — which is equally true, of course, but doesn't quite roll off the tongue (or sneakily install a song in your head) in the same way. Took them long enough; that Lynyrd Skynyrd hit dates all the way back to 1974!
3. Alaska
America's final frontier resists the urge to assimilate to the rest of the country and put up a plain, metal road sign. Instead, they offer a set of glorious wooden signs — which is fitting for this rugged, natural landscape which offers so many untouched wonders.
(Psst: RVing to Alaska is no joke! If you want to take on the challenge, you'll definitely need to do some planning to ensure you hit all the best stops. Here are our top-ten sites not to miss on your trip to Alaska.)
4. Colorado
"Colorful Colorado" is well known for its cheery welcome signs, which are frequently featured in visitors' photographs. Featuring a fun font and a unique, rustic look evocative of barns and old-school taverns, each of these signs weighs in at a whopping 150 pounds — and there are more than 40 of them across the state!
5. Wisconsin
Another charming, unique set of welcome signs exists far northeast of Colorado in Wisconsin, where these large, wooden greetings emulate the shape of the state itself while also advertising the many charms that bring people to the state in the first place. Whether you're there for recreation, industry, or agriculture, the state of Wisconsin welcomes you — and is open for business.
More Iconic State Welcome Signs
Here are even more state welcome signs to check out on your next trip — whether they're welcoming you to a brand new adventure or serving instead as a welcome home.
6. New Mexico
If you've yet to find yourself enchanted by this hidden desert gem, we admonish you to make a trip as soon as possible. Decorated with the state's iconic chiles, New Mexico's welcome signs advertise this place for what it is: a land of enchantment. (Some also make use of the newest tagline, "New Mexico True.")
7. Nevada
Although the first images that come to your mind when you think of the state of Nevada may, thanks to Las Vegas, be more about bright lights and casinos, the real pulse of this desert landscape is more to do with a simpler life: cattle ranches, red rocks, and night skies filled with endless stars.
For that reason, we love the way the Nevada welcome sign evokes this often-forgotten lifestyle with its simple design, showing the silhouette of a cowboy and some iconic desert flora tucked within the word itself.
8. Hawaii
This one's a bit of a trick — because Hawaii doesn't actually have a proper road welcome sign. Which makes sense, after all… you can't access this unique state from the highway system. At least not without a REALLY interesting vehicle!
Instead, you'll be greeted when you land in the state via air travel by the variety of welcome signs that exist inside the state's airports. Better yet, they work as goodbye greetings, too. Aloha!
9. Delaware
You can't consider yourself a truly experienced U.S. traveler until you've visited the very first state in the nation — which Delaware's state sign has no qualms about advertising. This place is a small wonder indeed, offering visitors sweeping seascapes, mysterious old towns, and the kind of historical charm you can only find in the northeast.
10. Texas
Not every welcome sign admonishes its readers to behave themselves… but that's how they do it deep in the heart of Texas. Given how many hundreds of miles of highway there are in this massive state, it's probably a good thing that the welcome signs remind drivers to keep it friendly!
No matter which of the 50 United States you're planning to visit, an RVshare vehicle is the perfect place to call home during your trip — yes, even if you're hoping to make it all the way out to Hawaii. (You can always fly in and rent on-site!)
Our fleet of privately-owned rigs comes in every shape, size, and footprint imaginable… and since you're renting directly from the people who know and love the RV best, you can bet you'll get an authentic taste of the RV lifestyle in a well-cared-for, reliable vehicle.
What's more, our unique and easy-to-use platform means you don't have to worry about the safety of your sensitive information or not knowing what you're in for when you hit the book button. We take care of all monetary transactions and provide a platform for easy and transparent ratings and communications — so the only thing you'll need to be concerned about is figuring out where the heck you want to go!
Speaking of which, we've got plenty of ideas for killer destinations, no matter where in the country you call home. Here are a few more RVshare blog posts to help get your wheels turning… literally.
Happy camping — and welcome to your home away from home!
This post may contain affiliate links.