Travel Inspiration
Last updated on December 20th, 2022. Originally published on March 10th, 2018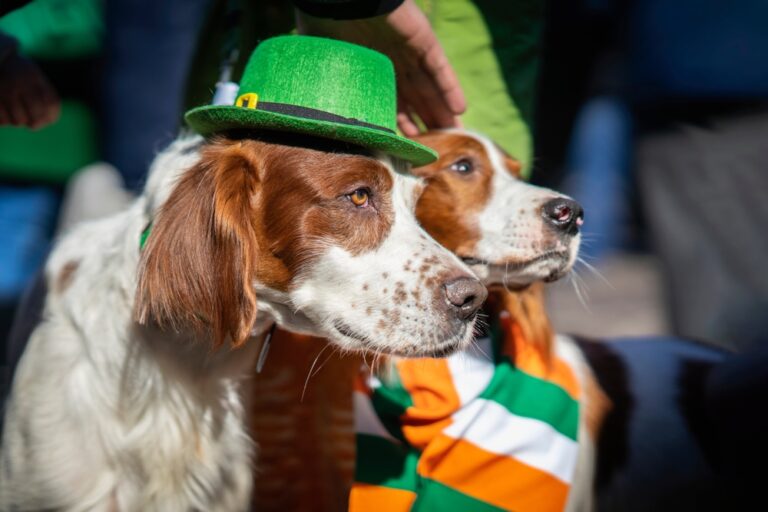 Who doesn't love a parade — especially a St. Patrick's Day parade?
From shamrock headbands to festive tees, everyone's making sure they've got a wee bit of green in time for America's biggest celebration of Irish heritage on March 17th. (And yes, that pint of green beer counts!)
But what better way to enjoy the party mentality of the emerald isle than by attending one of the many St. Patrick's Day parades held throughout the nation?
Heading to one of these legendary parades is even better and more convenient in your RV. You won't have to worry about trying to book a hotel room in these large cities, which are often sold out months ahead of time… or listen to loud carrying on well into the night after you're done with the festivities and ready for bed. And if you use your Passport America membership, you could also save a stack of cash on your accommodations — your $44 annual membership gets you 50% off your campsite fees at almost 1900 campgrounds across the country, so it basically pays for itself the very first time you use it!
So, ready to get a bit green about the gills in the best way possible? Here's where to find the best and largest St. Patrick's Day parades and celebrations in America — the perfect excuse for your next RV trip.
St. Patrick's Day
Before we dive into the destinations, let's take a quick step back. What is St. Patrick's Day celebrating, anyway?
St. Patrick, as you may know, is the patron saint of Ireland, and March 17 is believed to be the date of his death. You might also have heard about Patrick's claim to fame, driving the "snakes" out of Ireland… but as it turns out, there were never any actual serpents on the island in the first place! The story is actually an allegory for his conversion efforts.
St. Patrick's Day is celebrated by a host of different traditions, including, of course, parades. Around the world, many different countries also prepare and consume classic Irish dishes like corned beef and cabbage, Irish soda bread, or shepherd's pie.
To learn more about the world's largest celebration of Irish heritage, check out the following books:
St. Patrick's Day Parade Facts
Want to know something funny? St. Patrick's Day parades are actually an American tradition, not an Irish one. According to The Wearing of the Green: A History of St Patrick's Day by Mike Cronin and Daryl Adair, the parades began in North America in the 18th century but didn't spread to Ireland until the 1900s. Pretty wild, right?
When is the St. Patrick's Day parade, you ask? Well, it depends on which one you're attending. So without further ado, let's get to the list!
Largest St. Patrick's Day Parades
So, where should you set your RV GPS for to get the best and biggest party? Here are the top five St. Patrick's Day parades in America.
1. New York City, New York
According to Fodor's, the Big Apple hosts the biggest St. Patrick's Day parade not just in America, but in the world — yes, even bigger than the one in Dublin.
"The march up Fifth Avenue starts at 11 am on 44th Street and lasts about six hours, ending at 79th, with a stop at the St. Patrick's Cathedral along the way," reports the travel site's Annie Bruce. So if you're looking for the best place to watch the St. Patrick's Day parade in NYC, pick a spot along that pathway!
(Pst… can't make it? Experience the next best thing in the stunning images in Lynn Bushnell and John T. Ridges's book, Celebrating 250 Years of the New York City St. Patrick's Day Parade. After all, the comfort of your couch is the best seat in the house by far!)
Where to camp: Liberty Harbor RV Park or Camp Gateway: Staten Island
2. Chicago, Illinois
Well-known for turning its river green each year, Chicago is home to one of the rowdiest St. Patrick's Day celebrations in the world… thrown by some of the nicest people you'll ever meet, of course.
Where to camp: There are a number of campgrounds in nearby suburbs, or you can try wild camping in downtown like Gone with the Wynns!
3. Savannah, Georgia
Surprised to see this southern charmer this high on the list?
Savannah actually has one of the highest population of Irish-American denizens for a city of its size — 8% of its residents! It's no surprise that every year they pull out the stops for St. Patty's, with a huge parade and festival on the day itself and several smaller ones leading up to it starting in mid-February.
Where to camp: Red Gate Campground or Skidaway Island State Park
4. Boston, Massachusetts
Considering the greater Boston metro area is the home of the famous Celtic punk band Dropkick Murphys, it's no surprise the town puts on one heck of a show for the big March celebration. Plus, the band itself will be playing at the House of Blues, an annual Boston St. Patrick's Day tradition. Get the full details here!
Where to camp: Normandy Farms Campground or Wompatuck State Park
5. New Orleans, Louisiana
The big easy does way better than just one St. Patrick's Day parade. It actually hosts several, as well as a variety of other events including two block parties and tons of live music. And don't forget, it's one of the only cities in America where open container laws allow you to legally imbibe while you wander through the party — just make sure you stay on foot!
Where to camp: The French Quarter RV Resort or Bayou Segnette State Park
Can't get on the road this year? Be sure to check and see what's going on in your local area. St. Patrick's Day is the most widely celebrated national festival in the world, so chances are there's some mischief to get into right at home. If you're in Arizona, check out St. Patrick's Day Parade & Faire! Enjoy!
Erin go Bragh!
This post may contain affiliate links.