Travel Inspiration
March 16th, 2021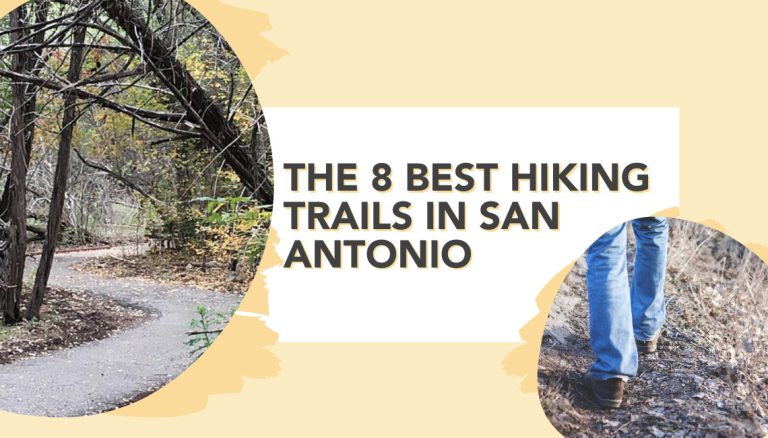 San Antonio is a beautiful city that is full of history and the hustle-and-bustle of city life. We love these things about the place, but we also adore the fact that the city is filled with and surrounded by little pockets of nature. This makes it easy to escape into solitude when the city life becomes too much.
One of the best ways to get away into nature? Hiking. Of all the outdoor activities, this is one that really encourages you to connect with the great outdoors and observe and explore the world around you.
Fortunately, San Antonio offers plenty of hiking opportunities. These can be found both within the city and just outside of it. Below are some of the best hiking trails in San Antonio.
#1. Hillview Nature Trail Loop
Eisenhower Park
A moderate loop trail that is a little under three miles in length, Hillview Nature Trail Loop is a great option for those novice hikers looking for a bit of a workout.
Because this is one of the top hiking spots near San Antonio, you will want to be prepared to share the trail with others. That said, the views of the city at the top of the climb are wonderful, making this a worthwhile hike we know you'll enjoy.
#2. McAllister Park Blue Loop Trail
McAllister Park
Next on our list is the McAllister Park Blue Loop Trail. This is an easy enough trail, but because it offers little to no shade, it can become more difficult during the summer months when the Texas heat becomes intense.
The path does run at a bit of an incline, but isn't anything a child couldn't handle, and hikers might just be rewarded with a deer sighting. Best of all, this is one of the best places to find dog-friendly hiking in San Antonio.
#3. San Antonio Mission Trail
Concepcion Park
At 15 miles, San Antonio Mission Trail is an incredibly long hike. That said, the path is relatively straightforward and there is no reason hikers need to walk the entire trail. Because the trail runs between the four historic San Antonio Missions, there are lovely stopping points along the way with plenty to see and do, and one could choose to hike between two missions and leave it at that.
Alternatively, you might choose to bike this path, making the 15-mile trek much more manageable.
#4. Joe Johnston Route Trail
Government Canyon State Natural Area
The Government Canyon State Natural Area is a beautiful place, and easily one of the best places to go hiking in San Antonio. The park is home to many amazing trails, but our favorite is the moderately difficult Joe Johnston Route Trail.
Joe Johnston Route Trail is a 10-mile hike that includes easy climbs, an amazing view, and even some dinosaur footprints. It is a rocky trail, but is easy enough for beginners and kids alike.
It should be noted that reservations are required for hiking in this park at this time.
#6. Salado Creek Trail
San Antonio, TX
Another great place for hiking in the San Antonio Area is Salado Creek Trail. All of this 3.4-mile trail is paved, but there are plenty of smaller side trails that are made up of dirt and send you off into the trees. We highly recommend taking as many of the side trails as possible.
Many hikers report seeing wildlife such as deer, birds, and snakes on this trail. The creek provides a nice addition, and the views along the way are absolutely lovely.
#5. Restoration Way Trail Loop
Friedrich Wilderness Park
Looking for super easy hiking in San Antonio, Texas? Restoration Way Trail Loop might be just the spot.
This five-mile loop is the perfect place for birding, as the park is home to several types of rare birds. With light climbs, beautiful views, and plenty of shaded spots, this is an excellent trail for all skill levels that offers a lovely retreat into nature. Just be aware that some parts of the trail can become slippery when it rains!
#7. Rio Medina Trail
Medina River Natural Area
The Medina River is a gorgeous body of water that definitely deserves a visit. Rio Medina Trail in Medina River Natural Area is the perfect way to check it out.
This trail perfectly showcases the flora of the area, and many people are lucky enough to see some Texas wildlife as well. We love that there are stopping points along the river for cooling off, as well as plenty of shade. This is an accessible trail, meaning it is paved all the way through.
#8. Oak Loop Trail
Phil Hardberger Park
A great place to hike with your doggy friends, Oak Loop Trail is a three-mile loop trail that features plenty of wildflowers and other plants, tortoises, rabbits, and deer. The trail is easy but provides plenty of interesting things to stop and check out, making this an ideal hike for kids or for adults who want a simple but beautiful walk.
As you can see, San Antonio is chock-full of amazing hiking spots. Ready to check out some of these trails? Pick out your San Antonio RV rental and get ready for an awesome adventure in the Lone Star State!