Videos
Last updated on January 3rd, 2023. Originally published on April 19th, 2018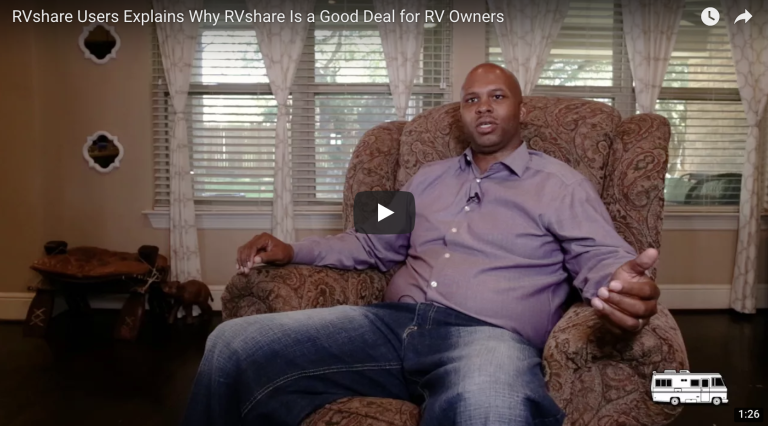 Cornelius Garner is busy. Between his three boys, full-time job, and efforts in helping his wife build her own business, you'd think that running a business through RVshare wouldn't be feasible. Especially with two RVs. Especially since those RVs are located hundreds of miles apart in different parts of the huge state of Texas. Especially because he's turning rentals around on a few hours' notice.
But here's the thing, between his organizational efforts, business-man approach, and diligent work ethic, and RVshare's easy-to-use platform, the income generated through this business is worth the work. Cornelius generates enough income that he "never dips into" his bank accounts from his full-time job.
Cornelius started out renting his RV through a mom-and-pop when he lived in North Carolina, after he and his wife took a trip in it. However, not only was the shop charging him a ridiculous commission, he was also being charged other fees. When Cornelius moved to Texas, he found RVshare, and from there, his business took off at lightspeed. When he wanted to purchase a second RV to rent out, he wanted to ensure the same business model would be as lucrative for the next vehicle as it was for the first. So he found the exact RV he wanted to purchase and listed it on RVshare first. It immediately booked enough business to pay for itself and then some for years.
Below, you'll get a look at the evolution of Cornelius' lucrative, busy business and read his sage guidance on how best to keep your rentals running smoothly. He acknowledges that bumps will come along the way, like with any business, but offers the best ways to handle them and recruit new and regular customers.
What Brought Cornelius Garner to the RV World
Let's start by talking about your history as an RVer. How long have you been camping and RVing?
Cornelius: My wife and I purchased our RV back in 2008. We were going on a trip to North Carolina, and we were living in Fort Polk, Louisiana. We decided to purchase after looking and seeing how expensive renting [an RV] was, so we bought it and [took] our trip.
Did you take more trips, or did you immediately begin renting your RV?
Cornelius: We came back, and [the RV] just sat and sat. When we first purchased the RV, we thought that we would use it a lot more, but my wife likes staying in hotels. So finally, after a couple of years, we decided to sell it.
I took it to an RV consignment shop, and the lady said, "I could rent it for you." I was a little skeptical about renting it, how much I could make. [But] we did that, and it was a little bit profitable. They were taking 50%, and I was paying for everything — all the maintenance, and they were charging me the credit card fees. It was a good deal for them and a horrible deal for me.
[Then] we moved to San Antonio, and I decided to bring it down here. I talked to a guy here that I wanted to consign it with. He said, "Yeah, bring it down. I have 90 of them, and they're all rented out." I remember talking to my wife, saying, "If he can rent 90, surely I can rent one."
So this is when you found RVshare?
Cornelius: Yes ma'am. So I started renting [out my RV on RVshare], and I did really well. By [that] March, I was booked out for the whole summer.
I looked at a couple of other platforms, [but] I found this one to be the easiest to navigate. So I listed it on RVshare, and I booked out for the whole summer. Most of that was in Houston because I listed it there for the Superbowl. I decided, "Hey, I'll put it out there for the Superbowl and charge a higher rate." I forgot to move the listing [after the Superbowl], and I kept getting bookings and bookings and bookings. I looked, and I told my wife, "Oh my God, all of these are in Houston."
My sister lived there, so I enlisted her to help me, and she was more than willing. She would do check-ins. I mainly would do the drop-offs, because she's not really familiar with RVs, so I would want to show them; [and] most of my customers, a lot of them, I would say about 75%, have never used an RV before.
So how long have you been using RVshare?
Cornelius: For about two years; [2017] is my second summer renting on RVshare.
What features did you want your first RV to include? Were you looking just for comfort or for specific amenities?
Cornelius: The first one was a spur-of-the-moment buy. There's an interesting story. So we wanted a Class C, because those were more affordable. So after we negotiated the price and everything, and we were going to buy it, they drove around this long, bus-looking thing and said, "We'll give you this for the same price." It was huge, like what John Madden rides on. But it was older, I think it was five years old at the time. It was really nice, though. And my wife said, "You're going to do all the driving if we get that, because I can't drive that." So we decided to go with the Class A, which I'm glad we did. I'm glad we chose the one that we chose. We've liked it; it's been really, really reliable over the years.
The Evolution of Cornelius Garner's RVshare Business
So how and when did your RVshare business evolve?
Cornelius: My RV [fleet] evolved when I started renting in Houston and San Antonio on RVshare. I think that the rental bases are [both] large, so that's when I decided to purchase another one, list it on RVshare, and have one for Houston and one for San Antonio.
I purchased my second RV about about four months ago. My wife really didn't want me to get another RV. To prove to her [it would make money], I listed it first [before buying], and I booked it out for the whole summer. I remember telling her, "Hey, I have enough rental income to pay the payment for two years," so I went ahead and purchased it. So it's been renting really, really well.
During the rental process, they got mixed up. I remember thinking that if someone would want an RV and I'd have two bookings for the same one, and I'd have to turn someone away in Houston, so I started telling them, "Hey, I have another one that's listed in San Antonio that you could rent." So [RVs would] start getting intertwined, where they were both in Houston or both in San Antonio. I was renting in both locations. They stay extremely busy; they're out every weekend.
Did your previous experience with RVshare renters affect what features and amenities you looked for in the second RV?
Cornelius: Yeah. So what I looked for in my next RV was something similar to what I had. I thought about going small, but I was worried maybe I can't rent it. My first one has two slides; it has the bunk, sleeps six, up to six. So I wanted something complementary to that. And I knew that the Class C would rent, and so that's what I looked for. I wanted the slide. I thought the slides were important, because that's what people asked about, the slide-outs, the room that it had, and how many people it sleeps.
What is a typical booking season? When does it start, when does it end and how far in advance are people booking for their trip?
Cornelius: The booking season in Texas is a lot longer than it was when I was in North Carolina. It's all year long. I had a lady contact me about February of next year already, I have a quote out. She hasn't booked yet, but I have a quote out. I have bookings all the way up until November right now.
So people generally book pretty far out, and that's why I ended up getting another [RV], because I knew there were people out there that wanted to rent, and I didn't have anything to get them. So I figured if I don't have another one, I'm losing money. I kind of feel that way now.
I work a full-time job also, but with my sister helping, I think I kind of want to get another one, because right now I don't have anything available for the summer for either right now. I have some days sporadically, but most people rent, I'm finding out, one week, two weeks in, even 30 [days]. I had a 49-day rental a couple of rentals ago. They book them really far out.
So are both RVs booked for a period of time right now, or do you still have openings available this year?
Cornelius: Right now I own two RVs that are listed on RVshare, and I book out every month, every weekend. There's rarely a weekend that I'm not booked. If my RV is available on a weekend, it's because it came back on a Sunday. My coworkers and I were trying to pick out a week to go to a football game in Houston, so I'll have to reserve [my RV] or else I'll get requests for it — and it's hard for me to turn down requests.
I'll tell you a story. I had a lady that rented my RV, I think it may have been a holiday. She rented it on a Saturday to a Saturday, but she brought it back early. They went to Disney World and got burned out, and she said, "Hey, we're in town, want to drop it off on the Friday." So she dropped it off on Friday evening. So I cleared my [rental] calendar [to show that RV ] was available, and I immediately got a message. "Hey, do you have an RV that I can pick up today?" I'm like, "Yeah, I do have one available." [The renter] came and got it that day.
I always go from one booking to another.