RV Owners
Last updated on December 6th, 2022. Originally published on October 17th, 2017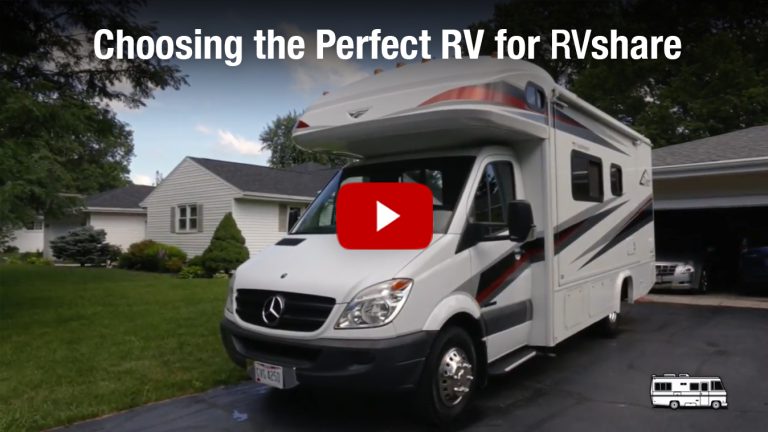 This week we pick up where we left off with the success the Grant family has seen since renting out their RV on RVshare. First, they had to select the perfect RV for their own personal use as well as for running their business. Now, we talk to them about their experience renting out their RV through RVshare. Learn more about the listing process, what a typical inquiry looks like, using the RVshare platform and more.
How long have you had your RV listed on RVshare?
Sarah: This is our second season owning this RV, so going on two years.
Michael: We listed it in 2016, at the beginning of summer, and we started getting clients looking to rent right away. Basically, the whole summer was full. In the fall, people started not renting as often because of weather, but the whole summer filled up really quick from RVshare.
How has RVshare helped facilitate the rental process?
Michael: With RVshare, we have been able to work with the client and work with RVshare; they provided a middle person for us and the client to hash out any problems – money problems, questions. They'd go to RVshare, RVshare would come to us, and that's how we'd answer any problems or questions the renter had.
How does honest, clear communication between both you and the renter help facilitate a smooth rental process?
Sarah: While there is room for spur-of-the-moment things, the more a renter can tell us about their trip and how they plan to use the RV, the better their experience will be. If we know you're going to be plugging into campsites, we'll stress the 30-amp hookup and all the things you'll encounter at a camp site. If you're going off grid, we can prepare you how to manage battery usage and your tanks. You'll want to know how long your water tanks will last you, and we'll want to know how many people are going for those same reasons. We need to know how to accommodate your travelers.
Can you talk about the listing process on RVshare?
Sarah: The listing process was probably the easiest part of getting our operation online. We bought the RV on May 12, and I had it listed on the evening of May 12. Literally, the listing process took about 15 minutes. I think the hardest part was just waiting for the photos to upload. It's an amazingly easy process to list your RV.
How quickly did you begin receiving inquiries on RVshare?
Sarah: We started getting inquiries about renting the Quest within 12 hours of going live with it. I posted it at like 11:00 at night, and I woke up to a pretty full inbox. So it was very validating because I think a lot of owners think: Am I doing the right thing? Especially if you go into it with the business in mind like we did. You know, five minutes after I hit submit, I'm flipping out and second-guessing if I did the right thing.
What does an RVshare rental inquiry look like?
Sarah: A lot of times the inquiry will just say, "This person is interested in renting your RV." It's much better when someone says, "Hello, my name is 'Kara" or whatever it is and introduces themselves. In our listing, I've actually asked that our renter give me a brief overview of the trip, how many people, where you guys are going, how many miles you think you're going, so I can gauge — not just a correct invoice and give people an accurate quote — but to understand what their trip needs are and if our RV is the best one for them. I've had people say, "Your RV looks better to drive, but I've got nine people traveling with me." And so sometimes through this communication you can kind of see if it's the best fit for your potential renter.
Is communicating through RVshare's platform easy?
Sarah: The platform, from the owners' end, is very user-friendly. It's very nice; [inquiries] will come into my gmail account, and I can either go into my RVshare dashboard, or I can just reply from my email, so you have options. I like for all of my communication to go through the dashboard, because if there are any kind of issues, RVshare can just tap in and see what's going on with it. I have had people who aren't comfortable with the platform, and they'll just say, "I have questions. Can you please call me?" And there are renters I've never spoken to, and every single communication I had with the person was through the dashboard.
What kind of frustrations have you experienced and what is your advice about those?
Sarah: We experienced a few frustrations when we first got going. They were just minor things — technical glitches, you know, questions about payments and that sort of thing. And I really found that RVshare was helpful in addressing those concerns. The staff, everyone I worked with was great. Sometimes it was a little unnerving to have to schedule a phone call for several days out when I wanted an answer, but I have since begun using the "Help Contact" feature, and I usually get a response within an hour. In this being our second season, I really think RVshare has stepped up their game as far as enhancing that experience. It's been smooth sailing this whole summer.
Do you use any other rental platforms?
Sarah: I get like tens of thousands more hits from RVshare than I do from [other places].
What advice do you offer owners who are considering listing their vehicle for rent on RVshare?
Sarah: If you're even considering listing your RV, just give it a shot. Take pictures of it; create a listing. It's an easy process that takes no more than 15 minutes. What do you have to lose? Just test the waters. You really have nothing to lose.